No matter what kind of business you run, your employees are your most valuable asset. As the legendary former GE CEO Jack Welch said, "Your assets go up in the elevator in the morning, and ride down at night." Every one of your employees is an integral member of your team, so letting them know that you understand and appreciate them, even in small ways, will help keep morale and productivity high.
According to a report from Globoforce, "Organizations with strategic recognition programs in place exhibit 28.6% lower frustration levels than companies without recognition programs," and their employees "feel 21.5% more enabled to help achieve organizational objectives."
One way to show how much you appreciate your employees is by giving them personalized gifts. These gifts can be useful items that team members will enjoy, and they can be customized with your company logo.
You Created Your Business Logo Design. Now What?
Here are a few ideas that to help show your company's appreciation:
Help them stay fully charged
In a relatively short amount of time, mobile devices have changed the way that we all work, play, communicate, and consume information. But sometimes it can feel like the only thing that hasn't kept up is the battery life for these devices. When you find yourself without power for your phone or tablet, it can feel debilitating. Custom printed power banks can provide any mobile device that connects via USB with a jolt of extra charge whenever—and wherever—it's needed.
These easily portable devices come in a number of colors, including orange, silver, red and blue. You can choose whether to have your company's logo printed or laser-engraved on their surface. These jolts are high-quality, yet affordable gifts that your team will certainly find useful whether traveling, at the office or on the go.


Fun for fitness fanatics
Many people wind down after a hard day's work by taking a jog or hitting the gym. And for those who don't work out regularly, it may be one of their biggest goals. Custom arm bands can give a little boost to their workout routine. Arm bands are fully adjustable with a velcro strap, so they're a comfortable fit for everyone. They also provide protection for smartphone screens and MP3 players while keeping them totally accessible and functional while on the move. And, custom printing options to add your business name or logo boosts brand recognition at the gym.


Never lose cards again
It's so easy to lose credit cards or your driver's license when slipped in a back pocket or loose in a small purse. Many times you don't want to take a big purse or bulky wallet when heading out to an event, whether to dinner, the beach or a sporting event, but you want to have your cell phone and important cards. Custom printed silicone smart sleeves are the ideal compact solution for times when you just need the essentials. Cards or cash can easily slide into the back of these handy and slim holders, which simply and securely adhere to the back of a cell phone. They're also convenient anytime, if you want to be sure to always have business cards with you, or an extra $20 in case of emergency.
When custom printed with your company name or logo, your brand will always be exposed in your employee's hands wherever they are on their mobile device.


Keep moving while connected
No one wants to feel "chained" to their desk, so why should headphones keep your team tethered to their phones or computers? Show your staff that you value their flexibility and encourage them to move around with personalized bluetooth earbuds.
Bluetooth earbuds can work well at ranges of up to 33 feet, so anyone can stay active while listening to a conference call or checking in with customers. They can also comfortably run errands or type notes without feeling like their hands are tied. Batteries can last for up to six hours, and many designs offer a built-in microphone for phone calls.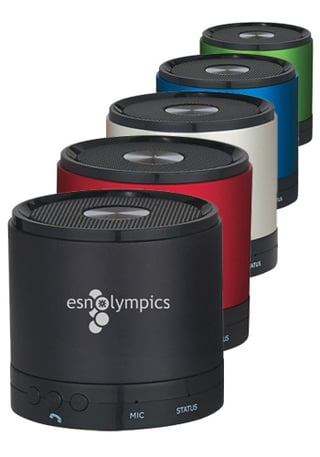 Create some atmosphere
Whether listening to music in the office or in the yard at home, or putting conference calls on speaker, wireless bluetooth speakers are a gift anyone will love and appreciate. These multi-functional speakers are great for your company or home office, or to take on the road while traveling, for business or with family and friends. Content can be streamed on a computer or mobile device and amplified through the bluetooth speaker. Imagine movies in the park, tunes on the beach or background music while doing yard work. These portable speakers can be simply connected via Bluetooth to a mobile device and you're ready to rock and roll anytime. Now, that's a gift that keeps on giving.


Add some color to your office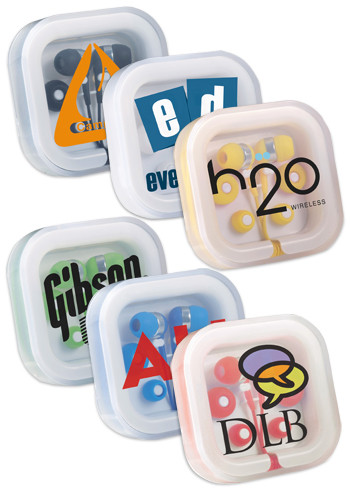 Regardless of what industry your company is in, positive, outgoing employees with great personalties are not only a pleasure to work with, they help add some color and fun to your office environment. Whether they're working their magic in customer service, boosting morale around the office, or keeping their chin up when the workload is stressful, positive team members great help the entire team function with a little more fun. Colorful earbuds are vibrant treat that adds some fun to an everyday tech gadget.
Showing employee appreciation, with even small gestures, is an important part of keeping your employees happy and motivated. These personalized gifts for your employees can help you provide incentives, or they can just help you say thank you for a job well done, everyday.