Finding creative gift ideas for everyone on your list can set you on a panicky mood, however, the holidays are a great time to show our appreciation for the people we care about – those who ever-present make our lives joyful in any shape or form. Our clients and employees should most definitely make it to the list, and with that in mind we present DiscountMugs' 2018 Top 10 Promotional Products: The Holiday Gift Guide Edition.
During this time of the year we typically get flooded with season gift orders from companies around the country all looking for the same thing - gifts for clients and employees that make them feel valued and appreciated during the corporate party or office gatherings. Throughout the years we've looked for ways to make the process easier for our clients and found that our holiday promotional products could be isolated into two lists: 1. Holiday Gift Ideas and 2. Holiday Party Gifts.
Holiday Gift Ideas
Ideal for clients and employees.
Although this list may sound a little inexplicit, it includes a wide selection of price ranging high-quality gift ideas each of your recipients can get behind.
1. Portable Bluetooth Speakers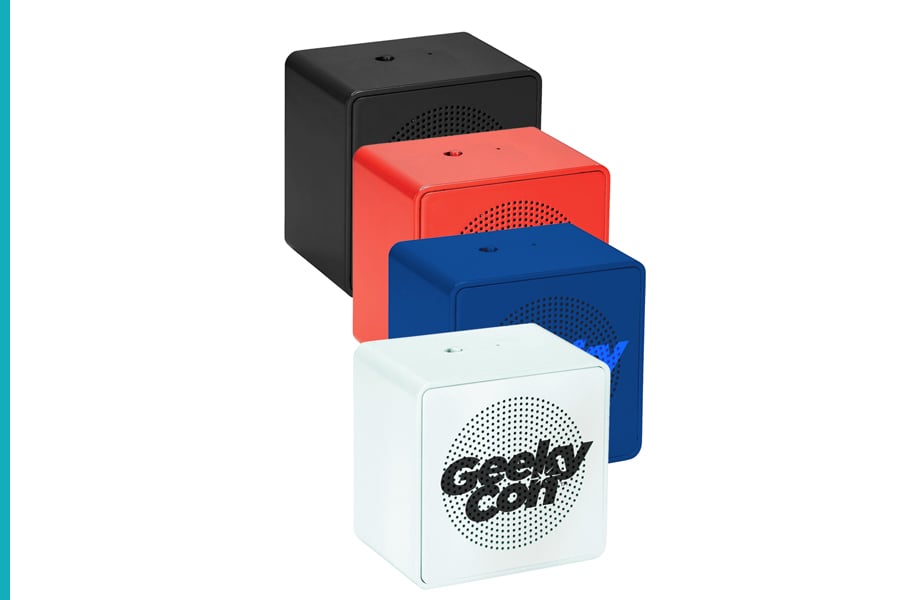 The times are changing and with it the workspace, too! Music has become a huge part of the workstation nowadays, and as research from Cornell University has shown, employees who listen to happy music together are able to work better together and be more productive as a team. Available in four different color options, The Whammo Bluetooth Plastic Speakers can easily be paired with mobile devices to play upbeat tunes around the office and get everyone in a happy mood. A fun way to practice group decision making is by encouraging them to develop a system in which they all get a chance to play their favorite tunes and thus create an inclusive environment.
2. Headphones with in-line Microphone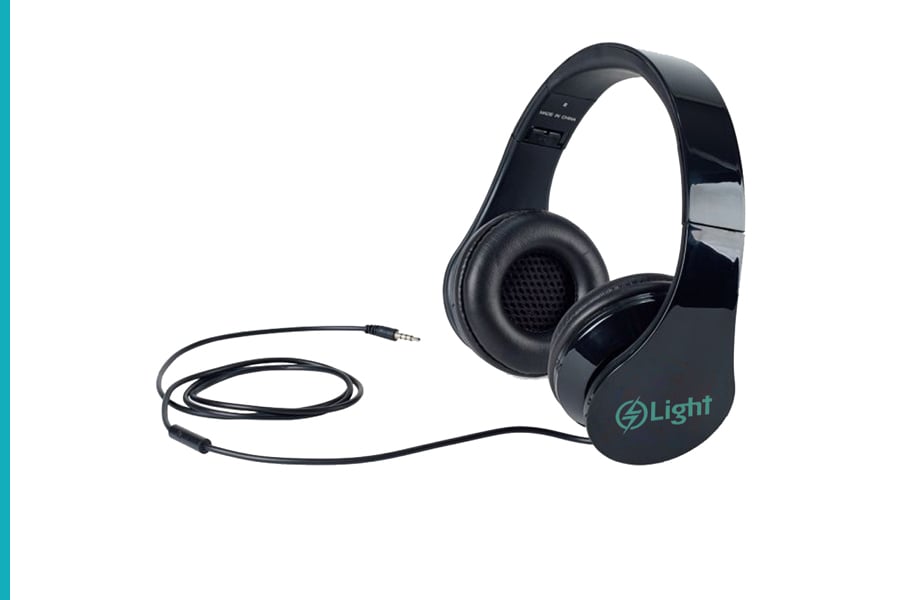 If your organization is looking for ways to make the work environment more enjoyable for employees but still would like to keep things more on the traditional spectrum, then the Rhythm Headphones with in-line Mic are the way to go. Your employees will be able to listen to their tunes everywhere from their own cubicle to the sharable breakroom, will be able to answer personal calls with the built-in answer/end button that doubles as a microphone. Easy to store and perfect for almost everyone, they're fun and functional gifts that can give employees the privacy and mood setting tool they need to achieve concentration at work and be more productive.
3. Laptop Messenger Bags
Laptop computers are changing the office dynamics, and laptop messenger bags are great employee appreciation gift ideas we can all get behind. Portable devices that allow employees to work remotely, laptops are your business' best friend and you need to protect them as such. The roomy Tours Laptop Messenger Bags are tech-friendly and feature a cushioned laptop pocket, as well as other compartments that keep other work and personal essentials in place and organized. Commuting employees will love the idea of a convenient bag that doubles as a promotional product and can make them proud on the go as they display your business logo on the go.
4. Luxury Plush Blankets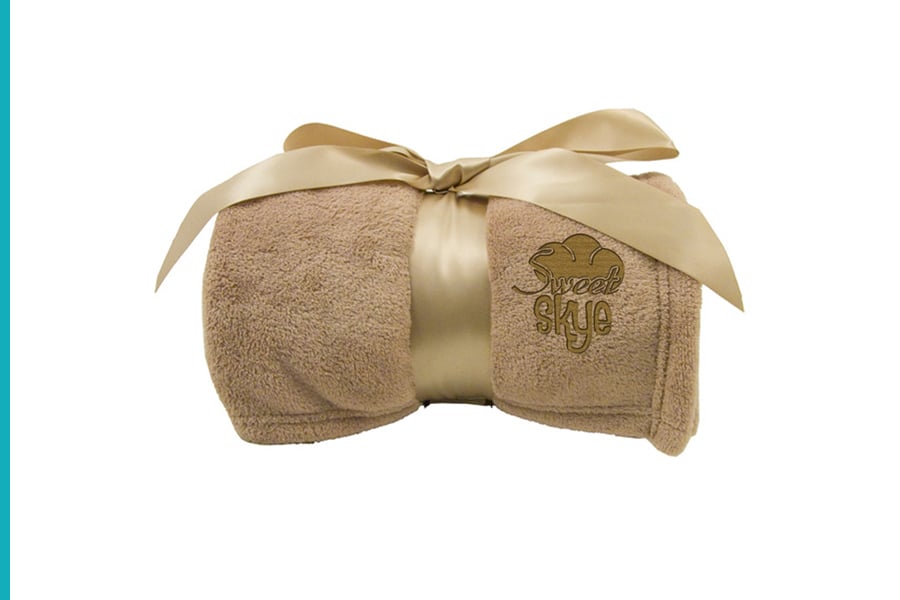 Ideal holiday gift ideas for your most valued customers, blankets evoke feelings of warmth and comfort plus they go together with the winter months like hot chocolate and marshmallows. Embroider the Luxury Plush Blankets with your company logo for a household item that can help expand your brand presence, and make your audience feel appreciated for their contribution to your success. Host a winter theme dinner for donors to your non-profit organization or send in the mail to your most loyal customers with a hand-written personalized note that lets them know how much they matter. Either way, they will benefit the way your patrons perceive you.
5. Cookies and Brownies Baskets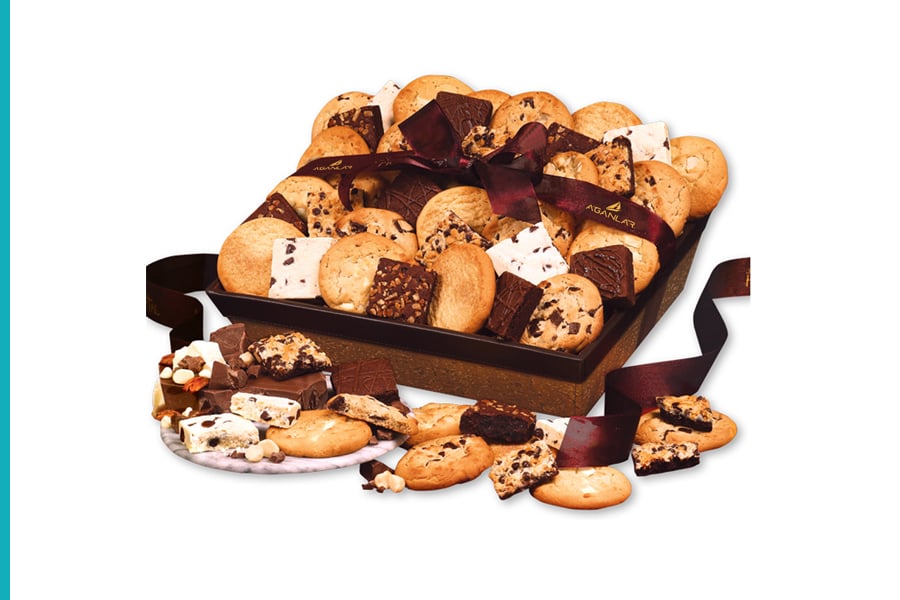 Although food gift baskets aren't the first thing that come to mind when you think of promotional products, they combine the sharing spirit of the holidays with the classic experience of gourmet foods. Tasty and sharable, the Home-style Cookies and Brownies Baskets are an ideal holiday gift idea for professionals looking to complement colleagues after a year of hard-work, or as a way to show appreciation for referrals they might have received from the recipient. Not to mention any names but doctors and dentists are coming to mind at the moment, wink wink.
Holiday Party Gifts
Ideal for corporate giveaways, gift bags and office decoration items.
Next are the much-awaited holiday party gifts. Items that double as promotional products, the goodies on our list are available at affordable prices that can help you create a more suited décor ambience for the office, add contents to the holiday party gift bags, and be extended to large crowds to make your brand presence felt during the season.
6. Shatter Resistant Flat Star Ornaments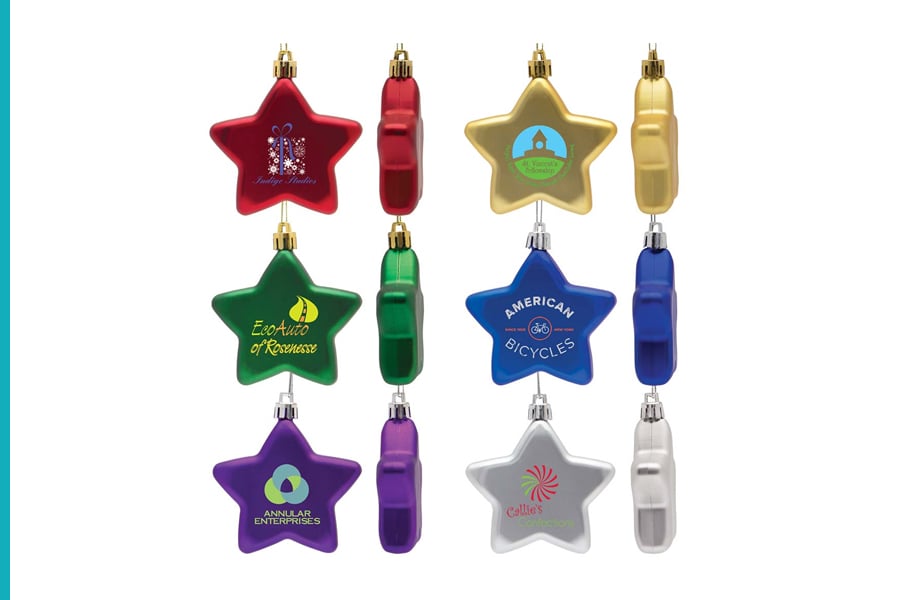 Holiday ornaments are a creative way to say thanks and show appreciation. A seasonal promotional product that can be personalized with a logo or special message, it presents a great opportunity for businesses to strengthen the relationship they have with customers and employees. The Shatter Resistant Flat Star Ornaments are available in color options that complement the spirit of the season and can be used as decoration items to switch mood gears around the office space if you're hosting your party within your business grounds, or given to guests as a party favors they can take home after your event has ended. They will surely find a home in trees and windows everywhere the spirit of the season has taken host.
7. Small Chroma Glass Awards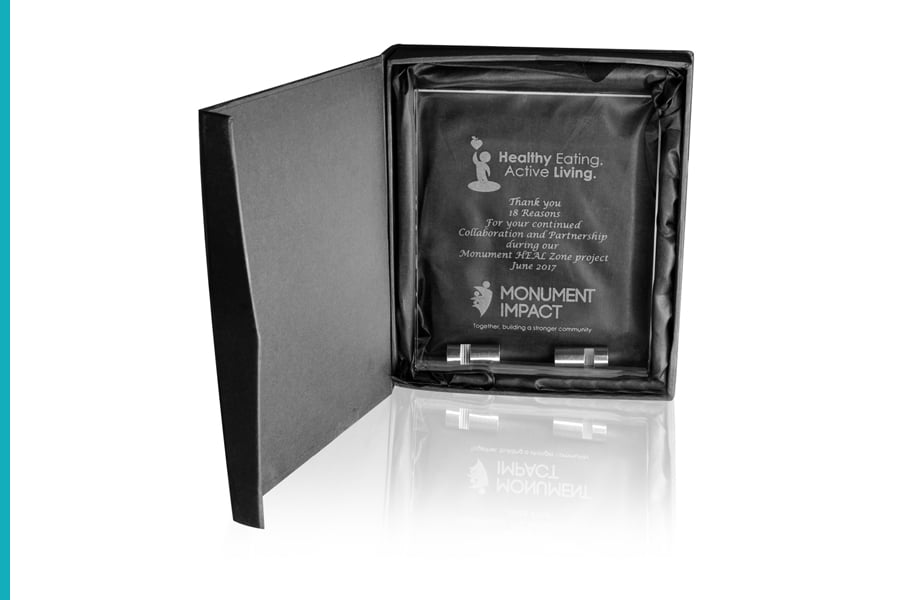 When the holiday season comes around only one other thing is certain – the end of the year is near. Business owners take part in many year-end traditions and such may include parades or fundraising events to help those in need. However, award ceremonies should be in the itinerary for largely operated business and corporations. A time when people turn within themselves and evaluate the year in retrospect, businesses have an opportunity to show key team members and employees whose performance is nothing short of outstanding that their efforts are noticed and valued. The Small Chroma Glass Awards feature aluminum stand so recipients can display them proudly on their desk, and can be laser engraved with a heartfelt message to make them feel special.
8. 16 oz. Pint Glasses
The holiday season also brings widespread celebrations and plentiful opportunities to gather in numbers to share drinks, laughter and visions of the future. Many will be coming together to toast the success and achievement of their hard work, and personalized pint glasses can be presented as an elegant and intimate gift to team members you value. These Traditional 16 oz. Pint Glasses can be printed or laser engraved for a longer lasting customization that will last ages and often remind recipients of their triumphs. Select pint glasses in place of glass awards if they seem a little old fashioned and you're looking to present patrons and employees with an elegant gift idea that will hold a practical space in their everyday lives.
9. 11 oz. Traditional Ceramic Mugs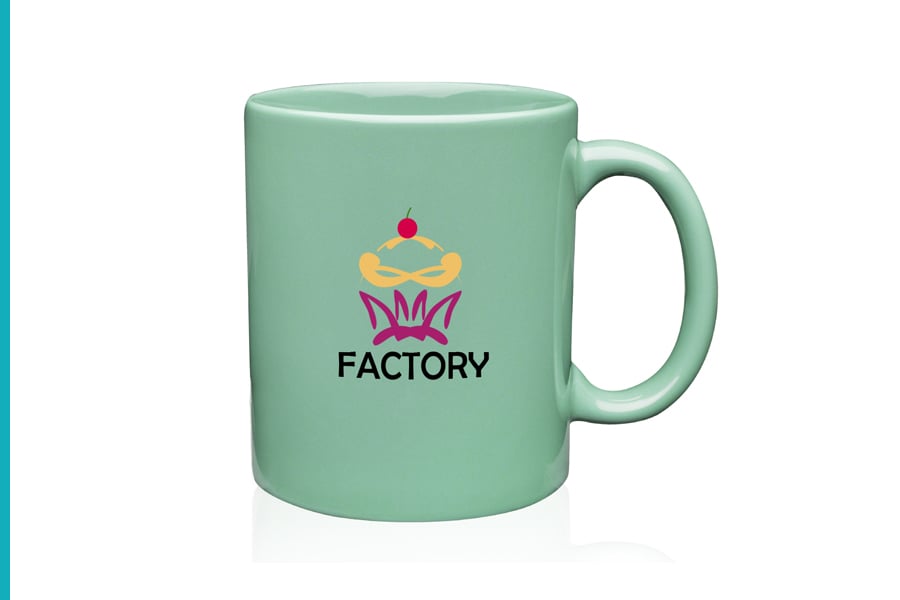 It's time we accept the hard truth, and that is ceramic mugs will never go out of style. Whether one enjoys a fresh cup of coffee as part of a morning routine, delights in a page turning novel with a hot cocoa as a trusty companion, or simply makes the usual run to the breakroom around three in the afternoon, these 11 oz. Traditional Ceramic Mugs will be there to help get the job done. Don't fret over the classic design - they will stand out when printed with your logo design or message. Remember, sometimes less really is more and ceramic mugs are holiday party gifts guests can use at the hot chocolate bar, then later take with them on the go to use beyond your event.
10. 17 oz. Speckle Finish Water Bottles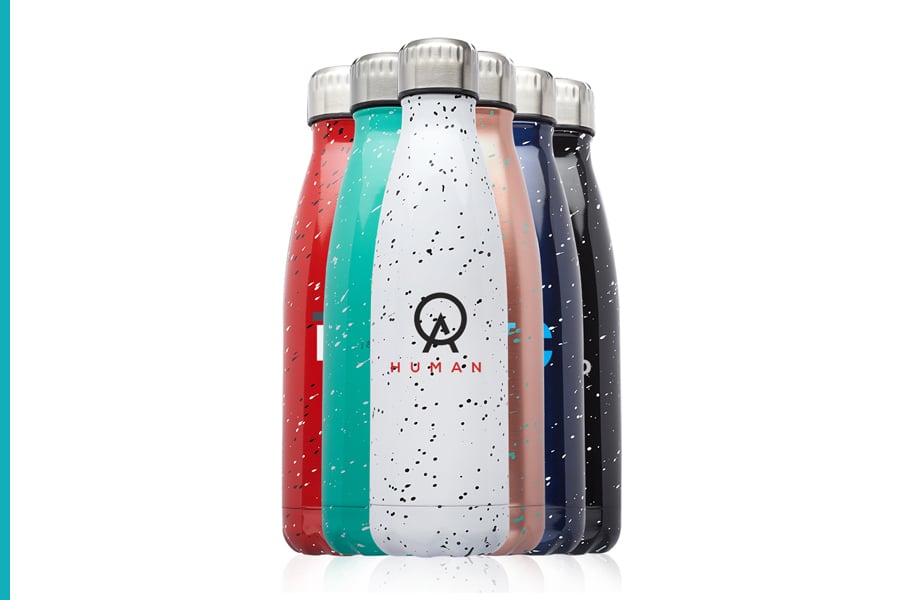 Promotional products meet the holiday season in these 17 oz. Speckle Finish Water Bottles. Made with durable and long-lasting stainless steel, they feature a colorful splattered finish that will compliment the theme of your party for more holiday feels and purchased personalized with your brand logo to give as complimentary giveaway items or raffle items. Make the most of your gift bags and include promo products that patrons and employees will find a use for beyond the holiday season. Whether the is sun is bright in the sky or hiding behind some winter clouds, we need to stay hydrated and our bodies balanced.
Let us know your thoughts about our holiday gift guide in the comments below and share with loved ones and friends to make their shopping experience a little easier. At DiscountMugs we can help them find custom promotional products that meet their expectations and most importantly their budget!