Winter weddings are unlike any other celebration. Although most couples lean towards the warmth of spring and summer, winter is a magical time to come together and commemorate the love shared between two people. The icy weather characteristic of the season turns outside venues into dreamy and romantic settings, while crisp winds hint at a-moment-notice snowfalls that will make your candid photos resemble props inside a snow globe. Look inside for winter-themed wedding ideas that will give your special day stunning finishing touch and intimate feel.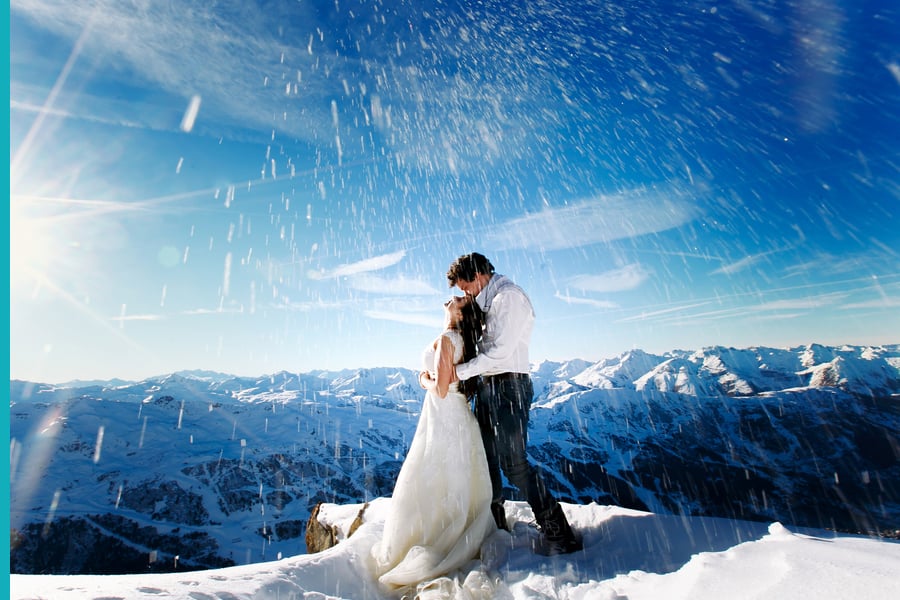 If considering a winter wedding, there are a few aspects to keep in mind that you wouldn't necessarily think about for a summer wedding. There are different details to worry about, like how to keep your guests warm, how to set the stage if it snows, and how to dress yourself and your wedding party for chilly temperatures. You want to make sure everything is picturesque and perfect, but you still have to plan ahead for inclement weather and unexpected changes. Of course, you still have to think about all the other moving parts of a wedding ceremony and reception that don't vary by season, like food and music selection, dress and suit fittings, the right location, the cake, wedding favors, flowers and other decor.
Without a doubt, no two weddings are exactly alike. However, social media platforms, bloggers and bridal magazines all offer endless ideas to help make your celebration a dream come true. You can get a lot of inspiration from such resources, adjust them to match your taste and style, all the while fulfilling the must-haves to pull it through.
Weddings are a lot of work, so it's always a good idea to start with a visualization board or folder to keep your ideas in order. In order to make sure your venue conveys the vibe and atmosphere you envision, first list of the aspects you need, the ones you want, and the ones that would be nice to have but not totally necessary. Items on the list of needs will include a photographer, a cake, and a dress; items on the list of wants could be real flowers, an outdoor venue for the nuptials, and an open bar for guests; items on the list of things that would be nice to have could include centerpieces for all the tables, wedding favors, and extravagant food items like a chocolate fountain.
If you aren't sure where to start, your best bet is to enlist the help of a wedding planner, if this isn't in your budget, ask friends who have recently gotten married to share some tips. Here are some ideas to help stir up your creative mind and get planning for your winter wonderland wedding.
The Ultimate Guide to Wedding Favors
Pick a theme
Winter weddings usually have a winter wonderland-style theme, where a lot of the decor is white, flowing, and snowy, with fairy lights, ribbons, and seasonal flowers adorning the venue. Just because it's a popular choice among winter brides, it doesn't mean it's played out or overdone! You can always adjust and tailor it to your specific vision so it feels more intimate to you, your partner, and most important guests like family and close friends.
Winter wonderland themes feel magical and straight out of a storybook. The goal to achieve the theme is to keep opulence and softness in mind, so including twinkling white lights around your wedding arch, on the backs of your guests' chairs, or at the wedding party table is a beautiful (and cost-effective!) way to achieve that feeling. Draping white fabric on walls, on chairs, and over tables will add to the softness, as will gentle flickering candles. Incorporating whitewashed branches and twigs into your centerpieces can give it a winter forest fee if that matches your taste. Most winter weddings feature a silver and white color scheme, but splashes of icy blues can add interest too.
By the way, a winter wedding doesn't have to be themed around the holidays unless you specifically want it to. If a holidays-themed reception sounds like a dream come true, no one but you and your beloved may have a word about it. After all, it is your special day.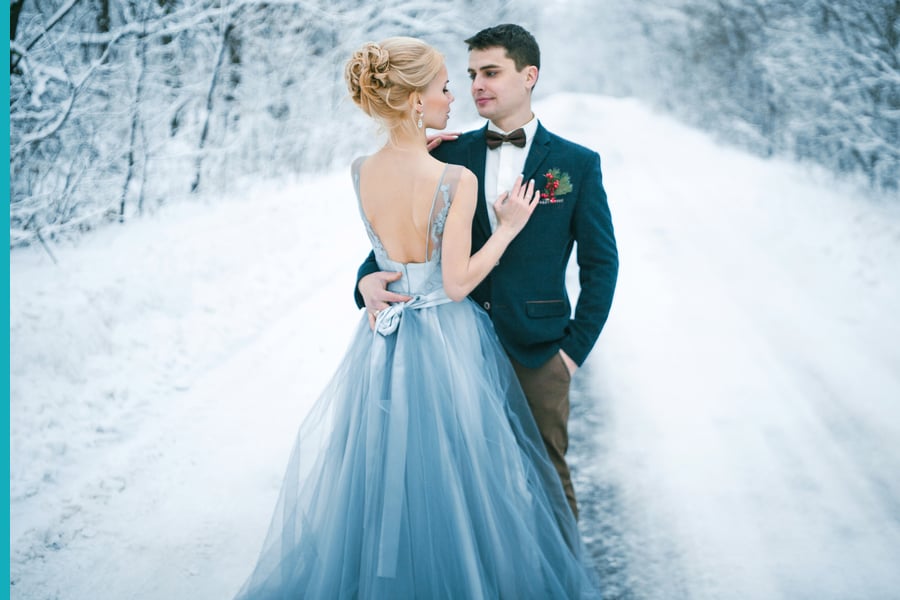 If winter reminds you of the Disney magic from the film Frozen, you could certainly incorporate that into your big day. The film was wildly popular among kids and adults alike because of its underlying theme, but also the glamour - all descriptors of a perfect wedding. Start with a color scheme of different shades of blue, white and silver, and select a venue with a waterfront view or a similar waterscape nearby to get a frozen ice feeling.
Blue should be your accent color for decorations, wedding favors, the wedding cake, and clothing garments. Using holly, mistletoe and pine needle garlands, wreaths, candles, and glass ornaments as your main decorations can be festive but still understated. Green, red, silver, gold, and white are great colors to incorporate. Other winter wedding ideas could include arriving in a horse-drawn carriage or having a Christmas tree or bouquets of poinsettias as focal points in the room.
If less means more to you, go with a ski haus wedding theme. One of the best ways to spend a snow day is to spend it on a ski hill, so why not bring that atmosphere to your wedding? The ski haus vibes will be recreated through your venue and decorations, so picking a place with a lot of wood finishings or cabin-like architecture can help bring this idea to life. Cozy, plaid blankets can keep guests warm, and you can fill the venue with decor items to complete the look.
Choose your menu
During the reception, your guests will be hungry so take the time to plan out a menu suitable for a winter wedding. If you're following a traditional wedding meal plan, you will most likely want to include finger foods and appetizers before bringing out starters, a main course, and end with dessert. When we think of winter, most people probably associate it with comfort foods, and rich, warm, melt-in-your-mouth cuisines. However, with so many variations and options to choose from, it can be hard to pick and narrow it down. Here are some menu inspirations for each course.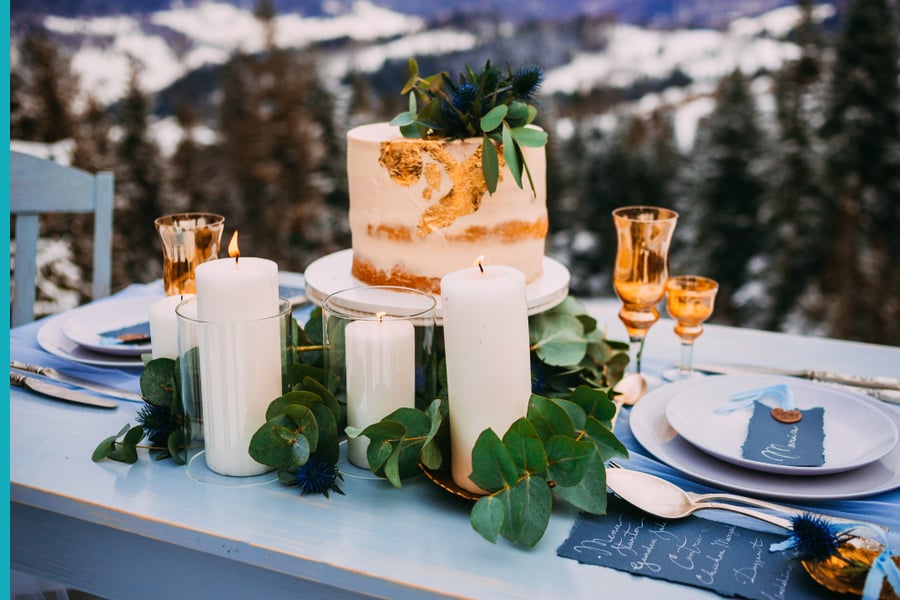 Appetizers: If your wedding ceremony is held outdoors, your guests will welcome hot tasty treats to help them warm up when they come inside for the reception. Appetizers like meat or grilled vegetable skewers, bacon-wrapped finger foods like scallops or asparagus, or mini sliders are excellent choices that guests will love. Anything stuffed with cheese, like mushrooms, baked potato cups, or mini hotdogs are sure to be a hit as well. Keep your vegetarian, vegan, lactose or gluten intolerant guests in mind!



Starters: You'll want to bring out your starters and wedding meal once your guests are seated. Oh, and they'll want to be seated for this! Who doesn't love a hot bowl of soup on a cold winter's day? A French onion soup, or creamy leek and potato soup, or a hot meat and veggie stew will definitely warm them up. A warm salmon or chicken salad may be more suitable for your taste.

Main course: A winter wedding is a great excuse to treat guests to a hearty homestyle traditional turkey roast, or ham dinner complete with all the fixings. A slice of turkey or ham served with stuffing, buttery mashed potatoes, cranberry sauce, and steamed vegetables may sound cliché, but it gives off a familial and intimate feel. For weddings that aren't themed around the holidays, you may want to avoid that type of dinner completely. Chicken dishes are always a hit with guests.

Dessert: Winter desserts are definitely not strapped for choice. Comforting puddings, like apple pie and custard or sticky toffee are all great options. Warm, melt-in-your-mouth cakes like chocolate fudge, red velvet, or black forest cake are also favorites that are sure to delight.

Extras: If dwelling in the extravagant, or looking to give guests a little more choice with something fun they'll remember, consider a dessert table set up for the remainder of the reception once the main course has been cleared. You can include a chocolate fondue with cut fruit for dipping, an ice cream station with hot toppings like fudge, caramel or warm maple syrup, a s'mores bar, or assorted pastries.
You can also hand out individual treats for each guest after dinner. Personalized Belgian chocolates, personalized bags of cookies or brownies, or take-home mason jars with dry ingredients for a delicious soup or chili recipe can be your cherry on top.
The menu isn't just about food! You have to consider what your guests will drink when they attend your wedding, especially if it's on the chillier side and parts of the celebration are held outdoors. Winter wedding ideas for drinks should help keep your guests warm, and be easy to hold and drink if they're standing or sitting outside.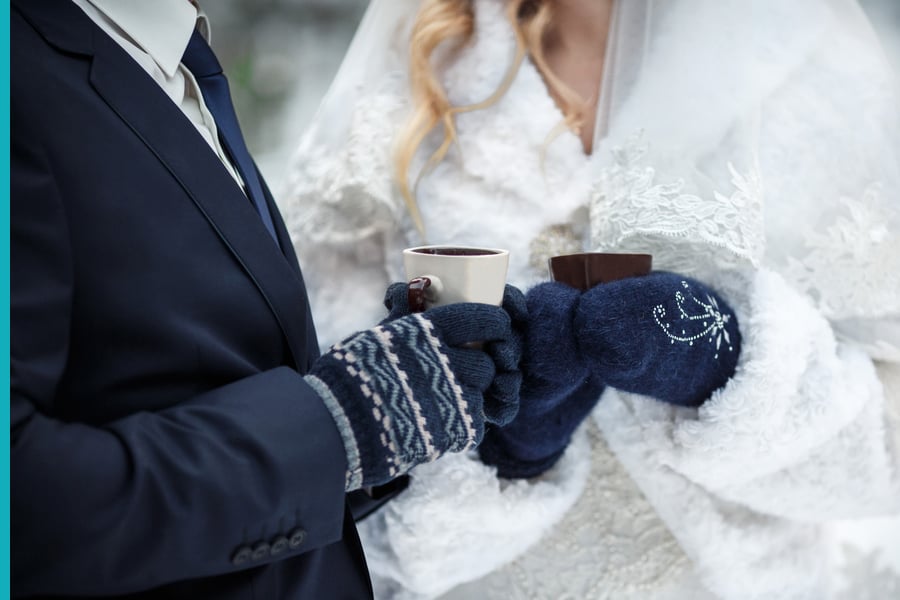 Depending on your theme, you may want to give guests classic wine glasses, or maybe something a little cozier, like a mug for hot chocolate. If you want to make it more personalized, decorate the wine glasses and mugs with your name and wedding date so they can keep them after the party is over.
As for a drink menu, having mulled wine or hot apple cider will be sure to warm up your guests while they celebrate or take photos outside. You can also have rich, hot chocolate available for those guests who don't drink alcohol (and don't forget the marshmallows!). Take it to the next level by offering different flavors, like milk, white, and dark chocolate. Add whipped cream and drizzle chocolate syrup to complete the expereince. Another alcohol-free idea is to have a coffee bar complete with flavored syrups or creams.
Why not also match your bar selections with your theme? Curate specially crafted cocktails for the season and pair with your wedding theme - the adults will be sure to appreciate. These don't have to be served during or after dinner either – treat your guests to pre-ceremony drinks they can enjoy both indoors and outdoors to help warm them from the inside out. Some cocktail ideas could include a Nutella Melt (hazelnut spread combined with cream and sugar served in a mug), a CoCo Snowball (a blue drink consisting of vodka, Malibu rum, Coco Lopez, and blue curacao with a coconut rim), or a cherry thyme champagne cocktail.
Decide how to keep your guests warm
When hosting a winter wedding, you'll want to ensure your guests stay warm and toasty throughout the event - uncomfortable guests are not ideal. You can offer blankets, hot drinks on arrival, have heaters strategically placed around your outdoor venue, or hold your ceremony in front of a fireplace for an extra warm and cozy vibe. In short, be mindful temperatures could be quite low, depending on the month you hold your wedding.
Pick your winter wedding favors
Give your guests favors that'll truly remind them of your special day. Winter weddings allow for unique gifts, so why not go with something less traditional and a little more on the side of unexpected?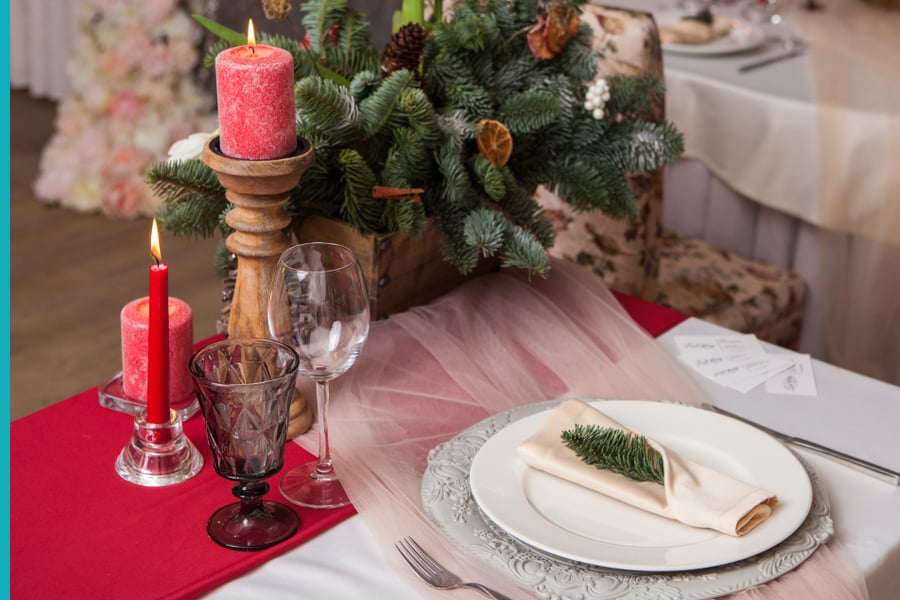 Think customized glass coasters engraved with decorations like a snowflake, or Christmas tree ornaments that fit the theme of your decor. A pair of luxurious winter gloves or mittens, or plush blankets are also practical ideas that can be enjoyed on the spot.
Bring a touch of creativity to your winter weddings for an unforgettable event. Let us know your thoughts in the comment section below, and share with family and friends to help them carry out their special occasion this season!