Finding that special one you want to spend the rest of your life with is magical. It gives your life such joy, happiness, and comfort that it's only natural to want to celebrate a proposal with everyone you hold dear. Weddings are the one day in our lives we get to go all out, dress up in our fanciest clothes, bring together everyone we care about, and live out a fairytale.
Weddings are the perfect ending to your dating relationship, and the perfect prologue to your marriage, but they don't often come cheaply. The average cost of a wedding today exceeds what many people pay for a down payment on a house. This isn't to say that everyone goes in expecting to pay $20,000 to $30,000 for one event, but that they lose sight of their budget along the way.
Knowing how to have a cheap wedding can help you keep focus, stick to your budget, and still have a beautiful, magical day without compromise. You simply need to plan more, be a bit creative, and follow this guide:
How to Plan Your Wedding on a Budget
A great way to start planning a wedding on a budget is to book a date well in advance. Save the date cards can help everyone on your wedding list to prepare in advance, give you their confirmation that they are coming, and of course help, you spread out costs and prepare a strict budget. Give yourself a year to plan the wedding, and you also have a year to pay for décor, entertainment, catering, or to at the very least save up for these costs.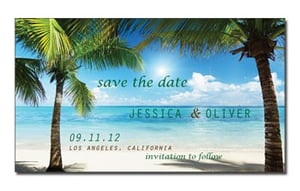 How to Write a 'Save the Date' Card
Your 'Save the Date' needs to have a few key pieces of information on it, no matter what format you send it on. You will also want to send these out as early as possible, with the minimum amount of time before your wedding being 6 to 8 months.
Date and Venue
Ideally, you should pick out a date for your wedding, and if you have not yet settled on a specific venue, then put the city the wedding will be held. This way, your guests can prepare to get to the destination in advance – crucial if you are hosting a destination wedding.
2.
Special Requirements
If there are any special requirements that you want your guests to do or bring, put it on your save the date. If it is just a small wedding or an adults-only wedding, this is best known in advance. The same applies if you want to have fun with your theme and you want your guests to do something, like wear cowboy and cowgirl outfits to a western-themed wedding. If the explanation is long, consider creating a wedding website and putting the URL on the save the date instead to keep the design clean, simple, and beautiful.
3. Invitation to Follow
Let your guests know that a formal invitation will arrive in the mail closer to the wedding date.
The Problem with Custom Cards
The traditional means of sending out save-the-date cards is that no matter how beautiful the card is or the quality of the paper, it is still just a letter. If the card doesn't stand out enough, it could easily be packed away, disregarded, or forgotten about. That's why you should consider more unique, custom 'Save the Date' favors.
Unique 'Save the Date' Alternatives

One of the best alternatives to the traditional 'Save the Date' card is magnets. Magnets can be customized to suit your wedding theme, state the information you want them to say, and best of all are placed on the fridges of your friends and family. They'll be reminded of your big day, every day!
Some reasons to use 'Save the Date' magnets instead of traditional cards include:
Easy to Find
Reusable
Attractive Magnets are Great Mementos
Customizable
Tips on Design
Most customizable magnets size 3.5 x 2 inches in size or slightly larger at 3.75 x 3 inches in size, meaning you need to be careful when it comes to designing your special 'Save the Date' favors.
You can opt for a magnet that is designed around the theme of your wedding, for example, a beach wedding magnet, or you can design your magnet to have a photo of you and your soon-to-be-spouse with the wedding information or keep it simple and classy in black and white with a photo of wedding rings.
What you need to remember no matter what design backdrop you choose is that the words need to be very clear, very readable, and the information needs to be accurate. That is why for magnets less is always more. Keep your design simple so that it looks great from near or far.
6 Wedding Décor Ideas on a Budget
To have an affordable wedding that is also beautiful, you will want to think outside of the box when it comes to décor and let your creativity thrive.
Upscale Earthy Appeal
Harvest your décor from parks or other natural areas. Go out and pick out branches that you can use as centerpieces, for example, or use pine cones for a rustic chic look that ties the napkins together. You can also achieve this look for an affordable price by browsing through arts and crafts retail chains, or wholesale retailers. Natural elements with an earthy appeal can lend your venue the upscale vibes you dream of –at a low cost.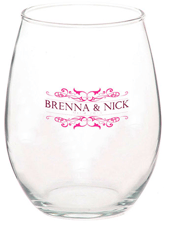 Customized Wedding Glasses
Custom glasses for your wedding double as party favors and are much less expensive than crystal, making them a great budget option. While some venues and caters will provide you with nice glasses and stemware, these do come at an extra cost. Personalized water goblets and wine glasses will impress those who attend your wedding.


Repurposed DIY Centerpieces
It's so easy to repurpose items from around the home to be made into a unique and personal centerpiece. Keep glass bottles and jars, for example, and wrap them in twine, fabric, or paper for a quaint, beautiful look. This will bring a nice effect by adding texture and dimension, especially when the glass containers vary in shape and size.
Edible Favors for the Table
If you want to fill up your table, do it with edible favors. From personalized fortune cookies to chocolate-covered almonds, to chocolate bark – these items are delicious and fun to add to the centerpieces of your wedding tables. You can put these treats in personalized jars, or you can be more unique and use personalized martini glasses that have your wedding theme printed on them.
Dried or Repurposed Flowers
If you want flowers at your wedding as décor and not just the bouquet, see about repurposing flowers. This is much harder to plan for. What you will want to do is contact other events, from weddings to even funerals, and see if they have any flowers they would want taken off their hands. This can be free or very cheap. If you do this in advance, it is recommended you dry the flowers out so that they keep their shape and their beauty without wilting.
Thrift Store Finds
If you need certain items, like cutlery or tablecloths, don't be afraid to head to the local Goodwill. Mix and match linens, don't forget to deep clean them before the event, and pair it with a budget-friendly set of napkins.
Make Your Wedding Custom on a Budget with a Koozie
A great way to keep your guests' drinks cold, and break the ice between strangers is to customize some wedding koozies for the big day. These custom wedding koozies can be designed to fit your theme perfectly and can be used to improve your wedding for everyone involved.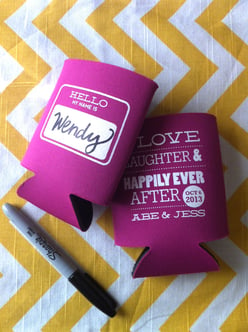 Fun Bachelor or Bachelorette Party Koozies
Koozies can make any party great because it gives all the guests something to feel unified around. This means it's as great for the wedding as it is for the pre-wedding parties. You can have personalized koozies made for your bridal party, making it a great way to hit the clubs and show off the bride-to-be, or opt for a different color scheme and do the same for the bachelor party.
Break the Ice with a Name Tag Koozie
One great reason why customized koozies work so well is that you can easily add a name tag to them. This is infinitely classier and more comfortable than a sticker name tag, won't ruin anyone's outfit, and feels more natural. Your guests won't forget anyone's name because their name is with them on their drink!
Help Your Guests Stay Hydrated
Customize a water bottle koozie to help keep your guests hydrated throughout your big day. This is great for beach destinations and helps keep heat stroke away from your wedding.
Great Color Schemes for Your Koozie
If you need help with what color scheme to choose for your koozie, try:
Go Classy with a Black and White Scheme
Black and white is a classic color scheme that works with most weddings. You can even add custom text, which is adorable, especially between the bride and groom. This color scheme will never go out of style, and calls for timeless, effortless yet romantic wedding favors.


Fresh and Romantic Mint
For a fun, playful color scheme for your koozies, stick with a fresh and romantic mint, which is perfect for summer weddings. However, if you're not ready for the splash of pastel, you can include a few accessories for a soft accent to complete the feel of your party.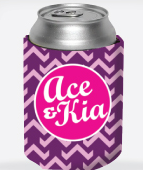 Colorful Patterns
Of course, if you have a unique color scheme, then don't be afraid to go all out with your very own patterned koozies. It's the perfect way to add color and vibrancy to your wedding party. Plus, they also let you share your creativity with your loved ones and friends.

Some Great Quotes to Add to Your Wedding Koozie
Do more with your koozie than just add a place to add a name, add a custom quote! This way you can make your guests laugh or have a bit of fun with this party favor.
Give Your Guests Great Party Favors – On a Budget
Cheap wedding favors don't have to look cheap. In fact, with the right creativity and thought, they can be touching and cherished by all of your wedding guests for years to come. Some wedding favors can be used to improve their experience at your wedding; others can be a little something for them to bring home as thanks for attending.
For Your Guests on Your Big Day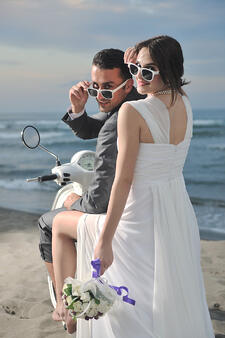 Wedding favors for the wedding itself go naturally hand-in-hand.
Sunglasses: The Perfect Favor for Outdoor Weddings

If you have an outdoor wedding, then prepare and hand out sunglasses to your guests. This is particularly important if you have a beach wedding, as the sand in the sun can cause quite the glare.
Keep Your Guests Cool with Hand Fans
If your wedding is in the summer, keep your guests cool with custom hand fans. This will help everyone stay in great spirits and keep looking great.
Personalized Luggage Tags for the Destination Wedding
If you are having a destination wedding, a great wedding favor to give before your guests even leave is a customized luggage tag. This way if they spot wedding guests along the way, they will know that they are all going to the same event.
4 Wedding Party Favor Ideas
Wedding favors don't just have to be about the big day; they can also be a thank you for all the love, support, and wedding gifts that they have offered.
Wine Bottle Stoppers to Celebrate Your Big Day
Wine bottle stoppers are excellent, classy gifts that can be customized and used for years after the event.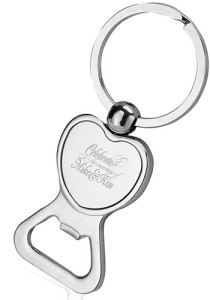 Beautiful Picture Frames
Send your guests home with a picture frame and then fill it on a later date when the photographer is finished editing the photos of your big day. This way, you can send them a great photo with them in it for them to remember forever.
Custom Bottle Openers
Bottle openers are another great party favor that guests will always end up using and enjoying.
Edible Wedding Favors
If in doubt (or strapped for cash), then the best way to go is with edible wedding favors. You can go above and beyond and create chocolates and give them out in personalized chocolate boxes, or for a more budget-friendly option, get custom paper bags made to hand out hand-made goodies to your guests. You can send these treats out in canning jars as well, and, for those guests who might be allergic, you can offer them a scented, custom lip balm instead!
How to Ensure You Have a Beautiful Wedding on a Budget
Following these inexpensive wedding ideas is a great place to start, but even with all the tips and tricks in the book, you can still go over your budget. That is why the best way to have a budget wedding is to be very strict with your budget. Decide how much you can afford, and then tick off the big boxes first. You can find cheap venues and do them up, or you can be creative with catering, but these are still going to be big costs. Only once you have figured out these items should you start looking at wedding décor, favors, or activities, so that you won't be pushed out of budget and can instead have a beautiful wedding that ticks all of the boxes.