No matter how attached we become to our smartphones, there will always be times when nothing will do but good old fashioned pen and paper. And when those times pop up, everyone wants to have a pen on hand to quickly jot down a note or sign their name on the dotted line.
So, why not take advantage of this branding opportunity?
The perfect business giveaways
Customized pens featuring your company's logo, tagline, and contact information make the perfect promotional items: they're inexpensive, handy and useful all year round.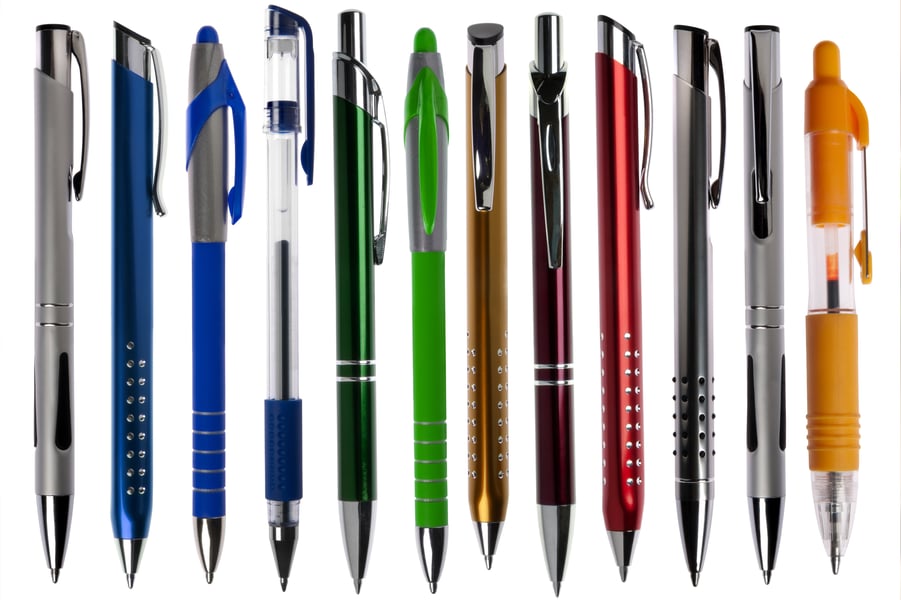 Pens are an extremely versatile option for any industry and giveaway setting. With the options for customization ranging from your company name and logo to a phone number or website address, brand tagline, or event-specific message, pens offer a versatile and cost-effective option for reaching a large number of people, quickly.
Here are a few ideas to put your pens to good use:
5 Tricks to Get Your Small Business Promotions to Stick
Trade show giveaways
If your organization frequents trade shows, personalized pens are a great promotional item to have available at your booth for attendees to snag as they're making their rounds. They're small and light enough to easily carry a supply in your pocket as you're wandering through the show yourself where you can hand them out like business cards to those you meet.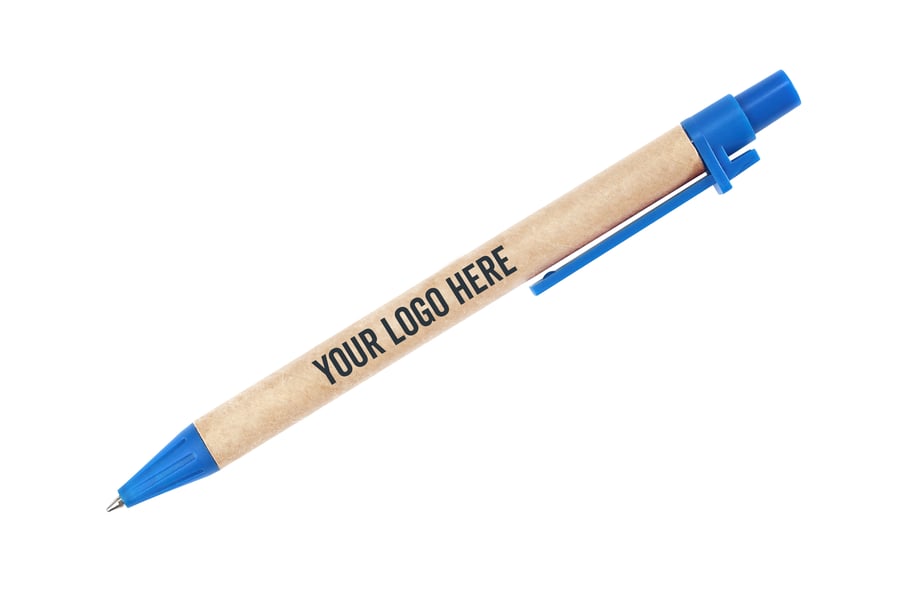 In this setting, a simple and inexpensive style like the Value Stick or bolder Ink Stick could work well. Of course, with other companies at the show likely thinking the same way, a flashier option like the Color Grip gel pen would stand out even more.
Everyone expects to come home from trade shows with bags of swag, so don't disappoint them!
Conference giveaways
Similar to trade shows, nearly every industry conference or seminar is an opportunity for sponsors and company representatives to interact with attendees for networking and marketing purposes. This is another setting where guests fully expect to come away with inexpensive and useful gifts, and the right time for personalized pens to make a grand entrance.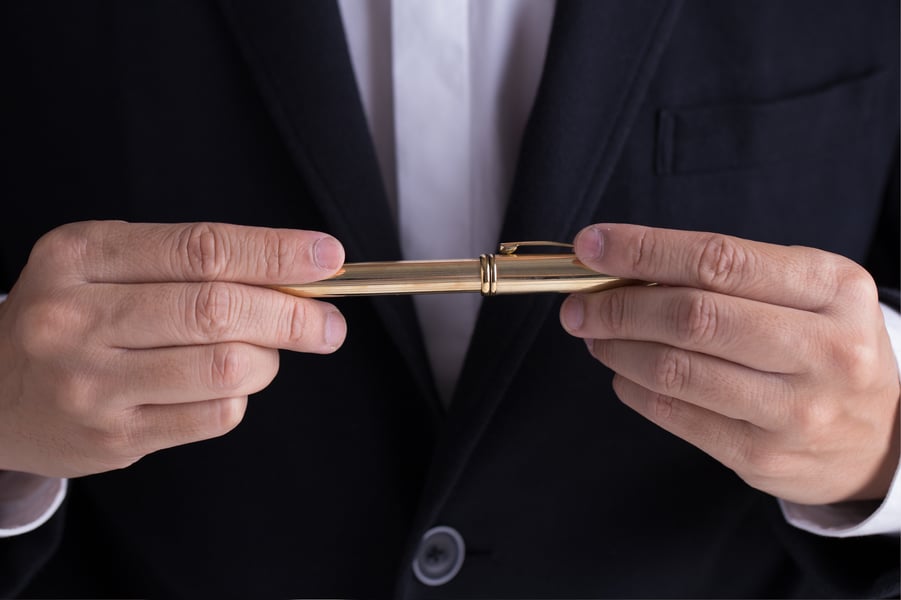 Unlike at trade shows, there are more chances for attendees to use your pens for note taking during a conference or seminar, so they actually provides an even more functional purpose.
Since most attendees will be switching between paper and a screen as they take notes and follow along with conference speakers, a great personalized promotional item would be a stylus pen. These modern designs incorporate a traditional pen with a stylus tip that can be used on any smartphone or tablet for more writing control than you can obtain with a fingertip.
For an added feature that's guaranteed to get noticed, consider a 3-in-1 stylus pen with LED light.
Corporate giveaways
Apart from formal occasions like trade shows and conferences, custom pens also make a great choice for corporate giveaways in nearly any setting where current and potential customers may be gathering.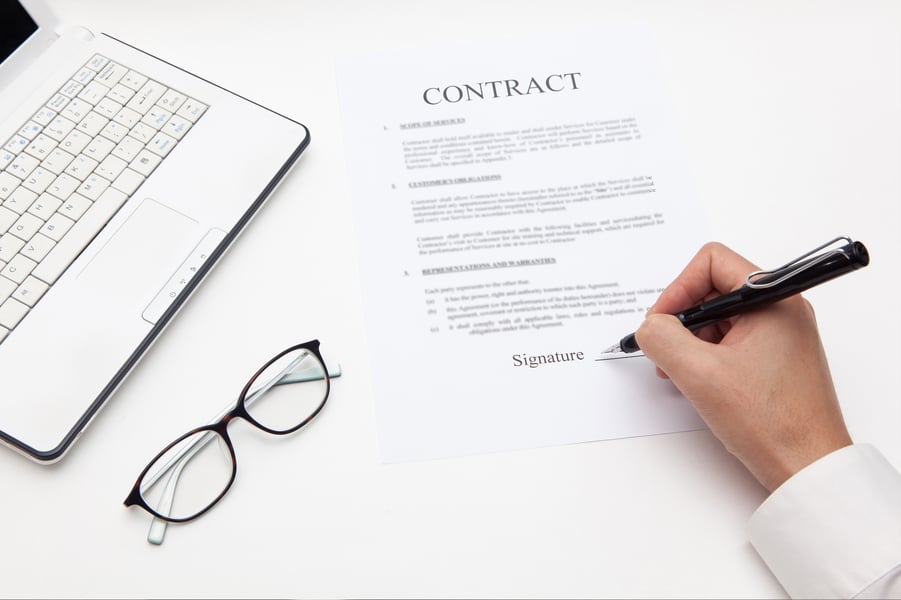 For instance, if your company has physical locations where customers may need to use a pen, such as banks, insurance companies, tax preparation professionals, and the like, why not take advantage of the opportunity by have a supply of personalized pens at hand?
If the company is sponsoring an event such as a fundraiser or a community event, have some cups with supplies of personalized pens available next to a raffle or sweepstakes form where visitors are encouraged to sign up for a chance to win a prize. They can fill out their entry form and take the pen as an instant thank you gift.
In these settings, an inexpensive yet durable standard design like the Derby Ballpoint works very well.
Company gifts
Finally, customized pens can make a beautiful and functional gift for employees, executives and vendors.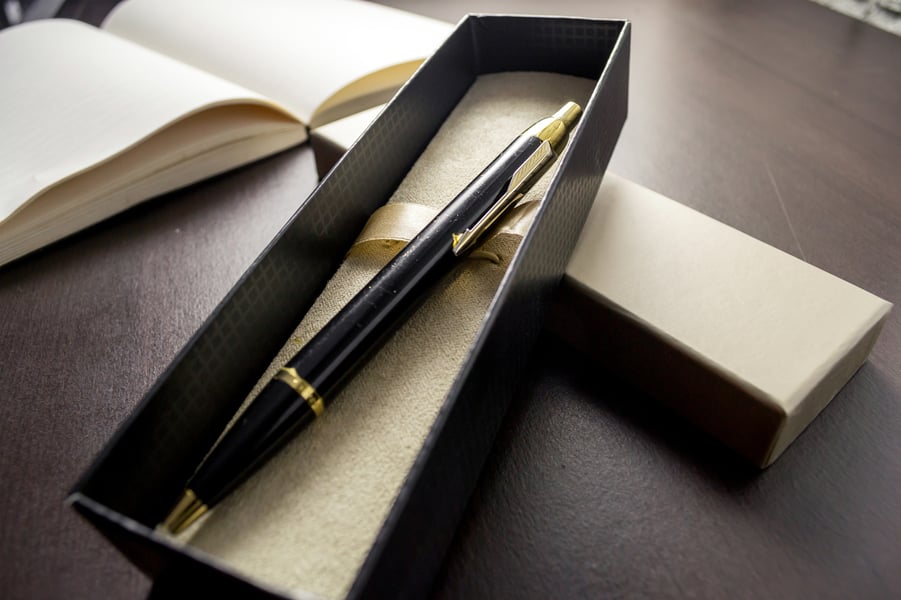 Pen gift sets add a nice finishing touch with stylish and attractive packaging or a wrappable display box that can be kept and used to hold these pen sets for use down the line. For example, the Leed's Cutter and Buck Parallel Pen set makes a striking first impression with a faux leather case and chrome accents.
Consider a fancier gift set for treasured clients, executives, and retiring employees. A less formal and more fun option may be appropriate as a welcome gift to new employees.
To be successful, business promotional items need to be both useful and cost-effective. Customized pens fit that bill perfectly. Contact us to find more ideas to help promote your business.