Without a doubt, planning a wedding is a huge undertaking. Most couples today, want their wedding not only to be a day to remember a major life milestone, but also to reflect their individual personalities and sense of style. And, whether you're having a rustic barnyard celebration or a lavish metropolitan affair, every little detail, from flowers to invites or the cake, plays a role in making it a day you and your guest won't soon forget.
If you're getting hung up on the minutia and feeling stressed about details, we're here to help!
Here are a few fun ideas to inspire you to find the ideal personalized wedding favors that will complement you as a couple, and your wedding style, without breaking the bank.
How to Keep Your Memories After the Honeymoon
Make it live and grow… like your love!
Seeds, plants, flowers, and herbs make a beautiful, natural option for personalized wedding favors that your guests can actually use and enjoy for years to come. The fact that they're alive and growing makes a perfect metaphor for your budding relationship.
You can choose plants that are indigenous to your wedding location, like the state flower, or a cactus in a desert state. If it's practical, you could choose a flower that matches the bridal bouquet or the groomsmen's boutonnières.
Seeds are another sentimental option. Your friends and family can plant and watch blossom over time, in honor of your wedding day, and growing marriage.
How can you make plants, flowers or seeds personalized? Since you can't exactly have a flower or herb engraved, it opens the doors to a more creative presentation to make your natural wedding favors gorgeous, personalized momentos everyone will love.
For example, consider planting the seeds of your choice in customized planters, personalized keepsake mugs or stemless wine glasses. Trendy yet stylish personalized mason jars are a clever option, especially if you're getting married in the South.
For an even simpler, yet elegant idea, tie up a small bunch of your chosen plant,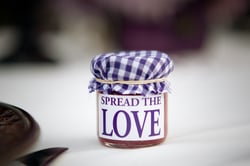 or small bag of seeds with a piece of decorative ribbon or twine and attach personalized tags or cards.
Combining a beautiful living favor in a personalized package is guaranteed to touch your guests' hearts.
Let them toast you long after your special day is done
Champagne, wine, beer, and spirits have long been associated with the celebration of
weddings and other special occasions. It's customary for the Best Man to offer a champagne toast at the reception, and for guests to do so throughout the night as well.
Because of this age-old tradition, give your guests something to toast you with long after the big day is over. For example, a personalized champagne flutes, wine glasses, or shot glasses could make the perfect favor for your guests to sip and toast to you every time they use it at home.
For hops and barley lovers, a personalized beer mugs or pilsner glasses make fantastic gifts, as do custom wedding koozies to keep beverages cold for years to come.
Another creative option is to print out the recipe of your favorite cocktail or drink (to complement the theme of your reception) on a decorative card and attach it to a personalized corkscrew, bottle opener, or other customized barware items your guests can use to make the drink at home. Lifelong cheers to you!
Sweet memories all around
Everyone loves a sweet treat now and then, and there's no better time to indulge your sweet tooth than at a wedding. Candy-themed custom favors will help create sweet and tasty memories for all your guests.
Consider offering up decadent Belgian chocolate in decorative personalized candy wrappers. Or, perhaps small, personalized candy jars filled with your favorite hard or soft confection. You can even have individual chocolate wrappers personalized with your names and event date or a favorite quote.
While these tasty favors will be short lived, they'll make a lasting impression with your guests.
The Soundtrack to your Life
Music plays an important role in weddings, and can set the tone and backdrop to the entire event. Many couples make it a point to carefully plan their wedding day tunes and confirm the DJ is going to stick to that playlist. Leave your guests with a collection of your favorite sentimental songs, or the playlist from your wedding day, on a USB flash drive customized with your names and wedding colors. These flash drives also come as handy, multi-tasking tools such as a USB Pen, Flash Drive Bottle Opener or Flash Drive with a stylus.
Cute Favors for Kids
Don't forget about the littlest guests at your wedding, especially your precious flower girls or ring bearers. Your standard wedding favor likely won't appeal to them (unless it's candy), so make them feel special with a customized gift that's designed just for them. Cute custom kids straw water bottles came in lots of colors and can be printed with their name or your wedding date.
There are many options for practical, fun and memorable personalized wedding favors, that will help spark fun memories of your wedding day for years to come.
Find out more about custom orders for personalized wedding favors.