Well-oiled cogs in a machine create efficiency, and team building events are essential to a healthy workplace culture. The driving force behind the growth and performance of an organization, the achievement of the whole depends on how well they work together. Team building events like a summer company barbecue are a great way to promote comradery, if not friendship, among employees. Here's what you need to know to plan the ultimate team building event.
What Team Building Event is Right for Your Company?
Team building events are a dime a dozen. In fact, any event you host as an employer for your employees is an opportunity to promote teamwork and help them bond. However, wherever you are in your journey as a company will determine which sort of event will be the most successful to your goal. Following are three of the most common an effective team building events.
1. The Company Picnic
The summer company party, summer company barbecue, or most commonly, the company picnic, is a significant event employees look forward to. An opportunity for employers to go all out, the company picnic offers employers the chance to get out of the office, get active together, have fun playing competitive games together, and enjoy the best parts of summer as a team.
2. The Holiday Party
The end of year, or holiday party is a corporate event most take for granted. However, exactly because it gathers around the holiday season, there aren't many opportunities to be unique – and that's okay, too. People love tradition, and the holiday season is conducive to creating a warm atmosphere that reminds them of their individual customs. No matter what their beliefs are, consider getting your employees gifts to show your appreciation for all their hard work and dedication during the year.
3. Team Building Exercises
Team building exercises don't have to be specific to events when the majority of your employees participate, however. Whenever a substantial amount of new employees are on-boarded, consider hosting team-bonding exercises to introduce them to the team and ensure they establish effective lines of communication. If on the other hand, hosting a multitude of pop-up events presents as a challenge to your budget, contemplate hosting building exercises once or twice a year to keep a healthy dynamic in the office.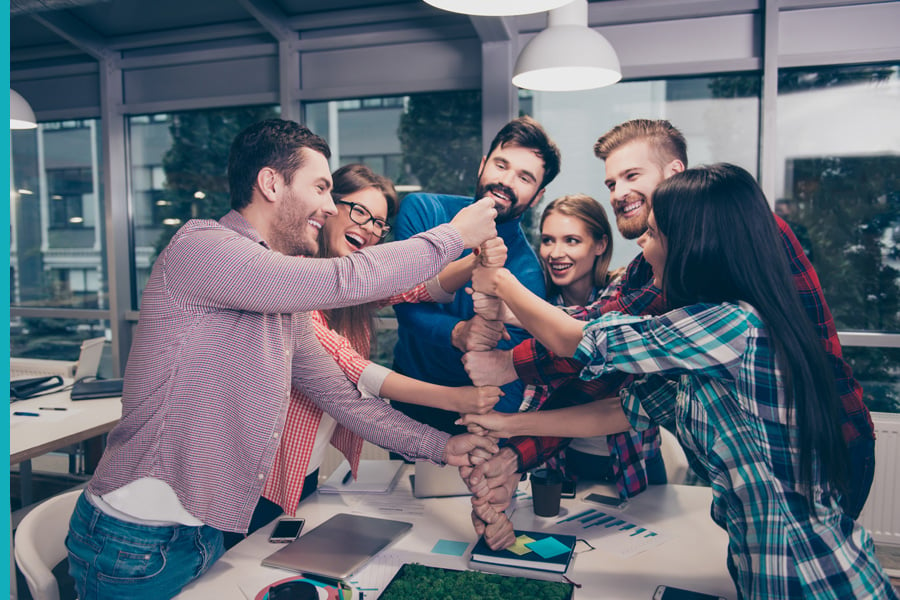 How to Plan The Ultimate Team Building Event
To plan the ultimate team building event (of any kind), you will want to follow these key steps:
1. Set an Event Spending Budget
Although the event will be paid for with company money, you never want to overspend. Instead, have a set amount you feel comfortable spending and, most importantly, won't negatively affect your yearly or quarterly budget.
2. Choose the Right Date
The date of your event matters. Select a neutral date most employees would feel comfortable setting aside. That means don't pick a national holiday to host your event. Some of us look forward to national holidays as an opportunity to travel and that may leave you with a rather unimpressive small crowd to host. Instead, choose a date without other distracting celebrations surrounding it.

I realize, however, the above stated does not apply to those hosting The Holiday Party. Inevitably, other gatherings and celebrations will be happening throughout the season. Nevertheless, the holiday season is reserved for observance, and a fantastic time to nurture strength within your organization.
3. Pick a Theme
Keep things fun and select a theme for your individual events. In spite of what haters may say, themed parties and events can have your employees looking forward to your quarterly or yearly occasion.
4. Decorate Appropriately
If you have decided on a theme party, commit to it. There's no fun in choosing a theme if the party or event in question doesn't look like it. Decorations matter, too!
5. Catering is a Must ... Most of the Time
Staples like burgers and hotdogs are great in almost any situation, but consider branching out. Nothing shows you care the way food does. Sure, traditional summer foods are easy to prepare, not to mention affordable, but a delicious meal from a local catering service will add some point to your advantage.
No matter what you decide, go for delicious food and apply the same to drinks. However, discuss whether serving alcohol at your team building event is prudent. Keep in mind whatever happens during your event will be under the umbrella of company liability.
6. Send Out Custom Invitations
Consider save the date magnets in place of traditional paper invitations. They'll double as mementos of your efforts and you're employees will be impressed.
7. Consider Who May Attend
Consider in advance who may attend your team building event. You can make it a strictly employees event, or perhaps you may be open to a family-friendly event. A way to strengthen your team is by providing a space where they can meet those who are important to their mates. Seeing their coworkers as real human beings worth more than whatever their occupations will help them identify with one another and open lines of communication.
8. Choose Appropriate Entertainment
The company picnic isn't a picnic without the proper entertainment. From a professional sound system to a live act, additional entertainment can help break the ice and fill in the pockets of awkward silence. Keep your audience in mind - entertainment for an adult crowd may not be suitable or appropriate for young children.
9. It's All Fun and Games
Prepare a handful of games and activities for your event. This is especially important for summer parties and team-building exercises. You can't have fun without the games - keep scrolling for some fun ideas!
10. Offer Prizes
Have custom prizes at hand personalized with your company logo. They're fun and if designed right, an excellent way to market your company, too!
11. Your Venue Matters
Your venue doesn't need to be awe-inspiring, but it does need to have the space and the amenities for your event, so plan ahead. If you choose an outdoor venue, for example, be prepared for rain - tents and company umbrellas can get the job done. However, make sure to coordinate with venue administrative to ensure you don't break any of the rules and regulations.
12. Get Everyone Involved
Try to create an inviting environment so that all employees feel welcome and involved. For example, you can always plan the event and just ask them to show up, but you can also take votes and recommendations on what they'd like to see happen. In place of just another company meeting they have to attend, this can be an opportunity to let them take the rains for a day. Keep an eye for the true leaders, wink.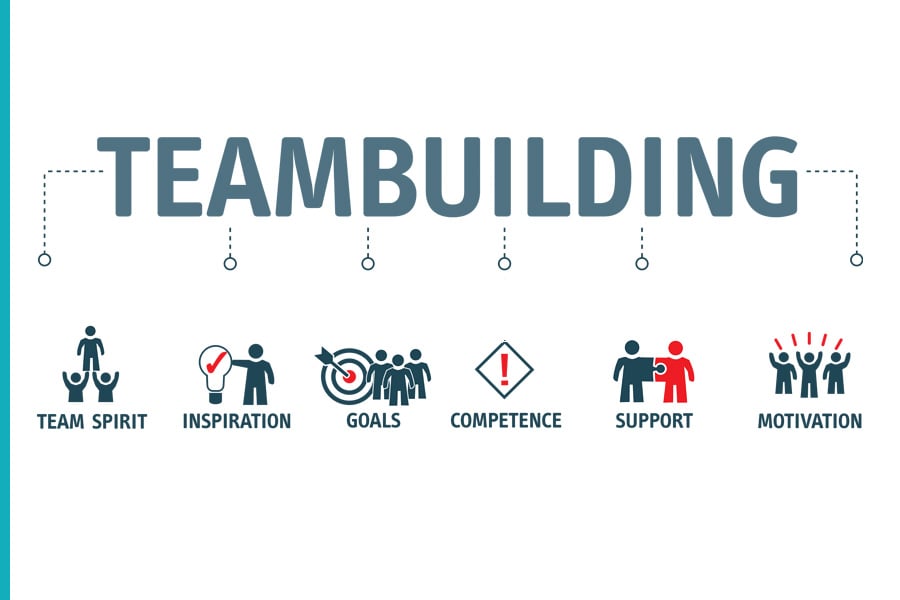 Ruling the Company Picnic
Holiday parties are fairly straightforward, and you likely don't need extra help to plan your holiday bash. Your company picnic, however, may have room for improvement. The following ideas can help you host the ultimate team building event year after year.
1. Wild Wild West
The wild west has captivated the imagination of millions for decades. A fun party to be had, you can call for costumes and re-enactment activities with problem solving tasks that promote bonding among employees.
2. Luau-Themed Picnics
Luau themed picnics are fun and summer-approved. You can serve drinks in themed cups, have costumes for your employees, and enjoy the summer sun.
3. Have Fun at The Carnival
Shop custom balloons, have your employees dress for a carnival, hire a DJ, and rent out a tent for a fun carnival themed picnic.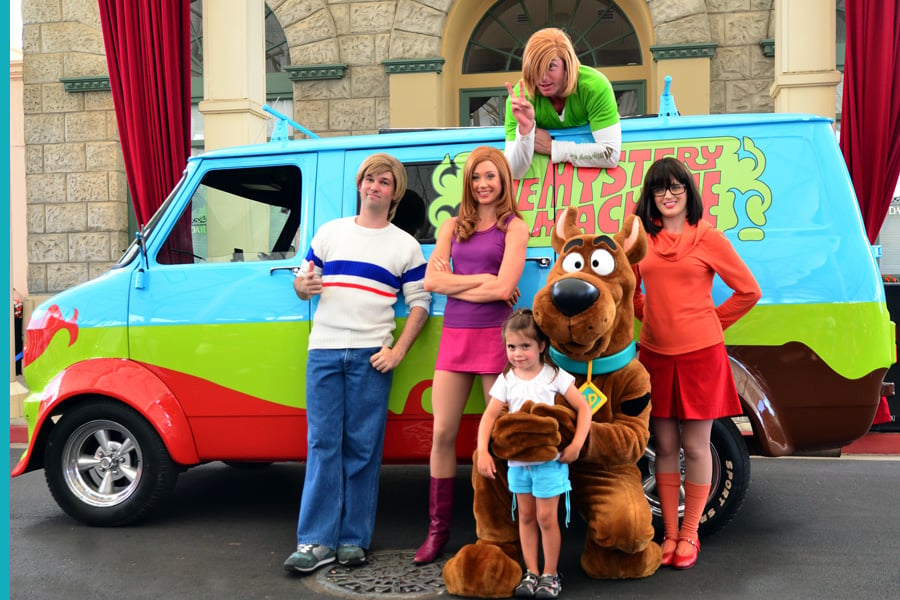 Promote Company Culture with Custom Gifts

Custom party favors are a more affordable way to liven up the space of your event. These event favor ideas below will make add fun to your gathering and double as parting mementos your employees can use around the house or the office.
Flying Disks
Flying disks printed with company logo are great gifts for a beach day or picnic at the park. They'll get the crowds moving during the event and are certain to be reused at home with the kids or pets.
Cooler Bags
All picnics require a cooler, but you can get custom cooler bags! Though you won't necessarily give these to your employees, they're a great way to make the event feel exclusive and personalized.
Picnic Blankets
Picnic blankets are great custom items in which to invest. They can be easily stored away, but you'll find many of your employees will keep them around the when the weather gets cold, or Karen insists the temperature be turned down.
Stainless Steel Water Bottles
Skip the single-use plastic water bottles and shop stainless steel water bottles personalized with your logo. I call these a win!
Reusable Plastic Cups

Reusable pint cups are another option to single-use plastic bottles. These are great if you've hired out a keg or have a punch bowl for employees to drink from.
Custom T-shirts for Your Team
Custom t-shirts can either be a great idea or a waste of money. A fun way to make all employees feel included is to hold a contest giving them a chance to design the picnic t-shirts. The winner gets bragging rights, or a monetary prize - your call!
Hats and Caps in The Park

Custom hats and caps are a favorite, too. Summer days can get extremely hot our there and gearing up your team with proper headgear can be the game changer at your team building event.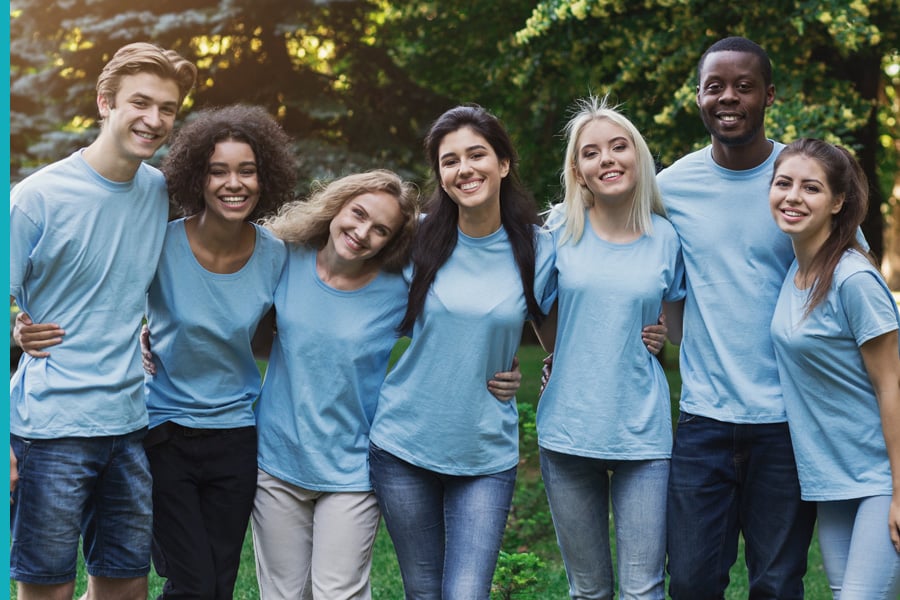 Team Building Exercises
Need team building activities to broaden your itinerary? The team building activity ideas below can a great addition to your company picnic.
Life Highlights
Invite employees to tell each other about the absolute best moment in their lives. From personal achievements to family milestones, to trips and more. The best moment in a person's life will tell a lot about them - a great and fast way for your employees to get to know one another.
Coin Logo
Get everyone to empty out their pockets and purses and use the items found to create logos. This can be done in teams - a challenging way to get employees to work together creatively.
Picture Pieces
Choose a famous photo and cut it up into as many pieces as there are employees or employees in each team. They will then need to create a copy of this photo that is five times bigger than the original. The goal is for everyone to work together to create a giant copy of the original.
Classification
The goal of this game is to get people to classify each other without using stereotypes. They will need to ask each other questions, get to know one another and so on. Later they'll group themselves into subcategories, like "dog-lover" or "baker."
The Great Egg Drop
Have teams create a container to hold one egg and have it survive if dropped from eight feet high. This is a great engineering and marketing challenge that will push your employees and encourage teamwork.
Sneak Peak
Create a sculpture out of Lego building blocks, and set aside in a private room or covered space. Invite teams to select a member who will look at this sculpture for 10 seconds. They will then return to their team of origin - each gets 25 seconds to describe the sculpture and the rest of the team must attempt to recreate it. The first team to successfully recreate the sculpture wins!
Create an Activity
A great way to come up with unique activities is to have employees come up with one. This will help spark their creativity and strategic skills.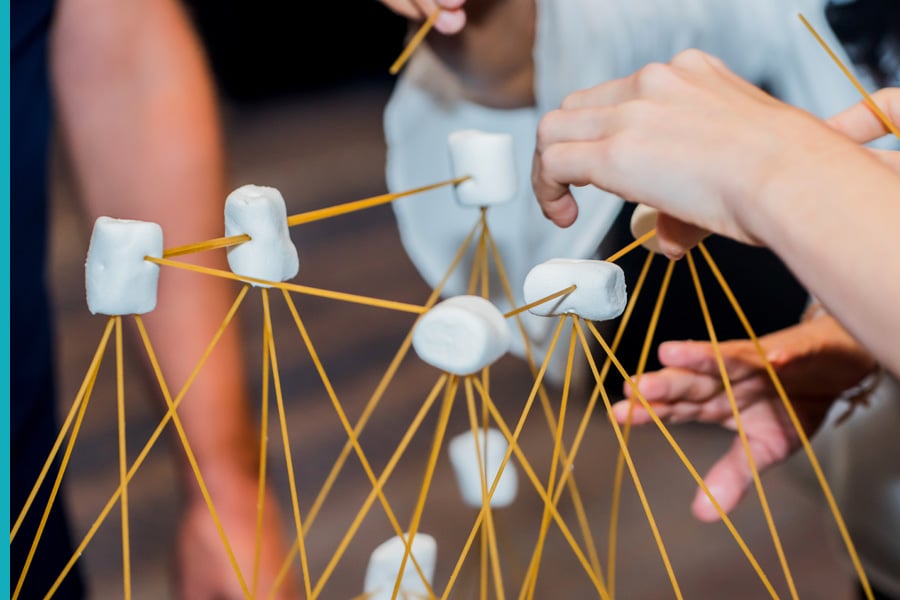 Offer Prizes to Keep Motivation High
When it comes to corporate team building activities, one of the best ways to keep your employees motivated (especially the ones who have been to a few of them) is to offer prizes. You can offer some fun, small, customized prizes for runner-ups and a big prize, like a gift card to a local restaurant, for the team that performs the best.
Try to judge based on individual merits, however. You don't want to stir up competition between your employees, but rather boost cooperation.
I almost forgot - share your pictures with us on Twitter, Facebook and Instagram!