Team building events are essential to promote a healthy workplace culture and to get your employees working well together. Well-oiled cogs in the machine create an efficient, driving workplace that helps your company grow and better itself. You need everyone to know how to work together, to have a sense of comradery if not friendship, and with team building events like summer barbecues, Christmas parties, or just good old fashion exercises, you can promote healthier co-working relationships between everyone involved.
7 Ways to Use Promotional Products in your Business
Types of Team Building Events
There are many types of team building events. In fact, every event you host as an employer for your employees is a great opportunity to build up teamwork and help your employees bond together.
· Company Picnic
The summer party, summer barbecue, or most commonly, the company picnic is a big event for most companies because it offers an opportunity to really go all out. All company outing ideas are great because they give your employees the chance to get out of the office, get active, have fun, and enjoy the best parts of summer.
· Christmas Party
Christmas parties are an obvious corporate event, but due to the season, there aren't many opportunities to really be unique – and that is okay. People love tradition around the holidays, so just work on creating a warm atmosphere and consider getting them gifts to show your appreciation for all their work during the year.
· Team Building Exercises
If you have a new team or have just brought on a bunch of new employees, then consider hosting another team-building exercise. Otherwise, try to host these exercise days at least once a year or twice a year to keep the dynamic in your office healthy.
How to Plan the Ultimate Team Building Event
To plan the ultimate team building event (of any kind), you will want to follow these key steps:
· Set a Budget
Though the event will be paid for with company money, you never want to overspend. Instead, set a budget you feel is fair and, most importantly, won't hurt your company.
· Choose the Right Date
You want to choose a date that most people can make. This means don't put it on a national holiday that everyone will likely have booked a vacation for. Instead, choose a day that is in the middle of nothing. You want your employees to look forward to your event and nothing else.
· Pick a Great Theme
Keep things fresh by choosing a fun and unique theme every year.
· Decorate Appropriately
If you are going with a theme, commit to it. There's no fun in choosing a theme if the party or event in question doesn't look like it!

Staples like burgers and dogs are great in almost any situation, but consider branching out. No matter what you do, try to offer delicious food that offers something for everyone. The same applies to drinks. However, decide whether alcohol will be served beforehand.
· Send Out Custom Invitations
Send out custom invitations and even consider going all out and being unique with a custom fridge magnet so that your employees know and remember.
· Consider Who Is Allowed to Go
Consider in advance who is allowed to attend. You can make it a strictly employees-only event, or, if you hire mostly older people who have families, consider making it a family-friendly event for everyone.
· Choose Appropriate Entertainment
Try to book fun entertainment, from a professional sound system to a live act, but remember to make sure it's appropriate for who can go. Entertainment for an adult crowd is going to be different than entertainment suitable for young children.
· Keep Things Fun With Games and Activities
Pick out and prep fun games and activities for your employees. This is especially important for summer parties and team-building exercises.
· Offer Prizes
Have custom prizes created that have your company logo on them. They are silly, fun, and if designed right, an excellent way to market your company.
· Choose a Great Venue
Your venue doesn't need to be awe-inspiring, but it does need to have the space and the amenities for your event. Just be prepared. If you choose an outdoor venue, for example, be ready in case it rains with tends and even company umbrellas.
· Ensure Everyone Gets Involved
Try to create a system so that everyone gets involved with the fun and games you have prepared. For example, offer drink tokens for playing a game or activity.
Ruling the Company Picnic
Christmas parties are fairly straightforward, and you likely don't need extra help to plan your Christmas party bash. Your company picnic, however, can improve, and with these steps, you can start hosting an excellent summer party year after year.
Choose a Great Theme to Spice Things Up
If you need some ideas on themes that will spice up your event, then try out these:
Wild West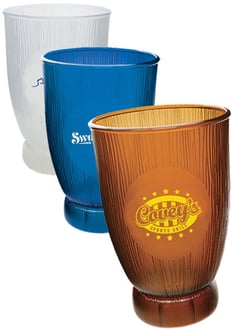 The wild west has captivated imaginations for decades and is always a really fun party to be had.
Luau-Themed Picnics
Luau themed picnics are fun and summer-approved. You can serve drinks in plastic coconut cups, have costumes for your employees, and enjoy that summer sun.
Beach Theme
If you want a more general beach theme then go all out, just make sure your employees are protected from UV rays with their own personalized sunscreen that has your company logo on them.
Have Fun at the Carnival
Pick out custom balloons, have your employees dress for a carnival, hire a DJ, and rent out a roof for a run carnival themed picnic.
Offer Fun Activities, Games, and Entertainment
The activities, games, and entertainment you choose for your party should work with the theme and who the guests attending include. You can hire a stand-up comedian or live act, for example, or get all the equipment necessary to host a track and field day.
If your picnic has kids attending, then consider hiring a clown, balloon artists, or magician. You will also want to set up games and activities for the kids so that they are not bored and everyone can have a great time.
Finally, consider hosting a raffle with a big prize. You can even have this raffle paid, and then put the money towards a charity.
Take Pride in Your Brand with These Party Favors
If you really want to customize your event, then consider investing in custom party favors. These favors will make your picnic so much fun and give your employees something to take home and even wear around the office later on:
Flying Disks
If you are hosting a track and field day, then you need to get some flying disks that have your company logo on them. They can be used at home later on with pets or kids, and are just fun to have.
Cooler Bags
If your picnic is a true picnic, then buy some custom cooler bags. Though you won't necessarily give these to your employees, as there won't be that many, they are a great way to make the event feel exclusive and keep drinks cool!
Picnic Blankets
Another great custom item to invest in is picnic blankets that can easily be stored away into a small pouch. Again you may not necessarily want to give these away. Instead, keep them in the office so if your employees want to have a picnic lunch outside they can just borrow them.
Stainless Steel Water Bottles
Skip the single-use plastic and get some stainless steel personalized water bottles for your team. This way, they can stay hydrated, you can market your brand, and you all save the environment.
Reusable Pints for Your Employees
Another option to the stainless steel water bottle is custom, reusable pint cups that have your logo on them. These are great if you have hired out a keg or have a punch bowl for your employees to drink from.
Custom Tees For Your Team
Custom tees can either be a great idea or a waste of money. It depends entirely on how well designed the tee is. If you really put effort into it, your employees will want to wear your shirt just because it looks great. You can even host a contest with a monetary prize for employees who want to give a shot at designing the tee themselves. Then give out these t-shirts at your company picnic or event or even as a prize.
Hats and Caps and Personal Branding
Custom hats or caps also apply and when designed well will be worn around town, marketing your brand and giving your employees a sense of teamwork.
Ruling the Team Building Exercises
If you want some team building activities for work, then look no further. These activities can either be done on their own during team-building exercises, or they can be added to any event, including your company's picnic.
Great Games to Play
Good for any company party and of course excellent activities for a team-building day are as follows:
Life Highlights

Get your employees to tell each other about the absolute best moment in their lives. From personal achievements to family milestones, to trips and more – the best moment in a person's life tells a lot about someone and is a great, fast way for your employees to get to know one another.
Coin Logo
Get everyone to empty out their pockets and purses and use the items found to create logos. This will be done in a team and is a great way to challenge your employees to work together creatively.
Picture Pieces
Choose a famous photo and cut it up into as many pieces as there are employees or employees in each team. They will then need to create a copy of this photo that is five times bigger than the original. They can use markers, paper, or any other item to do this. The goal is for everyone to work together to create a giant copy of the original.
Classification
The goal of this game is to get people to classify each other without using stereotypes. They will need to ask each other questions, get to know one another, and so on so that they can group themselves into subcategories, like "dog-lover" or "baker."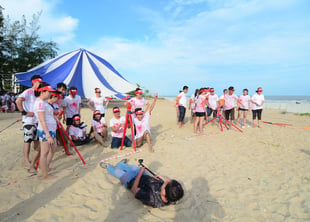 Two Truths One Lie
This is a fun and easy game and should be a feature at all corporate team building events. Essentially each employee needs to come up with two truths and one lie about themselves. The rest of your employees will need to guess which is the lie.
The Great Egg Drop
Get teams together and have them work out how to create a container that holds an egg and will survive if being dropped at eight feet. This is a great engineering and marketing challenge that will push your employees and encourage teamwork.
Sneak Peak
Create a sculpture out of building blocks you will often see sold for kids. Put this in a private room.
You will then want to put your employees together into teams. Each team member can look at this sculpture for 10 seconds. They will then return to their team where they have 25 seconds to describe the sculpture so that their team members can recreate it.
The first team to successfully recreate the sculpture wins!
Create an Activity
A great way to come up with unique activities is to have your employees make one. This will help them work together and come up with strategies they can use to build their teamwork with one another.
Offer Prizes to Keep Motivation High
When it comes to corporate team building activities, one of the best ways to keep your employees motivated (especially the ones who have been through these events a few times) is to offer prizes. You can offer some fun, small, customized prizes for runner-up, and then offer something big, like a meal gift card at a great restaurant, for the team that does the best.
Try to judge based on individual merits, however. You don't want to stir up competition between your employees, but rather boost cooperation.
And I almost forgot - share your pictures with us on Twitter, Facebook and Instagram.