Ah, the beach. The soothing sound of crashing waves. The warm sand beneath your toes. Your beloved standing across from you, smiling in the sunlight. Your friends and family underneath the swaying palm trees. The perfect destination wedding unfolding before your eyes.
These are just some of the cherished moments of an oceanfront wedding. Indeed, weddings on the beach are something special. Perhaps you've made the choice to travel to an exotic location to share your vows while engulfed in marine beauty. Or maybe you already live near the sea , and want to get married on the sand in a spot near and dear to our heart.
This is certainly a happy dream come true for many couples. Some brides and grooms design their nuptials in such a way so that they can get married and then enjoy an immediate honeymoon vacation. Many choose to elope on the beach, while others prefer to invite their closest family and friends. Still others invite everyone they know and hope for the best turnout possible.
Of course, most destination weddings require a flight and a few days off. If your guests take the vacation time and make the trip to be with you, it's nice to show your appreciation with wedding favors. And why not make them beach-themed?
How to Create Pinterest-worthy Wedding Favors
Here are some beach-themed wedding favor ideas: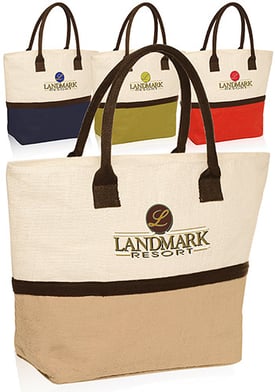 Tote bags
Giving your guests a welcome bag is always a nice gesture for anyone who's traveled to be with you on your big day. Welcome them with custom tote bags filled with welcome goodies waiting for them at their hotel reception desk. Or, hand them out as favors during the ceremony so they have an easy way to stash programs, shoes, and towels. Jute tote bags look particularly nice with a beach backdrop, while polypropylene tote bags have more color options if you'd prefer them to match your wedding color palette.
Custom Sunglasses

If you get married on a beach in the summer, there's a chance that you and your guests will be squinting into the sunlight. Protect your guests' eyes with customized sunglasses. You can choose custom sunglasses in your wedding colors to fit your color scheme, or the just pick the shape and style you like best. Sunglasses that change colors in the sunlight are delightfully unexpected, while aviator sunglasses are both trendy and 100% UVA/UVB protection certified. Customize your sunglasses by printing your names and wedding date onto the stems, or by laser engraving them with your initials.
Plastic wine glasses
What's a wedding on the sand without a proper toast? Depending on your situation, you may have the ceremony, cocktail hour, and reception all outside by the shore. If you're in need of outdoor drinkware, then plastic wine glasses are a nice alternative to glass drinkware. They look just as nice without the risk of breakage, and some resorts and public beaches prohibit the glass bottles or containers. Choose traditional glasses or stemless glasses for a chic, classic look. If you're getting married south of the border, plastic margarita glasses might be for you.

Personalized glass mason jars
If you're not concerned with glass at your beach wedding, then sturdy glass mason jars can be a beautiful and useful gift that you can easily make your own. Personalize the jars with your printed initials, names, or wedding date and location using a romantic font. Then, fill the jars with little scoops of sand and store-bought seashells for a pretty memento. You can also work ahead to fill the jars with candle wax for DIY candle favors. Or, just offer the jars as drinking glasses throughout your wedding reception and send them home with guests as multi-purpose favors.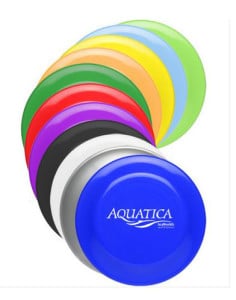 Personalized flying discs
Part of the reason people get married on the beach is because it's fun! The outdoors remind us of carefree days of our youths, running through the surf and sand, building sand castles, and playing catch on the shore. Encourage your guests to let loose with personalized flying disks. Customize them with a fun image, personal message, or your wedding date and location to give guests a thoughtful, fun gift they'll use again and again. Plus, these flying discs are flat and lightweight, making them perfect for packing and transporting back home after the festivities are through.
Personalized bottle openers
Small, portable favors are always appreciated when people are flying long distances to attend your wedding. That's why personalized bottle openers are such a great choice for beach themed wedding favors. Opt for keychain openers or simple handheld bottle openers, or choose from wine openers and corkscrews. Choose a style and color, then add words or a graphic to make them your own.
Personalized beach mats
Gifting your guests beach mats as favors is a great way to show that you care about their comfort while celebrating with you. Straw, woven, or plastic printed mats are handy and easy to fold or roll up. This makes them extra portable, perfect for packing to and from the beach. Since they're lightweight, it's easy to fit them into suitcases for the trip home.
Custom beach towels
There's no telling who might end up taking a dip in the ocean during a your wedding, so it's best to be prepared. Custom beach towels make nice wedding favors that guests will appreciate in the sand and surf. Choose your favorite color or a seaside design and customize it with your names and wedding date. And although towels are perfect beach-themed favors, consider the distance your guests will be traveling, and if it's practical to transport them home. If guests are all staying at a nearby hotel with cabana towels already available, you might opt for smaller personalized cooling towels or sport towels instead.

Looking for something more out of the box or goofy? Try lightweight and brightly colored squeezies in the shape of flip flops. These truly fit the theme and will certainly give your guests a good laugh.
Your destination wedding is just that — a destination. Make sure to thank your guests after their journey by giving them something thoughtful and sweet to remember your big day.
Find wedding favor ideas for summer beach weddings.