October is Breast Cancer Awareness Month (BCAM), 31 days dedicated to raising awareness about breast cancer, the second-most common form of cancer among women in the U.S. that kills approximately 40,000 women annually. In addition to raising awareness, BCAM promotes mammography as the most effective way to protect against and fight breast cancer.
You don't have to be in the medical field to help. There are many ways you, your business, school, and community can get involved in Breast Cancer Awareness Month. Fundraising events, education, pink ribbon apparel and other promotional items and events are just a few of the ways you can help promote the message of BCAM.
Learn More About Discount Mugs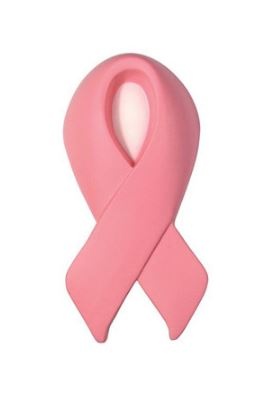 How Did Breast Cancer Awareness Month Start?
Breast Cancer Awareness Month was founded in 1985 by a partnership between the American Cancer Society and Imperial Chemical Industries' pharmaceutical division. Since its founding, BCAM has promoted education about mammography and breast cancer prevention.
Since the early 1990s, the color pink and the pink ribbon have become synonymous with breast cancer awareness and BCAM. The use of pink to promote breast cancer awareness is often attributed to Evelyn Lauder of Estee Lauder, who first used the pink ribbon as a symbol of The Breast Cancer Research Foundation in 1993. Today, from national events like Race for the Cure to the fields of the National Football League, the color pink is displayed proudly during the month of October and throughout the year to promote breast cancer awareness.


How Can You Show Support?


Fundraising
One common way to show support of Breast Cancer Awareness Month is to hold a fundraising event, such as a race or walk. Whether it's a friendly 5K or a three-day event, these can bring businesses, schools, and communities together while also raising funds and awareness for a great cause.
Encourage your coworkers or neighbors to rally around one another for a 5k or 10k walk or race. Commemorate the occasion with a unique BPA-free mood logo sport bottles that will help keep runners, walkers and spectators hydrated. It's a fun, safe, non-traditional option to promote awareness about breast cancer, and it's sure to keep the excitement going. As another option consider printed pink t-shirts for a great way to encourage involvement and promote - awareness well after the event has ended.
For a less active option, consider selling or raffling off breast cancer awareness promotional items. T-shirts, mugs and bags all make great options to attract donations. And why not reward those individuals for their fundraising efforts and donations with a gift of a keychain or customized silicone wristbands? Personalized silicone wristbands are a traditional way of supporting a loved one going through the cancer journey. Wearing them is a reminder to yourself and those around you that they're not in it alone.

Education
Another good way to show your support for Breast Cancer Awareness Month is to promote education at your business, school, or in your local community by hosting an event. Educational pocket sliders with interactive slide charts make for a great promotional and educational item, with information about early treatment and diagnosis, risk factors, self exams and mammograms. These pocket sliders can be printed with your company or school logo and distributed at the office or in your community to connect your coworkers and neighbors with the resources they need to learn more about breast cancer prevention.
Promoting educational resources on social media is another great way to spread the word. Share stories and resources with your friends during BCAM to enable your network to easily connect with information on breast cancer and prevention.

Wear Pink
There's no better way to show your support than by wearing pink. Promote awareness by adding pink to your wardrobe during Breast Cancer Awareness Month in October. A ladies boyfriend t-shirt can be easily customized in pink to feature a breast cancer awareness ribbon, slogan, or text supporting a coworker or friend.
You can also customize shirts to feature your company or team name for fundraising runs or walks to add to the feeling of community. Another option is to hold a "Wear Pink" day at your business, encouraging everyone in the office to wear pink to show their support for BCAM. Better yet, you could encourage coworkers to contribute to the cause by hosting a "Pay to Dress Down" day. This not only raises money but is also an effective way promote wearing pink and visibly supporting the cause.

Volunteer
While fundraising is important, the gift of time is equally vital to the breast cancer awareness cause. Wear pink, promote education and encourage donations from your office and community by volunteering your time with a national or local breast cancer advocacy organization.
The walks and runs hosted throughout the country need volunteers, so if you'd rather supporter runners and walkers than participate yourself, this can be a great opportunity to give your time. Opportunities include handing out water, race day setup and breakdown, or handing out race day t-shirts.
Another way to get involved is to become a breast cancer mentor and build a support group in your community. After Breast Cancer Diagnosis offers a mentor program that will allow you to provide support to those who need it, either online, over the phone, or in person.
Finally, an easy way to support breast cancer awareness is to be an active advocate for the cause. Use your social media channels to spread the word to your network about the latest events and educational resources.
Whichever way you choose to show your support during Breast Cancer Awareness Month, be sure to maintain that support throughout the year. The fight against breast cancer continues beyond October, and these promotional ideas are just as effective in May. What's more, wearing pink never goes out of style when it's for a good cause.