Graduation Day is just around the corner, and although it is sad to see the days of pep rallies and class trips go, it's finally time (both parents and students) get to celebrate their proudest moment. Get serious about your party planning and follow our easy gift guide to commemorate your achievements as a family. You've been sitting by the sidelines watching your young ones take the first steps into adulthood, and now they finally get to go into the world to make a name of their own. You can all celebrate the excitement of commencement with amazing gifts that highlight the big day.
Customized Gift Ideas for Teachers
Trophies & Glass Awards
Graduation is a celebration of a significant accomplishment and what better way to honor that than with custom trophies and crystal awards? These tokens of success serve as a tangible reminder of the hard work and dedication students put into their academic journey. Engraved with personal messages, these trophies and plaques can encapsulate feelings of gratitude, acknowledgement, and pride. They are more than just an accessory; they are a symbol of achievement that will forever reflect their hard-earned success.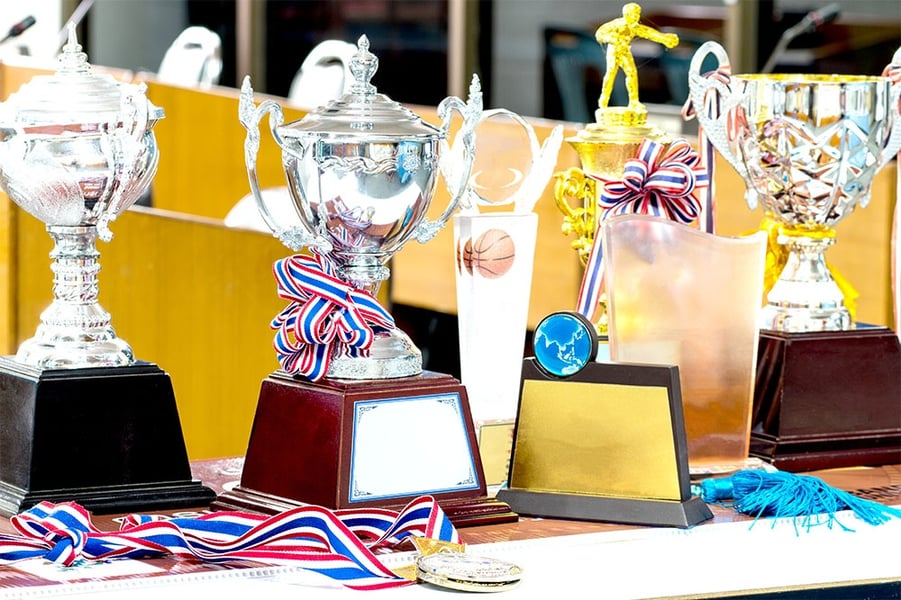 A lot of work and energy (both from students and parents) was invested throughout the years in order to reach this moment. On Graduation Day, you can show your appreciation for the efforts they demonstrated through some of the most stressful times of their lives with elegant glass awards they can display around the home or the office. Engraved with care and precision, these sophisticated tokens communicate your love and acknowledgement, plus are sure to thrill your new graduates and parents, too!
Elegant Glass Awards
An elegant glass award is a stylish and sophisticated way to recognize the years of hard work invested by students and their supporting families. Carefully engraved with words of love and appreciation, these gifts resonate deeply with the recipients, making them feel truly valued. Displayed in homes or offices, they serve as a consistent reminder of their academic journey and the effort they put in to reach this significant milestone. It's an acknowledgement that their journey, though stressful at times, was worth every bit of effort.
Personalized Ceramic Graduation Mugs
As students transition from academic life to adulthood, coffee often becomes a close companion. Classic ceramic mugs, personalized with their names or the name of their alma mater, serve as a practical yet heartfelt gift. Incorporating a touch of school pride with mascots or class year, or even a cap and tassel design, adds a fun element to this gift. Whether used for that morning coffee or displayed on a desk, these mugs offer a daily reminder of their successful academic journey.
If you feel like being a little more giving, buy several so you can give one to all their closest friends on Graduation Day. Nothing says 'You Did It' like matching ceramic mugs – every time they take a sip they'll fondly remember a simpler time, when their only responsibility was getting passing grades.
Grad Party Cups
Nothing says "celebration" quite like a graduation party. Enhance the festivities with reusable plastic party cups, printed with the commencement date and school name. These durable cups can withstand time, serving as favored mementos long after graduation day. Ideal for schools and large groups, these cups are a cost-effective way of ensuring each graduating student receives a token of their memorable day.
Plastic party cups are also great for schools and groups looking to celebrate in community. Affordable and available wholesale, they ensure that every one of your graduating students receives a token to remember the good days. You can match to the colors of alma matter, party decorations and other accessories – plus they're ideal for beer-pong (for the grads of legal age, anyway).
Custom Class T-Shirts
Class t-shirts are an emblem of unity and shared experiences. Printed with your school, college, or university name, they encapsulate the spirit of the graduating class. These shirts aren't just for the students, though. They also serve as a token of gratitude for the faculty members who played a crucial role in shaping the students' lives. Moreover, the customization options for these shirts are nearly endless – class year, club name, sports team – they can cater to different groups within the school, making the t-shirt a versatile gift item.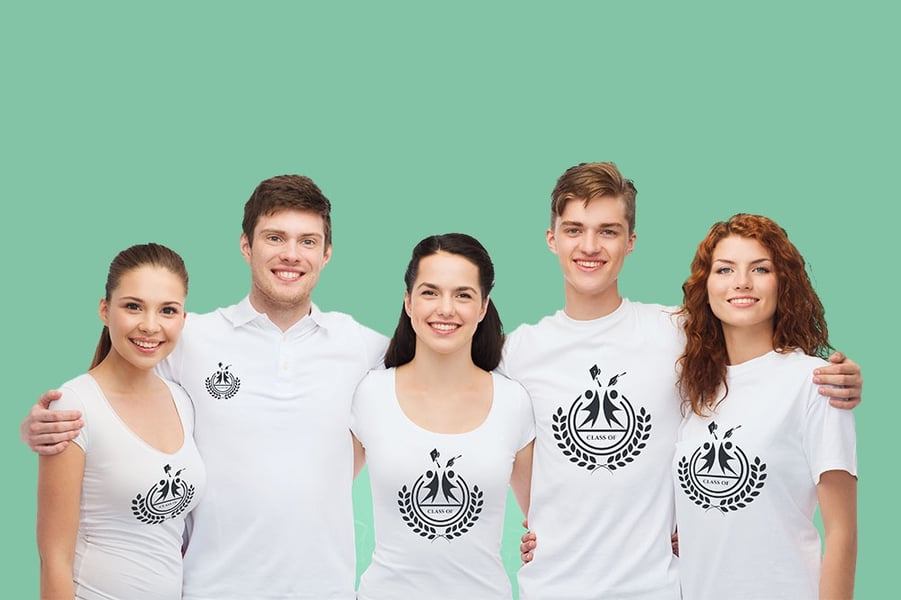 The cool thing about t-shirts is that there virtually is no age limit on to whom will appreciate them. Sure, they're great for high school and college grads, but let's not forget – grade schoolers and middle school kids are people too! They'll also be proud of their accomplishments. Regardless of age, the grads will wear their customized t-shirts all summer (and for summers to come) as a reminder of their success, and the fun they had along the way.
Professional Leather Portfolios
Entering the professional world can be daunting for new graduates. Help them feel confident and prepared with custom leather portfolios. Imprinted or debossed with their name and graduation year, these portfolios add a professional touch to their presentations and interviews. With plenty of space to carry business cards, copies of resumes, notepads, and even work samples, these portfolios are practical and stylish gifts that will help ease their transition into the professional world.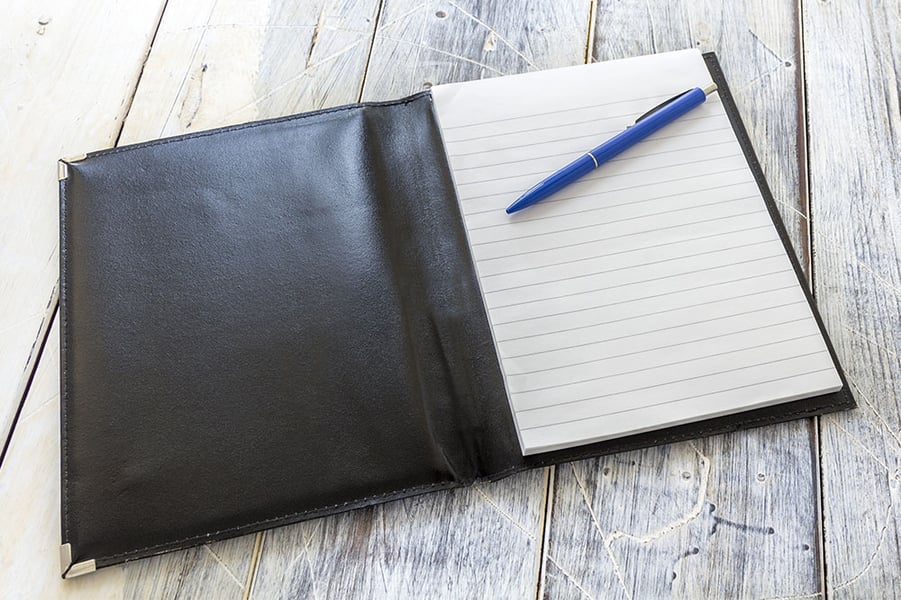 Leather portfolios are not only elegant and presentable, but have plenty of space for business cards, copies of their resumes, notepads (so they can) take notes during the interview, and maybe even some samples of their work.
Custom portfolios printed with class year, can be memorable gifts you can extend to mentors, too. We know how important and forming their counsel was through the years, so what better way to show your appreciation than with a beautiful and practical reminder of your time together.
Pens
Engraved pens make popular graduation gifts, and for good reason. They can be customized with special messages, reflecting on the journey ahead and the fond memories of the past. In a professional environment, such a pen can be a symbol of accomplishment and serve as a confidence booster for the recent grad. From signing their first employment contract to jotting down notes during a meeting, a personalized pen is a constant reminder of their academic achievement and the new journey they've embarked upon.
They will make writing a pleasure, plus who can forget about the resume and job applications!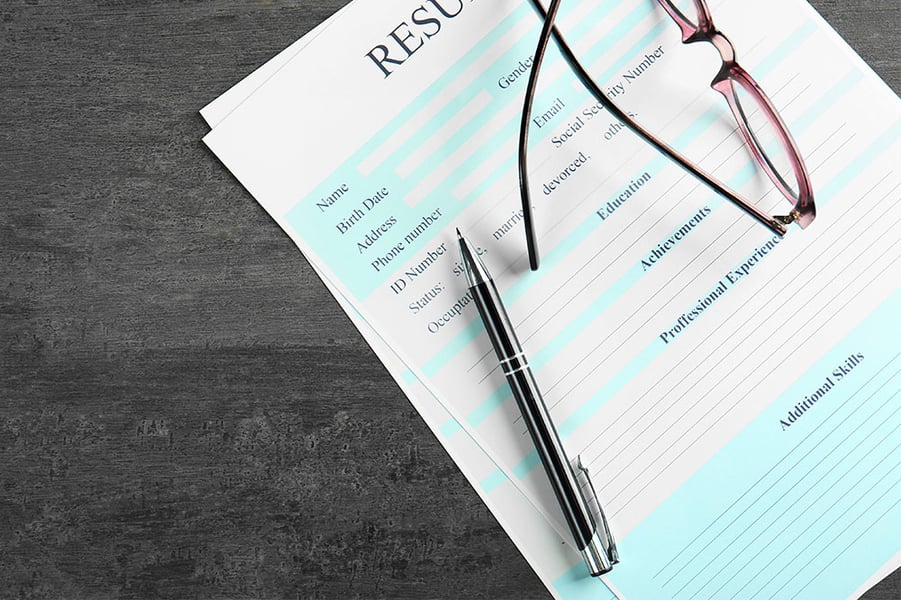 Expanded Custom Gift Options

Personalized Water Bottles
Hydration is key to maintaining a healthy lifestyle. Personalized water bottles are an eco-friendly, practical gift that encourages this. Customizable with their names, school, or a motivational quote, these bottles serve as a daily reminder of their academic success and your thoughtfulness. Whether they're hitting the gym, going for a run, or simply at their desk, a personalized water bottle is a practical gift that will see a lot of use.

Custom Graduation Tote Bags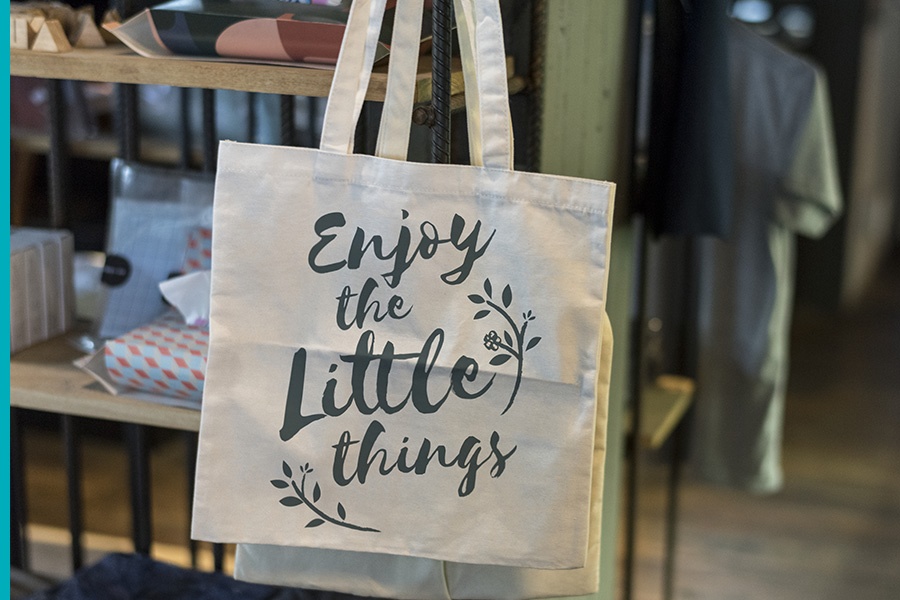 In their new journey, graduates will often have to carry around a number of items, from books to personal essentials. A customized tote bag can be a stylish and practical gift to support their needs. These durable bags can bear the weight of their daily necessities while simultaneously showcasing their pride for their school or the year of their graduation. Whether they're off to a new job, graduate school, or just running errands, these bags will serve as a useful and appreciated gift.

Customizable Hoodies and Sweatshirts
A cozy hoodie or sweatshirt can provide comfort during late-night study sessions or simply while hanging out with friends. Customizing these garments with the school's colors, logo, or the graduation year adds a personal touch, making them more than just a piece of clothing. The comfort and functionality of a personalized hoodie or sweatshirt, combined with the added sentiment of their academic achievement, makes this gift both practical and personal. It's something they can wear with pride and fondness for their school days, even after they've moved on to the next phase of their lives.

Conclusion
Graduation is an important milestone that deserves recognition and celebration. By choosing practical, personalized gifts that combine tradition with modernity, you can ensure your graduates have a tangible reminder of this significant day. These mementos will take them back to their school days, reflecting the hard work they put in and the success they achieved. The late-night study sessions and dissertation writing might be over, but with these thoughtful gifts, the memories will live on. As they move forward in their academic and professional journeys, these tokens of appreciation will remind them of where they've been and the people who supported them along the way.