School is coming to a close and summer camp is looming! Excitement is building, and parents everywhere are getting prepped for that exciting transition from the classroom to the campground. From thank you gifts through to the best summer games for kids to play, this article is packed full of novel ideas to ensure everyone enters the summer break in top spirits.
Step 1 – Thank your teacher for their hard work this term
The academic year is ending, and while this means summer fun for kids, teachers will likely have mixed emotions. They, of course, will welcome a well-earned break, they have spent the past year nurturing and developing young minds and forming special bonds with their students who, be it moving on to new experiences or into a brand-new classroom, may not be returning into their care in the new term.
The kids will probably deny it now, but school experiences, and the bonds made between student and teacher, often resonate for many adults in later life. Take the time to show them how valued they are before stepping into summer, with this selection of unique and heartfelt teacher thank you gifts.
Mugs to warm the hands, the heart, and the java!
Whether starting the morning with a cup of strong coffee or calming down after recess with a mug of hot tea, it's not uncommon to see a teacher with a mug of something toasty and warm on their desk at some point during the day.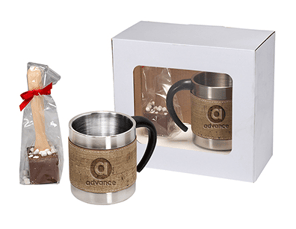 Mugs are perfect gifts for great teachers. What's more, with so many customizable options, you can choose the one that speaks to you. For example, personalized ceramic mugs are a traditional classic choice, and great paired with aromatic whole-bean coffees or boxes of herbal teas. Or alternatively opt for mug and spoon combos, shared with warming hot chocolate selections, mini marshmallows and cocoa powder for a delicious custom gift set.
Travel mugs are perfect for the teacher who has a long commute or is always rushing about. Maybe your gym teacher who is constantly on the move. Or your teacher loves to bring their own favorite hot drink from home. Additionally, travel tumblers with lids and colorful rubber grips are a fun reusable gift that is sure to trump those soggy paper to-go cups.
For an extra special touch, why not customize your mug with your teacher's name, your photo, or even your own art?
Totes to carry forms and fond memories
From homework and handouts to craft materials and textbooks, teachers often have to carry quite a lot between home and school.That makes personalized tote bags a great option with plenty of functionality and an array of ways to make them stand out in a crowd. Choose from colorful nonwoven tote in your school colors, or even customized with your school logo. For a more professional look, why not go for two-tone jute tote bags with robust handles and zippered compartments to keep papers and books organized? Large tote bags with multiple pouches are ideal for those teachers who juggle a large number of students and a hefty workload.
A heartfelt thank you notepad
Sticky notes and jotters are must-haves for any teacher's desk. Whenever they scribble down a reminder or need to write a hall pass, they will appreciate the thoughtfulness that goes into personalized notepads and cubes.
Kindergarten teachers would be sure to love die-cut notepads in fun shapes like apples and planets. Adhesive notebooks with lined pages are always useful, and customizing them with your school's name at the top adds a little more personalization to make them extra special.
Step 2 – Choose your summer camp activities
There are so many varieties of summer camps; it seems there's one for every interest! Packed full of exciting and creative summer activities for kids, each can teach valuable new skills, reinforce friendships and comradery and nurture young personalities. Whether opting for an extended stay or a brief stop, there is something available to meet every child's preference:
These exciting camps provide fun ways for Boy Scouts or Girl Scouts to bond while enjoying activities, learning new leadership skills, earning patches, and get to know new people and different cultural experiences. Whether you are storytelling and marshmallow toasting around the campfire or learning survival skills such as tent pitching and wood whittling, there is sure to be many activities on offer to keep young minds stimulated all summer long.
Families who are part of a church community often send their kids to these types of summer camps. Sometimes, these camps are associated with their school, neighborhood community, or local congregation. Religious camps often focus on learning scripture, performing acts of service and volunteering, and even adventure activities centered around helping others.
From horseback riding, water sports, performing arts or soccer, there are summer camp theme ideas to suit every budding interest. Kids can discover new hobbies, hone their skills, and practice effective teamwork and sportsmanship too. Competitions or performances may take place at the end of the month or summer where you can showcase brand new talents!
Children often go to day camp during the summer while their parents work. Packed full of the same exciting activities and excursions as traditional summer camp, these are perfect for those who are nervous about spending time far from home for extended periods. A great way to ease into summer camp experiences.
Step 3 – pack your bags and get set
With all the activities your little adventurers will be doing, it is important to pack plenty of clothing in case of muddy mishaps. Perhaps the most common and comfortable camp "uniform" is the t-shirt. When it comes to kids clothing, this item will give your happy little camper the perfect shirt to get dirty while having fun and be a great "souvenir" of sorts to bring home with them once the summer is over.
Here are some suggestions based on material and style:When selecting your kids' custom camp shirts, consider that youngsters typically go for comfort over style. Choose shirts that are loose and relaxed, with short sleeves and at least partial cotton fabric. Bright colors and eye-catching graphics can be fun for kids, so be sure to consider the wide range of colors available when selecting your shirts.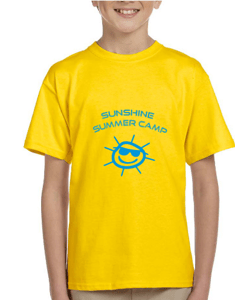 T-shirts for durability
If attending sports camps like soccer, or wilderness camps where hiking, biking, and outdoor games are the highlight of each day, you'll want to choose affordable summer camp t-shirts that are durable, breathable, and easy to wash. Gildan ultra cotton youth tees are a practical choice. The breathable cotton material will keep campers cool and comfy all day long, whether hiking through the woods, acting out a play on stage, or learning to roast marshmallows. These casual fit, preshrunk shirts come in a wide range of colors, including safety green and yellow so that they can be easily spotted.
Another favorite is the custom Gildan DryBlend Youth T-shirt. These shirts are made of a fifty/fifty cotton and polyester mix. Blending fabrics combine the moisture-wicking benefits of polyester with the warmth and softness of cotton. Unlike a fully polyester performance shirt, which is less hard-wearing and more prone to snags and tears, the addition of cotton boosts the shirt's durability, making it an excellent choice for day hikes through thick forests or orienteering adventures over rocks and shrubs. Polyblend shirts like this also tend to be more stain-resistant, ideal for muddy puddles and painting classes.
T-shirts for comfort
If you need something high-quality for all types of activities, try a cotton youth tee. Usually weight between 3 and 6.1 ounces, this number represents the density of the fabric per square yard. T-shirts that weigh 3 to 5 ounces are considered lightweight and, while perfect for summer temperatures, may not withstand an active camper's daily excursions. On the other hand, shirts that sit in at around 5 to 5.6 ounces are light enough to be comfortable in the heat but heavy enough to withstand the rough and tumble of camp, be it water fights, tree climbing, rock scrambling or good old-fashioned rough-housing.
Customize to add character
The best part about camp t-shirts is the opportunity to personalize them and make them your own. T-shirts can be printed with custom logos, text, and even photos. Put your camp logo on a different color t-shirt each year, or design a totally new look each summer. Adorn them with your child's own personal artwork for something really unique and distinctively 'them.' Or for a more polished effect, consider personalizing your shirts with custom embroidery, an excellent idea for heavier cotton or polo shirts. Vibrant colors and bold graphics are sure to appeal to young campers, while older teenage campers may prefer shirts with funny sayings or a 'cool' image of their own choosing.
Other essentials for campers
Don't forget:
Hats and flip flops
Swim gear
Pajamas
Toothbrush and toiletries
Underwear!
Step 4 – have the best time!
You'll be too busy for boredom, but if you get a break from your scheduled activities, why not play some favorite camp games to make friends and get better acquainted with your fellow campmates!
Circle games:
The human knot – also a great team-building exercise, the human knot involves the group (preferably of between 8 and 20 people) to all join hands to form a large knot of arms. The challenge is to then untangle yourselves… without letting go! It will require some negotiation and assistance but is sure to get the group giggling in the process.
Cat and mouse – elect a cat and mouse from your players. Then the rest of the group join hands in a circle. The mouse must negotiate in and out of the circle every 10 seconds while avoiding the cat who is prowling the perimeter. The cat cannot enter the middle and can only reach in to grab the mouse. The circle will use their arms to aid the mouse and slow the cat's advances. When the mouse is caught, then new cats and mice are chosen.
Hidden surprise – a creative twist on the infamous 'pass the parcel' game. You take a small trinket or pillbox, have the camp leader provide a prize to put in it and wrap it up in many layers of gift-wrap. Then take a dice (or 2 for larger circles) and pass the package around one person for every number on the dice (pass along six people for a roll of 6 etc.). Whoever unwraps the last layer wins the prize inside!
Team building games
Balloon walk – each team will have a large balloon, which must be inflated, and then negotiated from point A to point B without using your hands or arms. The group must work together to keep the balloon off the ground using other body parts. If it hits the floor, you must start over. Either work together as one team or split into smaller teams and compete against the clock or each other.
Perfect square – stand in a circle and blindfold yourselves. The camp leader will then lay out a circular length of rope for everyone to hold onto, while blindfolded the group must attempt to negotiate their circle into a square. When the timer finishes remove your blindfold and see how you did… or didn't.
General group games
Tag – a playground favorite, tag has many variations that will keep the fun going all summer. Blob tag involves those who are caught by the person who is 'it' joining hands, the more people who are tagged, the bigger the 'blob' until eventually the whole group will be collectively chasing down the last one standing. Or maybe try Balloon stomp, take a balloon each and tie it, with a short length of string, to your ankle. The mission is to stomp other people's balloons without losing your own. Last balloon standing wins! Crows and cranes is another variation. You have a central start position and two safe bases of equal distance, in opposite directions. Half the players are cranes; half are crows. Camp leaders then call one or the other, the chosen team then give chase and try to catch as many of the other group before they reach the safe zone. The biggest team at the end of play are the winners.
Races – another versatile game. Try relay races, compete against one another or in small teams to complete various tasks. Wet some camp t-shirts, ball them up and freeze them, then see who can get the shirt on quickest. Fill a bucket with water, ice cubes, and marbles and see who can remove the most marbles with their toes. Or stick on some flippers, grab a bucket and a small paddling pool. Race in your flippers to fill the pool one bucket at a time and run back to the start, then the next person goes. First team done wins!
With so many games to be played and activities to be explored, it is inevitable that when camp comes to a close, suitcases will be filled with dirty clothes and magical memories. Your kids will be itching to get back to school to share their adventures with their well-rested teachers and all their friends; leaving mom or dad to take care of the laundry! Now who needs a summer holiday?