The 4th of July is one of our most treasured holidays. Most people are familiar with picnics, cookouts, and fireworks that take place to commemorate the summer celebration, but you might not know the history behind those beloved traditions, or why they still mean so much to us today.
The history of Independence Day dates back to 1770s when the original 13 colonies were getting more and more dissatisfied with their ties to Britain. The Declaration of Independence was officially adopted by Congress on July 4, 1776. Four days later, people read from the document in Philadelphia's Independence Square, ringing bells and playing band music to celebrate. A year later, Philadelphia adjourned Congress and celebrated the first anniversary of Independence Day with bells, bonfires, and of course, fireworks.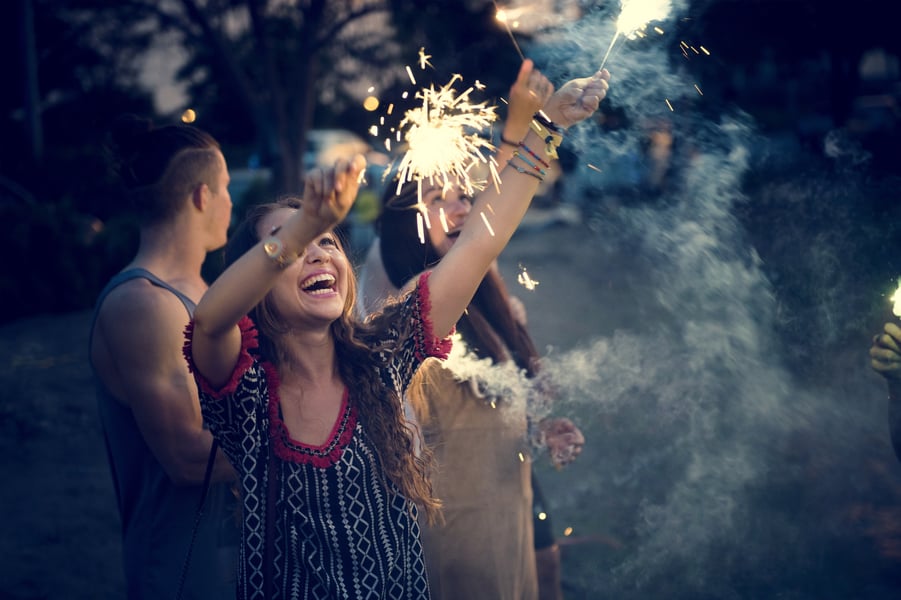 The customs developed in those early days eventually spread to other cities and have held fast as the country grew and developed. Celebrations have grown to include processions, picnics, concerts, games, and firework shows.

Today, the 4th of July continues to be a time to gather with friends and family and remember where our traditions first began — and maybe even forge some of your own! Whether or not they involve bells or bonfires, here are some fun July 4th party ideas and activities perfect for this summer.
4th of July Food Ideas For Your Family BBQ
Throw a Festive Fourth of July Party
All sorts of celebrations and parties have been associated with the 4th of July, ever since that first anniversary of the date in 1777. To this day, people still celebrate this important moment in history with a fun gathering. Many places around the country enjoy great weather in the summertime, which means you can take the party outdoors to a park, campground, or even your own backyard. To show off your American pride, consider flag-themed koozies or can coolers to keep your drinks, and your party, cool.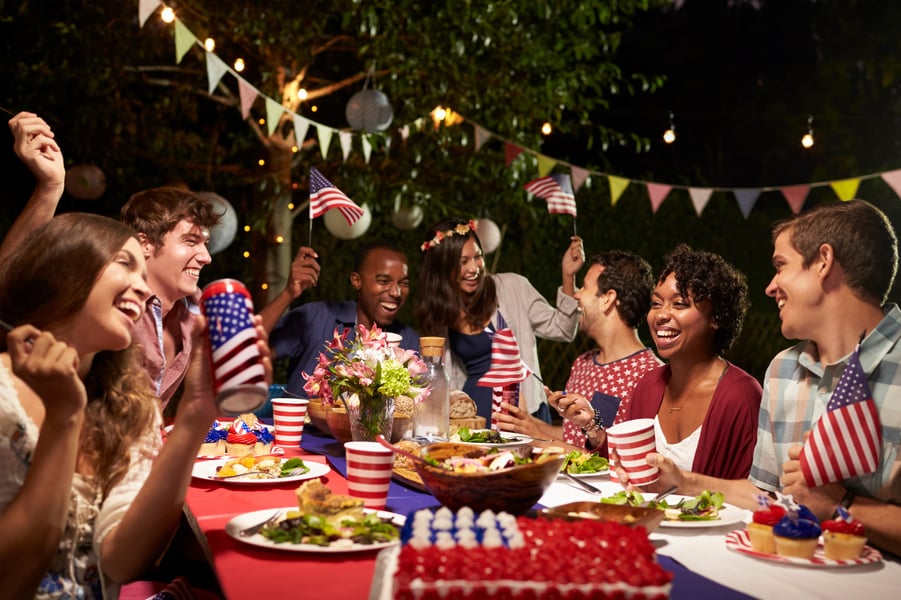 If you decide to throw your party in a public park, be sure to be considerate of others enjoying the open space. Look into renting a pavilion or covered shelter if you plan to invite lots of people, or bring your own tent or canopy for a sunshade or rain shelter. Be sure you know the rules regarding open flames, gas and charcoal grills, and firework safety, and keep any animals on a leash.
Others love the idea of throwing a party near a lake or at a mountain campsite. Be mindful of others, be careful with open flames, and be sure to leave your area cleaner than you found it.
Alternately, many people simply enjoy gathering in their backyards with friends and neighbors or joining in a neighborhood block party. This may allow you the most freedom in planning a party since you'll be near your own house — not to mention your own kitchen or outdoor grill.
Organize a Picnic
People love a good picnic, and the 4th of July is a great time to take advantage of warm weather. Organize a big family picnic or invite your friends and neighbors to join you for a little outdoor fun.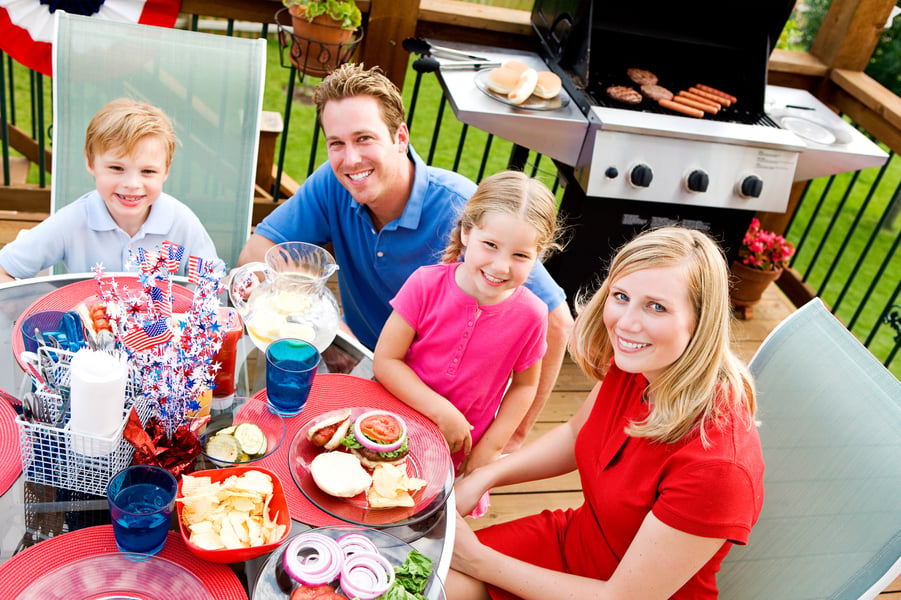 If you're going to a beach or a park where you'll be sitting on the ground, consider bringing along some blankets or towels. If you're throwing a big party and want everyone to be comfortable, then these red and blue striped cabana beach towels are both useful and thematic.
Traditional picnic blankets are always a good idea and make great gifts for your family and friends. Picnic blankets that come with their own carrying cases are easy to transport and also easy to clean.
If you're organizing the neighborhood picnic, block party, or group camping trip and want everyone to have their own seat (off the ground), then consider personalized folding chairs designed for the outdoors. Most come with their own carrying cases, making it easy to take it to the neighbor's house or pack up in your car.

As for the picnic itself, don't forget to think about tablecloths, plastic or disposable cups and plates, and decorations to really set the scene.
Choose 4th of July Decorations
Decorations are a key component of any celebration. Traditional Independence Day colors are red, white, and blue, which can help you pull your party theme together in no time.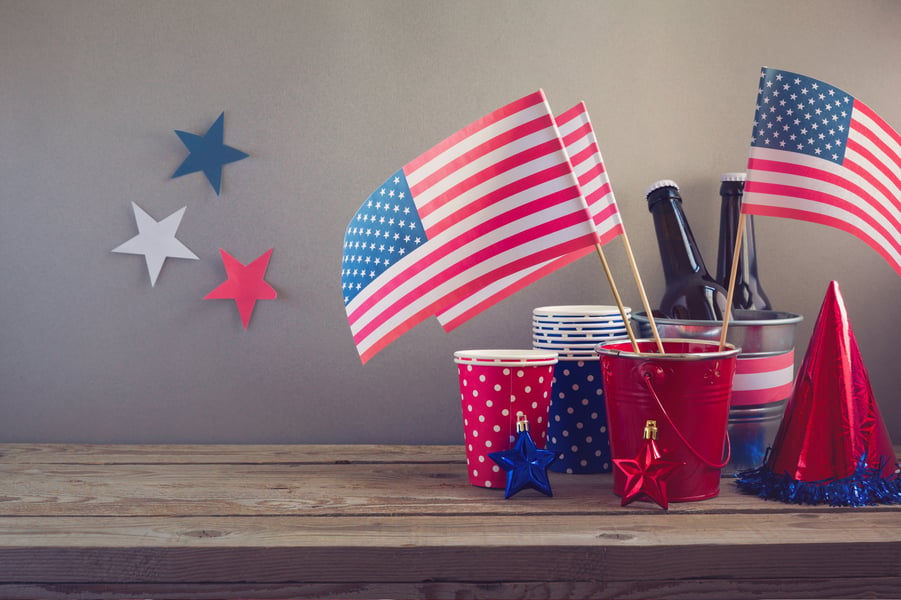 Consider a few miniature flags or starred-and-striped items to solidify the American theme. Streamers and balloons can make a splash and are easy to attach to a tent or outdoor patio. Plus, they're easy to take down and dispose of after the party.
Enjoy 4th of July Games for Kids and Adults
Now that you have your venue, your picnic ideas, and your decorations in mind, it's time for the best part — games and activities. Holding your party outdoors means there will be plenty of opportunities for kids and adults alike to be active and enjoy the day. Be sure to bring a boombox for music. Here are a few ideas:
Throw some flying discs. Also known as Frisbees, flying discs are a fun way to get some exercise and play outdoors. Get a few friends together and toss some discs around, or create a competition with targets or points. Kids can easily get in on the action, especially with miniature 4-inch flying discs to better fit their hands. Flying discs also make great party favors, especially if you customize them with the date or a fun image.
Ad a twist to the egg and spoon race game to make it kid-friendly. Swap the egg out with potatoes so that there are no messy accidents, and let the fun begin! It's Independence Day, but you can still add a little competition to the celebrations.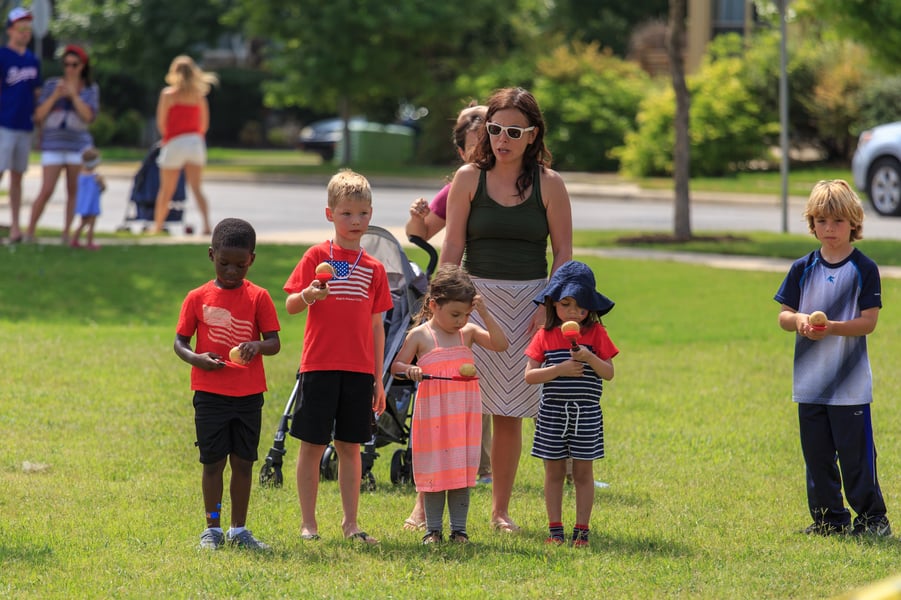 Light up the party. 4th of July parties often extend past dusk in order to enjoy the inevitable fireworks shows. You might consider buying a few sparklers to get in on the firework fun, or go with glow-in-the-dark toys like light-up bracelets and glowing foam batons, which are especially fun (and safe!) for kids. And if case those fireworks are just too bright, don some cool American flag sunglasses — or just keep them handy for the next sunny day.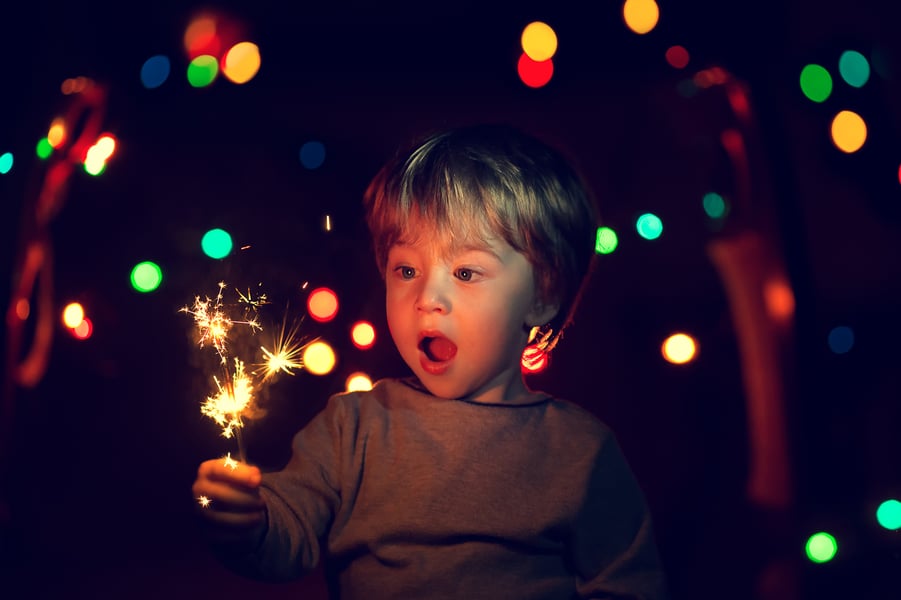 Have a ball. If your gathering is near a sports field, consider striking up a casual game of kickball, baseball, or football. Set up a volleyball net for a little bump, set, spike action, or keep it light with a game of badminton. If you're looking to hand out party favors or send all your neighbor kids home with toys, mini kick balls are a fun choice and can be tailored to your party with a logo or image. Cute, squishy American flag stress balls are another fun, thematic favor.
Play for tickets you can round up at the end of the night to win a Grand Prize! Make sure to have a Master of Ceremony dressed up in full regalia for a little more fun. He can keep scores of the winners and announce at the end of the night, right before the closing fireworks of course.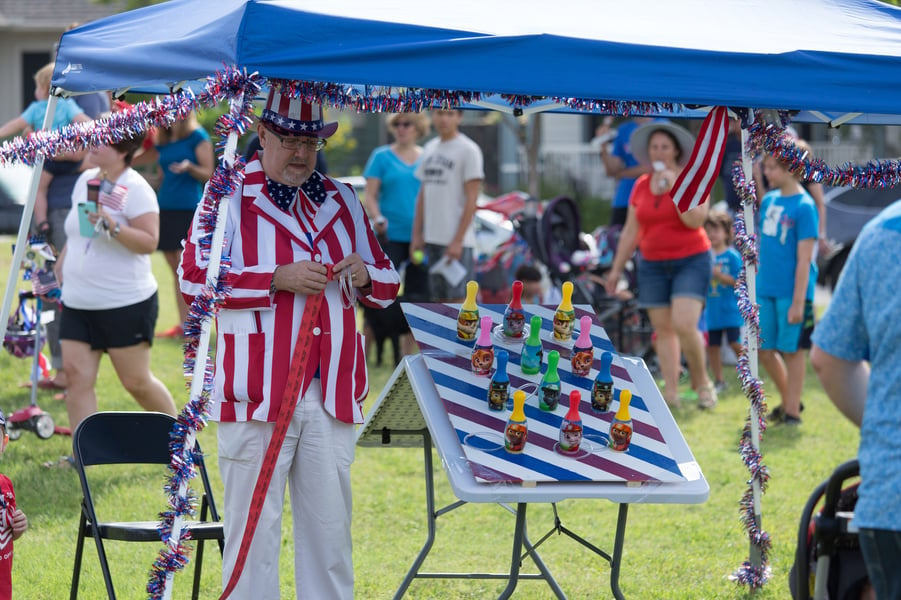 There are plenty of ways to celebrate the national July 4th holiday with your friends and family this summer. Whether you choose to organize a big picnic, see a big fireworks show, or just meet up with neighbors, it's a great time to get outside and play. Let us know in the comments below how you plan to celebrate Independence Day this year.