The 4th of July is quickly approaching . There are all kinds of things you can do to commemorate Independence Day, but almost all of them can be summed up in one exciting list:
Fun, Food, and Fireworks!
The opportunities for fun are endless. From thousands of formal 4th of July celebrations across the nation to at home family traditions, there are really cool ideas to spark the excitement this year. Check out these 4th of July party ideas and activities.
Fireworks are going to happen whether you're personally responsible for them or not. So when the sun makes for its way down, be sure to find a safe spot with a clear view of the sky to enjoy the show.
The food, however, is up to you. A delicious menu can be as informal or hands-on as you want it to be, so don't be overwhelmed if you're not the world's greatest cook, but keep in mind good food is a vital part of every great family get-together. A few things celebrate America quite like enjoying a nice meal with friends and family, so here are some 4th of July recipes to get the creative (and patriotic) juices flowing as you prepare for Independence Day this year:
4th of July appetizers
Get the meal off to a great start with appetizers and snackable items guests can enjoy while they're waiting for the burgers to cook:
Chips and dip (or salsa)
Pigs-in-a-blanket (think mini hotdogs)
Shish-ka-bobs
Bite-size anything…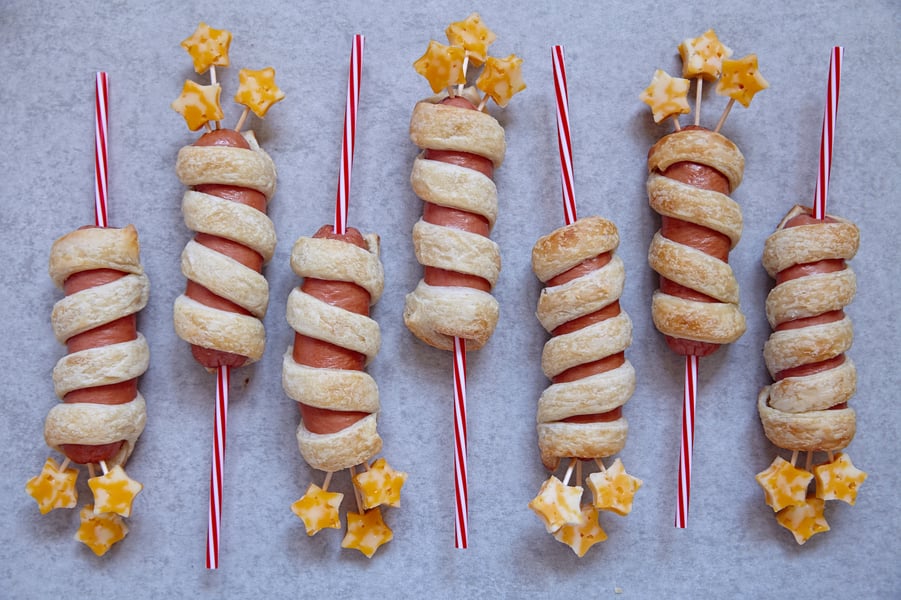 These great snack ideas don't need to be complicated or time-consuming, and they can even add to the patriotic flare of the day's celebration! While standard pigs-in-a-blanket is a tried and true fan favorite, why not try it with a new twist by making these delicious Buffalo puppies?
If you're looking for substance and flavor from the grill, spicy beef kabobs could be just the thing to get your guests' mouths watering. Or, for a super-simple but visually impressive 4th of July snack, put together Red and White Double-dippers featuring blue corn chips, sour cream, and salsa!
4th of July drinks
Of course, there's always beer. And as long as you drink responsibly (and don't mix it with fireworks!) a cold brew can be the perfect libation for celebration. Combine with USA flag can coolers, and every can becomes a tribute to the USA.
But, for the kids and anyone who isn't a big beer fan, there are plenty of other choices that make easy and refreshing picnic drinks for your Independence Day cookout:
Lemonade
Sweet iced tea
Unsweetened iced tea (if you're from New England)
Soda (that's Pop for those of you from the Midwest, or Coke for you Southerners)
Water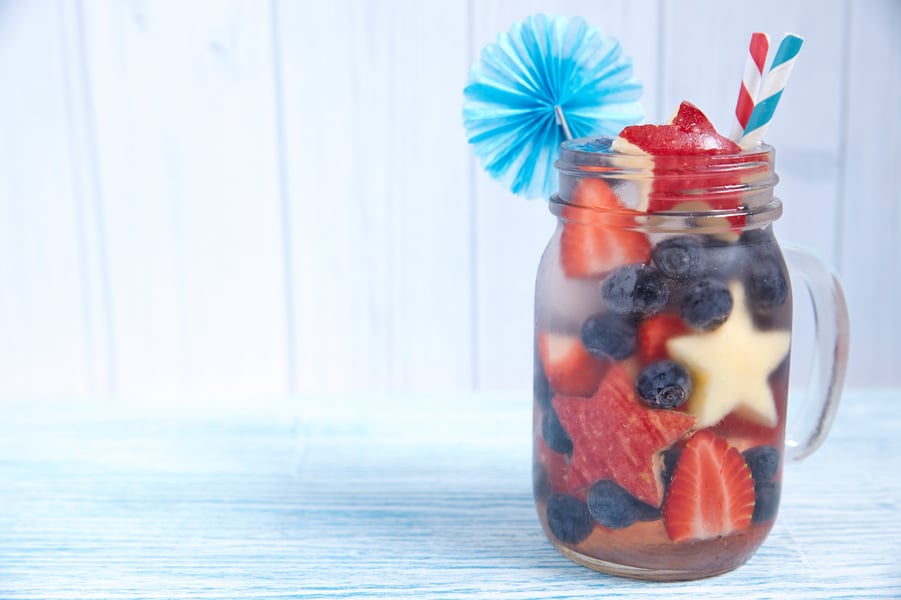 Who doesn't love a cold, refreshing drink on a hot summer day? While traditional homemade lemonade or iced team is guaranteed to satisfy, you can take that idea up a notch with flavored concoctions like raspberry lemonade or Muddled Lemonberryade. Served in a fun, personalized colored mason jars with handles, every sip is a celebration.
For an amazing and fun alcohol-free "cocktail" the kids will just love, make a batch of red, white, and blue mocktails to fill up some mason jars. It's like fruity fireworks in your mouth! And, for the moms or that rare American male who doesn't enjoy beer, try some refreshing and delicious adult beverages like lemon-wine spritzers, or a colorful and sweet red, white and blue daiquiris (which could easily qualify as a dessert, too). Help your guests and their drinks stay cool with family BBQ can koozies or personalized foam bottle sleeve insulators.
A fun presentation option could be putting a personalized cork coaster in the shape of the United States at each plate setting.
4th of July main courses
More often than not, Americans celebrate the 4th with a cookout or barbecue in the backyard or at one of the beautiful parks in the area. That means that classic cookout fare usually makes up a good part of the menu:
Hamburgers
Hot dogs
Corn-on-the-cob
BBQ ribs
Potato salad
Macaroni salad
Baked beans
Watermelon
Hush puppies (if you're below the Mason-Dixon line)
… or whatever dish is most popular in your neck of the woods.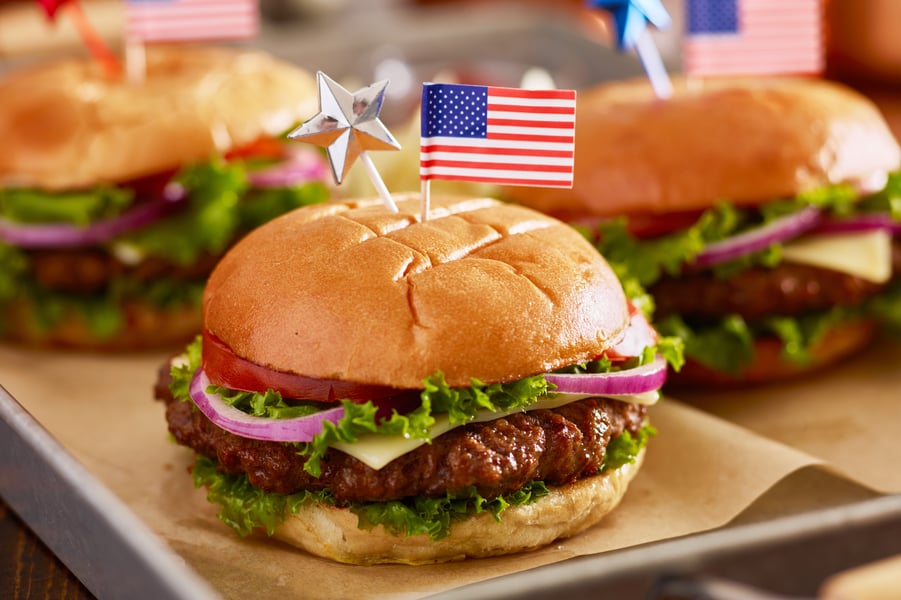 When you're putting together a menu for an all-American cookout, you can't go wrong with burgers, dogs, and BBQ. You probably already have a family-favorite recipe in mind for these standards, but just in case, here are some creative and flavorful options:
Grilled burgers are a simple and tasty, but for an added explosion of flavor try the cheddar, onion and horseradish burger or the sweet and tangy mustard-glazed mushroom burger. If you're in an area of the country with easy access to fresh seafood, you may want to swap out the traditional burger for crab cake sliders or a loaded lobster roll.
In the southern states and across the mid- and southwest, BBQ pork, chicken, and beef are incredibly popular for party fare on the 4th of July. If you're looking for great BBQ, an easy BBQ drumsticks recipe could work great, and this recipe for grilled pork tenderloin with corn-on-the-cob is sure to garner praise. For a tangier alternative, try a Carolina-style BBQ chicken.
Let's not forget that this is Independence Day we're celebrating here. Patriotic Pasta is a fun and tasty dish that gets everyone in the July 4th spirit. Some other dishes bursting with patriotic color include "United Tastes of America", Red, White and Blue potato salad, and Red, White and Blueberry coleslaw, to name a few.
Other great side dishes to bring out the best of the summer cookout include Mama's cornmeal hushpuppies, a refreshing and delicious tomato and watermelon salad, spicy pasta salad or baked potato salad, and fresh, buttered snap peas.
4th of July desserts
Nothing finishes off a great meal like dessert, and few holidays give you the decorative dessert options that Independence Day does. And really, what's more American than hot apple pie? Don't skimp on the dessert:
Cake
Pie
Jell-o molds
Ambrosia
Fruit salad
Strawberry shortcake
Funnel cakes
Cupcakes
Ice cream cones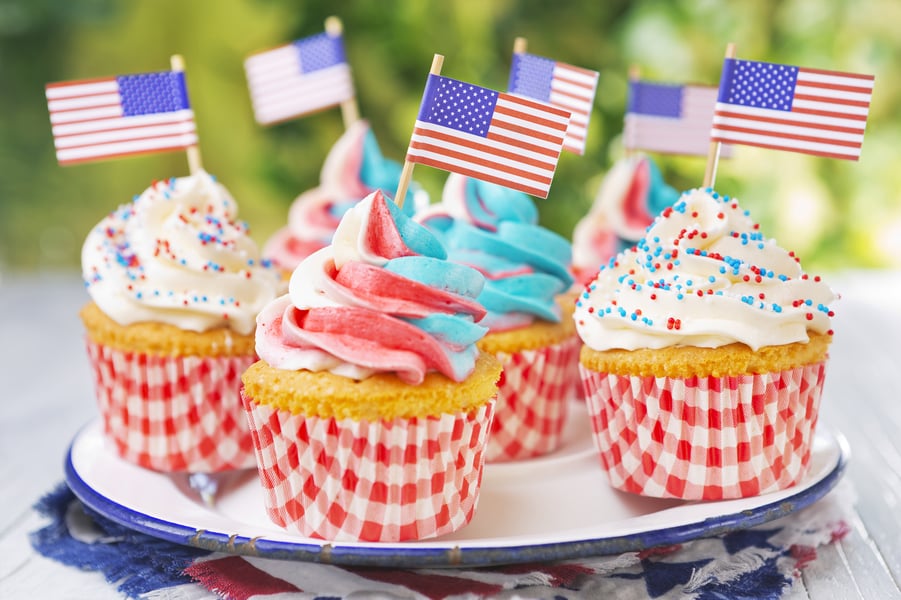 While fancy, decorated cakes and pastries are great, super-simple dessert options are just as tasty and won't be ignored, I guarantee. For example, a platter of classic funnel cake is sure to disappear quickly. An easy peach cobbler recipe couldn't be more delicious, and you'd better make a double portion of these Outrageous Brownies because everyone's going to want at least two.
But, it is the 4th of July, and sometimes you just have to go all-out. You could go with the famous flag cake featuring white frosting, blueberries and strawberries, or an incredibly sinful ice cream cake where every slice is a small US flag. Star-spangled cupcakes or a tiny fruit tart are great alternatives to remember the Red White and Blue.
Other patriotically decorative options include red, white and blueberry trifle, strawberry rhubarb shortcake, personal cherry pies, cheesecake bars, and star-shaped berry tarts. Red velvet blueberry ice cream pie and homemade blackberry chip ice cream round out an incredible selection of 4th of July desserts you and your family will absolutely love.
Presentation is everything
Beyond just the flavor of all these great food choices, there's a lot to be said for how your 4th of July recipes are served and enjoyed. After all, it's a party to celebrate the birth of a nation, right? More than that, it's a gathering of family and friends - a chance to draw closer and build great memories. There are plenty of options available for putting that extra decorative or personalized touch on your party plans that can make the day that much more memorable:
Decorative plates, cups, napkins
Drink koozies
Table coverings
Place cards for seating
Guest/recipe books
Patriotic apparel and gifts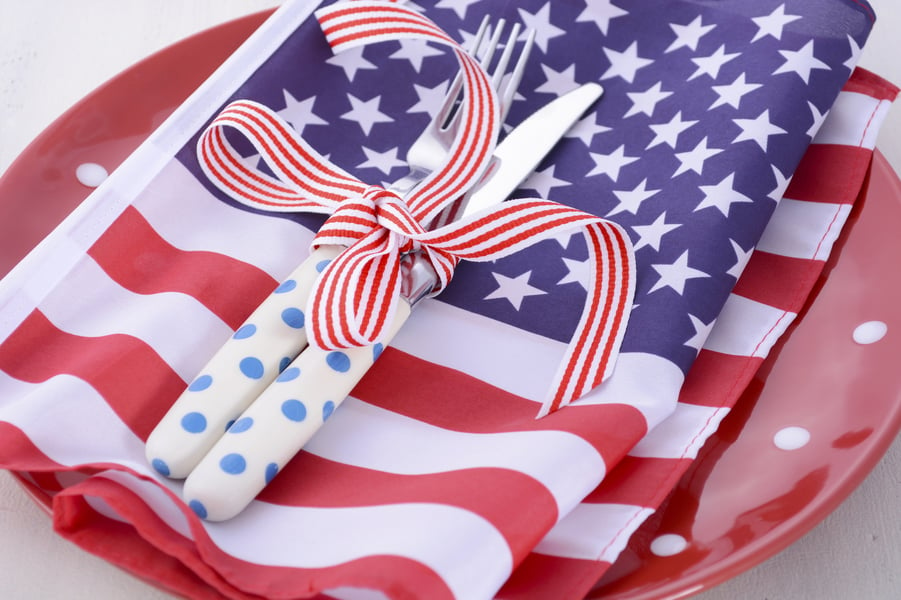 Other flag-based ideas for decoration and party favors include American flag sunglasses and patriotic caps,
which are perfect for keeping your guests cool on a hot day. National Flag totes can be personalized with the family name or some other commemoration of the day.

All of these presentation, decoration, and personalized gift ideas - combined with some of the great recipes outlined above - are sure to make this year's 4th of July celebration one for the history books!
Get started now with your planning and remember: have fun!