There is no day like a wedding day; a celebration of two people who commit to take care of each other for life. The icing on the cake - the people they love get to celebrate with them! Destination weddings offer family and friends the opportunity to travel to unique locations and even have a bit of time to relax as they come to witness a once-in-a-lifetime bond between a couple.
Top 10 Inexpensive Wedding Favor Ideas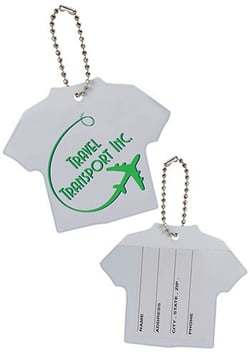 If you're planning a wedding ceremony in another state or another country, you are not alone. Nearly 24 percent of marriages involve a destination ceremony of some type. The top spots to get married away from home include Hawaii, Jamaica, Mexico, and Florida. These locations account for the nearly $16 billion spent each year on the destination wedding market. Friends and family may gather on the beach or in a faraway castle as weddings in peculiar locations continue to be a popular option for many couples.
Destination weddings can be great fun and an exciting part of a couple's life, but they also involve a lot of detail. Whether you are traveling in the States or across the ocean, there is much to think about. You may or may not have already considered things like gifts for the bridal party, lodging arrangements for guests, photography, how to transport wedding gifts home, and custom wedding favors for friends and family. With a bit of creativity and research, you can send friends and family away with something personal and one-of-a-kind.


Wedding Favor Ideas
There are so many destination wedding ideas on social media sites, on blogs, and in wedding magazines to inspire and spark creativity for every type of ceremony and reception. When your wedding is away from home, your guests need gifts that are easily packed in a suitcase and carried in checked bags onto an airplane. You don't want to give something cumbersome or bulky, and at the same time, you want your favors to have meaning and character.
Personalized gifts are a unique way to celebrate your day and remind guests that they are valuable to your union. For everyone on your list, there are many options for both fun and customized gifts. Anyone can give a generic item-why not make it truly special and unexpected?
Check out these great options for custom wedding favors, perfect for each season and location, designed to slip into your guests' luggage with ease.
Luggage tags: Who couldn't use a little personalization on their return trip home? Arrange to have each luggage tag customized with the guests' names and place a heartfelt note into the plastic insert to express your thoughts. These can also double as place cards during the reception.
Collapsible gifts: Collapsible can coolers are a fun, practical gift available in a variety of great colors and styles that can be personalized with the couple's name and event date on the front, back, or both! Great for slipping into a suitcase or a tote bag, they can go anywhere, and are especially convenient for ceremonies in locations where hydration is a must.
Local tasty treats: Your guests are making an effort to be with you, so why not treat them with a local snack or special candy treat in order to express your gratitude? Whether you will be in an exotic location or up in the mountains, a tasty treat to carry on board from a local shop will make a great token of your destination wedding. Ideas to inspire are all over town!
Seasonal items: Getting hitched on the beach? Pass out pink flip flops for the ladies and blue ones for the guys so that sand doesn't get stuck in their shoes. They are easy to slip off for dancing, too! Small bottles of sunscreen with a customized label are both practical and personal. Plus, they can be part of your creative seaside wedding decorations, and can be used during your stay at the exotic caribbean resort of your choice.
Reusable tote bags: Everyone at your wedding has traveled some distance to get there, which means they flew, drove, or took a train. Every type of travel requires some type of packing, and who couldn't use an extra tote on the way home? Reusable bags are a great solution, and even more so when you customize with a personal message imprint. With so many colors to choose from, there is one to coordinate with your day.
Custom Wedding Favors for an Easy Solution
People get married every day, but you want every detail to leave an impression and to serve as a reminder of your dedication to the person you love. Whatever the size of your budget or the place on the map, there are lots of ideas for wedding favors which are not only unique, but practical as well. With so many choices, you can give everyone something a little bit different to make it even more personal. Custom gifts are also perfect for the wedding party and those who help to organize all of the important highlights of the day.
No matter where you decide to tie the knot, there are simple and creative solutions for wedding favors, gifts, and decorations. Your creative ideas combined with some local inspiration and customization can equal something truly unique and memorable. Whether you choose to personalize accessories, secure some local spices, or customize stylish tote bags, your wedding is your day. Friends and family who make their way to celebrate with you will surely appreciate any token of gratitude you give as they gather to mark an unforgettable day in your life.