The sky's the limit if you're looking to kick it up a notch and show your guests just how much you really care. Shower your loved ones and friends with gifts they'd never buy for themselves, and in turn remember your special day. We know your love's been brewing for a while, and it's finally time you let your creative light shine on the most romantic day of your lives. Take a peek at a list of thoughtful wedding favor ideas for personalized and
Whimsical Wine Bottle Stoppers
Let your colorful personalities shine through with unique bottle stoppers wine lovers will appreciate. Our number one pick, wine bottle stoppers are inexpensive wedding favor ideas, and gorgeous table accents that put the savored in wedding party favors. Every celebration calls for a toast. Bypass the traditional champagne salute with that of your favorite wine blends, and seal the deal with great spirits, pleasure and happiness. Practical universal favorites that add a spin to your celebration, these are unique party favor ideas that call for a festive function to make the most of your sips.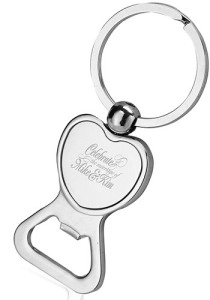 Picture Perfect Frames
Picture frames are a great way to capture and remember your special day. Add photos of your childhood or special memories together for unique table decorations that get conversations started, or leave blank so your guests can snap their favorite wedding day shot. Gorgeous wedding favor ideas that celebrate the biggest day of your lives, personalized picture frames are generous gifts for every taste and budget. Select a frame that complements your décor, and make a lasting impression when you print or laser engrave dates, names and loving messages. Also a favorite of ours, these are great bride and groom gifts for your wedding party crew.
Unique Wedding Favors Your Guests Will Love
Double Your Happiness Bottle Openers
Custom bottle openers are an all-time favorite of couples everywhere. Thank your guests for the time spent in your company, and personalize these two-in-one bottle opener keychains with funny or catchy expressions. Multi-functional and elegant gifts, these fit right in your palm and are great for all year round remembrance. Ideal for DIY wedding favor ideas, keychains can be packaged in miniature gift boxes, attached to thank-you notes and other table utensils like glassware, napkins, and silverware for even more attractive table settings.
Blinding Love Sunglasses
So you're going to make your guests sit through an outdoor wedding, and we want to remind you there are ways to make that time enjoyable. You can go with intricate parasols and hats, but in case you were thinking of something more functional, we though you should keep personalized sunglasses in mind. Cool shades eliminate the seriousness and clichés that come with tying the knot, and ease your guests into the festive feel of your gathering. What's more, they'll easily translate into your reception as funky accessories for the dance floor.
Cool Down with Hand Fans

Perfect for outdoor weddings in the Spring, Summer and early Autumn, hand fans are a distinctive gesture that let your guests know you thought of them while planning your special day. Beat the heat and put forth your creative ideas with personalized paper hand fans. These are inexpensive wedding favor ideas you can purchase wholesale, and still save for other DIY gear to decorate at home. Keep in mind some wedding supply vendors offer an array of clipart and fonts, in case you need cool ideas for your happily ever after.
Say I Love You with Chocolate Gift Boxes
Love speaks a universal language – and that is the language of chocolate. Delight in edible wedding favors instead of giving your guests a trickle of gifts that end up collecting dust at home. Make your reception more personal with sweet wedding favor ideas, and help your loved ones reboot while they indulge in a little midnight nibble. Care for a chocolate bar? Or maybe some jelly beans? C'mon down – the bar is open.
Burst of Happiness Lip Balm
A charming idea to celebrate the day you announce your I Do's, personalized lip balm sticks add a burst of happiness with vibrant and chic customization of your own. Chap sticks are available in numerous color options that accommodate to the theme of your reception. Whether you're planning a beach side wedding, or looking for handy mementos to share on your special day - these will turn out to be the perfect fit. Get labels custom printed with your wedding date, names or templates ideas that tell your love story.
All You Need is Love . . . and a Few Cookies
Do you want to be the coolest couple in town? Cookie stations are amazing twists on wedding favor ideas. Give your guests more when you give the option to get them to go. The best things in life are meant to be shared, and custom paper bags are a great items to compliment your baked goodies. Paper bags can be personalized with your unique message to make your bar complete, and remind your guests with a sweet visual how nice it was of them to join you in your celebration.
Bon Voyage Luggage Tags
Get cute personalized luggage tags from flight001 to celebrate your jet-setting event. Great for guests who have to travel to your ceremony, destination or themed weddings, these are unique wedding favor ideas that double as guest place cards. Remove the information label and insert table setting assignments – voila. Take your pick at plastic, leather, metal or fabric, and personalize your practical travel tags by printing your event date, bride and groom name, or monograms on the flip side.
Meant to Bee Canning Jars
Personalized canning jars are gorgeous and inexpensive party favors that aid your creative expression. Purchase blank to be filled with foods, jams, jelly and honey for favors your guests will actually want. Or shop printed to be used as drinkware. Perfect for receptions and even bridal shower gatherings, everything tastes right on a canning jar. Are you thinking of a themed wedding? These are also great for the traditional barn wedding look. Unique and subtle ways to communicate your ideas of the future, these preserve, conserve and help your share your happiness with loved ones and friends.