Team sports - especially when very young kids are involved - are all about learning how to work together and having fun. It's not a competition at that age, it's a game with friends. As the saying goes, "talent wins games, but teamwork wins championships."
If you've ever been engaged as a coach for a kids T-ball team, you'll know what that's like. Just being out there, in the fresh air, enjoying a game with their parents shouting encouragement from the bleachers can make any kid's day.
Nothing pulls a group of friends together like a team uniform they all get to wear. And, for T-ball and a number of other team sports for young kids, that uniform is often times a custom printed t-shirt.
But how do you pick the best team uniform options for your T-ball team? (or whichever sport you're coaching this year). It comes down to when and how they're going to be worn, but there are a few things to consider that can make this integral part of the team sport experience just the right fit for your tiny players.
The weather matters
Comfort should be your priority.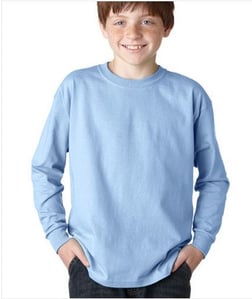 If your team is going to be playing through a hot and humid summer, you want to choose the lightest, coolest shirt available. For example, a simple lightweight t-shirt should feel breezy and help keep them cool, but rugged enough to survive the season. A shirt designed to wick away moisture is probably best for the hottest seasons.
If the weather's likely to be a bit cooler - either because of where you're going to play or because the games are scheduled into the evening - you may want to consider something slightly warmer, like a heavier weight t-shirt, a long-sleeve jersey-style t-shirt, or even a light sweatshirt, which can all be branded in your team's colors, logo or mascot.
Remember, T-ball and other sports for the very young aren't the fastest-paced games. Your players are likely to be standing around in the field or waiting their turn at bat, so whether it's hot or cold, you're going to want them to be comfortable, or it can start affecting the fun they're having and their level of cooperation - especially for tiny T-ball players.
How Your Business Can Benefit from Sponsoring a Local Team
A custom design to pull them together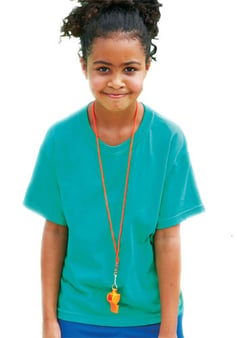 One of the coolest parts of wearing a uniform is the team identity and unity it provides.
For the kids on your team - and the coach, of course - a great team name along with a bright, fun, and memorable design can make all the difference. If you're responsible for choosing a name for the team, consider letting the kids help decide. It makes it more their own team if they have a part in naming it. Here is a long list of suggestions to get your creative juices flowing.
Take your time designing or choosing the picture or logo that's going to represent your team.
Remember, these are little kids you're working with, so avoid complicated visual puns or age-inappropriate images. Powerful animals are always a crowd pleaser, as are local landmarks or famous people. If the team name doesn't lend itself to a particular image, consider something easily recognizable, but more generic, like these baseball-themed images.
Hats off to your team!
Of course, no T-ball uniform is complete without a matching custom baseball hat.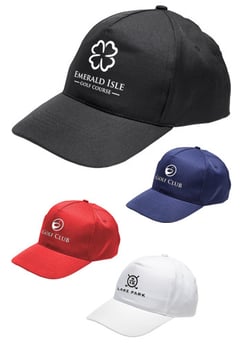 Simply select a color and design combination that's going to compliment the style you've chosen for the shirts and/or the team name. It may not be practical to try to fit both the name and the design on the cap without making it too small to read.
Like the shirt you choose, the baseball hat needs to be able to stand up to the wear and tear a little kid running around on a hot summer day is likely to apportion. For instance, a baseball hat with velcro closure will fit securely on small heads and offers a sweatband to keep the kiddos cool. There are an endless array of customized baseball hats you can choose from to send your little players onto the field in style.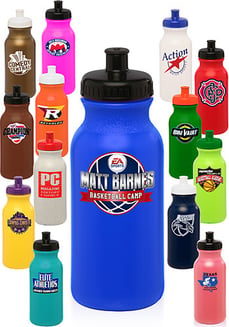 Stay Hydrated
An important idea to remember, beyond the cute uniforms and spirit of teamwork, is that keeping kids cool and hydrated is crucial to a winning season. If you're a parent, teacher or coach, you know that kids can be pretty picky when it comes to cups. Little batters may be more likely to drink more water in the dugout if it's in a cool reusable bottle that matches their uniform. Show even more team spirit while keeping kids healthy with BPA Free Water Bottles that can be customized with your team's colors and logo.
Keep it fun
Above all, remember that the whole purpose of T-ball, and other team sports for young players, is to learn the valuable lessons in teamwork, following rules and self esteem, all while having fun with friends. And, if the stress of the game ever becomes too much, parents and coaches can always let off steam with fun baseball stress balls.
Make sure nothing else gets in the way of the most important goal of the game: focus on the fun and your players will love every minute they spend practicing for and playing in the game.
Contact us to find out more about choosing the best custom t-shirts for your sports teams.