Your wedding day is a time for expressing the love and commitment you have for your partner in front of all your friends and family. It is a time of celebration and togetherness with friends and family who will inevitably, as has been done for centuries, toast the nuptials.
You will surely struggle to recall a wedding you have attended where a glass was not raised to the happy couple at some stage, if not multiple stages, during the celebrations. There was probably wine accompanying your meal, and champagne passed around for speeches; maybe there was even an open bar. Wine, in particular, has featured heavily in celebrations across the world, and holds a deeper symbolic resonance within some religions, in some cases being a feature of the wedding service itself.
Tips for Choosing the Right Glassware
Sharing a glass of wine or another beverage with others is a bonding activity that can draw people closer together, uniting families and acknowledging a newfound connection. As such, raising the glass has become a widely recognized symbol of respect and fond wishes.
Therefore, understanding the part glassware can play in your day can help to make sure that your drinks really hit the spot.
Find out what kind of drinks you will be serving. Having an estimate of how many and what kind of drinks your guests will have will help determine what type of glass you will need.
Determine how many bar stations there will be. If you will have multiple drinking/bar stations, you will need to have the right amount and type of each glass at all stations to be prepared
If you plan to have any special toast or signature drinks, you will need the right glassware to match your occasion. Knowing all the types of glassware will help you immensely to make your toast unforgettable.
Types of Glassware
Wedding planning is a busy affair. There is much to organize, including the flowers, dresses, suits, rings, photography, transport… the list goes on, and that is just the service! Then there is the reception, food, décor, and tableware to name just a few. Recognizing that toasts form such a crucial part of any wedding celebration, your glassware should also be a priority when planning. Teaming your drinks with the most complimentary glass will ensure your guests get the optimum taste experience:

The Wine Glass
Wine glasses are designed to best capture the aromas and flavors of the wine they hold. For red wine, typically a wide round bowl is the preferred choice. It allows for the drink to be swilled in order to release the deep fragrances which are then captured in the narrower neck to be appreciated by the drinker. Meanwhile, a crisp white or rosé will favor a tulip glass with a tall stem to keep warm hands at a safe distance and prolong the cool temperature.
When selecting wedding wine glasses, you are sure to be safe with a standard wine glass. A wider opening for maximum aeration will accentuate those rich reds and have minimal impact on the flavor of your whites. A safe bet if you wish to limit the volume of glassware on your tables.



The Champagne Flute
A must-have for any bar catering for a special occasion, the champagne flute is designed to retain carbonation and keep the bubbly… bubbling. Again, the slender stem keeps warm hands from raising the temperature. The champagne flute can also be used for any other chosen sparkling wines or prosecco. The champagne flute is not just for the speeches either; why not share a Bellini or mimosa with your bridesmaids while preparing for the main event?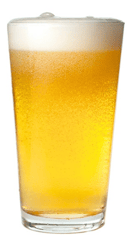 The pint glass
The pint glass is a fairly straightforward glass to master. The pilsner glass, taller and narrower, is ideal for keeping your pilsner frosty and lively with a good head. Whereas the wider, shorter pint glass (AKA a shaker or American pint) will suit those hoppy ales and lagers; as well as doubling up as a handy cocktail shaker base!
Providing your guests with drinks can be expensive. A complimentary arrival beverage followed by table wine and champagne for toasts is fairly typical of most weddings. However, if you are wanting to offer your guests something a little different you could perhaps consider a signature cocktail. Mix up some flavors that really complement you both as a couple and embrace your personalities.
How to serve cocktails presents a broad subject and depending on the cocktail in question, a variety of glasses can be used. As mentioned, a champagne flute is optimal for those sparkling cocktails. However, other choices may include martini glasses or highballs.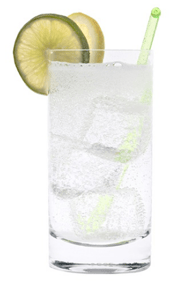 Named after one of the most iconic cocktails in history, and a favorite of Mr. Bond, martini glasses are shallow with a wide opening and can really pack a punch of aroma. Typically, these glasses are used to serve spirit-heavy cocktails that are shaken and served over crushed ice. Sugar the rim and serve with a tangy orange peel sliver, olives, or even a paper umbrella to complete the look.
Meanwhile, the highball is a tall slender, cylindrical glass. Designed with the same intention as the flute, to retain fizz. These glasses are ideal for those cocktails served with carbonated mixers like soda or seltzer, such as mojitos or G&T's. Serve them laden with ice, fruit, or cucumber slices to create a treat for both the eyes and the taste buds, and finish with a straw, reusable, of course, to make sure not a single drop will go to waste.

The Whiskey Glass
When serving whiskey, it is imperative you serve it in a traditional whiskey tumbler, also referred to as 'rocks' or 'old-fashioned' glasses. The heavy-set base is designed to keep the liquor from the table surfaces and minimize skin contact to ensure your drink is served at the optimum temperature. As whiskeys are typically enjoyed neat, the glass' short and wide dimensions enable your best malts to have maximum contact with 'the rocks' it is served over.

The Shot Glass
Available in many shapes and styles, shot glasses usually hold anywhere from 1.5 to 3 ounces. While whiskey is served to be savored, the shot glass is for drinks intended to be consumed quickly. Classically, they are for the serving of spirits, such as tequila or Jägermeister, and are another glass that is frequently used in toasting… though probably not wise to raise too many of these. In addition, the compact size of these glasses makes them an ideal wedding favor for your guests and is available for customization to make them unique to your special day.
The Gift of Glassware
Glassware of any kind has the potential to make a perfect wedding favor. Personalized wedding glasses can be used to enhance your wedding in a way that reflects your own personality, hobbies, or relationship, and can tie the whole affair together. Personalized wedding favors are growing in popularity and custom glasses for wedding party members is one of a multitude of ways you can thank your guests for sharing in this special moment in your life. Depending on the favors you can choose to add your initials in elegant fonts, or maybe engrave your full names and the wedding date or location, too. Celebrating your wedding day with your guests is the ultimate party — and like any good party host, sending guests home with a favor is considered proper etiquette.
How you decide to customize and distribute your glassware is a personal choice, but here are a few suggestions to get you inspired.
Personalized champagne flutes for the toast
Monogram your wedding champagne flutes with your initials and wedding date and add a special commemorative extra to the toast proceedings.
Transparent shot glasses are a classic choice and will look great with your initials or wedding date. A short slogan like "Take a Shot at Love!" or "Here's to You!" will add a heartfelt touch that will leave your guests feeling appreciated. Maybe select a tinted variety to match your wedding colors, or get the party started with a LED flashing glass to further brighten up the dance floor.
Fill your customized wine glasses with sweet treats
Sweets and chocolates are a common party favor. Why not combine a monogrammed wine glass with some luxurious chocolate, a perfect partner for a deep and plummy red… after all, weddings are all about perfect unions.
Gift your groomsmen with an emblazoned pint or whiskey glass
Show your top guys just how much they mean to you with unique wedding glassware favors that they can use both on the day, and for years to come. A pint glass or whiskey tumbler offers up a good surface area for including choice words that really demonstrate how much their support has meant to you. Or, for a German twist, a sturdy beer stein may be your preferred choice. Hand them out on the day, or even enjoy a cold one in them at the bachelor party!
Serve cocktails or cake in a personalized masons jar
Add a little quirk to your glassware gift with a customized mason jar. Perfect for a summer cocktail or serving up the wedding cake, these jars can again be tailored with your chosen quote or message. They would also be great for filling with sweets and setting out on the table for guests.
The Wedding Favor Checklist
Glassware is versatile and can make a wonderful keepsake for any wedding. However, you may find yourself concerned about potential breakages. There are a variety of things to consider when choosing the perfect favor, from price to practicality.
Ensure that your chosen wedding favors are fit for purpose with this handy checklist:
What is your budget?
Based on the rest of your wedding plans and your approximate headcount, you can get a good estimate of how much you have available to spend on wedding favors. Knowing whether you have $100 or $1,000 will help to guide you in the right direction. Of course, your guests will love whatever you give them — what's important is making sure the favors fit your price.
If you have fewer guests attending you may find you have a larger budget to play with, whereas a large party may reduce your options. For the latter, many couples choose to shop online for products they can purchase in larger quantities and personalize to make their own. Or go with edible gifts, like chocolates and candies beautifully gift wrapped. These are inexpensive and still very much appreciated.
Are your gift ideas practical?
Whether opting for unique wedding champagne flutes or a more traditional box of chocolates, consider whether the gifts you are choosing are practical. Fitting the theme is a nice touch, but it's also worth considering if your favors will be useful for your guests in the future. For example, wine glasses can make a lovely, reusable wedding favor; but might not be practical for a destination wedding, where transportation is required. If your party is poolside, you may find that glassware is not permitted either. In these situations, you can opt for acrylic wine glasses to achieve the same elegant effect without the risk of breakages.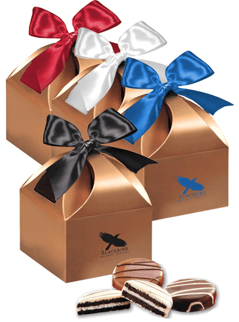 Some couples like to avoid this issue altogether and go for favors that can be used and enjoyed on the day, such as candies, cookies, or even donuts. This is where the previously mentioned personalized mason jars with lids can come into their own. More than robust enough to withstand travel and a great alternative to the far more fragile drinking glasses. Plus, they'll have a pretty jar to use as a vase or a candle holder in the future.
Will your favors fit your theme?
Many couples choose wedding favors that fall in line with a particular theme or color scheme. Choosing a theme is not compulsory, but should you opt for one then the options are truly limitless. Season-inspired events are common; a Fall wedding may guide your favor choice towards votives and wine glasses, or marshmallows in whiskey tumblers, drawing inspiration from romantic fires and warming drinks. Meanwhile, a summer wedding theme may call for sun cream and tote bags!
Are your gift ideas personal?
No matter what you choose, wedding favors should reflect your personality. After all, people are coming specifically to celebrate you and your betrothed. This is where personalization comes in. Personalized wedding favors are endearing and really demonstrate the thought you have put into ensuring that your guests enjoy your day as much as you do.
Conclusion
There is everything you need to know about custom glassware ahead of your special day. Whether it's making sure you use the perfect glass to serve up your signature cocktail, or how to showcase your party favors for your guest to remember for a lifetime.
All of these glassware tips will ensure everyone at your party has a truly smashing time!