Trade shows are about the art of merging friendship and business – you get to network with passionate, driven individuals who want to learn more about the businesses in their field. At these kinds of events, networking means not only meeting corporate representatives and learning about their business, it means exchanging ideas and inspirations with potential clients or colleagues. Trade shows are the seed of highly productive networking, and one way to leave a lasting impression is by giving an excellent tradeshow souvenir. Giveaways are a successful method for promoting your brand; with accessories that provide daily use, your "business card" won't sit in a wallet to be forgotten about!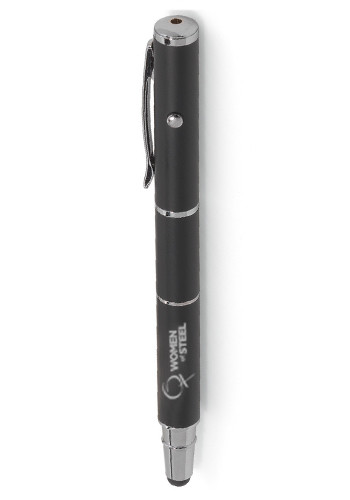 Laser Pointers with Stylus and Ballpoint Pen
These special pens are one way to let tradeshow goers know you like to work hard, and that you're serious about being highly organized when it comes to achieving corporate goals. Great for technology themed trade shows, these impressive writing utensils have a three-in-one functionality that writes, points and clicks. Plus they capture exactly what people really need these days in the high-tech universe – a way to seamlessly switch from writing, to tapping and finally to pointing, meeting after meeting! Since you can customize these pens with your corporate logo or messaging, promoting your business has never been easier or more personal. One way to showcase your giveaways would be to set up a tablet so booth visitors can test out the stylus, and a mock-up slide presentation on a computer so they can see how well the laser pointer works! You can also leave out paper for them to test out the ink.
Solar Power Banks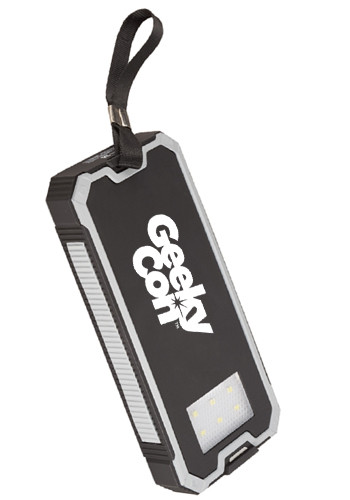 You could give away a mobile charger with fixed capabilities, but solar powered banks are a truly incredible, pocket-sized wonder that isn't limited to the need for a lousy wall outlet! Having a mobile and phone charging station these days is considered to be incredibly useful, but so many people are without them, and incidentally, without a fully charged phone or tablet! A mobile power bank is a thoughtful souvenir that provides juice in dire times and charges anywhere under the sun. When you're networking, strike up a conversation about battery conservation and useful ways to keep your phone from dying, like quitting all of your open apps or dimming the screen brightness. Your peers will be amazed at how flexible and convenient these chargers are, with solar-power as the source of their energy. You even can show them how easy it is to charge individual power banks, by displaying the charger under UV rays (if you're lucky enough to be near a window!). These too, are completely customizable with your logo or corporate messaging.
Tech Portfolios
There's nothing quite like arriving to your meeting while carrying a professional and sleek portfolio that holds your business essentials. High tech portfolios are a great trade show giveaway because they provide your peers with a variety of useful functions. You can connect personally with the individuals you network by discussing all the neat ways portfolios help keep them organized and on top of their game. Show them how easy it is to prop their tablet up for display during a meeting or presentation! Your business can stand out at the trade show with this souvenir, and people will love imagining themselves using it at their next conference or corporate gathering. And with your business logo or corporate messaging on the front, you'll be providing your brand with positive exposure! These portfolios make an appealing souvenir at tech or entrepreneurial trade show events.
Car Vent Phone Stands
Long commutes to work mean finding something to listen to or someone to talk to. So much of our commute wouldn't be the same for many of us without the help of our mobile phones, with music players and GPS navigation! Car vent mobile stands are an innovative tool that make the hassle of using our phones in the car easy and safe. A great trade show giveaway, phone stands are convenient to carry, and let your peers know that safety is important to you! They allow you to talk on the phone, listen to music or navigate your way through the day, with a 360-degree rotation span. Get these mobile stands customized with your business logo or messaging. Since they are made to fit into car vents, your logo will sit proudly for all passengers to admire!
Fabric Bluetooth Speakers
They probably haven't seen anything like this before! Fabric Bluetooth speakers will wow trade show goers leaving a lasting impression on whoever visits your booth. Most speakers are made of plastic or metal that caneasily scratches or cracks, but this souvenir will last longer (and promote your business longer, too!) with material that's almost impervious to that kind of damage. The fabric Bluetooth speakers are a fun giveaway because of their size, and useful for those who like to listen to music, the news or their favorite podcast while they work. Trade show guests will also appreciate how useful it is during conference calls, with the capability to be on the phone without having to actually hold it. At the trade show, draw attention to your booth by showcasing the excellent speaker sound quality; connect it to your phone and play some tunes! Customize with your business logo or corporate messaging for a more personal touch.
If you're planning to exhibit your brand at a trade show this year, you're probably thinking of was to drive more traffic to your booth. These unique ideas are fun and motivating giveaways that will draw visitors and potential clients, but don't forget to look into the best banners, backdrops and accessories for your display table. When trying to get your name out there, your booth presence can make all the difference in the crowd. Remember to share and comment in the section below to help inspire more interesting ideas!