It's trade show season again, and your booth should be equipped with enough flair to bring attention to your brand. Among the hundreds of other businesses that will all make an effort to advertise themselves, you can easily stand out with banners, signs, tents, tablecloths, backdrops and display tables that are certain to draw in the crowds! With the right gear for the tradeshow floor, you'll be sure to leave a lasting impression on the people you network – plus use and reuse it for years to come. Available in a variety of colors, fonts, and design options you can play around with the equipment to achieve the perfect trade show appearance. Let's take a look at six essential items you need to put together the best booth in the room.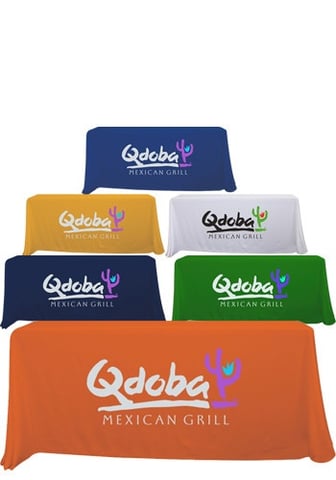 Table Throws
Trade show attendees will flock to a brightly colored table with a professionally customized logo. Large logos are beneficial when you're bound to have crowds at your stall, and you can still spark their interest even if they can't view the entire name. Available in a variety of fun, bold colors, a open-backed table throw is ideal for tradeshow exhibitors who bring other equipment like, documents or giveaways, as they can be stored under the table without anyone else seeing them. Print your logo, or personal message large enough for everyone to see from a distance, and select from bright hues like orange, lime green, magenta, and others of the like. In a room full of people, an eye-catching table can make all the difference to whether guests actually make a stop at your booth. The best part? Customizable tablecloths for trade show tables are completely machine-washable, so you can use them over and over again during future events. Make sure to select a style with winkle resistant features so you can easily store and reuse.
Zippered Tents with Wall
Everyone will know you mean serious business in the presence of a personalized tent to host your trade show table. Perfect for those who prefer to have a space with a little more privacy, a tent with a zippered wall can be used with tables up to 10 feet long, and allow you to invite guests away from the crowded floor for a more intimate demonstration of your product. Some tents are made with durable materials that are even resistant to flame (in case something goes wrong during the demonstration) and weatherproof (which makes them item ideal for any kind of tradeshow event that's held outdoors). Putting together the tent is easy – they usually come with zip and Velcro fastening on the corners that make it simple for setup. Select from neutral colors like black or white, that way you can draw more attention to the design you choose to have printed on it. Having your table stand out at your convention will prove to be your best investment yet!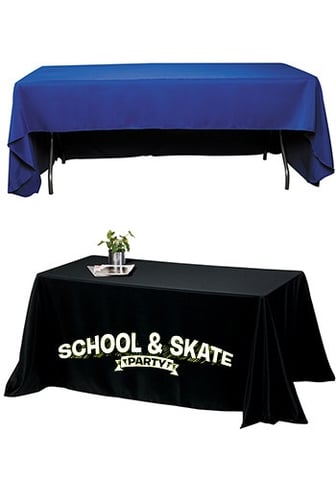 Polyester Tablecloths and Covers
Thick tradeshow tablecloths

are perfect if you anticipate to have a mess on your hands. Let's face it! Crafting, baking or cooking conventions are bound to have a few spills here and there. Why not prepare with tablecloths that are resistant to the damage? In these cases you want to go for a more substantial, thick polyester fabric style. These kind of tablecloths don't require any ironing or dry cleaning! All you have to do is wash it (which means they will lasts longer), and you can bring it with you to future conventions and tradeshows. Other colors that also get a lot of attention are red, royal blue, black and navy – some styles even feature rounded corners that prevent bunching or fraying. Don't forget to have your logo printed on them so you can better establish your image around the floor!
Deluxe Canopy Tents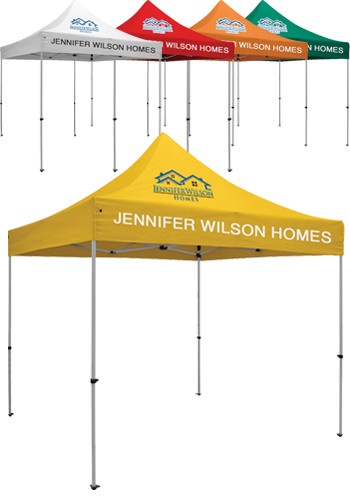 Canopy tents are great for tradeshows because you can have your business logo on the top section of the tent, as well as the name of your business right below it for everyone to see. Visitors will be able to not only notice and recognize your brand right away, but you can also choose to include your contact information so it's more readily available to passersby. Say you're in conversation with potential clients, and giving them all of your attention – a curious visitor might stop by your table and grab one of your business cards, or they can all the same snap a picture of your tent to keep as reference for later. Prop ideas like this can quickly turn into a way to reach even more people on the floor. They are easily secured to the ground with the help of plastic gliders and feet. Don't forget to speak to the event organizers about any restrictions regarding the kind of hardware tools you can actually use – consider discrete sandbags instead of nails as to not damage the flooring of the venue. Canopy tents live up to their fame – they're a quality, equipment you won't regret purchasing.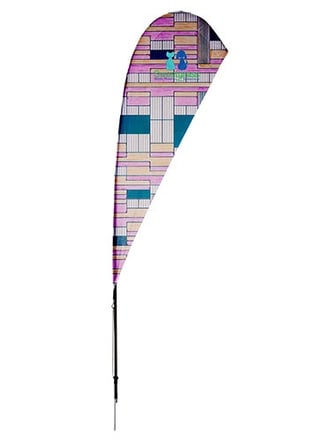 Sail Sign Flag Kits
Already have the perfect tradeshow setup, but are looking for a little something extra? Turn to sail sign flags customized with your business logo or messaging. You can print an uninterrupted version of your logo on it to extend across the pole pocket, so people can learn about who you are from whichever direction they approach your booth! Sail sign flags are extremely durable and flexible, so they won't break or bend in rough weather. Depending on what kind of event you are hosting – say you decided to attend a street gathering this year – these flag kits are the only signage you'll need. You can purchase one for every corner of the booth (or more if you're allowed to advertise around the venue as well!).
Full Color Backdrops
This special tradeshow accessory will certainly draw the attention of trade show visitors with its elegant display. Standing at a whopping 6 to 8 feet tall, you can opt to purchase a personalized display floor backdrop that showcases your brand for everyone to see in the most unique way! A lightweight aluminum frame supports a full color imprint of your logo, plus it's a great tradeshow bring-along because they're easy to set up and pack away. You can stand this accessory to the side of your tradeshow table, or prop it inside your tent for a personal touch. While everyone else only have their display tables and banners, you'll stand out with chic full color backdrops that add to the atmosphere of your booth.
Whether you choose from canopy tents, backdrops, sign flags, tablecloths, or all of the above, your aim is to get the maximum exposure for your brand. Trades shows are one of a kind events that can help you grow your business reach, and you should make the most of it this season. Share these ideas with other entrepreneurs like you, and see what other factors have contributed to their success in the past. Remember, you don't have to do it all on your own. Start the conversation to fuel a community of other trade show enthusiast – click like, share, or comment in the section below!