For many employers, the company picnic is an annual tradition. It's something employees look forward to all year long. It's a time for relaxing, socializing, and spending time with coworkers outside the office.
An annual picnic is a great opportunity to show employee appreciation and support, but it doesn't have to happen only once a year. Some companies throw company parties after a major milestones or in time for their anniversary. Others host picnics to introduce new team members after a merger or hiring spurt.
Tips to Plan the Perfect Company Golf Outing
Of course, a company picnic or any office summer party should be fun, relaxing, and meaningful to people on your workforce. It should be personalized to your organization in a way that your employees appreciate. And it should be something that sends your employees away feeling eager and excited about their jobs.
Maybe your company has done the same annual picnic for a while now, and you're looking for a little something special to set it apart from other gatherings in the past. This year, consider these five ideas for customizing your company picnic and putting together a celebration to remember.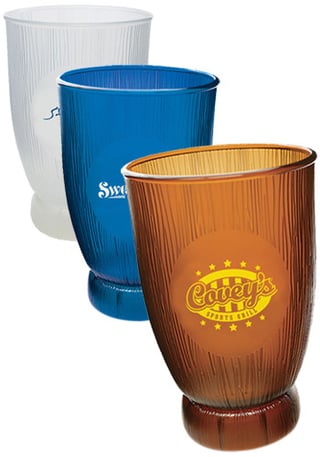 1. Choose a theme for your company picnic
It's perfectly fine to host a picnic on a lawn with hot dogs cooked over the grill. But if that's what you've always done, consider changing things up. One way to come up with a new, exciting company picnic idea is to choose a theme.
A party theme can help get your team excited about your company picnic and also inform some of the food, decor, or activities you choose to incorporate. Some examples of unique company picnic ideas include:
Wild west theme. For a wild west picnic, you could encourage staff to wear cowboy hats, bandanas, or sheriff's stars, and serve smoked meats along with baked beans.
Luau theme. If you choose a luau-themed picnic, encourage guests to dress hand out plastic leis or grass skirts for fun, and serve cold drinks from plastic coconut cups. You can also encourage employees to dress up in Hawaiian shirts.
Beach theme. Who doesn't love a day at the beach? Whether your office is near a beach or not, a beachy themed picnic can really bring out a sunny disposition in your staff. Invite your guests to wear flip flops and sun hats, set up a few beach umbrellas, and serve popsicles and ice cream cones. You can even hand out mini personalized sunscreens with your company logo.
Carnival theme. Transform your picnic into a circus fair with carnival games, cotton candy, and even a dunk tank. Decorating with balloons can help set a festive theme.
Field day theme. If your team is especially motivated by sports and lighthearted competition, then a field day theme will work well. Set up different sports fields with physical challenges like tug of rope, capture the flag, or a basketball dunking challenge, and give out prizes for winners.
2. Choose a unique venue
Your desired theme might help you choose a suitable venue, but you need to find out which locations are available before solidifying a final theme.

It could be that you have space available near your office — a community lawn or nearby park. If that works for your team, go for it! If you're looking for something a little different, try booking some time in a nearby state park or on a lake.
You might also be able to book your space near a sports pitch, running track, or baseball field, which will be especially appropriate for a field day theme — or even just your annual company softball game.
For other unique venue ideas, consider renting a space at a restaurant or brewery with expansive patios or grass for lawn games. Outdoor concert venues are often looking to rent their lawns during off-days, too.
No matter where you book your picnic, be sure you have all the essentials covered. Consider renting a pavilion or tented canopy in case a rainstorm rolls in. See to it that there is adequate access to restroom facilities and a sensible way to serve food food and drinks. If you'll be serving alcohol, make sure you follow all rules and regulations for the specific site. And, if it rains be prepared with umbrellas to protect you and your colleagues. You can even customize them to match your company design or logo.

3. Serve a memorable meal
A key component of any good picnic is the food and drink. Most people will be completely happy with traditional burgers and dogs, but to really customize your company picnic, consider serving something a little more outside the box.
These days, food trucks are popular in many big cities around the country. Depending on your venue, hiring a food truck for a few hours can be a fun and engaging way to serve your staff anything from barbecued ribs to bánh mi.
For luau themed picnics or just for fun, a pig roast can spur a lot of excitement. Consider hiring a chef with experience to run the pit or smoker.
Working with a professional caterer is also a good idea, or you can consider bringing in a catered order from your one of your employees' favorite restaurants.
If you're on a budget or have a small staff, a potluck picnic isn't out of the question. Ask everyone to sign up to bring a different food item, or else offer to bring in the main course and sides, and ask employees to bring in their favorites desserts to share.
If you really want to make a splash, consider bringing in a sociable bartender, a cotton candy or snow cone machine, an ice cream truck, or a self-contained firepit for s'mores.
4. Provide entertainment or activities
If you really want to go all out — and especially if employees' families and children are invited — then it makes sense to provide some sort of entertainment. Consider your venue, time of day, and audience when thinking about what's appropriate. Some unique ideas include:
Hiring a stand-up comedian
Bringing on a live band or musician
Firing up the karaoke machine
Introducing a clown, balloon artist, or a magician
Organizing games and crafts for the kids
Offering yard games like ladder ball, bocce ball, or badminton for adults
Keeping your guests entertained and offering something out of the ordinary can turn up the fun factor for just about any event. If you have company picnic games like softball, kickball, or anything else athletic, be sure to keep things inclusive and friendly.
5. Send guests home with favors or gifts
Thanking your employees with little favors or branded gifts is a nice gesture that will make them feel appreciated and remember the picnic long after it's finished. Choose items that fit your company picnic theme, or give gifts your employees can use at home, at the office, or on their travels.
For instance, custom stainless steel water bottles are perfect for summer company parties. Personalize them with your company's logo or special picnic branding message for an even more customized keepsake.
Custom flying disks help show your staff that your company can have a little fun. Hand them out at the beginning of the event so guests (and their kids) can enjoy tossing them around during the picnic.
Branded cooler bags are a thoughtful item with plenty of utility. Choose a lunch-bag style or a rolling cooler they can use for their own outdoor picnics and excursions. Another idea is to hand out personalized picnic blankets that fold up into handy carrying size packs.
Your company picnic is a great time to thank your staff for all they do, and to encourage them to connect with each other, build relationships, take pride in your organization. Consider these ways to customize your company picnic and make an impression your staff will remember the whole year through.