Thanksgiving is the unique time of the year when we share a bit of ourselves, our homes, and our abundance of food with the people we love and our community. There are few holidays when it is socially acceptable to eat as much as you are physically able, take an afternoon nap, and then wake up to eat some more. And although we often associate major holidays with taking time off of work, spending time with people we care about, and practicing family traditions, we also find joy in making special recipes, teaching them to our children, and opening our homes to those who are less fortunate.
Learn how to plan a successful family reunion.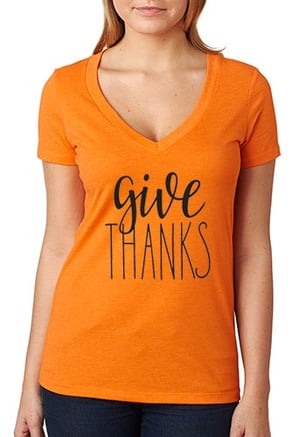 Of course, one of the first things we think about during Thanksgiving is turkey. Did you know these facts about turkey day?
Over 51 million turkeys are consumed on this day across the country

Americans spend almost $3 million on Thanksgiving dinner food

The average household spends around $56 on Thanksgiving dinner

Almost 40 million of us travel during the holiday
We do want everything to be just right, not only for us, but for the people we love.
Although this time in the month of November means a lot to us as we look forward to a table full of food, seeing familiar faces, and maybe a bit of Black Friday shopping, hopefully it also brings to mind those who may not have as much as we do.
Many communities offer a variety of opportunities for serving others and volunteering in many different capacities; sometimes, all it takes for us to get involved is a bit of research and the willingness to be there. Sometimes it helps to take a look around and discover the ways we can give back, rather than focusing on ourselves and our own needs.
Get your family, friends, office staff, church group, or school club together and see if you all can practice one (or more) of these creative ways to give thanks to your own community during Thanksgiving. Ideas for dinner are up to you!
If you are volunteering with a group, one way to make your message stand out and identify your team is by securing comfortable customized t-shirts. A variety of great colors and sizes are available and the shirts can be personalized with a business logo, scripture, or school motto. Whether you need men's shirts, women's shirts, youth shirts, or long sleeve shirts for cooler temperatures, you can secure them at an affordable price and with customization that will make everyone happy.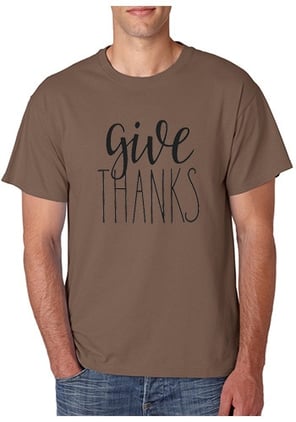 Serve those who are less fortunate:

This can take on many different forms, in

cluding serving a meal at a

soup kitchen or a homeless shelter, remembering a single mom who is struggling, or taking dinner to a lonely senior citizen in your church congregation. Schools and offices can hold canned food drives and have a healthy competition among classrooms or departments to see who can collect the most items. Whatever it looks like, serving those who may not have as much is a great way to remember our blessings, and the everlasting impact of compassion and kindness.

Serve those who serve the community:

Although many people have the day off work on Thanksgiving, there are those whose jobs don't stop because of the holidays. This includes police officers, firefighters, hospital, and nursing home staff. Creative ways to serve them can include taking a special dessert and a card to express gratitude, or giving gift cards to local coffee shops so they can take a break, too.



Serve those around the world:

Serving others in far-off lands doesn't always mean we have to travel to them. As your guests arrive for turkey day festivities, ask each guest to contribute something by way of cash or coin. At the end of the day, put it all together and send it to a charitable organization which serves those in need around the world. Trusted and reputable organizations will take what you give and use it to serve those without access to clean water, education, and fair treatment.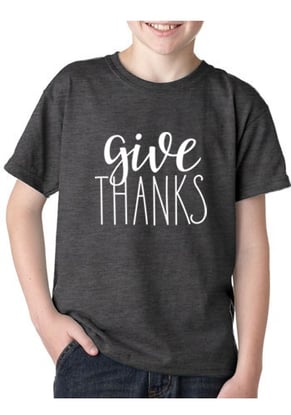 Thanksgiving ideas for dinner can be found in abundance; it is sometimes more difficult to find ways in which we can serve those who are in need during the holidays. One way to understand needs in your city is by making contact with local churches or service organizations and asking what their needs are, or seeing if they can direct you to the right resource. There are many creative ways to serve, and not one way will fit everyone.
We often hear an emphasis on being grateful around this particular season, and one way to express that gratitude is by giving to those around us, whether we know them or not. However you, your family and friends, or your group choose to serve, someone you do not even know is waiting for help to change help shift their reality. It may not take much of your time, but it has the potential to make all the difference for one person and their family.
Whether you collect cans for the local food bank, visit elderly neighbors with a plate of turkey, or send money to relief organizations, you can make a difference on Thanksgiving. This can turn a day often anticipated with overeating to infuse goodness and love into your neighborhood, your community, and the world around you - It's time to put "give" back in Thanksgiving.
Tell us how you plan to give back to your community in the comments below, and share with your friends to create a sequence of goodness.