Attending a family reunion can be incredibly enjoyable and lots of fun. Getting to catch up with relatives you may not be able to see on a regular basis helps you stay connected to your roots and learn about your heritage.
There is a flip side, though. Family reunions can also prove to be very awkward for those who don't know a lot of people or have recently married into the family and don't know anyone at all. It's also embarrassing when you've forgotten someone's name or how they are related to you.
The only way to overcome these obstacles is to keep attending your family reunion every year so that you can get to know other relatives and keep up with what's going on in their lives. And how do you get your distant cousins to keep coming back every year? Make your reunion fun and exciting so that they want to come back!
Games to Help Learn About Your Family
Adding games for people to play will help break the ice and can also be a better way for folks to get to know one another. Try these fun family reunion games to be sure your party isn't dull or bland, and to keep people coming back year after year!
1. Getting to Know You Bingo
This Bingo game involves creating BINGO cards with facts about the people participating. The idea is to match a person to a card, have them sign their name to a fact about them, and have it serve as your "chip."
You can go about gathering these facts in one of two ways: You can ask people beforehand to send you a little known fact about themselves that they don't think many people know. (Ex: modeled for a toothpaste ad as a child) or, you can just make general facts that could possibly apply to a number of people. (Ex: has been on a cruise, is over 6 ft. tall, has been married more than 20 years, served in the military, etc.)
Once someone gets a BINGO (signatures filling one row, or filling their whole card–you decide) then they can turn in their card for a prize!
2. The Family Historian
Who knows the most about the family? For this game, ask family members to bring in old family photos, and write on a sticky note the names, date, and location of the photograph. (For example: Edgar and Katherine, May 1966, Great Smoky Mountains).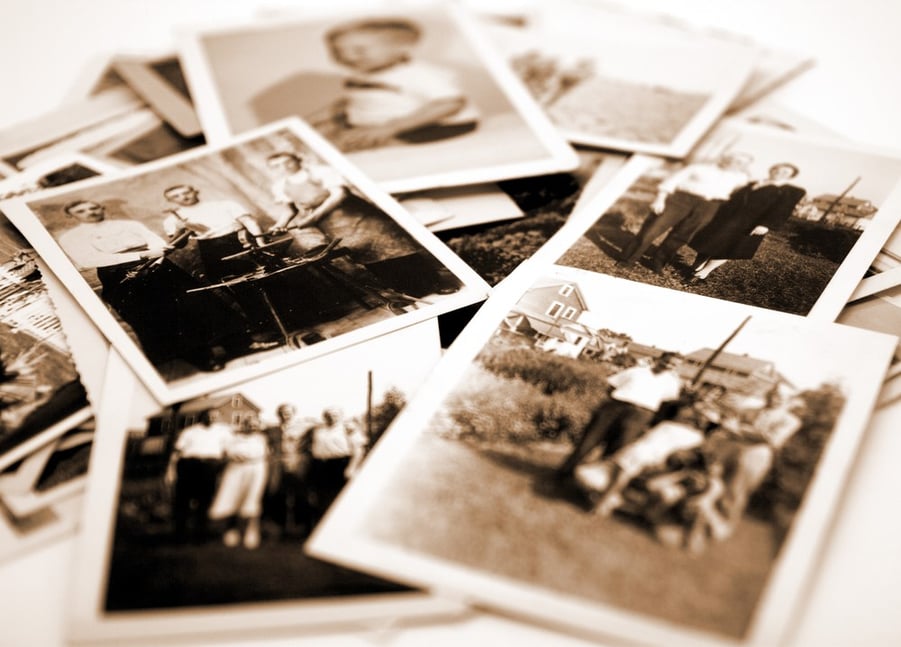 Place all the photos on a table and number each one with a sticky note on the front corner. Have some papers, numbered with the number of photographs, and let family members try to write down the people, date, and location of each photograph on their paper.
They can either turn in their paper so a volunteer can score it, or you could announce the answers to have individuals can score their own. Whoever gets the most correct answers wins, and can be given a gift – maybe even a hat or t-shirt that says "The Family Historian!"
3. Family Trivia
This game requires some preparation beforehand, but will be an effective way to learn more about family members and facts about their history. Begin by asking people to send trivia about themselves or their family to a selected family member. (Ex: the year they were married, the number of children their great grandparents had, what company they worked for, the first car they drove, etc.).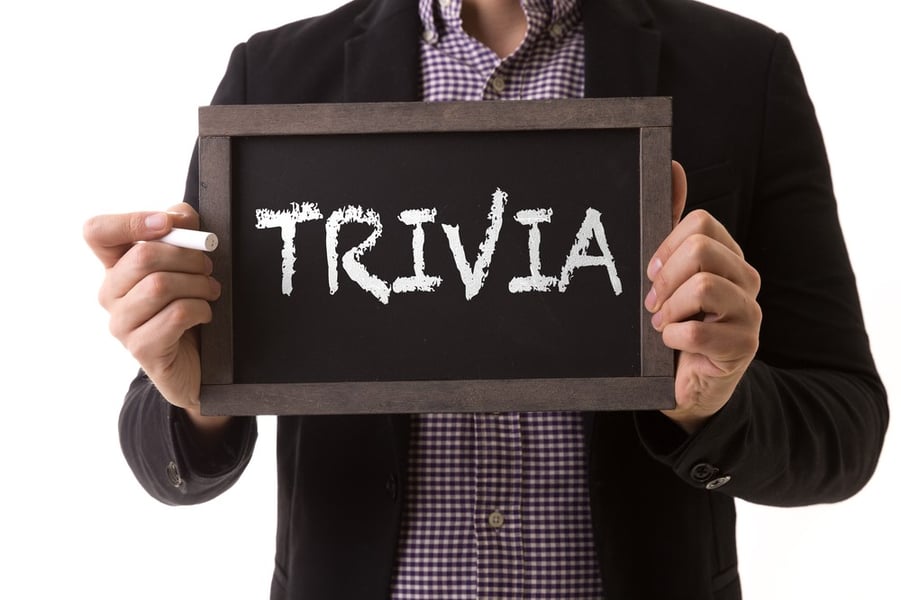 The person compiling all this information can create multiple choice questions to be used in a trivia game. They could even choose to put them in categories such as "Recent Events", "Love and Marriage", or "Strange Relatives."
Then comes the fun part. Either split people up into teams randomly, or have people form their own teams for a little healthy competition. You can have every team answer every question (use a small chalkboard or whiteboard and have each group hold up their answer) or have people answer until they get a question wrong, such as in Trivial Pursuit.
However you work out the rules, your family will have a lot of fun competing against each other and will be intrigued to learn interesting facts about their family in the process! Bragging rights for the winning team will last all year long.
4. Who's the Baby?
This game also involves family photographs, only each of the family member participating have to bring a baby picture of themselves. Give each photo a number and place the baby photos on a bulletin board or table.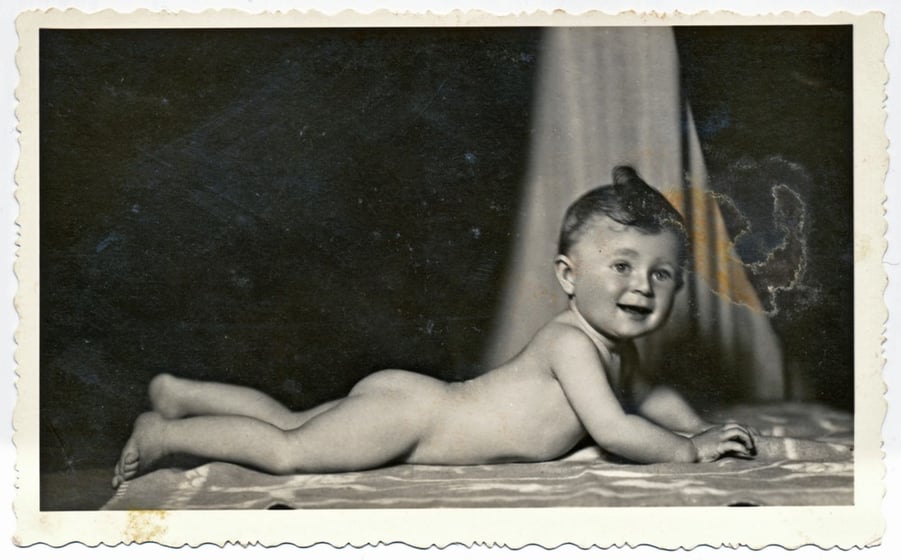 Have family members write down who they think the baby is on a piece of paper and after everyone has had a chance to play, have each person come forward one at a time and claim their baby picture while people score their cards. The person with the most accurate wins!
Games to Play Outside
Set up and play these games all day while people are visiting at your family reunion.
5. Corn Hole
Corn Hole has become extremely popular in all sorts of settings. Tailgate parties, picnics, and family reunions are perfect venues. It's a bean bag game similar to horseshoes. You could organize a tournament with a bracket posted nearby. Ask around – it's guaranteed someone in your family has corn hole boards and bags.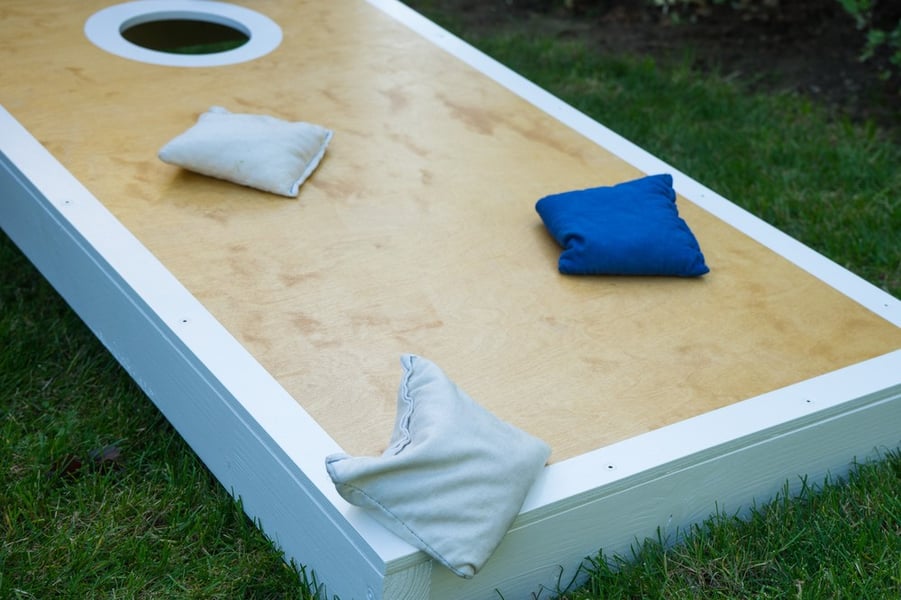 You can find everything you need to know about corn hole here.
6. Lawn Bowling
Lawn bowling is a game for all ages. You can buy a lawn bowling set, or, make your own out of 2 liter bottles (paint them and add some sand or beans in the bottom) and a playground ball. This game can bring folks who don't know each other well together in a fun and non-threatening way.
7. Lawn Twister
Playing twister can happen right on the lawn as well. Purchase some red, yellow, blue, and green spray paint. Make a circular stencil out of heavy cardboard and spray paint your own twister board right on the grass!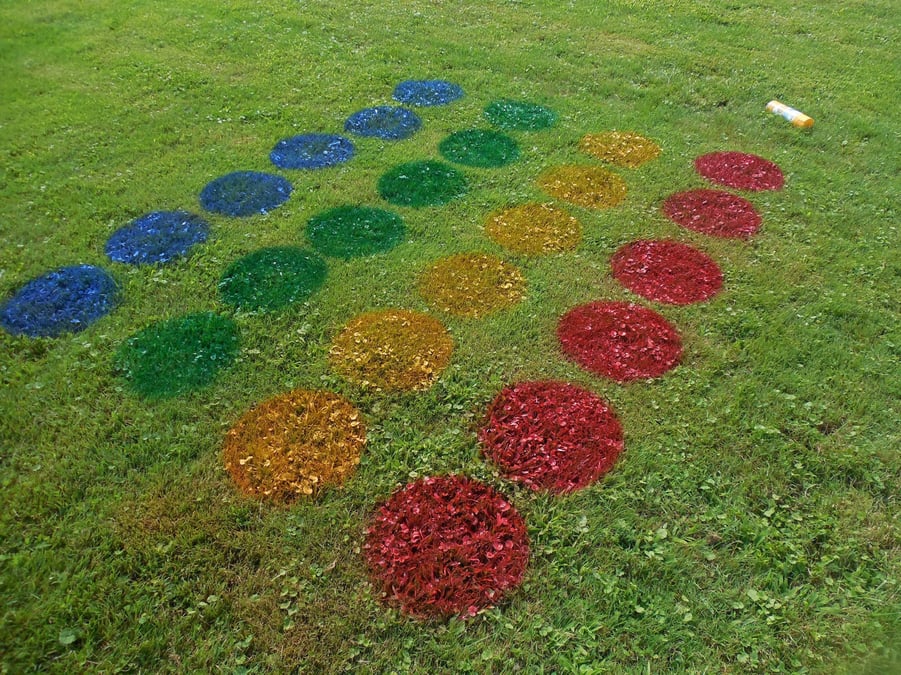 Place a spinner and chair next to the board and people will feel free to kick off their shoes and have fun with your lawn twister game!
8. Oversized Games
There are many oversized games available to buy or many ideas online to make your own. Checkers, Scrabble, Dominoes, Chinese Checkers, and Connect Four are all games that could be made on a large scale, making it easier for many to gather around and watch the fun take place.
Games for Healthy Competition
Try these games at your family reunion if your crew gets excited about a little healthy competition.
9. Tug of War
A classic, Tug of War can be especially fun at a family reunion because you can decide who's against who in a number of ways. You could choose one branch of the family against another, or declare "uncles vs. aunts" or "nieces vs. nephews" for another round.
10. Water Balloon Toss
For this game you just need a bucket full of water balloons and people ready to have some fun (and get a little wet!).
Everyone gets a partner and stands down a middle line facing each other. Each partnership begins to toss their balloon back and forth, taking a step back each time they make a successful catch. If their balloon breaks, they're out.
This is a great game to encourage a younger person to pair up with an older family member, or mothers paired up with daughters, etc. The last team left with a full balloon wins!
11. Watermelon Eating Contest
Since these family reunions often happen in the heat of summer, a watermelon eating contest is a great way to beat the heat and entertain your family. Try calling up different groups such as brothers or everyone from a certain side of the family. Tie their hands behind their back and see how much they can eat in a certain number of minutes.
12. Sack Races
Good old fashioned sack races can be extremely fun and entertaining for all involved. Try calling up certain ages for each round. For example, ages 4 and under, ages 5 to 8, ages 9 to 12, etc. Declare the winner of each age group and give them a prize!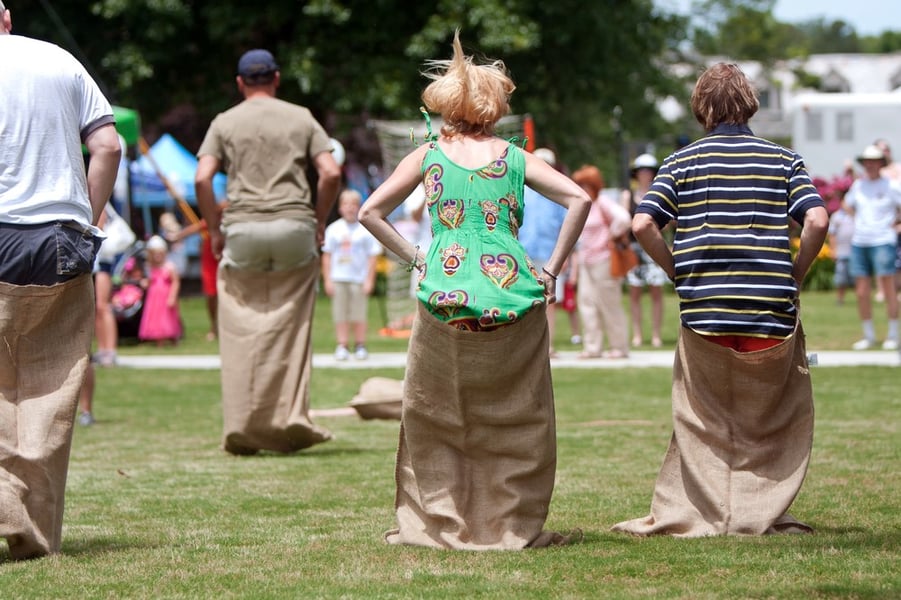 13. Egg and Spoon Race
This game is fun and easily adapted to how many people are participating or their skill level. Divide your family however you like- into two large teams going against each other, or many small 4 or 5 person teams.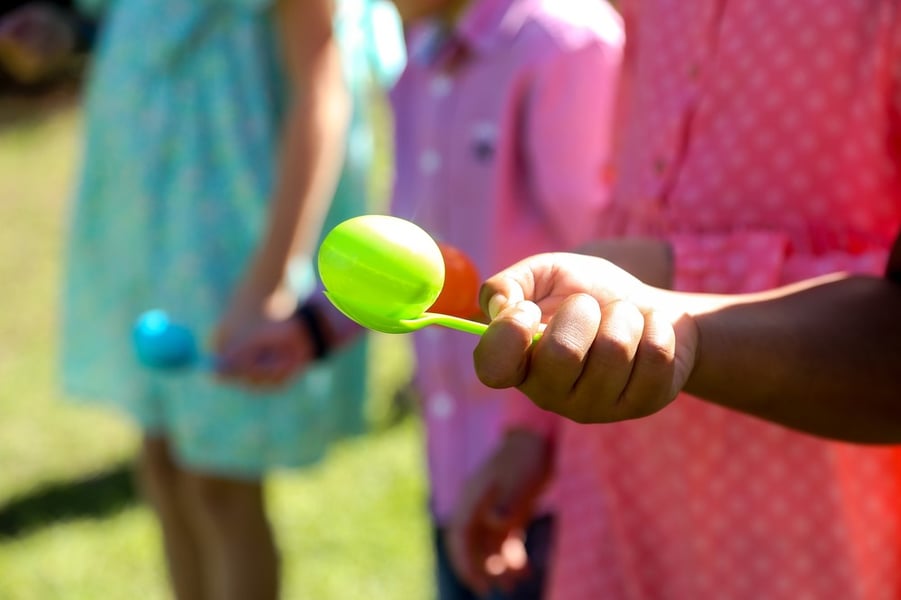 Each team is given an egg (hard boiled, or you could use a golf ball or small water balloon) and a spoon. Each member of the team must place the egg on the spoon, place one hand behind their back, and carry the egg across a line and then back again.Then they pass their spoon to the next person in line, and everyone carries the egg in the same way. The first team to finish wins! If at any point someone drops the egg, they must start back at the starting line.
14. Three Legged Race
A three legged race is lots of fun to participate in, but even more fun to watch! The older family members at your reunion will enjoy watching their grandchildren laugh and race each other. If your family is feeling adventurous, you could even group four people together and have a five legged race!
15. Hula Hoop Contest
Hula Hoops were very popular in the past, so it will be fun to watch many older relatives show up the younger ones in a hula hoop contest! You can have the hoops out throughout the day, with a sign posted that says "Hula Hoop Contest at 4:00!" People can spend some time practicing and be ready to enter the contest!
Until Next Year…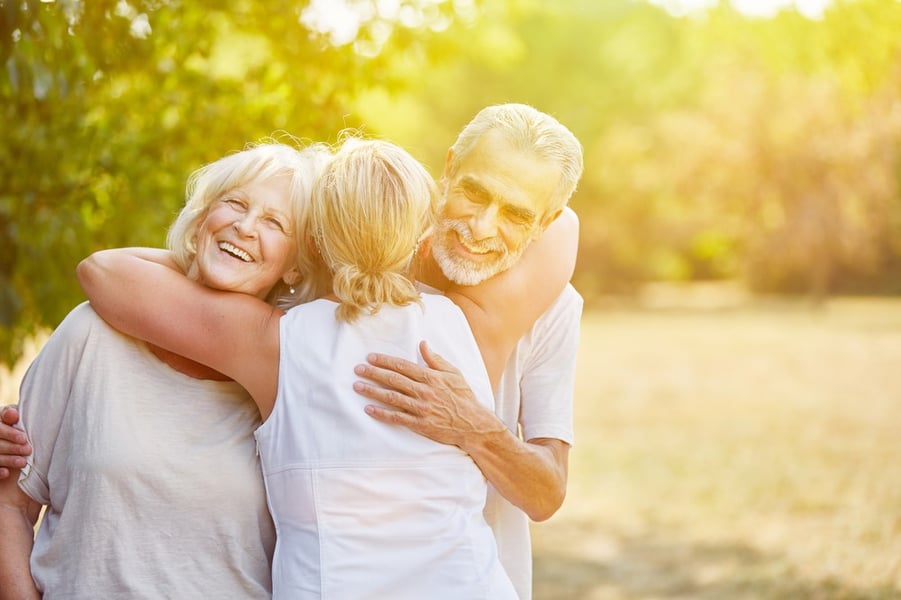 Adding games to help distant relatives get to know each other as well as just make things more fun will assure your family is talking about the reunion all year long. They will leave already looking forward to next year!