If you and your partner have become recently engaged, chances are that you've already begun preparing for the big day.. For many, this includes a large reception with family and friends, along with dinner and dancing into the night. For others, a destination wedding is the ultimate celebration, barefoot on an exotic beach with a more intimate group of loved ones. Still others prefer a low key gathering near a holiday weekend to make the most of good weather and a shorter work week.
All these scenarios can be lovely choices and each has its advantages. No matter what type of wedding you choose, if you are going to invite guests, consider sending a "save the date" to notify people of your wedding date and location so they can plan ahead.
Destination Wedding? These Gifts Travel Well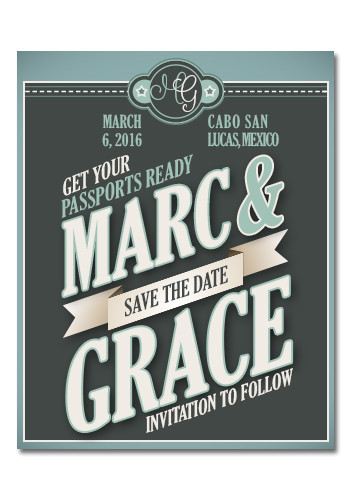 Why send save the dates?
Simply put, people are busy. Sending a save the date will encourage them to put your wedding on their calendar early — even earlier than they would if you just send an invitation.
Save the dates are usually easier to make and send because you don't need to have all the details worked out yet, like the exact venue or the precise time you'll be saying "I do." The point is to get people to put the date on their calendars so they keep your event in mind before something else comes up.
Here are some tips for sending save the dates:
Include the date and venue. At minimum, be sure to include the wedding date and location — and don't forget your names! — so people can block off the date on their calendars.

Including the city and state will let people know whether they need to start looking at airfare.
Send them as early as possible. Wedding etiquette experts generally suggest sending invitations six to eight months in advance, but you can send save the dates earlier. As soon as you know your wedding date and venue (or nearest city), you have enough information to send out. You don't need to know the exact address or time; you can save this for the invitation.
Send them to everyone on the guest list. Or, if you like, just choose the people who live out of town or who you know will need to plan ahead. It depends on the size of your wedding, as well as your mailing budget.
Don't delay when it comes to destination weddings. Send your save the dates as early as possible if you're inviting people to a beach destination or international venue. They'll appreciate the extra planning time. The same goes for weddings on holiday weekends or popular travel times like spring break.
Note any special circumstances up front. If your wedding will be kid-free or requires a special dress code, it's courteous to tell your guests in advance.
Include additional information if possible. Save the dates are meant to be quick and to the point, but you can always include a URL to a wedding website, if you have one, so your guests can get more information as you post.
Don't worry too much about formality. The point is to send the most important information to your guests, and you're allowed to have fun with it.


Choose save the date magnets
Save the dates were traditionally sent on paper, and might lot like wedding invitations. However, more and more couples are open to creative and unique ideas when it comes to announcing their wedding date. A perennial favorite? Save the date magnets.
There are many reasons these make great save the dates. Here are a few:
They are easy to find. Most people have a magnetic surface — like the kitchen refrigerator, whiteboard, or dishwasher — where they can stick a magnetic save the date. This keeps it within sight and top of mind.
They are reusable. The great thing about magnets is that you can use them to hold other things, like photos, important papers, or children's latest artwork.
They are attractive favors. Most couples put some thought into making an attractive and personal save the date, which is like sending your guests a pre-wedding memento of your big day.
They are customizable. Save the date magnets are easily customizable with your favorite photos, fonts, colors, and designs. You can also choose the thickness (measured in millimeters) based on your budget or ideal weight:


17 Mil magnets are comparable to business cards and hold three pieces of paper
20 Mil magnets are as thick as a credit card and hold four pieces of paper
30 Mil are especially durable, about as thick as a dime, and can hold about six papers
Wedding save the date: magnet ideas
If you're thinking about using magnets for your wedding save the dates, it's time to start visualizing designs. After all, your save the date can convey a lot of feeling — even with relatively cheap save the date magnets.
Are you planning a beach ceremony or destination wedding? Or maybe you and your beloved are frequent travelers. If so, consider a beach-themed magnet with a heart drawn in the sand or tropical palm trees on the front. This can immediately convey your intentions and encourage your guests to get excited for a sunny vacation.
Another idea is to include your photo front and center on your save the date magnet. Use an engagement photo or a snapshot from a favorite date to customize the magnet. Your invited friends and family will be reminded of your upcoming wedding each time they see your smiling faces.
Of course, traditional images of wedding rings or hearts are excellent choices for conveying your love and commitment.
Most magnets measure between 3.5 inches by 2 inches or 3.75 inches by 3 inches, giving you ample space for a compact message with all the important details.
As you move forward with planning your wedding, remember to keep your guests in the loop as you solidify your plans. With save the date magnets, you can send your friends and family a meaningful memento of your plans to wed that they'll love all the way up to the nuptials — and long afterward, too!