While the summer months are traditionally a time when families get to celebrate, rest and spend more time together, this doesn't always translate as an abundant time for businesses. Unless you're a fairly new business owner and aren't exactly sure what to expect this season, I'm certain you've been preparing for the unpredictability associated with this time a year. However, I want to tell you there is a lot more you can do to boost your revenue in the wake of the summer solstice. Follow me inside for the top 7 promotional items you can use this period to create more awareness about your brand.
First, let's get this one thing out of the way: clear and concise communication is essential to the success of any business. And now that we're all on the same page, let's get down to the nitty-gritty.
Industries like the food and hospitality trades will experience sizzling hot summer months in sales, and that comes to no surprise. Many families will be traveling to enjoy their time off near a tranquil lake or popular beach resort. Others will find themselves roaming around more common tourist areas like a big city in their own home state, neighboring or rather far territory. Yet, however near or distant, your business can too take advantage of this opportune time to boost its revenue – here's how:
1. Personalized Beach Towels
If we're being realistic, we'd all have to agree just about every single one of us needs a towel – there just isn't a way to avoid the imminent truth. Side note – I do foresee some of you challenging me on that one. Still, if we decided to put our desire to be right aside, we'd be able to see how just about any business can benefit from customizing a few dozen personalized towels of their own.
Yes, hotels and resorts do provide their guests with complimentary towels. Yet these are often plain towels their guests never end up relating to. Besides the obvious gift shop owner, other business that can benefit from the seasonal item include travel agencies, national parks, historic landmarks with a gift store, spas and massage parlors, you name it!
In short, adding personalized towels to your reservoir of promotional items truly promises an increase in revenue in the upcoming months. Trust me – but you can always ask mom what she thinks about having a few extra towels at home.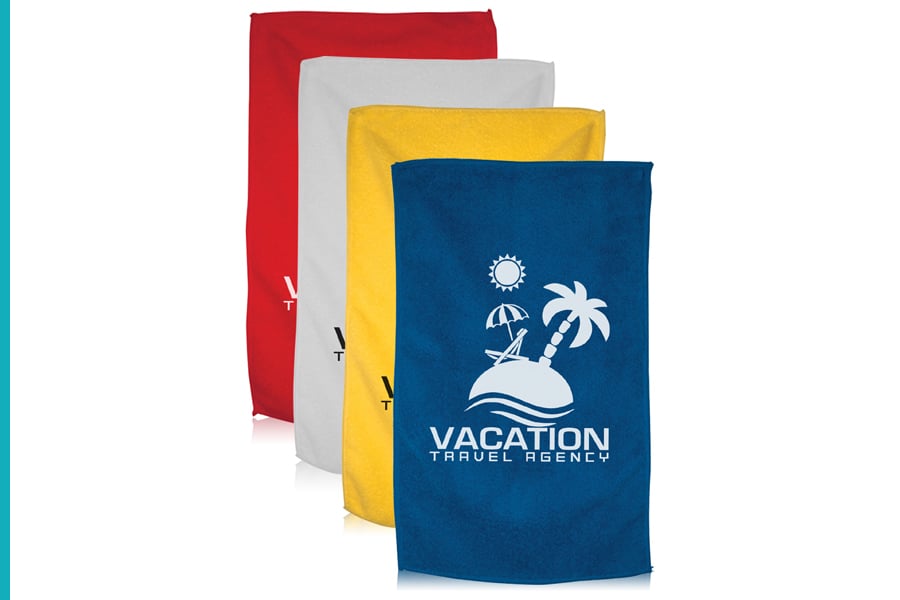 2. Custom Koozies
For a while, there was a craze we all came to know as the "koozie fever." Fine, I just came up with that term this very instant, nonetheless just about anyone and their cousins wanted a koozie of their own. I got custom koozies at Tom and Laura's wedding, and my cousin's Scott's senior grad party. I'm sure you got a few too, and I have to say those things will last forever. And now that I'm being honest, can coolers are pretty cool gadget to have at home. One can never really have enough of them.
The trend did start to lose momentum when everyone lost their minds in the wake of the fidget spinner, and more beer manufacturers started to make 16 oz. cans. For a minute it did seem like the koozie industry would be remembered as something of the past, like the Dark Ages, but it has started to reinvent itself. These days we're seeing a reemergence of beer bottle koozies, the undeniably attractive two-can custom koozies, and even pint glass coolers that will make even the most particular of your guests glance twice.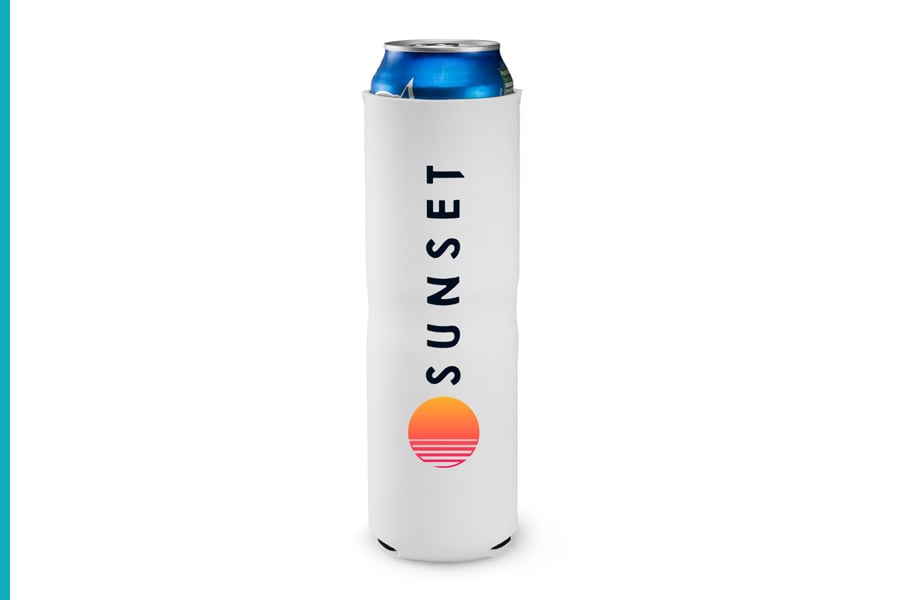 3. Customized Coolers
The summer months are also a popular season for 5K races, marathons and triathlons. Great effort and resources are poured into these events, and besides the obvious joy the winner, finalists and every single person who completes such races experiences, many of these events are organized to raise funds for a specific cause. A way to boost the return on investment is to provide the participating teams and individual athletes with customized gear they can purchase in support of the event.
The ultimate test of mind, body and spirit for participating athletes, these races demand they stay hydrated throughout the program. Promotional gear like customized coolers can be made available for sales to sponsors looking grow awareness about their brand. Stands can be set up around the starting and finishing line where they can place advertising items of their own, however one of the requirements for sponsorship can be a fixed dotation amount to the cause that would include the purchase of the coolers.
Be fair about the fixed amount you ask from your sponsors and be sure they understand all efforts being made for the success of the event are backed by the desire from your organization to help those in need.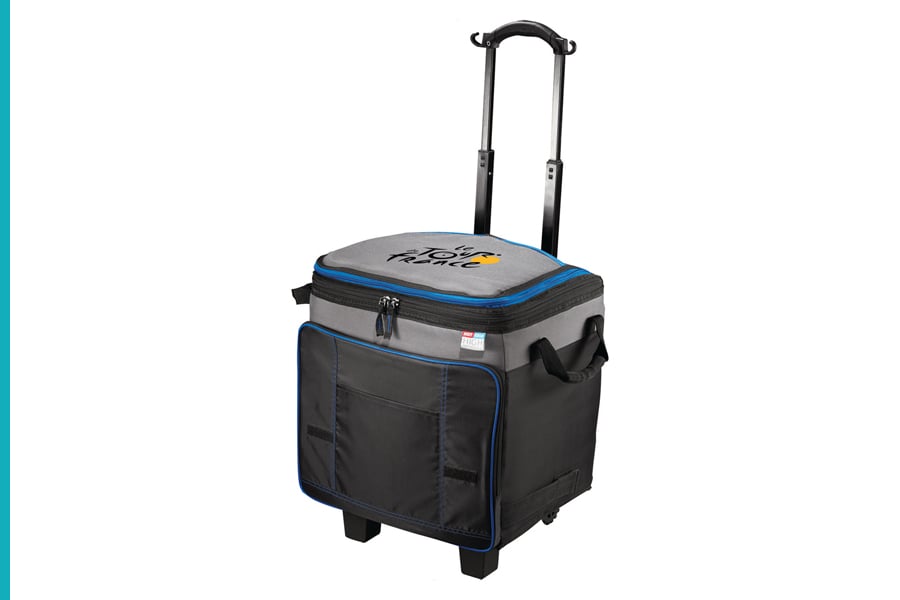 4. Custom Water Bottles
If customized coolers are a bit out of your budget, you can always opt for more affordable team apparel like custom water bottles.
Some of you will be decanting your efforts into smaller and locally sponsored events like a little league championship off regular season, or community funded summer camp for residents. Because communities can all benefit from interacting with one another in the summer you may ask for a small donation form local business to provide your little ones with personalized uniforms and other essential gear. Donations can also help compensate volunteers supervising the event and in return said business would get extra exposure within the community.
Custom water bottles aren't not only affordable, they're also timeless. A great way to keep the spirit alive among the public, these will keep remind everyone involved about a great time spent together, and looking forward to the following year. Growing fans and followers will definitely translate into a boost of revenue for your organization.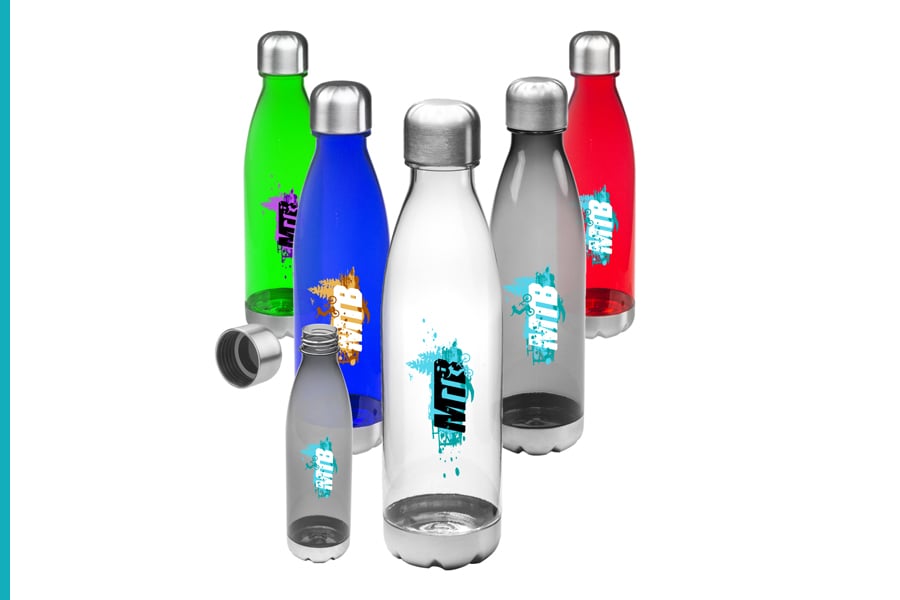 5. Printed Beach Umbrellas
Whether your business is located near the beach or a lake you know visitors will be looking for shade when the sun is high in the sky and at its strongest. Beach umbrellas printed with your logo can be made available for rent by a crew representing your brand to help promote your business and increase your sales. After a long dip in the water, many will be looking for a delicious spot where to satisfy their hunger and replenish on energy.
Not only will printed umbrellas post an immediate influence on current visitors, they're long lasting items you can use at various seasons of the year, put away when the winter months make their appearance, and bring out again when the summer returns. Now that's a real return on your investment!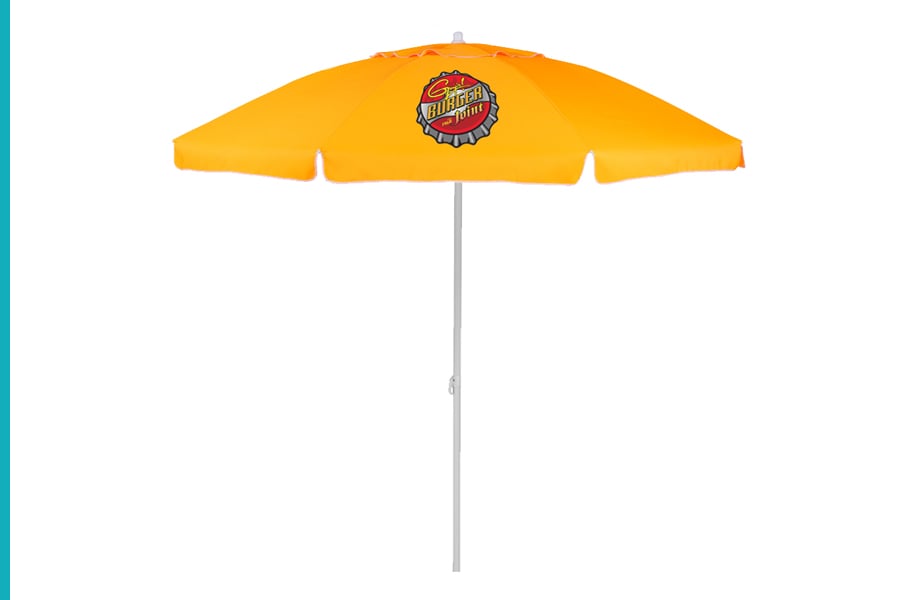 6. Logo Beach Balls
The summer season is no doubt a time to play, have fun and be fun. The best part is everyone gets to be a kid again around this time. We get to drop all those extra layers of clothing protecting us from the cold and move around freely in the warmth of the sun like children on a fresh spring day. Why summer, you ask? Because there isn't a time like it to laugh, laying under the shadow of a tree and it's finally acceptable to wear close to nothing like way back when we were younger! C'mon you know I'm right.
Most importantly the lively spirit of youth comes back to us all and we play like there is no end to the day. Enter the perfect summer toy … beach balls.
Customized beach balls with your logo is a great opportunity to bring more attention to your brand or cause. Passed from hands to hands, these will reach a large number of eyes in your audience to be associated with only good times and laughter. You can make your logo beach balls available for sales at nearby gift shops, but you can also pass them out for free among your audience at giveaway events for added awareness.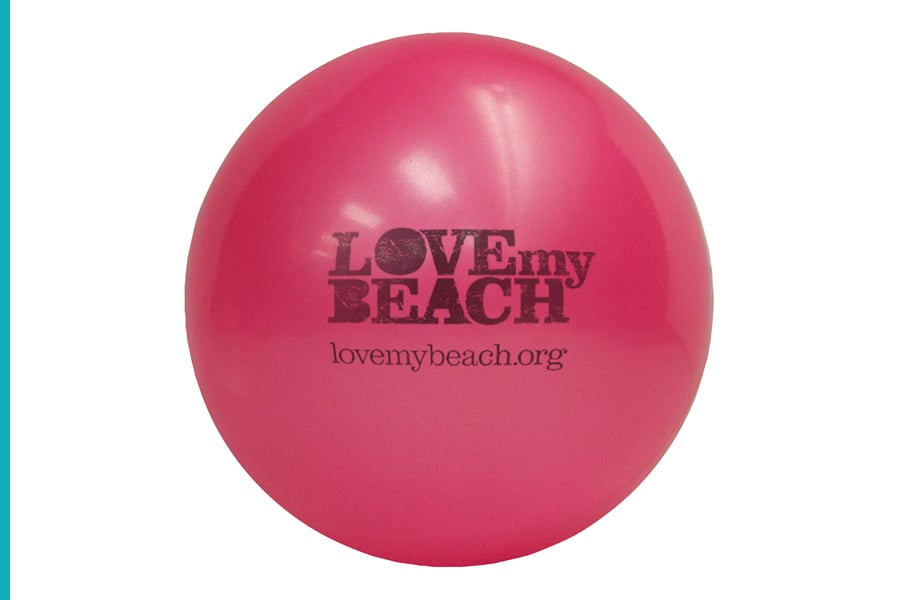 7. Personalized Sunscreen Bottles
I purposely left sunscreen for last because most will not think of this item when they first think of promotional products. In fact, it's probably never even crossed your mind. Yet sunscreen is one of the most subtle ways to create awareness for your business and experience a boost in revenue.
A time when the northern hemisphere is closer to the sun and its ray's intensity magnifies, your brand can feel like a savior to most people. Often tourists don't think of the ways the season can negatively impact their getaway plans. Maybe they're visiting the beach for the first time, forgot to pack for it, or thought it better to purchase upon arrival to their destination. Either way, providing them with such an essential item can make your brand feel friendly and approachable.
In the worse of cases, you can at least be sure these won't end up in a trash can to be forgotten!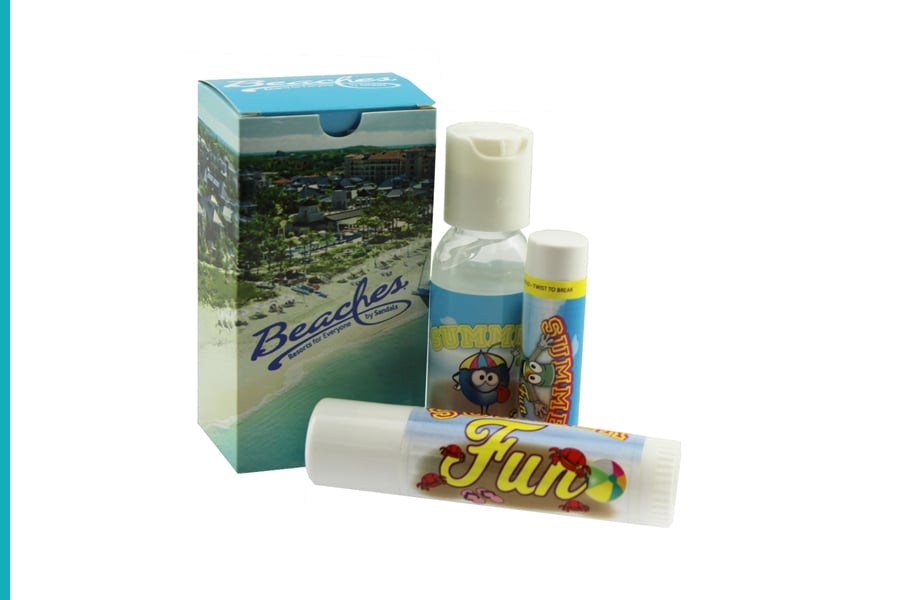 Strategy really is key to the success of your promotional approach. I truly had fund putting this list together, but I'd love to hear from your success stories! Let me know in the comments below what has worked for your business in the past, and what you think can help other businesses like yours survive the unpredictability of the summer break.