We all dream of making a difference and changing the world. The little girl playing doctor with younger siblings or stuffed animals, and the little boy rushing with a garden hose to put out a fire only fairies and golems can see. Somewhere along the way, we alienate ourselves from the invisible web connecting us to existence and become engulfed in living our own lives.
We often find that making a difference comes at a great cost, be that physical or emotional, and embark on the pursuit of our own happiness. However, these ideals aren't exclusive. Aren't our lives part of the world we set out to change in the first place? One does not choose from his or her own goals and the rest of the world. We get better at achieving our intentions, and learn to include those of the world.
Contrary to what some may think, the world doesn't need a superhero. The world needs everyday men and women to own their individual missions. Each of us makes a special contribution to a collective consciousness that in turn behaves as a compass for our brothers and sisters. What good is our individual happiness if one cannot share it with others?
DiscountMugs' Share Your Story initiative allows our customers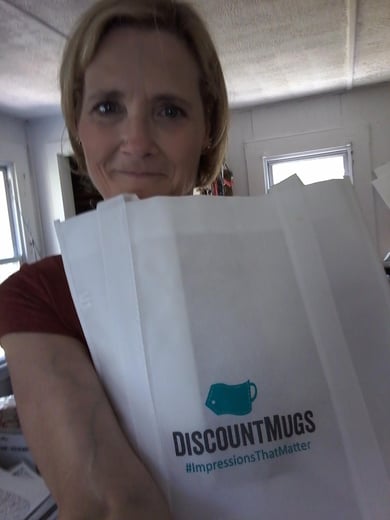 to share their message with our audience, and earlier this year we came across one of such stories. To our knowledge, this angel isn't fond of wearing a cape, but a little digging revealed she does work diligently and with passion.
A client of ours, Patsy Tiffany is a Connecticut native, wife, mother, grandmother, and somewhat of a vigilante on the side. Her focus: show love and compassion to those in need.
Twice a year she and other members of her Church ministry take trips to New York to extend toiletries, food and other essentials to the homeless. The rest of her time she dedicates to putting together Comfort Totes she later extends to cancer patients in local hospitals.
In the same fashion, at DiscountMugs we decided to surprise her with a little package of our own to include tote bags, pens, and fidget spinners to help her build more Comfort Totes. But alas, our act of generosity did not go as planned. Patsy, that angel, feared she'd received the boxes in error and sent them back to our facility. But don't worry, we made sure the boxes all made it back to her.
It was settled, we had to learn more about this woman and her mission, so we asked her some questions:
What first inspired you to get involved in charity/volunteer work?
"I have always had a heart for others in need, even if it's just a smile and hello. About 30 years ago I volunteered in a soup kitchen that my family also needed to use for our meals for a bit. There was a period of time when we were the recipients of food donations, and sometimes financial help. Going through hard times gave me a heart for others going through hard times as well.
In our church we taught Sunday school, AWANA, worked in the nursery, helped with a youth group and ushered. A life without serving others and showing compassion, love and kindness would not be a life at all."
What continues to drive that passion for charity/volunteer work today?
"I have been called by God, I believe, to demonstrate His love to others. I participate in a homeless ministry, and for the past 12 years I have been going twice a year on mission trips to New York City to do just that. With NYSUM (New York School of Urban Ministry), we go out on the streets at night and bring blankets, water, sandwiches, and toiletries to the homeless, wherever they are. During the day time we go to churches, soup kitchens…wherever there is a need. I have taken it to another level and started collecting snack food, sweat shirts, sweat pants, warm socks, winter coats, hats, scarves and gloves. My friend Tina helps with that because she's wonderful and because it has grown into a big job."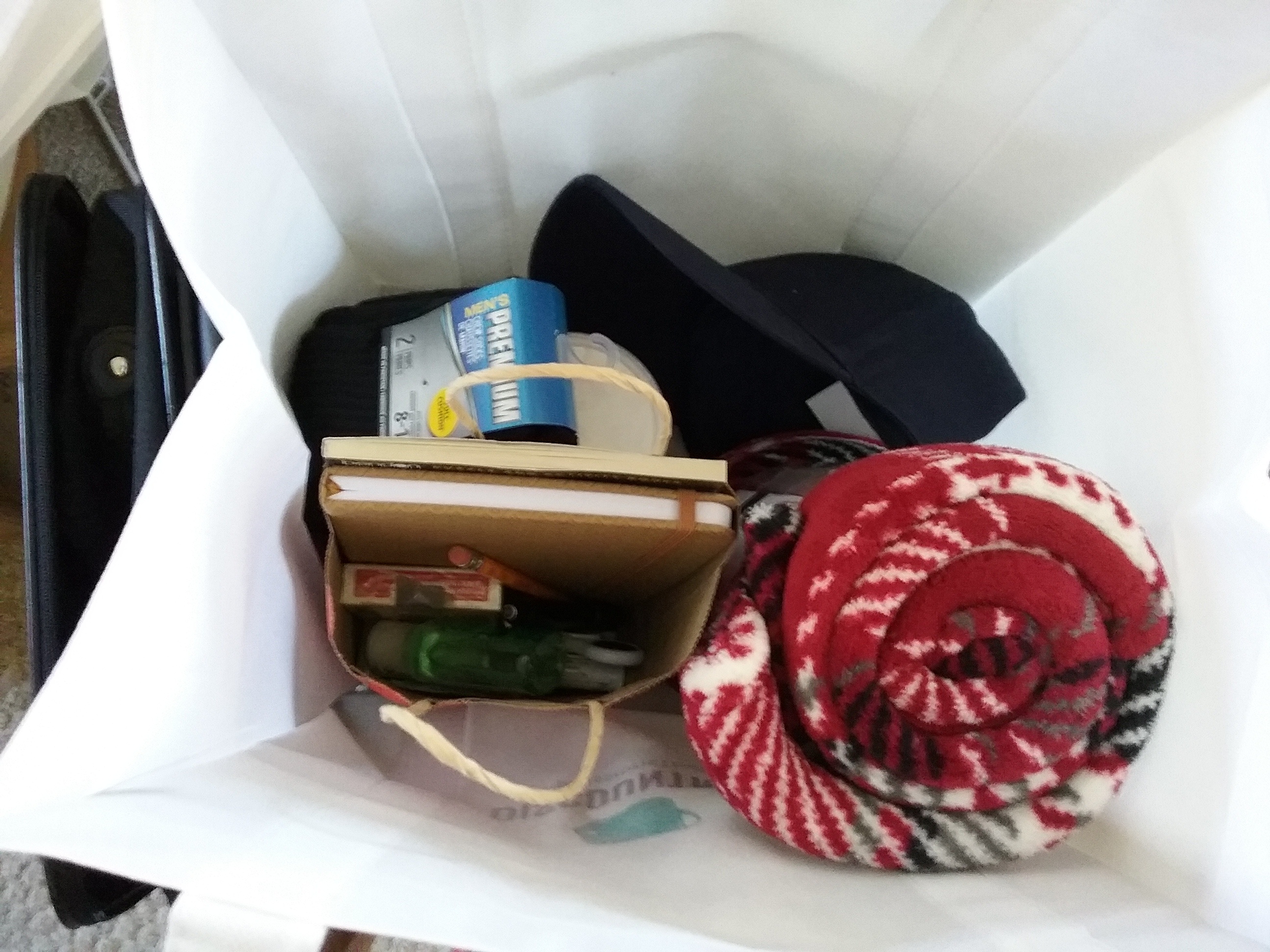 How did your work evolve into Comfort Totes?
"I was led to do something some may find crazy. I committed to knit or crochet 1000 hats in one year to take to NY with us. I posted on Facebook and told my friends, and 10 ladies volunteered to help. It was a great time and a great group of ladies. We met our goal and had 17 on top of that.
So now, as far as the Comfort Totes. I have a condition that requires treatments once a year that usually takes place in cancer centers. I believe that I am there for a purpose, to show compassion, love and kindness to others using the Comfort Totes. So I am in it. I see it all and my heart just breaks for the patients and families. I want to let patients know that someone cares and is praying for them."
What's in the Comfort Totes?
"The Comfort Totes include small rolled blankets, men's warm socks, women's fuzzy socks, hats, scarves, puzzle books, adult coloring books, colored pencils with sharpeners, pens, journals, date books, travel games, books, ginger ale and or water, and other small snacks."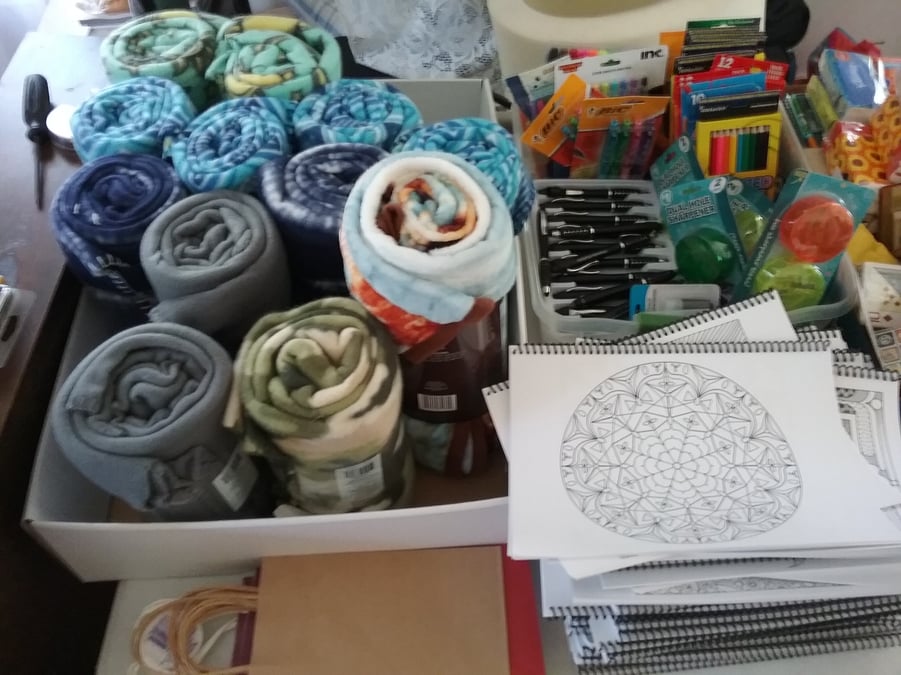 What is the name of the hospital where you volunteer?
"I am able to donate the Comfort Totes to Backus Hospital Cancer Center in Norwich Ct, Helen and Harry Cancer Center in Hartford Ct, Johnson Memorial Cancer Center in Stafford Ct and Lawrence Memorial Hospital Cancer Center in Waterford Ct.
My last treatment was in Manchester Hospital Cancer Treatment in Manchester Ct, so I brought a few Comfort Totes with me. They were well received, so I will make my official contact with the hospital so they can be a part of my regular donation centers."
Are the Comfort Totes exclusively for adults or do you visit ill children as well?
"I do provide a few small kids toys or coloring books occasionally for the children of patients, if the centers can use them. I don't get to meet the patients when the totes are delivered to them by hospital staff, in respect for their privacy. I would love to and will if a patient asks."
What is the best thing that has happened since you started Comfort Totes?
"The best thing that has happened involving Comfort Totes was an email I received from the director at Helen and Harry Center in Hartford Ct. It said that they had a patient that walked to his treatments in a snow storm because he had no other way to get there. His shoes and socks were soaked by the time he got to the cancer center and they were able to give him a Comfort Tote which included a pair of warm socks. He took off his wet ones and put them on and could sit for his treatments with warm feet. I was deeply touched by this and it gave me a little push to keep going."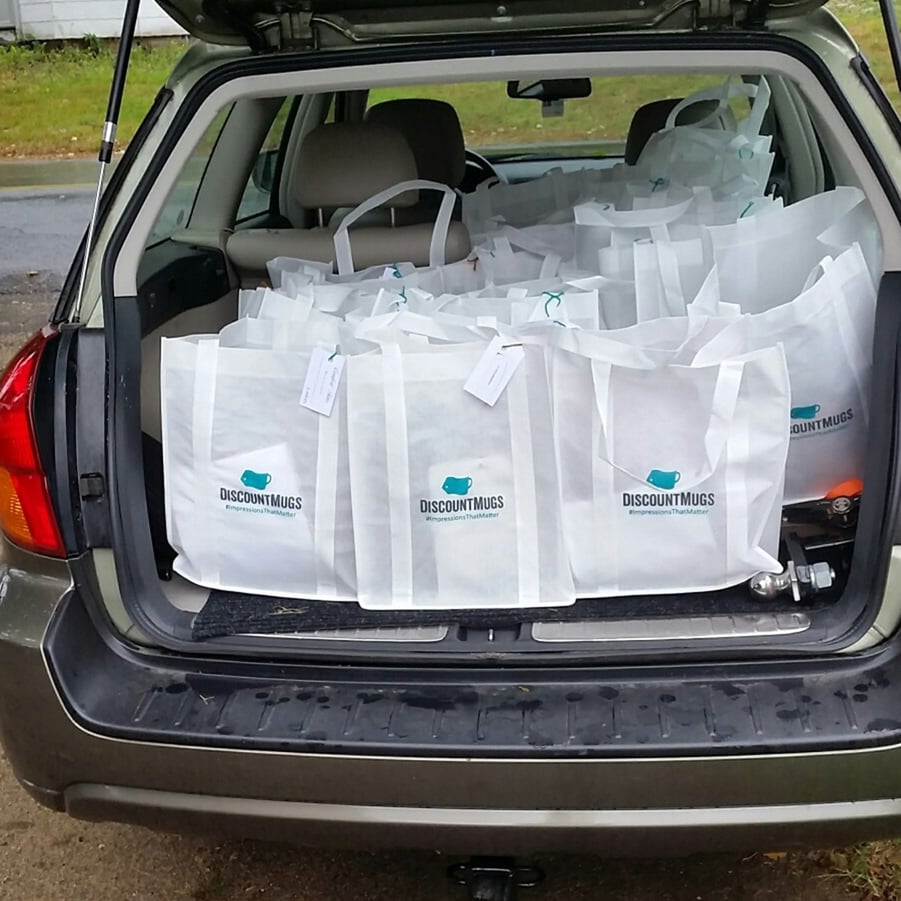 And the worst thing?
"The worst thing that happens is when I don't have what I need to fill all of the totes. I like to bring at least three men's and three women's Comfort Totes to each center every time I go. I love it when I can bring five of each."
Tell me about some of the people you've met while volunteering.
"Laura Longley, administrator at Helen and Harry Cancer Center, has been my contact and the person I usually see when I deliver the totes. She is a wonderful, cheerful person and expresses great appreciation for the Comfort Totes.
My contacts at the other cancer centers are Karen Geary, Lawrence Memorial Cancer Center, Maria Palomares, Johnson Memorial Cancer Center and Jessica Vanase, Backus Hospital Cancer Center. All very welcoming appreciative people."
What your personal philosophy on what should be done for the cause in general?
"I have had people in my life that are or were cancer patients. My mother is a breast cancer survivor, and my sister in law is a lung cancer survivor. A friend Cindy, passed away from breast cancer. Another friend lost her four year old son Jacob to brain cancer. A friend's five year old daughter Eliana, is a Wilms tumor cancer survivor. Another friend's husband Will passed away from brain cancer. My cousin Billy passed away from brain cancer . . . too many!
I participated some years ago, in the Susan G. Komen walk for breast cancer, the Light Up the Night Cancer Walk, and the Color in Motion 5 K. I love to run/walk so these are great for me. They're doing a great job raising funds for their perspective causes."
What do you think will change about Comfort Totes in the next five years?
"I would love to have more people donating items in the future. I hope to do this as long as I can. I don't see an end to Comfort Totes. I would love for there to be a cure for cancer, but until there is I will be here doing what I can."