Every year, we celebrate and remember our nation's veterans on November 11th, a day that we dedicate to expressing infinite gratitude for their bravery and service. There are several considerate ways we can honor our patriots, such as making home-cooked meals or writing thank-you notes. The Wounded Warrior Project is a reputable organization that provides service and various programs for wounded veterans. This year, you can also celebrate our veterans in a special manner with fun, colorful and durable fundraising products that honor the occasion long after the holiday ends.

Accessories that can be customized with names, dates and logos will engage your community and encourage their continued support. Personalization is perhaps one of the most thoughtful ways to memorialize a loved one or help raise awareness for this year's holiday. Care package parties are another fun way to provide support for our veterans! It's an inclusive activity in which children and young adults can participate. There are numerous ways to celebrate the holiday, and there's no reason you shouldn't have fun with it!

Find out about delicious dish ideas to incorporate during the holiday.
Small and Pocket-sized Go a Long Way

Sometimes small and pocket-sized go a long away, especially when it's something that carries an important message. Celebrate the veterans in your
life with a personalized badge holder or keychain. One way you can distribute these delightful accessories is to host a patriot-themed trivia party and use them as prizes for the winner. You could also run a bake sale and use the funds from your badge holders or keychains as a donation to your favorite veteran charity. Since these are items that have the potential to be used on a daily basis, they also serve as a way to remind us of those who fought for and defended our nation. As you reach for your badge or key, you'll be honoring our patriots by personally representing their dedication to our country. You can even honor a single veteran in your life by designing a lanyard with their name and number of years served! Wearing a lanyard or using a keychain opens up opportunities for you to effortlessly spread a patriotic message to coworkers and friends, and it also happens to be a meaningful way to honor the holiday. There are dozens of different lanyards to choose from, with variations from color and length to purpose and material.
Personalized Apparel is a Meaninful Way to Send Your Message
Fundraising merchandise isn't limited to just accessories! Customized apparel is a great way to commemorate and celebrate our honorable veterans. By placing your Veteran's Day message or logo on a t-shirt or polo, you provide their dedication to years of service with a generous amount of awareness to our fellow Americans! There are a variety of casual and business essentials like polos, hoodies, dress shirts, and jackets that you can personalize and wear beyond the holiday. Apparel messaging is a great way to not only send a meaningful message or honor a veteran, it has the potential to spark conversation and create special connections. Worn in a group setting, custom designed apparel creates unity among your colleagues, friends and family.
Sport Our Proud Red, White and Blue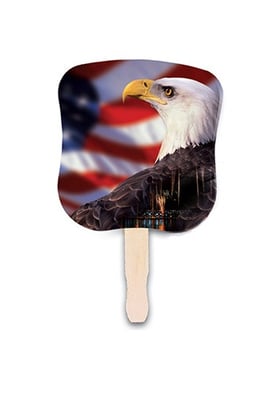 There's no better way to support our veterans than sporting the red, white and blue! Represent our country and the people who fought for our freedom with a personalized hand fans, pencils, hats or pair of sunglasses. Small in size and fun to hand out, these kinds of items make ideal giveaways at fundraisers or events that attract students and young adults. Customizable, patriotic themed desk supplies, like a desk pad or calendar, serve as a gesture to keep our veterans in mind year-round. These items make excellent office gifts for those who know a veteran or employees with relatives that served or presently fight for our country. With customized messaging or a personal logo on any of our patriotic merchandise, you can proudly display your support for our veterans while representing the American people!
Whether you're fundraising for the holiday or supporting someone you know, there's no wrong way to honor our brave patriots. If you're short on ideas, The Veterans United Network provides you with inspiration on ways to engage your community during the holiday. If fundraising is a priority to you and your community, personalized items are a meaningful way to raise money for your favorite veteran organization. They have the potential to inspire continued, loyal support during this essential holiday. With an exciting variety of ways to personalize your merchandise, you can make our veterans feel special with a design made by you, with them in mind.
We welcome your feedback in the comment section below!