We all speak different emotional languages, and Valentine's Day is that time of the year when we get to express love in the most thoughtful of ways. We put together the ultimate Valentine's Day gift guide to inspire, and help you find the perfect gift for the ones you love.
Canvas Tote Bags
Score major points on one of the most anticipated days of the year and shower your lady with something special. Gifts that continue on giving, canvas tote bags (paired with any outfit) are a distinctive makeover item for the eco-friendly fashionista. She'll dream of solids or versatile looks, leggings, jeans, and everything else in between. Elegant and feminine, canvas tote bags are a chic choice they'll bring for a spin when grocery shopping, and even carry on for travel essentials. Gents, trust us - you can't go wrong with cotton totes. Seal the deal with an arrangement of her favorite blossoms.

Vibration Speakers
Many women find it extremely difficult to understand the art of gifting when it comes to men. So much like children men are difficult to please, especially the men who already have everything. Don't buy another boring gift for your boyfriend, husband or brother. Get vibration speakers that are sure to blow their minds. Vibration spearkers work with surfaces and devices to amplify wave sounds, and do not require any wireless settings or cables. Great for anywhere from his man cave to fishing trips, they call for impromptu parties and get-togethers.
Yoga Mats
Need space for personal expression? The studio is a perfect place to let your creativity flow. Yoga mats are a canvas for the celebration of art, connection and the commitment to make the world a more peaceful place. A conscious way to celebrate all kinds of love, they are alternative and original ideas for both him and her. Great for studio owners, yoga mats will let your clients know they matter to you. Make their way through sun salutations, flows and downward dogs all the way to savasana, and meet as a collective when they proudly roll their mats off and onto the rest of the day.
Hand Crafted Gifts
Hey Cupid, don't forget the kiddos! Even if it's not the typical thing to do, remember the little ones also need a little something special too. Because we can often forget it's not all about romantic love, we found eight easy ideas you can make at home to celebrate friendship and kindness. Make fun and creative Valentine's Day gifts your children will love, but which they can also extend to their friends in day care, school or the playground. Come up with a tradition of your own, and extend a little extra care to the sweet angels that light up the world.
Heart Shaped Koozies
Valentine's Day is only a few days away. Have you made all the preparations for that get together with friends? We know a few of you will be spending that day with your inner circle of families and supportive kin. We thought we'd show you a cool little gift you can have ready to celebrate with a few cold ones as well. Shaped koozies and can jackets will follow your loved ones on their merry way and often remind them of your unique gathering. You can make everyone in your party feel special with simple gifts like these.

Aromatherapy Candles
The perfect gift for the mothers and grandmothers in your life, aromatherapy candles come with infusing scents that promote tranquility and focus, and invigorate the immune system. Great calming agents, candles enhance well-being to awaken the natural philosopher in you. A great day to celebrate womanhood, you can delight in Valentine's Day gift ideas that make you come together with the other important ladies in your life. Connect for a few glasses of your favorite Riesling, and set the mood with scented candles that will make your friends feel appreciated.

Silicone Watches
Unisex silicone watches are adorable gifts that put together any outfit for a sophisticated look. Durable and smooth they ensure a comfortable wear, and guarantee a clean cool look without you having to sacrifice style. They can be worn to a wide number of outdoor activities, but also blend in at dinner parties and work functions. Rise to the occasion and give your loved ones a fashionable Valentine's Day gift that will make a statement no matter what time it is. Luxury and romantic gifts, they are a great choice or your boyfriend or girlfriend.
4 Piece Wine Ensemble
Let's come back to the men in your life. Are you looking for Valentine's Day gift that's maybe a little more elegant and sophisticated? Wine ensembles like this one are affordable and exciting bundles that are sure to engage the wine enthusiast. Invite your friends over for dinner, and make your boyfriend or husband feel a little more special at the sight of his gift. This set includes a stainless steel waiter corkscrew, bottle stopper with rubber grip, drip ring with lining, and wine pourer. The beautifully crafted gift box helps keep it all in one place and preserve your special gift.

Beer Growlers
Is your husband, brother or father a beer lover? Beer growlers are the way to go. Great for home-brews, or that blend that they love to get at their special place - dark growlers protect it from sunlight during transport, and come with secure plastic caps that prevent spilling. A leap forward for craft beer lovers, the man in your life can take them on the go and have plenty to share with friends.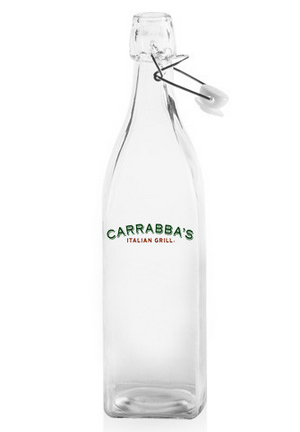 Glass Carafes
Instead of going to crowded places on Valentine's Day enjoy a romantic dinner in the comfort of your own home. Make your loved one feel special for the night - prepare a nice dinner just for the two of you, and set the mood with great table setting essentials. Decanters and glass carafes with wire lids are an eye catching visual that will complete your efforts. Make it extra special with the right tools that call for your most creative candlelight dinner yet.