Don't get caught without some green on St. Paddy's Day. Whether you're flying to Chicago to take part in the dying of the river, or marching in your local parade – this year you can celebrate the Irish tradition with game-changing gear that will turn things upside down, and set your party apart from the rest. St. Patrick's Day shirts, hats, sunglasses, shamrock-shaped necklaces and other goodies are some favorites you'll see fellow party-goers sporting during the festivities. But here are some more ideas for the serious celebrant, and a full-blown explosion of green.
Boot Mugs
Raise your boots! Err, glasses! Although these plastic boot mugs aren't exactly green, they're definitely a favorite for the pub experience. And although we don't know the exact origins of green beer, these two are clearly a perfect match. If you're bringing the party home this St. Patrick's Day - kick it leprechaun style; prank your guests by adding a few drops of green food coloring to the bottom of the mug. Serve pale beers, and see the green mix as your guests pour in their beer glasses. Add more drops if you wish to achieve a darker green - but keep in mind you'll have to stir, and this can flatten your beer a bit. We recommend you give it a few tries before you serve your guests so that you can get it right the first time.
Medallion Shot Glasses

As Irish legends have it, immortals and fairies often wear green, so it's only natural that tradition evolved into people wearing shamrocks and green ribbons on St. Patrick's Day. Today you can partake in the expression of this folkloric custom by wearing stylish, advanced party technology around your neck. Never lose your favorite party shot glasses again - these come with a j-hook that can easily be attached to beaded necklaces so you can keep them around your neck. Medallion shot glasses with beads free up your hands so you can keep dancing and take party in other party-related activities. Do the Irish Jig, or sing to the top of your lungs as spirits raise high, secure in the knowledge that these shot glasses will be close at hand when you're ready for another shot of whiskey.

Pinch Proof Apparel
Shirts printed with St. Patricks' Day designs are a great way to connect with your party guests, family and friends. Find historical, funny or even geeky design ideas to fit your personality. Be it reserved or over the top, you will look great in basics that unleash your creativity. Here's an easy how-to tutorial for your party planning Picassos out there. The options are limitless, but try drawing on shirts using freezer paper and acrylic paint. This is a great way to initiate children into the annual celebration. Turn your dining table into a design station, and you can teach them about the role of the Irish in our shared cultural history. Let loose, and don't be afraid to get a little messy.

Slogan Caps and Hats
Trucker hats aren't exactly what you think of when you think of St. Patrick's Day. But with so much space for your logo or slogan, customizable hats might just be the accessory you're looking for. Get together with your lads, and lasses to brainstorm original party design ideas. Remember, traditions are a form of artistic heritage that evolve over time, and every reason to inject a little bit of your own personality. A refreshing way to brand your own party without resorting to the stereotypical leprechaun hats, these and add a modern twist to an ancient rite.

Shamrock Leprechaun Hats
Having said that, it's just not a St. Patrick's Day celebration if you don't incorporate the shamrock. We can argue all day about whether it's right or wrong to use the four-leaf shamrock as a symbol for Ireland. The truth is, both the three and four-leaf clover have come to be accepted over time as signifying Irish culture. What's the difference? The three-leaf clover is used to represent the Christian Trinity, while the four-leaf clover is often viewed as a good luck charm. You may choose between the two whatever your preference may be, but who are we kidding? We could all use a little bit of luck, no? These party leprechaun hats are fun gift ideas everyone will love.

Three Leaf Clover Coasters
St. Patrick's Day has evolved into one of America's biggest party days, thanks to the large community of Irish-Americans who celebrate their cultural pride on this day. In addition, the holiday holds religious significance for many. If this sounds like you, then consider getting some customized three-leaf coasters for your home (and friends' homes). These classics protect your sensitive surfaces, but can also be personalized to convey powerful messages. We recommend ancient blessings, proverbs and prayers to remind you of the wisdom guiding your life. As the saying goes: "never forget to remember the things that made you glad." What better and more meaningful way to cap off the party than by giving your guests a simple reminder of the bond you share?
Party Old Fashioned Sunglasses
Is there such a thing as too much green at a St. Patrick's Day party? We'll give you a hint: no. So flash some style with party sunglasses. A fun wearable idea, these favors will give your party and extra burst of colorful good cheer. You can also rock them at the parade, or keep them handy as photo booth props. And don't forget, some of you will be going for the bar crawl experience. Party sunglasses make great accents to spice up your outfit for the night. They're a lot of fun for kids, too.

Green Stadium Cups
Stadium cups are great for most events. But St. Patrick's Day is the biggest drinking day of the year, so plastic party cups are kind of essential. And now they're cooler than ever, because these stadium cups can be personalized with your family name, which means you're sure to get a few surprised reactions out of your guests. It's even better if you order green cups for the event. Lo and behold – it's the magic of "The Emerald Isle" right in your hands. Ireland really is green, too. But you may also choose to incorporate other colors to spice up the ambiance a bit.

Irish Coffee Mugs
Another essential recommendation - traditional Irish coffee mugs are a classy capper for your event. Generations of Irish (including Irish-American, and wannabe Irish) know that nothing completes a meal like an intense cup of hot coffee with a touch of savory Irish whiskey. Eyes will smile all around. This is a classic recipe for winding down a St. Paddy's Day celebration.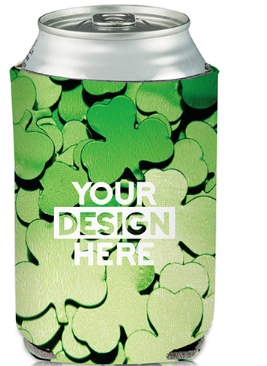 Shamrock Can Cooler
Keep drinks cool while staying festive with our can coolers. Perfect for pubs, these personalized green clover can coolers can be ideal to have available on St. Patrick's Day. These collapsible 12oz can coolers are perfect for parties in and outdoors. They come with a green 3-leaf clover design and you can add your own customization to them.