At DiscountMugs we're really passionate about the products we present to our customers, and we'd never dream of having it any other way. We carry some of the biggest names in the industry, and far from being superficial, we simply look at ways to improve so you can continue to trust us. We recently partnered with Riedel Glassware, and following are ten reasons why we love it.
Take a close look with us, and dive into the world of artistic and traditional glass making, a great love for wine, and some of the history that's made Riedel the home for fine-tuned craftsmanship.
Riedel Glassware is Simply the Best
Closely tied to the history of Europe, Riedel Glassware arose at a time when agricultural modernism and industrial development were key to the economy growth of the continent. Riedel (pronounced "Ree-del," and not "Rye-dell") quickly came to be associated with high-quality glass products in 1756, and it was then that Johann Leopold Riedel birthed a dynasty that remains in effect today.
The glassmaking tradition had been in effect long before Johann L. Riedel. His grandfather Johann Christoph Riedel traveled to Europe a glass merchant, and with great love for the art, with hopes of establishing an entrepreneurship. The rest is history.
If you've never heard about Riedel, here's Maximillian Riedel (11th generation Riedel) to tell you everything you need to know about the glass empire.
Riedel is a Revolutionary of Glassmaking
The Riedel Company has survived many an upheaval in the history of Europe, and pretty much conceived the wine glass as we know it today. Each Riedel glass is specifically created to maximize the body and flavor or a precise kind of wine. The ultimate way to enjoy your wine, Riedel believes there's a glass for that!
A Variety of Collections to Choose From
As it were, the Riedel Company didn't think having a variety of glasses to choose from was enough. There's also a number of collections like the Restaurant series, the amazingly distinctive O series, the Extreme, and the Degustazione collection. Whatever your style, there's a Riedel glass for you.
Riedel Glasses are Easy to Clean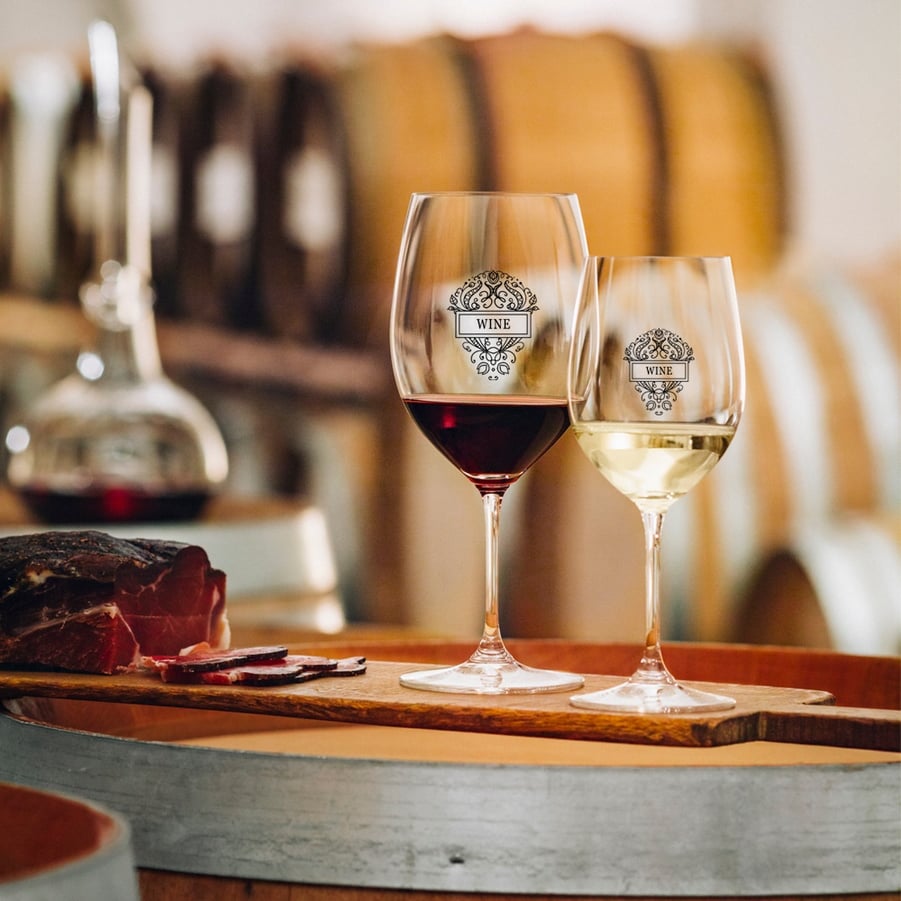 Yes, Riedel glasses are dishwasher safe! The company insists all of their wine glasses are dishwasher safe, so much so that Maximillian Riedel himself will put them to the test in his own dishwasher back at home. They do have a few tips to keep the glasses safe while in the washer. First, don't wash with heavier objects like knives or ports. And second, make sure to space your glasses so that they don't clink together. Of course, you should always service your dishwasher to make sure it's in top shape.
At DiscountMugs we do recommend you hand wash printed items in order to ensure your design lasts longer. If you don't like to get your hands dirty after a long party or group event, we recommend you select our laser engraving method.
Riedel Has Extreme Love for Wine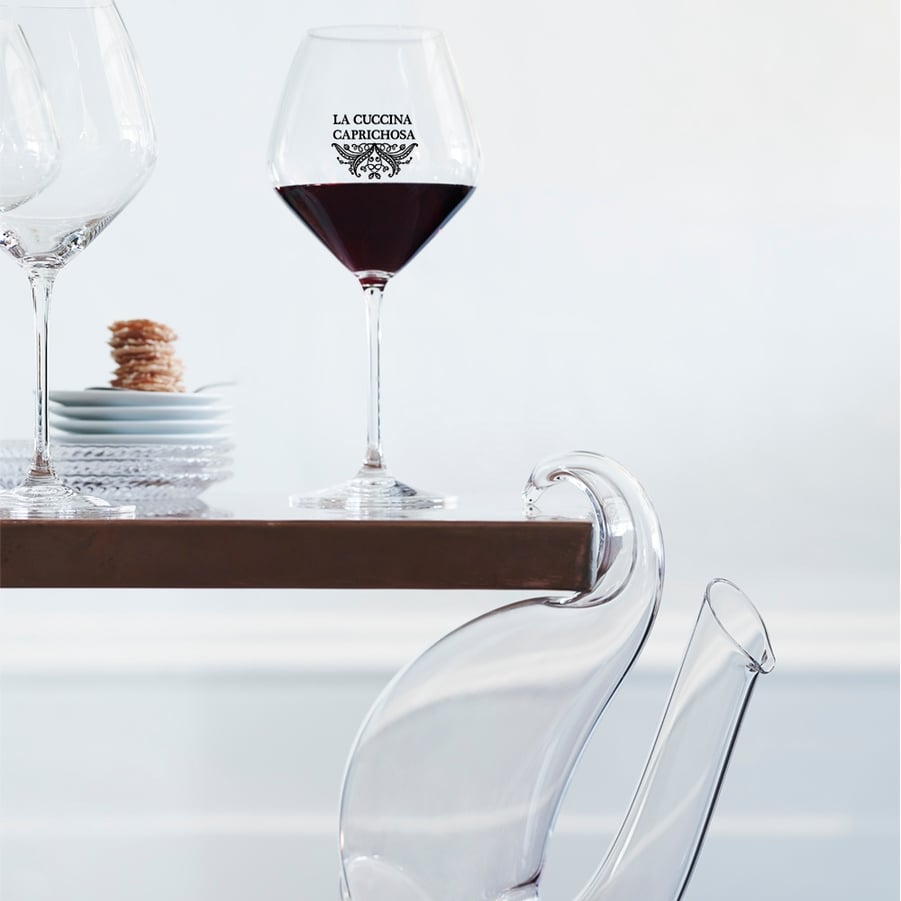 Not only is the Extreme collection unconventional in design, it also holds a large amount of wine per glass. The Extreme Pinot Noir Wine Glass holds 27 ounces, while the Extreme Cabernet Wine glass holds 28 ounces of your favorite blend. Of course, if you don't intend to serve that much wine at your events, the extra space of the glasses allow for a more intense swirl.
Riedel Glassware is for Real wine Lovers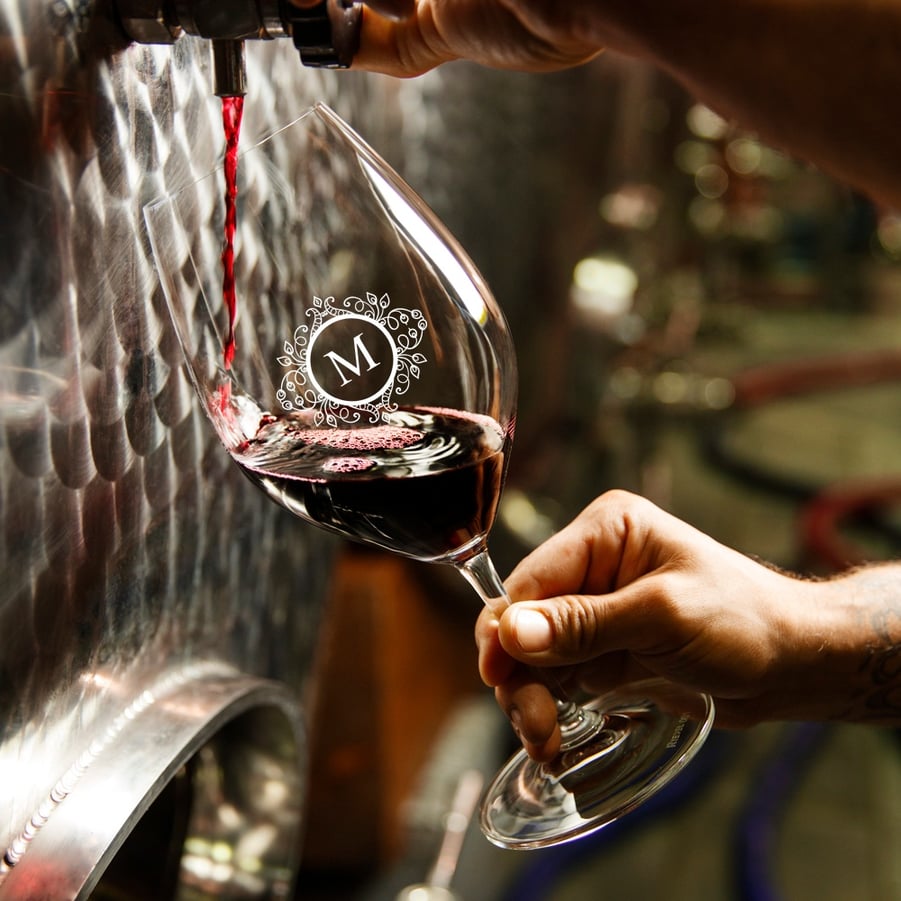 A lot like that wine bottle you've been aging in your cellar for years, Riedel glassware is an investment. After all, wine does taste better in a superior glass. If you're looking to impress guests, start by shopping for a glass to fit a special wine you're serving. Then, move to acquire glasses from other collections. It will show them you really care about their experience.
Riedel Glassware is Ideal for Restaurants
A great way to jump your Riedel collection is by starting with the Restaurant collection. Composed of a variety of stylish and functional glasses, they're reasonably priced and feature special glass hapes for fine wine and spirits. This collection isn't shy of the quality Riedel is known for, and will show your regulars the pleasure of wine appreciation.
Riedel Glassware is an Experience in Itself
Sure, the big name attracts wine lovers and experts from around the globe but it's the craftsmanship that sets them apart from other glassmakers. Riedel really knows their stuff, and naturally they've tested their different collections and revisit labs to improve the art. Here's a short clip to really understand what happens at their headquarters.
Riedel is more than Just Glasses
The Austrian glassmakers have really outdone themselves with extravagant shapes and glass complexion. A true work of art, their work also extends to wine decanters. As Maximilian Riedel puts it "every wine needs to breathe, needs to open up, especially young ones." The bird inspired decanter collection is astonishingly beautiful, and can only be understood when seen.
Riedel Has Generations of Innovation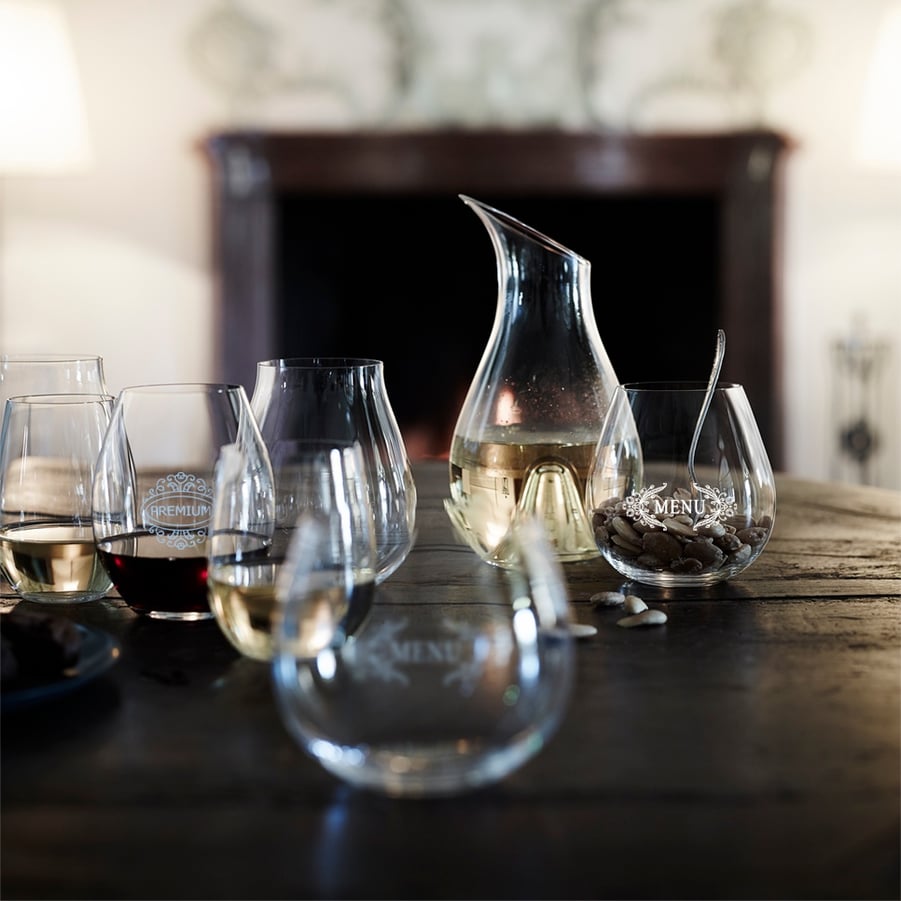 As I mentioned earlier, Riedel Glassware goes back to 1756, and it really changed the history of wine glass making. A Family-owned company it has adapted throughout the years, and saw another milestone in 2004 with the O collection. A functional glass without a stem, these are as stylish as it's modern admirers.
At DiscountMugs we're really excited to introduce the Riedel Collection. A fresh look to our already elegant glassware items, Riedel promises to enhance the experience of our customers. Most importantly you can personalize to make the already high-end glassware a marble at your special occasion.