Is your bar or restaurant experiencing a bit of a slump? Are you looking for ways to stimulate the atmosphere and help bring in more customers without having to spend a lot on advertising? Offering patrons discounts like happy hour deals are a great way to start, but if you're already strapped for cash, there are plenty of other options you can try that won't affect your bottom line.
Whatever the case may be, bar and restaurant owners want their venue to be the hit spot on the weekends; the go-to place for after-work drinks, or the first place people think of when they want to get together with friends. A successful promotion approach can be measured by the amount of people if brings through your doors, and you'll want to start by creating a buzz. Free PR by a local lifestyle blogger listing your bar or restaurant as one of the top places to go is your goal, but your own backyard is a good place to start. Create events on social media sites like Facebook and Instagram fans can share with their friends and be sure to include your business in review sites like Yelp and TripAdvisor – It will get your guests talking.
Here are some easy and budget friendly, business boosting ideas to create even more buzz.


Host Themed Events
There really isn't anything worse than an empty bar or restaurant. Never mind the obvious – we all know time is money – but to attract customers you must think like a customer. An empty bar or restaurant is uninviting. First, and empty room immediately makes us question the quality of the food and drinks being served. Second, nobody likes to drink or dine alone. The bar and dining experience include energy, entertainment and excitement, and you should strive to provide it to your customers.
Themed bar nights are one of the most popular and affordable ways to engage an audience. Some of the trendiest themes include the Central Park pop-up café from the TV show Friends, and Harry Potter. If pop culture isn't what customers look for when they come to your bar, survey your existing social media followers so that they get a say and feel invited to participate. Keep in mind you don't have to upgrade the entire décor of your venue to suit a theme. Not only would that be an unnecessary major expense, but there are plenty of ways to host themed events that help your bottom line, not hinder it.
Host events around holidays, sporting and or seasonal events, so you can capitalize on an existing experience. It's much easier to be part of the buzz that already exists, rather than building it on your own. You can always turn an existing event into a unique experience by adding your own flair and intertwining your business' identity into it.
The good news is themed nights are straightforward. Bringing your ideas to life only takes a little creativity, a bit of effort and a lot of excitement. Do remember to name your event so guests get an idea of what to expect. Try and be creative; the last thing you want is to sound cliché.
Read on for themed event nights you could easily host at your bar or restaurant.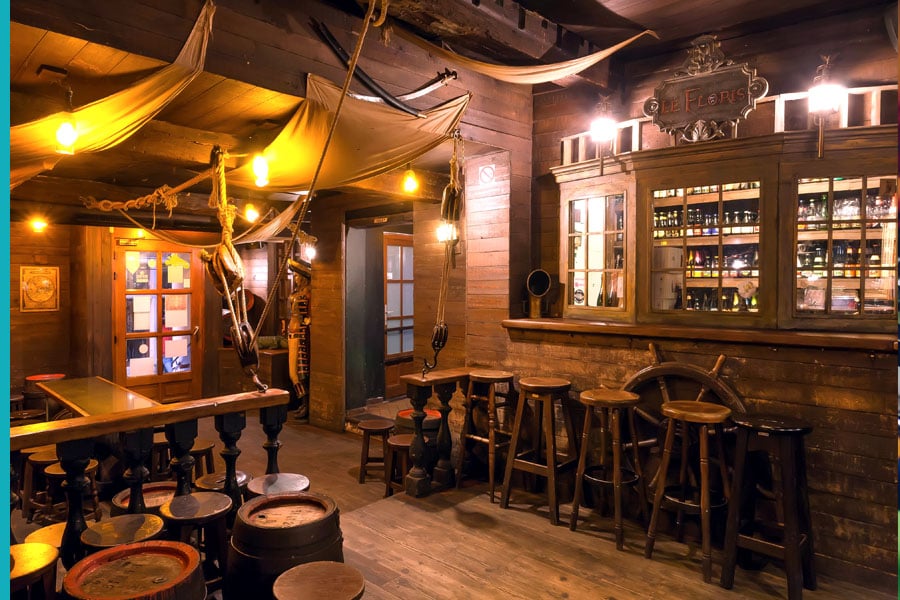 Game Day

Other than watching a game from a stadium seat, most sports fans will prefer to watch a game with their friends over drinks at a bar rather than by themselves at home. Not only is it way more fun and exciting, but it's also a great opportunity to be surrounded by other fans. However, your proposal will have to be twice as enticing as a comfortable couch, pizza and a six-pack.
For example, a three-hour football game is only 20 minutes if actual action when the ball is in play. Include other activities guests can participate in while the game is on to prevent them from thinking your event is a snooze fest. Not all your guests will be consuming alcoholic drinks, so think of families and others when planning these events. You can include games like Jenga, sports trivia, foosball or darts, to name a few.
Real-time deals are a great idea, too. People love free stuff and will be more inclined to remember your venue if you surprise them with freebies. Order customized wristbands in the colors of the participating teams to give at the door and encourage guests to pick a team and wear the bracelets for special prizes. When each team scores, you can give a limited time offer to whoever is wearing the corresponding bracelet.
For major sporting events, like the Super Bowl, NBA finals or Stanley Cup, offer a tailgate experience right at your business' door for whole day of excitement.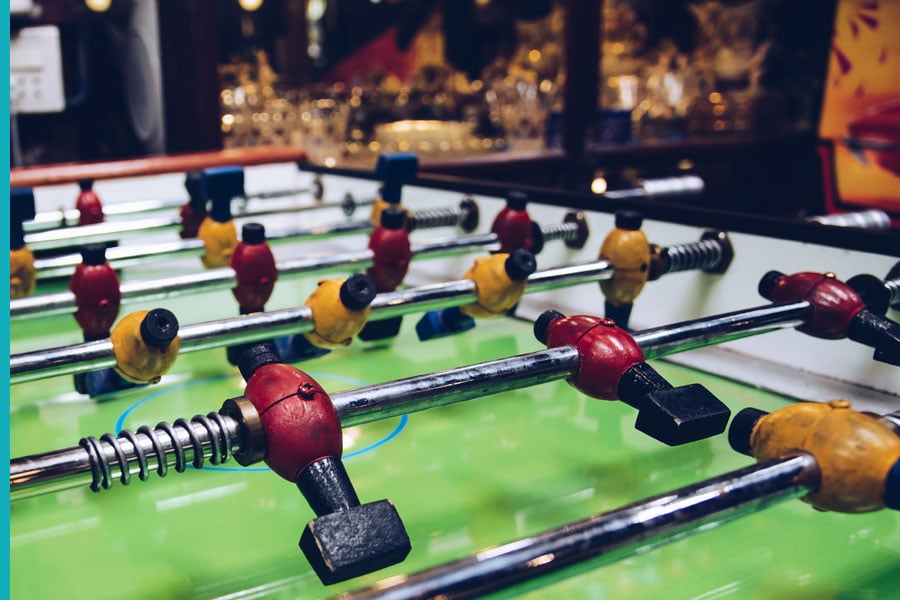 Labor Day Party
Labor Day brings summer to a close and most of us think of it as the last hurrah for the season. Capitalize on it and bring the party to your bar or restaurant. It's common for people to want to spend Labor Day in their backyards around the pool and grill, surrounded by friends and family. However, if I were the one doing all the planning, cooking and cleanup, I'd like to come to your venue instead.
Simulate the backyard experience by decorating your place with garden lights and outdoor décor. If you have a patio, make sure it's decorated and publicize with a "rare opportunity" kind of message. Create a family-friendly atmosphere or have child-friendly entertainment like trivia, karaoke, a piñata, a bar-wide game of tug-of-war, or video game tournament.
Game Night
Game night is a fantastic way to promote your bar or restaurant. Venues like yours often get rented for corporate or private events, and you could potentially incorporate this idea into the party package.
One idea is to have a restaurant or bar-wide trivia night where contestants pay a small fee to play, and the winning team collects the pot money. You can have general trivia, or theme it around a popular movie or TV show, like The Simpsons, The Office or Friends, for example.
Another idea is to preset tables with different games and have guests select the table where they want to be seated. After a set amount of time, around 15-30 minutes (depending on the games you choose), you can hit a buzzer or ring a bell to signify it's time to choose a different table and play a new game. Include games like:
2 Truths 1 Lie: where players must take turns making three statements about themselves, with two being true and one being a lie and the other players must guess which is the lie;
Guess Who: where players write the names of famous people on sticky notes and attach one to each person's forehead. Other players must give clues on who is written on the active player's forehead so they can guess;
Musical Chairs: where players must run around a circle of chairs until the music stops and have to find an empty seat. Whoever is left standing is out;
Famous Lines: where pre-written quotes are drawn from a hat and players must guess what movie or TV show it's from and who said it.
Board games and card games are also fun to play, so you can play off the popularity of board game cafés and bring the fun to your own restaurant or bar.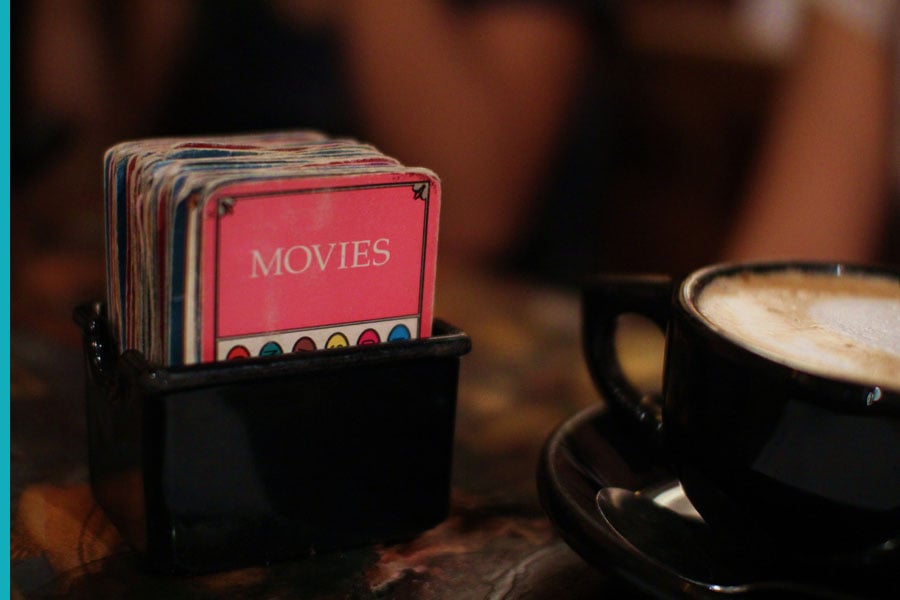 Offer Different Menus for Each Theme
Changing the menu depending on the theme of your event can be a fun idea. You don't have to offer a completely new menu if you don't want or can't afford to, but themed food and drinks is a great way to get people involved. Surprising and delightful, it will show guests the extents you're willing to go in order to set the mood for them. They might even be inclined to order and spend more for a chance to try your themed creations.
If you're hosting a game day event, people might even expect a game day style menu, because it just seems natural to want to enjoy different finger foods and bar snacks while they watch their teams square off. You could create a special menu inspired by traditional meals that originate in each team's home states, include classic game day food combos like a wings and beer special, a platter in the shape of a football field, and regional beers. With some luck, those states will have a brew rivalry going on that you can play up. If you aren't sure, you can always reach out to your beer reps or distributors to gain some insight. This is a great way to draw in craft beer connoisseurs – they won't pass on the chance to try some of the out-of-state brews.
For seasonally themed event, like a summery picnic or Labor Day party, you'll want to include menu items specifically for kids like frozen slushies, melon kabobs, banana split pops, or ice cream. Include kid-sized meal portions for dishes like hamburgers, chicken fingers and fries, steamed veggies or sliced fruit as sides. The main dish doesn't necessarily have to be the standard barbeque affair like hamburgers and hot dogs. Feel free to branch out to other menu items like BBQ ribs, grilled pork tenderloin, party-size sub sandwiches, fish tacos, or Southwest Turkey burger sliders. Pair your mains with sides like sautéed vegetables, coleslaw, corn on the cob, potato or pasta salads, or fresh, summery greens. Don't forget dessert. Go with a campfire classic like s'mores to really get into the picnic, outdoorsy vibe, or classic options like apple pie and ice cream, chocolate or vanilla cake slices or cupcakes, or fruit dipped in chocolate.
Use Social Media to Get the Word Out
The most important thing is to create a buzz. If people don't know about your events, they won't know to choose your establishment over a different one. Make sure to publicize your event across all social media pages and on your website, too. It's free, so be sure to take advantage of the opportunity.
If you have a monthly calendar of events, include it. This will help give people a chance to learn about it and make plans. If you don't give them enough time, they might make plans elsewhere.
Make an actual event on your Facebook page and send out invitations to fans of your page. This way regular patrons will get the first notice and then boost your attendee count by pushing it to the general public. Create posts leading up to the event, ideally starting about a month out from the date. As for Instagram, create a unique hashtag for the event, and encourage people to use it to create awareness of the event. Offer a small discount to anyone who shows you a post they make on their own account, both tagging your location and using your hashtag.
Whatever your style, with the right planning, creativity and proper promotion, your event is sure to get the right kind of attention.