This is the year of clear vision. The year we set our dreams and our passions as priority and make them happen, and as a matter of fact, that also includes the promotional products industry. DiscountMugs is committed on presenting you with custom promos that do what exactly what they promise. The last thing any of us want is to make your company appear out of touch with its audience, or a contemporary crowd. Our 2020 Winter Catalog is a preview of what we have prepared for the year, so take a dive inside to view seasonal products that will effectively engage your audience.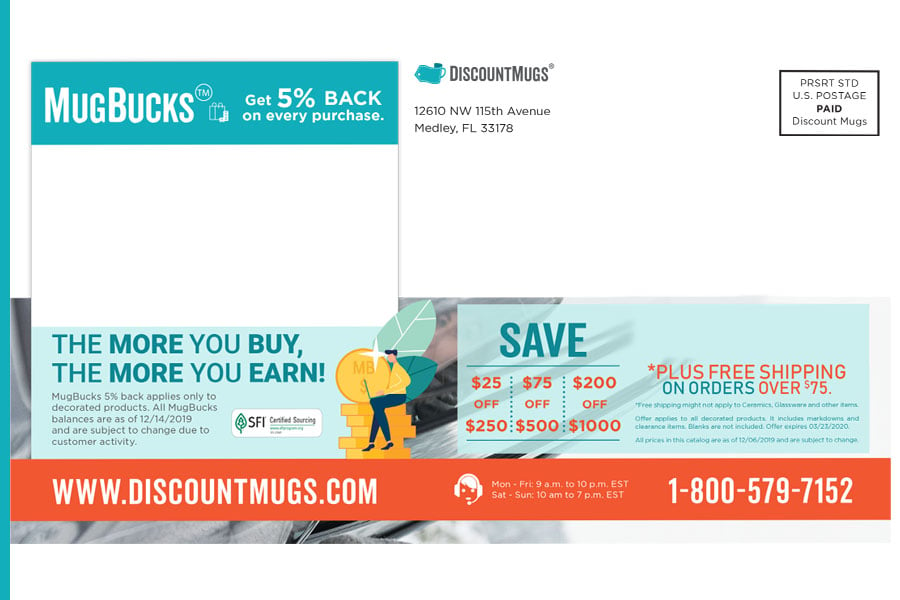 Whether you've signed up for trade shows in the first quarter or want to send loyal customers a gift to break the ice the year-end holidays built, this is your chance to browse seasonal items that'll strike a chord with your audience. These are some of the categories we explored this season:
Winter Gift Basket Ideas
Totes and Bags for Sports Fans
Totes and Bags for Party Planners
Office and Writing
Trade Shows
Doctors Offices
Getting Ready for Spring
Travel Accessories
Café & Gifts
Leave a message in the comment section below if you'd like to receive a copy of our 2020 Winter Catalog, or download the PDF version to take with you on the go, share with colleagues, family and friends!
---
If you're anything like me, you wait all year long for the Holiday Catalog. Not only do they help make the holidays magical with décor ideas for the home and office space, but somewhere in those pages hides the perfect gift for every single person on your list – don't mention the incredible deals. At DiscountMugs we understand you count on us to make your holiday gifting easier and can't wait to send you a copy of our 2019 edition!
Get ready, because they're hot off the press and on their way to you. However, if you're not part of our mailing list you can take a dip inside to learn more about what you can expect, view and download our PDF version to share with loved ones, colleagues and friends.
Here's what you can expect this season:
Idea Book to Inspire
Whatever your reason to give this season, you're probably looking to make an impact in those that matter most to you. Be it loyal customers, employees, or loved ones, your number one priority should be to leave an impression they'll cherish and appreciate. Our goal is to empower you to share that message, and so the 2019 Holiday Catalog is plainly a collection of gift ideas you'll be able to pair, compare, and design according to your needs.
We've narrowed your gift search to ideas for your team, customers, seasonal trends and categories to make your recipient fall in love with your business or cause.
Glasses to Raise to Your Near and Dear
The holiday season is all about spreading cheer and your favorite drinks. A time to be merry, you can treat employees, customers and loved ones alike to the best custom glassware and drinkware collection online. Not to toot our own horn, but at DiscountMugs we carry some of the most well-known brands around, some of which include Chef & Sommelier, Riedel, Libbey and ARC.
Our 2019 Holiday Catalog includes gift ideas for wine lovers, bars and restaurants, as well as everyday items your audience will appreciate. Our promise is you'll find anywhere from items under a dollar, to gifts that stun even the most exclusive of taste buds.
Classic and Conventional Gift Ideas
Everyone loves the idea of giving gifts, however, we know some of our customers aren't looking to reinvent the wheel. On our Holiday Catalog you'll find budget friendly gift ideas that will prove incredibly delightful. A great time to warm some hearts, some of our ideas include our custom mugs, fleece blankets, picnic coolers, hip flasks, water bottles, travel mugs and cutting boards. Holiday gifts that won't break your budget, these will help you prepare and stay in track for the new year ahead.
Shopping for gifts can be a lot of fun, and even more so when we can afford them! View and Download our 2019 Holiday Catalog to start customizing now.
2019 Metallic Trend
The metallic trend made an impact in fashion this year. During the spring and summer seasons we saw an expanded color palette I'm all for promoting this season. However, I understand most of you would rather stick to the more traditional holiday shades. Enter silver and gold, red, blue, rose and smoke.
At DiscountMugs our product specialists were also all about the metallic trend and brought in some of the most desirable in custom promos. Take a look inside for lovely water bottles and travel mugs, lunch bags and drawstring bags, and visit our site for other unlisted categories. Head to the search bar and lookup 'metallic' for more exciting results.
Celebrations Galore!
The holidays are all about celebrating the people we love, the goals we met, and the growth we've made. Think sending your most important account a savory chocolate, trail mix, ham and cheese package, or giving every one of your guests, holiday ornaments to remember your time together. Custom plates, napkins, can coolers and party sunglasses can only but add some more fun and flavor to your party.
Get in the giving spirit of the holidays, make your festivities stand out, and find everything you need to celebrate all who made this year your best one yet.
Deals, Deals and More Deals!
If you're one of our loyal customers, you know at DiscountMugs we're all about helping you save. We want to make your shopping experience heckle-free and worry only about other event-related sourcing needs to make your gatherings special. We want to thank you for the trust you've put in us to make your special events a success, and in return bring you incredible savings and deals.
Don't forget to shop our Black Friday and Cyber Monday Deals!
---
Each season DiscountMugs releases a catalog of tempting promotional items, and you can bet our Fall edition is filled with the latest in trends, must-have classics and budget friendly promos that will inspire you to share your message. Our aim is to help you create lasting impressions in your industry, and to do that we must continue to grow ourselves. Here's some of the progress we've made to help elevate your brand:
What's New at DiscountMugs
In case you haven't heard yet, we were inspired by the potential to enrich the experience of our customers and developed a unique Design Lab that allows users to customize their items across all devices. Yes, you read that right. We believe product customization should be as simple as possible, and you shouldn't have to be restricted to the age of desktop computers. Quickly create your design ideas from your smart phone or tablet and screenshot the preview images to share with clients and loves ones. Save your work until your vision is complete or hit submit during your commute the instant you get that approval.
However, that's not all we did! Our Share Your Story initiative continues to grow, and we'd like for all our customers to take advantage of the opportunity to contribute. We want to show you our gratitude for trusting us and allowing us to be a part of your journey. Submit your event photos and tell us how our custom promotional products helped your brand or special occasion a success. Visit our Facebook, Twitter and Instagram account to share with other industry professionals or loved ones that can too benefit from our work.
2019 Fall Essentials
Fall season brings opportunities to grow brand recognition. Followed by a change in the elements, it makes sure we restock on weather appropriate apparel, sees that our children return to their studies, and glows when teams across our nation walk into crowded stadiums for another chance at greatness.
All occasions that demand you restock on personalized swag, you can take advantage of the opening and distribute your decorated items during local events that welcome your contribution.
Fall Trade Show Events
Awakening from the slumber of summer, the fall season also sees an uprising of trade show events and industry conventions. However, anyone who is anyone will tell you one cannot show up to such gatherings empty-handed. A competitive world where business across the nation meet to launch a product, or grab the attention of investors to help develop their innovative ideas, many will rush to the world wide web in search of custom promotional items that can communicate what their brand stands for.
Halloween Season
Never in a million years would we forget about your favorite time of the year. Who am I kidding? It's probably all our favorite holiday. Sure, we don't get to wake up to gifts under a tree, but we do get to transform into our favorite characters. Adults get to be children if at least for a few hours, and our children beg for candy at the threat of a trick.
Did You Say, Tailgate Party?
Whether you follow high school, college or professional football, the season isn't complete without the infamous tailgate parties. The best part is, even a few non-fans will be seen enjoying some barbecue and cool drinks with their antsy friends. Football season is more than just a time for sports fans to cheer for their favorite team. Football season is the time when whole families gather round the American-blooded pastime to celebrate the spirit of competition and championship.
Don't miss the opportunity to celebrate with fellow fans and show support for your favorite team.
Cafe and Gifts
I make a small pause to celebrate the revival of coffee. Sure, you've been ordering your iced lattes and teas to keep away the heat. However, we can all cry for joy as hot coffee makes its comeback during fall season. And don't even get me started on pumpkin spice. No, I will not acknowledge comments about how much you despise it.
On a serious note, fall season is a time for tradition. Our business begun with a simple vision - customize ceramic mugs. These days, promotional products are as innovative as your imagination can reach but there's something quite romantic about the culture behind our custom mugs. Look inside for ceramic, stainless steel and plastic styles that will get you to think twice.
The Time to Say Thanks
Of course, fall is also the time when we start to look around and celebrate our year-long accomplishments. Can you believe it? The year nears its end and we cannot forget to thank those who helped us reach our goals. Saying thanks is more than just a gesture. When we give thanks, we acknowledge the impact our connections and relationships have in our success. We take the time to recognize the nature of our kind - humans weren't made for solitude, and a simple thank you can make those close to you feel recognized for their contribution.
Political Souvenirs
Finally, this year isn't just any good old year. If you listen closely you can hear the drums of election campaigns nearing. Yes, you heard it first here. It's time for political souvenirs - get ahead of the game and pre-order yours here!
Personalized our custom caps, water bottles, t-shirts and much more with the symbols and colors representing your party of affiliation. Duty calls as an exciting year peeks through the tail end of 2019. Get involved - your vote matters.
Let us know in the comments below what you thought of our fall season picks and what you'd like to see in the winter season. We too are ahead of the game! Don't forget to view, download and share with your friends.
---
A polarizing topic, Back to School season is about to make its grand appearance. Soon, floods of contrasting groups - some showing their support (parents) while others (their children) brood in disdain - will be seen rushing to nearby stores to begin their preparations. Teachers, parents and students alike will put their differences to the side and work together towards a common goal: stock up on pens, pencils, notebooks, backpacks uniforms and other supplies that will be essential to the new school year.
The truth is we're all sorry to see our summer vacation come to an end. However, a brand-new school year brings with it a swamp of opportunities, strategies and resources that promise to elevate us closer to a better future. Follow us inside our Back to School Catalog and learn how branded promotional items can help your business or organization this season.
According to the National Retail Federation, American families are expected to reach a combined total spending of $80.7 billion this year alone. Second to the holiday season only, back to school is one of the most profitable seasons of the year. Business owners across industries can and will benefit from a period when parents and students are getting ready to make some of the most important purchases of the year. Anywhere from electronics, real estate, school supplies to apparel – trades across the plane will find this to be a most lucrative time, and you can too increase your revenue during the upcoming months.
The following are some of our most popular categories:
Backpacks
An invention that sought to relieve the discomfort and limitation our hands experience when we carry heavy loads for long periods of time, the backpack is now commonly used by the military, hiking enthusiasts, students and even the modern businessman and woman. The backpack has indeed experienced several transformations, and modern shoppers have come to adopt them as accessories to show off their individuality.
A time when backpacks literally take center stage, back to school season is a great time to refresh and repopulate your stock with modern styles and designs to attract a larger shopping crowd. Some of our most popular styles include custom clear plastic backpacks and laptop backpacks. Made to solve two of our most current issues, one is a favorite at schools looking to increase safety precautions while the latter allows us to transport computer laptops with comfort and ease.
Download our back to school catalog to view our newest arrivals!
Back to College
So, back to college isn't technically one of our categories. However, colleges and universities are among the customers with a higher repeat purchase rate in our business, and that comes to no surprise to us, really. Gift shops and bookstores across universities in our country are filled with custom back to school supplies that are guaranteed to earn them a huge return on their investment. Besides the obvious reason – students need their supplies – they're also more likely to purchase in-campus when such items are personalized with the school name, mascot, motto or seal.
Custom t-shirts, embroidered baseball caps, notebooks and portfolios, travel mugs and backpacks are some of the favorites. However, we have seen an increase in technology item purchases and there isn't any magic there either. Our world is changing, and with it the education system. Students rely on their tech items more and more, which means there's also a well of opportunities for you to reach and expand your audience. Think phone chargers and power banks, as well as headphones and usb drives. These are all great promotional items that blend utility and space you can use to further establish your brand image.
Uniforms
Now that we're back on track, I must bring up another one of our top categories of the season. We all have our reasons, but c'mon, everybody loves uniforms! While it was a while ago, I was a student once and I understand boys and girls turn towards clothing items and accessories to express themselves. However, while there are also opposing opinions on the matter, uniforms do solve a lot of the issues our society faces these days. I'll start with the obvious – uniforms are made with long lasting fabrics that can last and survive through the school year and save parents hundreds if not thousands of dollars a year.
Uniforms also bring a sense of belonging to students. In a world where information and choices seem to be coming from all directions, a polo shirt embroidered with your school seal in the morning will feel like a piece of paradise to our already overwhelmed youth. And while my intention isn't to victimize students, I'm sure many of our subscribers – probably even you who is reading right now – will be able to relate to the picture I'm trying to paint here.
While it is true that our differences make us all the better and stronger, it is also that which brings us together that builds community and strength.
Lunch Bags
Let's not forget about custom lunch bags and boxes. While schools today provide parents with the choice to prepay for their children's lunches, many still prefer to send them off to classes with home-prepped meals or snacks they can munch on throughout the day. Great promo items students will be able to use throughout the year, lunch bags personalized with your team mascot or school motto can be a great welcome gift to give them on the first day of class.
You might be thinking about your five-year-old nice or nephew now. Yes, it's true they would prefer lunch boxes printed with their favorite animated heroes. However, that does get a little old and outdated when they start growing up and we all remember how tough it can be out there in the playground (a little place I sometimes like to call the wild), but I digress. Think field trips and other off-site gatherings where your team of class can show off their team spirit.
View the downloadable version of our catalog to share with your colleagues today!
School Supplies
And finally, the introduction you've all been waiting for. Personalized school supplies are just clearly the cherry on top. Affordable and essential to the learning process, promo items like pens, highlighters, notebooks, erasers and school pouches will not be making a disappearing act any time soon. Whether you're a school principal looking for matching supplies you can have across departments, or a teacher wanting to personalize your classroom experience, our wholesale school supplies are just the best choice in town.
Easy to customize and available in color options that'll definitely accommodate to your unique needs, our promotional office supplies translate from the classroom to other school events like club meetings, PTA gatherings, school district conferences, orientation day and much more. Take a look inside our back to school catalog for the best deals and guaranteed lowest prices.
Tailgate
When back to school season comes around, there's something else we can expect and that's the sound of school march bands across football fields and practice lots. Friday night lights chase the darkness of stadiums away around colleges and high school turfs and welcome young footballers trying to make their mark. Tailgate season makes its entrance and the atmosphere changes among campuses. Rivalry and competition fueled by huts and hikes is pacified only by a backwards counting clock reaching the end, and the hope of meeting again on the field if just for another night.
Although not necessarily back-to-school items per se, custom koozies, stadium cups and folding chairs are a favorite among supporting parents and fans cheering for their team on the stands. Custom team spirit items like foam hands, hand clappers and plastic megaphones are also popular among our customers. Browse our collection to personalize with your team mascot – there's no time to get ready for the game like today.
Markdowns
Don't forget to browse our markdown items! At DiscounMugs we love to bring you're the lowest prices in the industry, guaranteed, and that includes already markdown items to help you save even more.
On our back to school edition, we've curated shown products for relevant seasonal items to simplify your shopping experience. Go ahead, download our catalog now and share with your family and friends!
---
As the Sun reaches its highest position in the northern hemisphere, we can feel the energy rising as people get ready to welcome the summer solstice. That means crowds will be flocking to the sea or the nearest lake, visit local attractions with their young ones, and just plain enjoy the joy and warmth of the season. Summertime can be slow for certain businesses, however, there's no reason to stop engaging your audience. Dive into our downloadable 2019 summer catalog for seasonal promotional items that will help you stay connected with the relationships you've built so far, as well as create the opportunity for some new ones.
Reach Out to The Community
During the summer people spend a lot more time outdoors, and that's to be expected. For starters, temperatures rise – often to uncomfortable degrees, so we urge you to stay safe under the sun – and many take the opportunity to take a trip down to the lake or the ocean. As layers of clothing drop along the sandy trails and wet grass, we hear the voices of children laughing and shouting in ecstasy. Adults will be joining in as well, because fun isn't just for the kids, only this time it will be their turn to look after the little mischiefs.
Your business can benefit from the nostalgic feeling the season brings. Parents everywhere will want to create fun memories wit their young, and they sure won't be able to do without a few summer essentials like, folding chairs, water bottles, beach tote bags and beach balls. Gear up with our customizable promo items in time for your community outreach events and really see your efforts give you the wanted results you seek.
Get Summer Camp Ready
If I'm being honest, I will have to tell you summertime is also a time of worry for working parents. Although many of them will plan their vacation around the season, others won't be as lucky – plus we're talking about two months here! The average employee will be able to get away from work about 5 to 10 days only. Some parents will resort to a trusty friend, one that never fails, even year after year - come in Summer Camp.
Whether your campground hosts children daily or is fully equipped for a sleepaway program, you will be required to have a few essentials that ensure they're kept from harm during their stay. Browse our favorite camp gear and order personalized with your camp logo and motto. You may e-mail camp subscribers and suggest they purchase such equipment prior to arrival or give away free at the end of the season so every camper goes back home with a token of their stay. At the very least you should consider custom t-shirts printed with your camp logo – they go a long way.
Attract the Avid Wanderer
If all else fails, simply appeal to a crowd of avid wanderers. They're everywhere around you, the nomads and the explorers, the adventurers and drifters, the pilgrims and travelers – summer season holds a very special place in their hearts, and our custom promotional items can get you in a little closer, too. Going on the road requires our wanderers prepare before their trip – unless they're looking for unwanted surprises, but perhaps we'll explore this group another time. Most people will want to pack a few survival essentials and you can your ability for foresight will determine how close you get to your audience to spark a connection.
At DiscountMugs we carry anywhere from custom sunglasses to waterproof bags and media pouches, as well as pop up tents and blankets, beach and yoga mats, and toys like frisbees so they can have some fun at rest stops or when they reach their destination. Stoking up with seasonal gear can make your quick store a friendly place for our hikers and outdoor lovers. Your items of choice can be personalized with your store name and a fact about your town. These can too double as gifts visitors will end up taking back home to share with their loved ones and friends.
Keep The 4th in Mind
Yes, it's about that time again. I can't almost believe it, but half the year is gone, and we'll soon be celebrating in red, white and blue. The best part is our nation turns yet another year young and our pride will be almost impossible to hold inside. If you haven't got a clue yet, let me just remind you the 4th of July is only a few weeks away. Alright, so you did know what I had in mind … but let me have this one, will ya? Fireworks are sizzling in my ear and I can see kids rejoicing with shiny sparklers. If you're anything like me, you're also looking forward to the special day, plus nothing says summer season like that fourth day in July.
Whether you're celebrating with close ones, or are planning a huge block party, at DiscountMugs we can help you with some of the planning. You must shop our American Flag sunglasses and American Flag lunch bags. A great way to make the theme of your gathering come all together, these awesome shades are great favors your guests will be rocking during your event and cherish for years to come. In addition, there'll surely be a lot of food and you want to be ready with fun gear your guests can use to take some of it back home to enjoy at a later time. Our plastic stadium cups and U.S. Flag flexible key tags are also great items to consider.
Testimonials
We also made some room for testimonials! We've received great praises from catalog subscribers, and never in a hundred years had we imagined how well this section would do. Share Your Success Stories with Us to be featured on upcoming editions.
I'd like to take this time to thank those of you who take the time to leave us comments and reviews – we honestly appreciate the feedback.
---
Browsing the web in search for the latest trends in promotional items may sometimes feel a little soul crushing. Can you ever be sure you're getting the right item for your brand? Will your custom giveaways communicate an accurate translation of your message? The uncertainty can make the shopping experience somewhat daunting, but at DiscountMugs we strive to make the process easier. Follow us inside our most current catalog to shop the latest deals, new arrivals and explore market tendencies that can help strengthen your marketing efforts this season.
Inspiration for your promotional items can come from unexpected peoples and places. However, why not go straight to the source and take advantage of our extensive experience in the industry? Here's some insight that can help you find the perfect match for your special occasion.
Some of our custom promotional items maintain a consistent market demand throughout the year, while others are typically driven by seasonality. This time a year, when our hemisphere starts to tilt towards the sun and the days turn longer, it's common to see an increased interest in sporting and outdoor items. That being said, we definitely urge you to stay away from custom items like sweaters and other heavy felt clothing items. Keep in mind this will not include clothing accessories like traditional baseball caps or dad hats, of course.
As you may have already guessed, some of our season favorites include sunglasses, water bottles, beach tote bags, coolers and backpacks. I'm sure it's all making sense to you by now. Let's dive a little deeper and explore some other seasonal favorites we've noticed throughout the years.
The Right Imprint Method
Oh wait, I almost forgot! Choosing the right imprint method for your promotional items is key to the process. Let's explore some of our more frequently used methods or visit us our site to learn more about all eleven imprint methods employed at our facility.
Heat Transfer
The heat transfer method is best for intricate designs and helps bring out the best in your artwork. It's more commonly used on textiles and allows us to achieve a full color process with optimal ink coverage.
Digital UV Printing
Digital UV printing is one of the fastest processes in the industry. It uses ultra-violet lights to dry and cure ink as it is printed on your products of choice and it's mostly used on items like water bottles and acrylic tumblers.
Embroidery
Ideal for work and school polo shirts, and baseball caps, our embroidery machinery sews at an average rate of 10,000 stitches per design and allows up to 16 thread colors to accommodate to complex logos and shading.
Screen Printing
Screen printing is the number one choice when it comes to ink accuracy. Plus, it allows us to scale down to small items like ceramic mugs and pens.
Mother's Day Gifting
Mother's Day is just around the corner and showing appreciation for the sacrifices they make should be at the top of your list. Although the holiday is very much and intimate day when families get together to celebrate the women in their lives, groups and organizations may also join in the jubilee. The catch is moms are unique individuals and shopping in bulk is probably causing you a little bit of stress now.
Whatever items you do end up selecting, your intention and message will be the things they remember in the end. Make it caring and lasting like their love.
This year's selection included lip balms, blankets, umbrellas and a few others. However, I do have to say mom's love stemless wine glasses, tote bags and mugs. Upload your custom artwork or design online with the help of our Design Lab.
Father's Day Gifting
The same can be said about dad in that, although he rarely mentions it, he also like to feel loved and appreciated. For centuries dads have been made out to appear distant and non-nurturing, but nothing could be farthest from the truth. Although society has given each parent a very structured role to play in the household, modern families continue to bring down these preconceived ideas and create new ones that adapt to their specific needs.
Some things will never change, however, and the thing about dad is he prefers gifts with a practical use. Sure, you can have the kids decorate the card and prepare breakfast to surprise him in bed – which would be amazing and appreciated – but deep-down dad's just waiting to be surprised with a cool gadget he gets to play with or solve like a puzzle.
Our season's selection includes Bluetooth speakers and charging power banks, as well as cases for tech accessories, gym bags and hip flasks. I'm definitely leaning towards the flask!
Café and Gifts
Although some will prefer cold over hot brews, people need coffee no matter the time of the year. As the days start to get hotter, you'll notice a flock of new and regular customers returning for the special flavors in your store. Welcome them back for the season with brand new drinkware personalized with your insignia, and eye-catching goodies they can purchase at your store as a souvenir.
Our donut stress balls are still a favorite among many of our audiences, and for obvious reasons! The almost realistic look on this item is so enticing it almost always ends up drawing attention from audiences. However, other customers prefer our stainless-steel tumblers - these stay fashionable almost all throughout the year and can be used for both hot and cold beverages. Caps and water bottles are also cool items you can order printed according to your needs for customers who lean towards more practical gifts.
Having these around your coffee shop or gift store can change the way you engage with your visitors! Give them a try this season and leave us a comment below. We'd love to know how it goes.
Summer is in The Air
Yes, at DiscountMugs we're getting ready for the change of the seasons. We know some parts of the country still haven't awakened from their winter slumber, but realistically it will be soon when hundreds of your target audiences flock to the streets, the park, the lake and the beach! Thinking ahead is part of our game, and our product specialists have been working on summer items you just can't leave without.
Let's start with can coolers – there was life before them, and life after them. If you still haven't tried out one of our custom koozies you simply must this summer. We carry neoprene, foam and stainless-steel styles for any occasion and unbelievable low prices you won't be able to resist. Go ahead, koozies are our first pick.
We wouldn't, of course, leave sunglasses, water bottles, frisbees and backpacks behind. Summer season is a time when exploring the world becomes part of our schedule and promotional items like these are accessories your audiences will just love to take with them on the go. Don't forget to browse our Spots and Outdoors section for more customizable items that can get the whole squad cheering.
Markdowns
Lastly, don't forget to view our section for markdown items. On occasion, our warehouse will need to move some items to make space for other products with a higher demand. In the world of promotional products trends will fluctuate according to seasonality, but no worries, our markdown items just need an extra bit of love right now and we just want them to find a forever home.
Are you up for the task? Download our catalog now for current deals and discounts!
---
Although there's still snow pilling on some parts of the country, Spring will officially arrive in a little less than three weeks from today. As with all things, there's a season for new beginnings, and if you haven't already, it's time to leave the winter blues behind to start thinking about spring promotion approaches and ideas.
There's a sense of renewal in the air and it can help revamp your brand. Dive into our 2019 Spring Catalog for the latest in promotional products, seasonal colors, and amazing discounts that can help you save on your marketing efforts. Don't forget to view our Downloadable Version to share with colleagues and friends!
Spring Forward!
It seems it was just yesterday when we were all setting our clocks back and our days turned a little grey. Soon, we'll all be springing our clocks forward to fill our days with color and light!
Bring the many shades of the season to your advertising approach and baste your promotions with colorful items that'll get everyone in the mood to celebrate your services.
Remember that when you download our catalog you gain insight into freshly picked items, so you can expect the best of the best!
Come Alive this Spring Season
The best part of spring season is we all get to go outdoors! All those extra layers come off, we get back to wearing short shorts, spaghetti straps and flip flops, and life comes back into our souls.
A great time to bring your brand back into the game, in our spring catalog you will find promotional items that complement the season. Your clients and employees will be dusting their gears from all the hibernating of the winter, and rush to sporting activities to get ready for the summer.
Think water bottles and shaker bottles, yoga mats and exercising bands, cushion seats and other fun gear to liven up for events.
Volunteer, Volunteer, Volunteer
The birds are chirping, bunnies are hatching their eggs ... wait, bunnies don't lay eggs. Back on track here, life will bloom all around us soon, and it's the perfect time for non-profit organizations to reach out to their patrons.
Spring brings happiness back into our faces and the spirit of giving, too. Many will flock to your doors for the opportunity to donate either funds or their time in order to help others get the year moving. Promotional gifts are a great way to thank them for their donation or contribution.
Keeping your audience engaged is the best way to keep them involved.
Celebrate Like It's Spring!
May Day, a traditional spring holiday in many ancient cultures, always falls on the 1st of May and celebrates the return of the season. A day for maypole dancing, flowers and celebration for the kindness of mother nature, it harnesses the spirit of fruitfulness.
Connect with the spirit of the season and yield results for your business. While it's not too hot out, get planning for the company picnic or street vendor event.
Select from cool promotional items like our cooler bags and totes, barbecue set, sunglasses, umbrellas, party cups and much more!
Testimonials are Back!
If you have already subscribed to our mailing list, you know about our testimonial section. At DiscountMugs we wish to give back to loyal customers and dedicate a few pages to highlight the dedication of our clients.
We are extremely proud to have collaborated with Jackson Crop Insurance and Kristin Shea Hair this season. We'd like to invite you to submit your story for a chance to be featured on upcoming editions, or across our social media platforms!
Let us know how we're doing and help us help you reach a wider audience.
Download our 2019 Spring Catalog now or check your mailbox this Monday 03/04/2019 for a copy of your own! Haven't signed up for our mailing list? Comment below and let us know you'd like to receive the latest edition.
---
Sometimes we get lucky, except if you live in Florida, and can almost touch the change of the seasons. As Autumn rolls in and leaves start to fall, the skies darken, and we can feel the winter winds creep in. Fall – winter promotions are no different. No matter what your advertising needs are, when fall arrives we know winter and the holidays season aren't far behind. Here's an overview of our 2018 season catalog! It's the perfect time to reach out to consumers and get your brand in on the action.
How does your company take advantage of the opportunity? Our experts have made it easier for our audiences to shop, and broken down our fall winter catalog with you in mind.
Stores and Gifts
Gift shops are a great space to engage your visitors. Be it a school, theme park, or small-town store, gift stores give tourists or guests the shopping inspiration they need to take back a piece of their experience back home. If your business relies on this experience, the holidays season is just the time for you to see your efforts bloom. Ceramic mugs and water bottles are some of the favorites for gift shop, but the colder months bring the opportunity to add more season items like gloves and beanie hats.
Restaurants and Hotels
The strategies to promote your restaurant or hotel are as varied as the audience you want to attract. A zest to attract new guests and retain already existing ones can distract you from what's most important – ensuring the have a memorable experience. A great way to make your brand stand out and get more exposure is by purchasing promotional items customized with your business name and logo. Not only will they associate your brand with the adventures during their stay, but you can make them available for sales, or extend as a gift, so they can take back home and continue to remember when they share their stories with loved ones and friends. Not to mention social media – one or two guests will be known for snapping a picture of your drinkware and pin to the top of their wall.
Non-Profit Organizations
preference. This time a year, shoppers will turn inwards and be more in tune with their emotions and decide to be selfless instead. It's important for non-profit organization to maintain a good relation with donors since they represent a main source for their funding. Custom gifts personalized with your organization logo and motto will mean a lot to those you extend them to, and get more eyes on your mission when they tell their stories to those close to their hearts.
Industry and Tradespeople
The end of the year is also a great time to let your employees know how much you admire their hard work and dedication. Across industries, tradespeople will wear uniforms that signal they're part of a team and providing them with work wear that protects them from inclement weather in the colder months is a great way to show you care. Long sleeve shirts, sweatshirts, vests, and thermoses and travel mugs are some favorites our customers have enjoyed in years past. Whatever your sector, our fall – winter favorites will make your employees feel like Santa's just made it into town.
Thanksgiving
Thanksgiving is not only the first of the holiday celebrations, unless you count Halloween, but also a time that brings friends, family, and everyone else together. Many will be flying back home for the first time in months to see their loved ones, and a great way to bring everyone together is with personalized gifts the entire family can enjoy. Custom plastic cups, personalized chocolate, and matching sweatshirts are a favorite among our customers. Don't forget to order personalized duffle bags so they can take all of their goodies back to their final destination.
During a time that highlights the warmth and love for one another, Thanksgiving gifts will bring everyone together in appreciation for the overflow of care and appreciation.
Winter Essentials
With winter comes the holiday season, and our gifting essentials will please even the pickiest people on your list. Our fall winter catalog will bring forth ideas your colleagues and employees will enjoy and give you a bump in one of the most competitive times of the year. A lucrative time when brands are all trying to stand out, gifting winter essentials to your audience will help you stay current and relevant. A solid marketing plan will include items like jackets, ice scrapers, scarves, snow hats and insulated travel mugs. Not only will these items help your audience stay warm but bring attention to your business when you order personalized with your logo or message. Say hello to the most wonderful time of the year!
More Savings
If you're trying to save some bucks this year, you're not alone. We know brands and individuals are all trying to spend wisely, and our trick to avoid holiday debt is to start your shopping early. Don't wait until the last minute to purchase your personalized gifts – start browsing our catalog today and take advantage of our deals. Consider it our gift to you this season.
Our catalog is available for downloads straight to your computer or mobile device. View our most recent edition and share with your clients and colleagues on the go!
---
Winter is perhaps the most severe of the seasons (however, depending on where you are, some will argue summer often competes for first place). Nevertheless, there's something romantic and peaceful about a snowfall, a quiet crystal night and frosty windows, that continues to capture the imagination of humans and influence their behavior.
While it is true that the way we react to our surroundings is in fact determined by our experiences, you can still make the most of the frosty season no matter how icy the plunging temperatures get this year.
Simply put your logo on our winter-related items for useful finds your customers will appreciate.
No, a cat didn't run across my keyboard. Chances are the starting of the year will be rough on your business. The holiday season just ended, and while it was a time to celebrate and spend time with loved ones, many will find themselves retreating to the warmth of their homes to try and spend the least possible amount of time outside.
This can be intimidating for business owners. Perhaps you've been trying to close on a deal for months now and your leads are nowhere to be found. You might be thinking a meaningful e-mail might just do the trick, but do you really want to take that risk? Possibly, the best way to maintain a close connection with your customers is by presenting them with a little extra something they weren't expecting.
Look inside DiscountMugs 2019 Winter Catalog and send meaningful gifts instead. People are always ready for gifts, wink wink.
Winter Promotional Apparel Items
I'm sure I don't need to list the reasons why dressing warm is a must in the winter. However, I will tell you how wearable promotional items can be both functional and a marketing dream come true. The perfect addition to a quiet moment outdoors, our custom softshell jackets, wool caps, scarves, beanies and gloves are epic tools your brand can stand behind.
Promotional apparel is only as valuable as many times as it gets worn, and this season you must think outside the printed shirts. Although they do deserve their own season in the advertising spotlight, your logo will be hidden beneath layers keeping your audience warm. Winter promotional items will keep your logo quite visible and give you the perfect excuse to visit your leads.
Browse our winter apparel items now to stay ahead of the competition.
Winter Promotional Drinkware Items
1/2 cup of sugar, 1/4 cup of baking cocoa, a dash of salt, 1/3 cup of hot water, 4 cups of milk, 3/4 teaspoon of vanilla extract, miniature marshmallows, sweetened whipped cream and cinnamon sticks.
The signature winter drink is likely to be making a sweep around coffee shops everywhere, and seasonal drinkware items are a great way to engage your audience. Whether you want to make them available for sales at your own store, or are thinking of giving them away to employees as a gesture of faith for the year ahead, custom ceramic mugs, stainless steel travel mugs and tumblers can help you make the vision come alive.
Order personalized with your logo and insert a paper copy of the recipe for a unique finishing touch.
Winter Promotional Travel Accessories
Although some of us may be experiencing the aftereffects of a holiday's hangover, many others on the other hand simply couldn't be relieved of their duties and postponed their travels till after the new year. It's common to hear of families reuniting during the early months of the year and your business can benefit from reaching such specific a niche.
Some items to think about include passport wallets, luggage tags, laptop backpacks, travel pouches and portable power banks. After all the overindulgence of the holiday season, your audience will appreciate promotional items they can put to use immediately and help them save some dollars.
Winter is Trade Show Season
Yes, winter is also the first wave of the trade show season and we all know that exhibiting can be a very effective marketing strategy. These events will take considerable amounts of efforts and resources so making the most out of them should be your priority. Promotional items like tote bags, pens, water bottles and notebooks are excellent choices since your customers will end up using them well after exhibition day. However, drawing attention to your booth is key to the success of your event and some exhibitors often forget to plan for a killer booth.
To be honest, boring trade show booths won't attract any visitors. However, custom tents with personalized backdrops, thermal tents to keep visitors safe from inclement weather, printed kits and flags are all tools you can use to make your booth stand out. Just remember to take function and appearance into consideration – the combination will help your displays get more attention.
The best part about our 2019 Winter Catalog is all the savings and deals we've combined in one place for you. Whether you own a restaurant, manage a hotel, are looking for ways to grow a line of regulars at your bar, or need innovative promotional products to elevate your business presence in the workplace and the community, you can trust us to bring you the latest in customizable items.
Winter season is a great time to work on your promotions. Not only is it the beginning of the year and the perfect time to attract new leads, but also the best of times to solidify the relationship you worked through the year just passed.
Don't forget to look inside and browse the many different and unique items that made this season's picks. Our product specialists have worked hard to bring you inspiring promotional items to make all the difference this year. As always, our goal is to help you create lasting impressions that truly impact the growth of your business.
Let us know in the comments below what you'd like to see on upcoming editions, and how we can better help you achieve your advertising goals.
---
December is officially here and as hard as it is for some of us to believe, the year is coming to an end. Around this time of the year, most of us reflect on the laughs shared with the ones we care most about and the trying moments that strengthened our relationships. This is also the time to ask yourself questions like where do I want to be in a year from now? Or what do I envision for the future of my business? And what are my plans to get there?
With such questions in mind, and our commitment to empower you to share your message and create lasting impressions, we're pleased to announce the release of 2019 DiscountMugs New Year Catalog!
This season's edition highlights new arrivals, inspiration for your year-end-celebrations, and huge savings to help make your promotional efforts and personal events even more affordable in the New Year. Whether you're looking for sparkling decorations and party favors for your lavish corporate festivities or innovative giveaway ideas to revamp the presence of your brand in the new quarter, our custom promotional products can help meet the expectations of your audience. Take a dive with us to get inspired and don't forget to download our digital catalog to share on the go with colleagues and friends!
Year End Holiday Gift Guide
Did you also leave all of your holiday shopping for the last minute? Sigh, we're all guilty as charged! Although it may sound strange to the general population, everyone in the promotional product industry knows a lot of thinking and effort goes into selecting personal and thoughtful holiday gifts your organization can be proud of. DiscountMugs is a trusted leader and manufacturer of promotional items and our catalog includes several classic, quirky and luxurious gift ideas that will send just the right message to your audience. Take a peek below and get playful with your artwork over at our Design Lab now!
New Arrivals
Are you as excited as we are about our new arrivals? At DiscountMugs we keep up with the industry's latest and trending promotional products to bring you custom items your audience will actually enjoy. Our research shows the community is experiencing an invigorating sense of energy and optimism for the New Year, which translates into positive, flashy and awakening color pallets. The renewing energy of the future met our wholesale promotional products and came back with shiny and metallic shades we can all get behind. Blow the horn and pop the confetti poppers, our bright metallics are in!
New Year Giveaways
New Year's Eve is one of the most magical nights of the year and providing your guests with cool giveaways that are also useful can help increase your brand exposure and presence. If you're looking to excite and engage them, you need to think in terms of valuable marketing strategies they'll remember fondly months after your event. Unforgettable may sound a little scary to you, but some thing original, convenient and pragmatic will do just the trick. Backpacks, water bottles, travel tumblers and mugs are all cost-efficient and practical personalized gifts you can rely on. Select the right item for your brand and head over to our Design Lab to start customizing today.
Holiday Travel Giveaways
Life is short, which is why you always hear people saying one should make time and travel more. The holidays are a great period to travel, too. You probably don't hear that a lot – lines are longer at the airports and touristy crowds tend to gather in larger numbers. However, the end of the year is a time when towns and cities put up all of their season decorations (e.g. lights, religious paraphernalia, and New Year's Eve decorations), seasonal theme parks re-open their gates, and everyone gathers to celebrate the year just passing. Raucous as it may sound, the environment will attract many, thus travel accessories personalized with your brand logo can make just the perfect promo. Live it up, travel more, and take your brand on the go.
Year End Celebrations
The year end party, whether for the office or one you host for family and friends, should be more that an ordinary celebration. Now just around the corner, your planning committee should be making all the preparations and final decisions for a spectacular gathering. The year-end-bash can help strengthen your relationships and close out the calendar. A time when all gather to celebrate hard work, team effort, and just love in general, our fun party favors can be personalized with your brand logo or message to last as a memento of your celebration. Glassware items, koozies, and party cups are some of the usual suspects among our customers.
Gather Up with Employees and Friends
Combined with the season of goodwill, the year-end-wrap brings everyone together under a common goal. If you already have rituals in place, such as award ceremonies, you're probably ahead of the herd. If you aren't, the arrival of the New Year gives you an opportunity to connect with your employees and those who have helped you along the way. This year was probably one of the most stressful years yet, allow everyone to blow the valve and release some steam. The idea, however, is to get a head start and get all of your planning in now! Browse our New Year Catalog and download in PDF format to look at in your spare time. Get ready for the noisemakers and relax, at DiscountMugs we'll take care of the rest.
---
Parents everywhere are spending the big bucks in their family vacation, and even if you're staying home this summer, keeping your kids entertained doesn't come at a cheap price. Don't even get me started on sending them off to college for the first time – there isn't enough time in the day with all the planning and shopping you need to get through to make sure they're all set for their first day.
Don't hold off on your back to school shopping. Trends show prices skyrocket the closer we get to the first day of school. Get started now and look inside our seasonal catalog to see how much you can save on favorites and other essentials.
A back to school shopping list will most likely contain some of the following (just to mention a few):
Backpack
Agenda or planner to keep track of assignments
Notebooks
Pens
Pencils
Highlighters
Pencil pouch
Peek below to see what you can order with us. Our amazingly cheap wholesale prices post a great advantage for schools looking at welcome gifts or a way to simplify the arduous task for busy parents.
Whether starting off at grade school or taking the big leap to college, some back to school supplies are ever present in that list we talked about earlier. Our wholesale prices make it easy and convenient to order in bulk and help promote school spirit at the beginning of the school year or raise funds all throughout.
Some of the essentials that made it to our list are backpacks, water bottles, lunch bags, notebooks, highlighters and pencil pouches.
Uniforms
School uniforms can be boring and bland, but there's a way to make them truly unique and make your student body feel special. Simply personalize with an embroidered emblem of your school, mascot or motto and make available to students for purchase so that they feel part of the team right from the start.
Our apparel selection can also help you supply each class with breezy t-shirts and caps to make physical education more bearable.
Backpacks
All backpacks are not created equal. Our selection includes anywhere from drawstring backpacks to sling, traditional, messenger and computer backpacks to help even the most advanced of students succeed throughout the year. Side pockets, secure zippered closure, strong and secure straps, as well as interior compartments that make organizing easier make up some of the perks of shopping our custom backpacks.
Of course, you can also personalize to your liking and enjoy wholesale prices to ensure they stay affordable and within means to all students.
Just because it's a school you don't have to send your kids off in style. Lunch bags are a must (especially during earlier years), and the more unique the lunch box the happier the kid. Our unique bags include the 'Paws and Claws' collection so that your little ones can show off to other students, but also more traditional styles as well as durable and dual compartment snack and food jars that will impress even adults.
Shop in bulk and make them available at your school bookstore or gift shop – they're a great way to expand your inventory, too.
The beginning of the school year also marks the beginning of football season. Students going back to college will be excited to reunite in the stands to cheer on their favorite team – while newcomers will be happy to join the crowds in the celebrations.
Tailgate essentials include folding chairs, coolers and bar-b-que sets, as well as table throws, reusable stadium cups, pennants and other items like napkins all custom printed with your school mascot. Although their studies require more attention, it can't harm them to release some steam on a Friday night.
Health and Fitness
Make sure you provide them with items that encourage them to stay healthy and fit throughout the year. Their physical state will affect their state of mind and their ability to concentrate on their studies. Items like water bottles, jump ropes, yoga mats, and smart phone arm bands are all accessories you can personalize with the school name and logo and add to their campus pride.
Campus Café
Out of town students will spend a lot of their time in the school food court and campus café. Their studies require maximum concentration and top-notch nutrition to contribute to their wellbeing. Although disposable drinkware is a go-to for most institutions, you can set your campus apart by purchasing personalized reusable coffee mugs and drink tumblers. These can be returned to the counter after use or sold to students to help raise funds for your school.
If you're thinking about breakage rates, consider shopping stainless steel mugs that will prove resistant to even the most distracted of your students.
Awards and Recognition
No matter how old we get, a part of us always strives to be recognized for the efforts we make. You might be thinking it's still early in the year to be thinking about purchasing trophies and awards, but you can take advantage of our low wholesale prices and amazing discounts by shopping ahead. The many years at your institution has undoubtedly given you some insight into the functions at the school, and it may be wise to speak to the different departments about trophies and awards you can benefit from purchasing now.
Other gifts may include laser engraved pens and metal USB drives - students will definitely put them to good use.
Get a good start on this back to school season and begin your shopping today. Not only can it help you save money, but also take some of the stress off the rest of the year.
The transition back into the classroom can prove to be a drag for some students, but that doesn't need to be the experience for parents, teachers and other school staff. Get on with your planning and start on your supplies and essentials now.
---
Completely devoted to good times and fun, summer probably a favorite for most people. Days turn much longer, the beach is finally warm enough to enjoy, and local ice cream shops are all the rave. Life is really about the little things, and your business or personal event can also benefit from the warmest time of the year.
From pool parties to local events, summer brings out large crowds outdoors, which in turn give you the opportunity to show appreciation and grow your reach. Grow your brand with summer themed giveaways and start spreading the love this season.
Here's what you can expect to find in our Summer Catalog.
1. Summer Camp Giveaways
Celebrate the beginning of camp with welcoming gifts, and plan ahead to the closing ceremony. Browse personalized apparel items like t-shirts, backpacks, water bottles koozies and much more.
2. Personalized Beach Tote Bags
Did I mention the beach? We technically can't get enough saltwater in the summer. Enjoy an outing with employees and gift them personalized tote bags for great memories of your time together.
3. Promotional Home Accessories
Kitchen and home accessories printed with your design will help promote your business and plan strong seed of loyalty. Take advantage of our Guaranteed Low Prices and order in time for your giveaways!
4. Mugs for Coffee Shops
Although coffee isn't the first thing you think of when you think of summer, cold recipes will be attracting a larger crowd this season. Shop custom mugs printed with your store logo for cool merchandise that will get the attention of your regulars.
5. Gifts for Personal Events
Personalized gifts make a statement, help tell your story, and will remind your loved ones and friends of your special day. Shop our unique selection of glassware and gifts to impress your guests.
6. Giveaways for the Sports Minded
We would never forget our sports minded customers, wink, wink. With optimum conditions outside, many will be taking their practice to the great outdoors. Find yoga mats, sunglasses, towels and coolers bag you can order printed with your logo to help promote your gym or studio.
7. Promotional Office Tools
We'll also move it indoors for those that never stop, not even in the summer. Everyone is having fun out, but you can bring the sun inside. Freshen up with brand new promotional office tools like pens, calculators, sticky note pads, and memo clips personalized with your business logo. Watch the mood change when you show your employees a little appreciation for all of their hard work.
Don't forget about our huge savings! We appreciate you continue choosing DiscountMugs to fulfill your promotional product needs and included a little something to help you save even more. Take a look inside to find out how much you can take off your decorated order, and download our Summer Catalog to keep close at hand for when you want to share with your friends.
---
Although summer, winter and fall have a magic of their own, spring is the most lovable of all. For starters, the weather finally reaches moderate temperatures and sets the stage to transition from the harsh cold to sunny beach days and outdoor fun. Days become longer, birds return from their winter migration, and there are baby squirrels and bunnies everywhere. Are you not convinced yet? Here's a bonus: Our Spring Catalog is also on its way out to you!
Because warmer temperatures allow you to spend more time outside, it also means you won't be scared to walk down to your mailbox and see what new products and special deals we've put together for you.
However, we know we've spoiled some of you (and we're happy to), so we've made it easy to download straight to your mobile devices or desktop computer, too. View and share with friends and business partners when you sit down for that freshly squeezed lemonade, or proposal meeting.
We know springtime will make you more creative and passionate, and you'll finally get those projects going. So, with the blooming of flowers we also bring you a blooming of discounts! Use promo code SPRING18C at checkout to find out how much you can save off our already low prices.
By the way, you told us, and we did! Throughout the years we've worked hard to accommodate to your wants and needs and have made full-color printing capabilities our top priority. During the season of vibrant colors, we want to remind you why DiscountMugs continues to be your best choice.
Honestly, it's amazing what a little color can do. It's not only good for your brand but also your soul! Studies have found that increased amount of colors in your living space can make you feel happier, and the psychological gains can even be compared to the feeling of having a new job!
After months of saving your energy, it's time to open the windows to let the fresh air in. Say yes to opportunity and look at some of the categories you can browse this season to bring upon a fresh look to your promotional efforts.
Plus, who can forget about the holidays? It's only Spring when we get to celebrate our mothers and fathers. We know they're likely to be the most important people in your life, so they deserved they're own special page.
We have many other cool surprises heading your way. So, what are you waiting for? Download our Spring Catalog now and save to view in the comfort of your own time! Subscribe to our blog and let us know in the comment section below whether you'd like to be added to our mailing list to receive a copy of your own.
---
The foliage is long gone and snow covers inches of our streets, but DiscountMugs' winter catalog is here and out on its way to you – keep and eye out for the mailman!
Here's what you can expect this season:
We understand layering is important to your clients and employees, so we've hand-picked top outerwear items and accessories you can personalize with your logo to take on the colder months. Our custom winter clothing will allow you to stay warm and insulated, but also help you look flawless when you meet customers or potential investors!
DiscountMugs appreciates your loyalty and we want to repay you with an extra discount to help you save a little this season. Use promo code CATALOG18W at checkout and save 10 % OFF on all categories!
We know some of you prefer to access our catalog on the go – click on the link below to browse from the comfort of your phone, desktop computer or other smart device.
---
If you have ordered from us before, you know that at DiscountMugs we had moved away from the classic mail piece. However, after a 3-year hiatus, we're proud to announce a re-emergence in the mailbox with a Fall Catalog that's here to stay!
Although online shopping is the latest in trends and purchases are made to the click of a button, we understand multi-channel buying is on the rise and have made efforts to be in a better position to serve you. Simply put, we've brought the breadth of our product offerings right into your hands.
At the DiscountMugs website you will find close to 10,000 products that can all be personalized to fit your needs. However, our print piece will be filled with stories, top product images - and yes, deals that promise to make your experience even more delightful. When you receive our catalog, you will be able to focus on specific categories and explore best seller items with comfort and ease. The best way to convey our brand ethics and personality, our objective is to have you covered on all branding, merchandizing and celebratory scopes.
We believe that moving into your home or office will better help us make a connection with you and are starting to take those steps in a way you can see it. As products become even more and more similar on the internet, our goal is to provide you easier access to content and enhance our already wonderful relationship.
Our efforts to integrate a catalog experience does not come without a conscientious approach. The old-school method required large amounts of printings that often ended in unwanted places. Our tactic looks to collapse the distinctive experience of electronic and print media. You can Download Our Catalog in PDF Form to view in multiple locations, share with your friends, or print at your own convenience.
Our Free Catalog Editions will be printed on a seasonal base and mailed to you upon request. Contact us to sign up for our mailing list.
Go on, browse our 2017 Fall Catalog. We're so excited to share it with you, we've included a link here!