Although it's safe to say nearly everyone has at least heard of Oktoberfest, it's not quite up there with Halloween, Thanksgiving, or Christmas. At least, not in the United States.
But it's an awesome opportunity to celebrate with good friends, good beer, and great music, and to generally find another excuse to let your hair down for a while. So, if you've never considered putting together a party, or if it's been way too long, here are some ideas and potential party supplies you may want to mull over.
What exactly is Oktoberfest?
Before going too much further, let's get a little bit of background.
The actual, historical Oktoberfest celebration is held every year in Munich, Germany starting the third Saturday in September and ending during the first weekend in October. This popular folk festival has been held annually since 1810 and has drawn crowds of over six million in recent years.
Traditional Bavarian beer is consumed in incredible volumes during the annual celebration, along with a smorgasbord of delectable dishes "including Hendl (roast chicken), Schweinebraten (roast pork),Schweinshaxe (grilled ham hock), Steckerlfisch (grilled fish on a stick), Würstl (sausages) along with Brezen (pretzels),Knödel (potato or bread dumplings), Käsespätzle (cheese noodles), Reiberdatschi (potato pancakes), Sauerkraut orRotkohl/Blaukraut (red cabbage) along with such Bavarian delicacies as Obatzda (a spicy cheese-butter spread) andWeißwurst (a white sausage)."
Live music, dancing, entertainment, and a full carnival-style fair round out the 16+ day event.
Oktoberfest is the largest folk festival of its kind in the world, and it's spawned numerous imitations across Europe and in the States as well.
Find More Gift Ideas For The Holidays
What makes a party into an Oktoberfest party?
Obviously, you're not going to put together a party that attracts six million guests from all over the world, and you're not likely to have an entire carnival to go with the beer and pretzels.
But you can easily turn a simple fall get-together into a rollicking celebration by making some key decisions about menu, costumes, decorations, and supplies.
Menu
Just as food and drink serves as the centerpiece for nearly every party idea, your Oktoberfest party is going to revolve around a few major menu items:
Dark, heady beer
Grilled and roasted meat
Pretzels
Serve beer or even snacks in customizable beer steins with your family name. They're functional and serve as an ideal party favor that will last.
Menu options open up to allow for your own style and tastes. Anything that is traditionally German or Bavarian in origin is likely a good fit. And, as the Germans like to say, "everything goes with beer."


Decorations and supplies
With the food and costumes set, all that's left is to make sure wherever you're holding your Oktoberfest party looks like late-summer Bavaria to the uninitiated.
As you can tell, beer is going to be a central theme for an authentic party. You're going to want to make sure, not just that you have an adequate supply on hand, but that it's presented in the traditional fashion as well.
If it's possible to have the beer on tap, that's the best option. Although it probably happens somewhere, it just doesn't feel right to see guests with brown bottles in their hands. Instead, a heavy glass mug or intricately detailed beer stein offers the best experience.
In fact, this could be a perfect place to add something extra special to your party by creating personalized party favors your guests can bring home with them afterward! For instance, choose from an assortment of custom beer mugs, or simple pint glasses. Then, order a supply so that each guest gets their own, and have the date and a nice "Happy Oktoberfest" message printed on the side.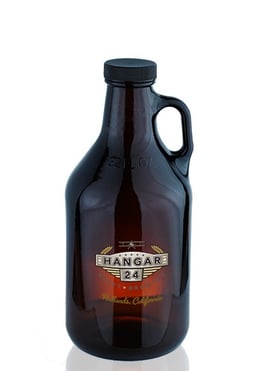 Personalized glass beer growlers ae another interesting option, if you'd like your guests to bring some of the leftover beer home. Get one per couple and see that they fill up on their way out for the night. Make sure they're safe, and never allow any of your friends to dive while intoxicaded.
For other party decorations, the blue-and-white check design has become popularly associated with this event, and it makes great tablecloths, napkins, or runners. Seasonal wildflowers and other harvest-based decor like pumpkins, gourds, and hay will also fit right in. Small wooden crates or straw baskets make perfect containers for cups, plates, napkins, and other essentials, as well as the decorations.
A few strings of lights and fun Bavarian-themed banners can finish off the right look and feel for your killer party.


Costumes
To really get yourself and your guests into the spirit of the Bavarian celebration, some old-German inspired costumes can do wonders.
For the girls, the traditional dirndl complete with corset and apron makes the perfect Oktoberfest statement. This costume can range from sexy to chic, and it's pretty easy to throw together a close estimation without spending a fortune. Finish off the look with twin pigtails tied with ribbon.
For the guys, the classic Bavarian lederhosen looks perfect: A button-up short sleeve shirt, dark shorts, and some big, tacky suspenders over wool socks and boots does it up right. Extra points if you can find a feathered Tyrolean hat to top things off.
There are plenty of fun ways to build these outfits yourself with items you can easily find in your area, or even in your own closet. If you want your guests to get into the right spirit too, send along simple instructions with your invitation!
Of course, by the time they've gotten halfway through the beer, your guests probably won't be paying much attention to the decorations anyway. But, what they will know - and love - is the attention to detail that went into creating the best Oktoberfest party any of them have ever attended!