Everyone has utilized the assistance of a medical professional. From the day we are born and through every season of life, the service of doctors, dentists, and emergency rooms will benefit us or someone we know. The healthcare industry remains as varied and unique as the patients it treats, encompassing a wide variety of services across the United States. This includes hospitals, pharmaceutical companies, health insurance companies, and private physician offices.
When it comes time to preparing for a healthcare industry trade show, ideas are available in abundance and professionals are presented with the opportunity to leave their mark on a large audience in a short amount of time. The message you send can make all the difference between securing new patients and clients, or making only a short-term impact.
Trade Show Marketing: Experts Share Their Secrets for Success
High quality healthcare giveaways have the potential to capture the attention of attendees and make them remember you, the name of your company, and your message. At the same time, the approach you take with people in conjunction with the giveaways say much about you, your business, and its mission.
If you have ever attended a tradeshow, you probably have an end goal in mind, and some idea of what really goes on the floor. On the other hand, you may only be attending because you drew the short straw at the office, or because it's your turn in the rotation. Whatever your reason for being present, there are some things to remember as you engage and spend time explaining your services, products, and mission. The most important part may just be a good attitude and high quality giveaways that stay with your audience long after the event has ended.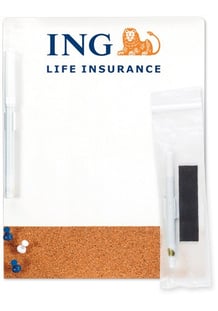 Your presence at a trade show is mostly what you make it; your attitude will have a great influence on the outcome. Whether it's your first event or your fiftieth, here are five trade show ideas to try the next time you find yourself in the middle of preparing for a big event:
Be ready to stand up:

It may seem easier to sit behind the table at your

booth

, but this could be perceived by attendees as less than enthusiastic. Even if you would rather sit down, fight against that urge. Stand up, engage with those who are passing by (without being pushy), and present a friendly demeanor. Your effort to put yourself out there c

an

make all the difference.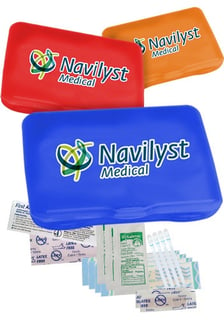 Be ready with impactful giveaways:

M

ost of us enjoy free stuff

, and trade shows are the perfect

opportunity to make contact with people

.

Get away from the predictable pens and magnets, and instead go with a customized dry erase corkboard. Practical and unique they can be personalized to include your logo, contact information,

and

web

address

. Small first aid kit

s,

and printed bandage dispensers are useful

and can be kept

in the car or in a purse for on-the-go injuries. Colorful stethoscope ID tags are perfect for medical professionals and can be customized with your logo

, too!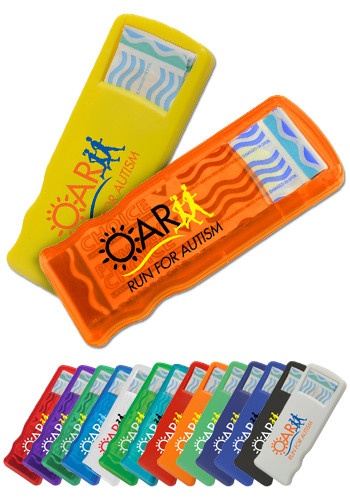 Be ready to answer questions:

Don't get caught in

a

moment of

disregard - you will not leave a good impression if you appear distracted to your audience

. Read up as much as you can on the topic you

'

re presenting, and don't feel threatened if you're caught by surprise with a difficult question. Take notes if you need to, make sure to keep them with you to look at during downtime, and promise to follow up at a later date. This way you'll show interest and proactivity.
4. Be ready to exchange contact information:
Keep business cards close at hand, and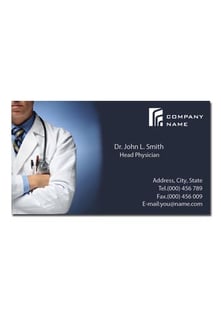 make sure to ask people for theirs in turn. Write down any information you want to remember about that person on their card, and direct them to social media sites for your specific company or practice. This is where quality business cards come in handy and leave an impact with your audience; they're worth the investment! Business card magnets are a great twist on traditional paper cards. They easily stick to metallic surfaces, so your contact information is available at a glance. Use first names, make good eye contact, and don't interrupt; kindness and courtesy go a long way.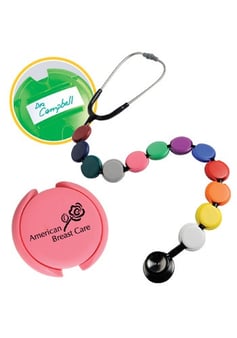 Be ready to follow up after the show:

This may be one of the most important trade show ideas to remember. If you tell someone you are going to follow up with them, make sure you keep that word. This shows those with whom you connect that you mean what you say and that you are genuine. If it

'

s difficult for you to remember details, make a note on their business card to help bring to mind specifics. Most importantly, if you commit to them to make a call, send an email, or connect on LinkedIn, do it as soon as you

'

re back in the office. Keep your word and see where it takes you!
There'll likely be hundreds of other companies with similar products or services at the next trade show you attend. Rather than blend in with the crowd, you can stand out and make your message clear. Be friendly, but assertive; be kind, but confident. Make sure you're knowledgeable about the message you're there to communicate, and follow through with action. Make your booth or designated spot noticeable without being too flashy, and be approachable without being too salesy.
Conclusion
Ask around and see if any colleagues have ideas when it comes to attending big events; those who have gone before may be able to give you some pointers and help with the details. Look around for effective trade show ideas, put some of them into practice, and see if it doesn't make a difference in your interactions and follow-ups. The impact you can make for your team and your business at a trade show has the potential to be limitless if you choose to arm yourself with a good attitude and the right tools like customized healthcare giveaways.