If you have a big milestone coming up, a birthday, an engagement, an anniversary, or a wedding, you may be planning on gathering your friends and family together for a celebration. Maybe you don't need an excuse to party, but you want to offer your guests something a little different at your next event. Whatever the occasion, hosting a theme party is a great way to get everyone involved and provide all your party guests an interactive and well-rounded experience.
Here are some popular party theme ideas to get your creative juices flowing!
Use your chosen theme to shape your food and drink choices, costumes, activities, décor, and entertainment. The beauty of theme parties is they can work for even the smallest budget. As long as the theme is present across all aspects, how extravagant you make it is down to you!
Magical Mardi Gras
Mardi Gras, or 'Fat Tuesday' is originally of pagan origin, it was later adopted into Christianity and now falls on the final day before lent fasting begins. The wider population have adopted the celebration, and it is synonymous with excess and extravagance. Venice, Brazil and New Orleans now lay claim to the most famous public Mardi Gras festivals, drawing large crowds every year!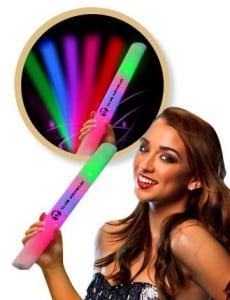 Whatever your approach to hosting your Mardi Gras experience is, there are a few key components you may want to include:
Colored beads – Purple, green, and gold beads in particular. Purple represents justice, the green is for faith, and the gold is for power. Traditional Mardi Gras festivals have seen beads thrown to revelers for centuries, and including them in your party will really help to capture the theme.
Feathers – Vibrantly colored plumage is a common feature of Mardi Gras costumes
Music – Mardi Gras is a lively party about vitality, and so music is a must
Food - Mardi Gras favorites include a number of Creole dishes such as the renowned jambalaya, fritters, oysters, gumbo and King Cake
Block party
Why not host a block party and get the community together? There may be some legalities to discuss with the local authorities depending on the public space you have available, but a block party is a great way to combine friends, family and the neighbors all in one place. If a full street party is out of your reach, then a big back yard can still allow for a community feel.
Take the pressure off your purse strings by setting up a potluck so that you can get everyone involved. Communal meals are traditional and appropriate for the theme and will relieve you from playing chef for the entire event. You may very well be surprised by the different dishes people bring to the table. Everyone gets a chance to demonstrate their culinary skills.
Masquerade
If you are looking for a more elegant way to introduce Mardi Gras into your event, then a masquerade dinner party or ball are excellent theme party ideas for adults to share a vibrant evening together.
Have your guests arrive suited and booted and add a little mystery with extravagant masks adorned with feathers. Surround entrances, staircases, and walkways with gold, green and purple foils and bunting or balloons to capture the essence of the infamous New Orleans festivities. Dress the table with those colorful glass beads mentioned above and accentuate with candles and lavish centerpieces. Serve drinks in LED flashing lights and dance the night away to sophisticated piano music.
La Hora Loca
Mardi Gras is limitless and can be integrated into events all year round. If you are seeking unique themed party ideas for your wedding, why not include a 'Hora Loca.' La Hora Loca or 'the crazy hour' is growing in popularity at weddings and can and include performances from dancers, magicians, and stunt performers, wild hats and masks, balloons, party poppers, and colorful feathers. The tradition began in South American, most notably in Venezuela and Brazil, but has quickly been adopted in Southern Florida. Now couples everywhere are bringing the Fat Tuesday feel to their special day, and it is sure to draw even the most introverted of guests out of their shell and into the festive spirit of Mardi Gras.
Oktoberfest
Oktoberfest originated in German. This popular folk festival is celebrated every year in Munich, running from the third Saturday in September and ending during the first weekend in October. It has been held annually since 1810 and has drawn crowds in their millions over recent years. Now, the Oktoberfest customs have been adopted worldwide and over the two weeks, a whole host of events will be held, offering Bavarian beer and Bratwursts by the bucket load.

It is easy to take your own little piece of the folk-festival action by making some well-considered decisions on food, décor, and costumes. Its simplicity makes it an ideal theme choice if you are looking for last-minute party ideas:

A little research will pull up a whole list of German delicacies perfect for your Bavarian bonanza. But the most common dishes include those such as:

Pretzels: Choose from salted, sweet, or even filled with German deli meats.
Sausages: Selections include Würstl, Weißwurst, Frankfurter, and Bratwursts.
Meats: Popular picks are Schweinebraten (roast pork), Schweinshaxe (roasted ham hock), and spit-roasted chicken.
Accompaniments: Potato pancakes and Sauerkraut among many others to pair with your chosen dish.


As well as food, beer plays a vitally important part in Oktoberfest celebrations, Bavarian wheat brews, blonde lager (pilsner), Kölsch and Bock to name just a mere few of the many choices available. You will inevitably need to prep your glassware for all these dark, heady beers that will be flowing. Personalized glass beer growlers are an interesting option if you'd like your guests to take some of the leftover beer home. Get one per couple and see that they fill up on their way out for the night. Beer Steins and large two-pint mugs are traditional drinking vessels for German-inspired parties too.

These do not have to be extravagant. Blue-and-white check design has become broadly associated with Oktoberfest and makes great tablecloths, napkins, or runners. Seasonal flowers and other fall-inspired decors such as pumpkins, gourds, and hay bales will also tie in nicely. Small wooden crates or straw baskets are decorative, and also make perfect storage for crockery and other essentials. A few strings of lights and banners can finish off the look and create an authentic German vibe for your party or event.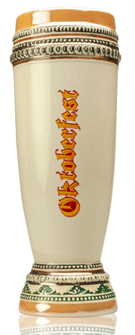 This can really pull your Bavarian banquet together and rounds off the theme nicely if your guests are up for getting involved.
Men can rock the classic Bavarian lederhosen look: A button-up short sleeve shirt, dark shorts, and some big suspenders over wool socks and boots. If you can find a feathered Tyrolean hat, it will really top things off.
Meanwhile, for the ladies: the traditional dirndl, complete with corset and apron makes the perfect Oktoberfest statement. This costume can be as extravagant as the individual chooses, and it's pretty easy to throw together. Complete the look with twin pigtails tied with ribbon.
Halloween
For some, Halloween is a spooky occasion perfect for séances and late-night zombie movies. Parents will likely consider it to be primarily a day for trick-or-treating and handing out candy. Many also realize that it is a great excuse for throwing a party!
Hosting a Halloween party offers guests the chance to be freakishly creative, dress up in comical or scary costumes, explore new, fun party ideas, and celebrate All Hallows Eve with their friends, family, and the children. You can hone your pumpkin-carving skills, dig through your old dress-up box, and get imaginative with some spooky custom gifts and party favors.
Costumes are compulsory
Costumes are half the fun! When sending invitations, don't forget to include any guidelines, such as "child-friendly costumes" for family gatherings, or "office-appropriate" for work-place events. To encourage maximum participation, why not offer a prize for the best, most original, funniest, or scariest costumes.
If you just aren't into costumes, then help your guests get involved more casually, with custom sweatshirts. Print some jack-o-lantern faces on the fronts for a fun pumpkin theme, or simply write "Happy Halloween!" to ensure even the most costume-phobic gets a piece of the action.
Go all out with the decorations
Create the right atmosphere with lots of decorations inside and out. Carve a few pumpkins into silly or scary jack-o-lanterns, or even get your guests to do it for you, with a prize for the best one. Place candles inside for that 'séance' vibe and set your patio aglow to welcome visitors and set the scene.
Fake spider webs, complete with plastic spiders are always a fun idea too. String them across the entryway, over the windows, and above the doors. Dare your guests to pass through without a little shudder at the prospect of becoming entangled with a few eight-legged friends.
Choose interior decorations to fit the theme of your party. For example, something light-hearted and family-friendly, such as black and orange streamers and miniature pumpkin centerpieces, can create a warm feeling of fall and fun. Alternatively, you could choose to make the party a little more on the sinister side and create a full haunted house experience with creepy fake tombstones, strobe lighting, and dry-ice mist.
Freaky food and deadly drinks
Not deadly in the literal sense, of course, food safety is of paramount importance. Serving dishes that incorporate your theme, however, adds an extra flair over a run of the mill buffet. Some ideas include:
"Ants on a log" — Celery sticks spread with peanut butter and sprinkled with raisins
"Severed fingers" — Mozzarella sticks with marinara dipping sauce
"Eyeball punch" — Alcoholic fruit punch with plastic or jelly eyeballs floating on top (be sure guests know whether their eyeballs are 'juicy' or not)
"Witch's brew" — Warm apple cider or cocoa with whipped cream and candies
This is another event ideal for a potluck, have guests bring along their own creepy culinary creations. Be sure to prep plenty of crockery, Halloween themed disposable plates, cups and cutlery are readily available from stores at this time of year.
Frightening favors
Candy is a traditional Halloween favor, and trick or treaters have been taking full advantage of this for generations. However, if you are throwing a Halloween theme party, you may want to treat them to something a little different. Party favors are always a nice touch to thank guests for coming. Be sure to get a general idea of how many people will attend to make sure you have enough to go around. Then, get creative! Here are some ideas for fun Halloween party favors: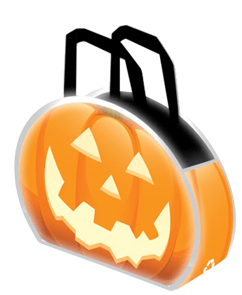 Mini gift bags: Choose a custom printed gift bag to stuff with toys, spooky cakes or, of course… more candy! Orange, black, green, and purple are typical Halloween colors and can be customized with a spooky graphic or the party date.
Mini jack-o-lanterns: Everyone loves tiny versions of big things, so a mini pumpkin toy or stress squeezer is sure to go down well. Alternatively, a real mini squash, complete with hand-written carving instructions or your favorite pumpkin recipe would add a lovely touch.

Coffee mugs

: For hot apple cider or spiked hot cocoa fans, these party favors will not disappoint. Give customized Halloween inspired mugs complete with some hot cocoa, mini mallows, or even a miniature liquor.
Aloha Hawaiian Luau
After all the fall inspiration from Oktoberfest and Halloween, our final idea will get you all back outside into sunshine and summer with a Hawaiian Luau theme party! If you have ever had the pleasure of venturing to Hawaii, then you will probably have enjoyed a traditional luau at least once. The idea behind it is to celebrate friendship and family bonds by sharing good food and quality time together.
The great thing about planning a luau event of your own is that this fun, festive party theme can be successful even on the most modest of budgets. All you need are some basic supplies and ingredients, plus an outdoor space that can become your mini 'island paradise.'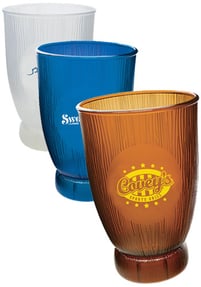 Food and drink:
While your luau menu is entirely up to you, there are a few typical ingredients that are sure to create the right mood:
Pineapple
Coconut
Pork
Rice
Salmon
Shrimp
Traditional luaus see the host grilling meats and seafood outside as guests arrive if space allows for this. The smells and smoke create an authentic atmosphere. Team their arrival with a coconut rum or pineapple cocktail, and your guests will immediately begin soaking up those island vibes.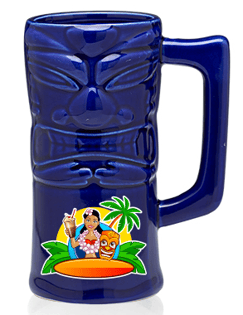 Clothing:
The luau costume is simple. Flip flops, Hawaiian shirts, coconut bikinis, and grass skirts are all go-to choices for this theme, and in true Hawaiian tradition, hand out a flower lei to guests as they arrive to say 'Aloha.'
Decorations:
You can be as extravagant or as minimalist as you like here. If you are using a naturalistic outdoor space for your event, then you may wish to use the above to demonstrate your theme and maybe just get some customized glassware to serve up your cocktails in.
If you want to 'push the boat out' a little more on your themed decorations, then consider:
Citronella candles
Tiki posts
Palms and Raffia
Totem poles and lanterns
Greenery and plants
More flower Leis (you can never have too many at a Luau!)
Coconuts
Limbo sticks (for the more adventurous guests)
Theme it your way
These four themes are widely popular, hugely versatile, and are all favorite choices worldwide. However, the beauty of the theme party is that ideas can come from anywhere. As long as you incorporate appropriate food, décor, and costumes, then your theme can quite literally be anything! Be it a movie theme, a soccer theme, or maybe a fairy-tale theme, choose a hobby, culture or a genre that interests and resonates with you or your guests, and let your creativity flow!