Browsing the web in search for the latest trends in promotional items may sometimes feel a little soul crushing. Can you ever be sure you're getting the right item for your brand? Will your custom giveaways communicate an accurate translation of your message? The uncertainty can make the shopping experience somewhat daunting, but at DiscountMugs we strive to make the process easier. Follow us inside our most current catalog to shop the latest deals, new arrivals and explore market tendencies that can help strengthen your marketing efforts this season.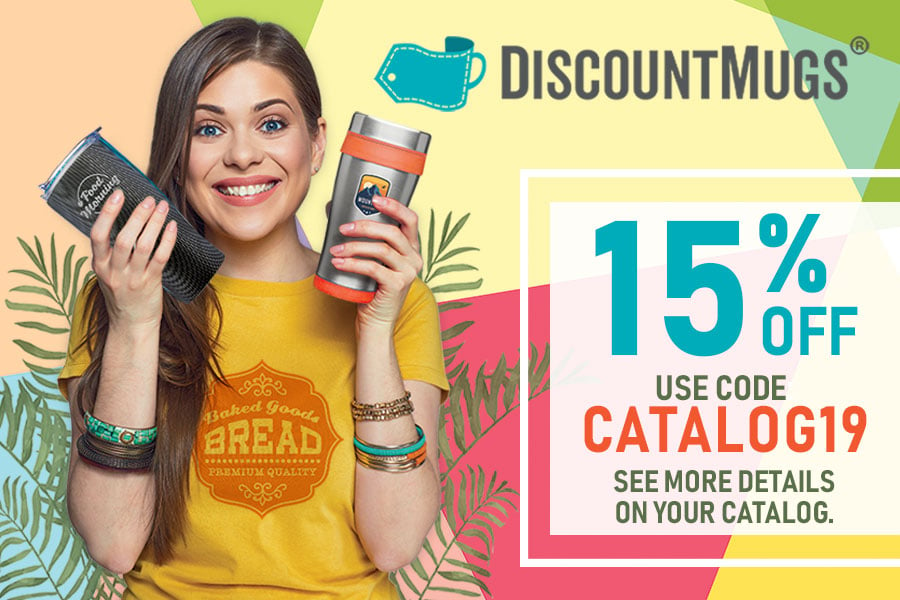 Inspiration for your promotional items can come from unexpected peoples and places. However, why not go straight to the source and take advantage of our extensive experience in the industry? Here's some insight that can help you find the perfect match for your special occasion.
Our Must-Print Items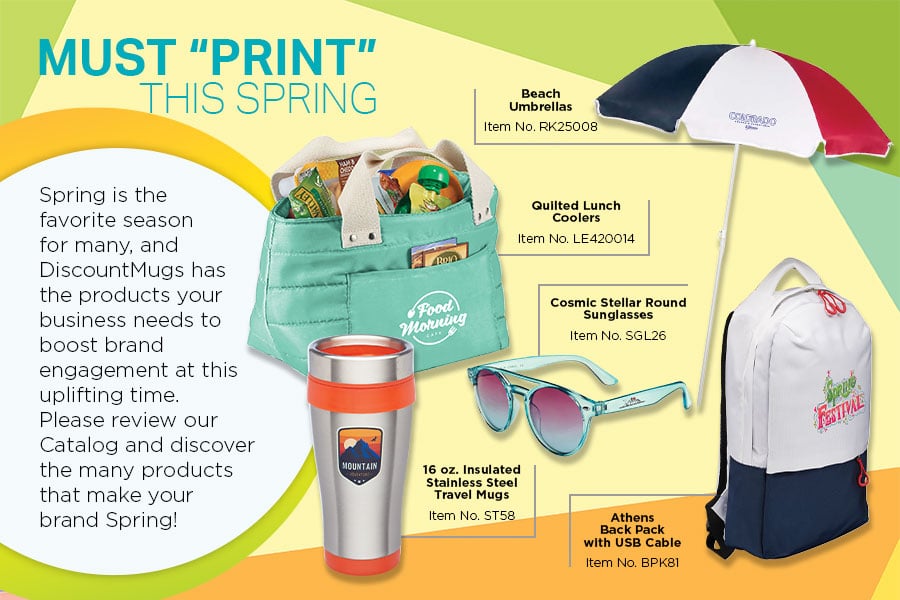 Some of our custom promotional items maintain a consistent market demand throughout the year, while others are typically driven by seasonality. This time a year, when our hemisphere starts to tilt towards the sun and the days turn longer, it's common to see an increased interest in sporting and outdoor items. That being said, we definitely urge you to stay away from custom items like sweaters and other heavy felt clothing items. Keep in mind this will not include clothing accessories like traditional baseball caps or dad hats, of course.
As you may have already guessed, some of our season favorites include sunglasses, water bottles, beach tote bags, coolers and backpacks. I'm sure it's all making sense to you by now. Let's dive a little deeper and explore some other seasonal favorites we've noticed throughout the years.
The Right Imprint Method
Oh wait, I almost forgot! Choosing the right imprint method for your promotional items is key to the process. Let's explore some of our more frequently used methods or visit us our site to learn more about all eleven imprint methods employed at our facility.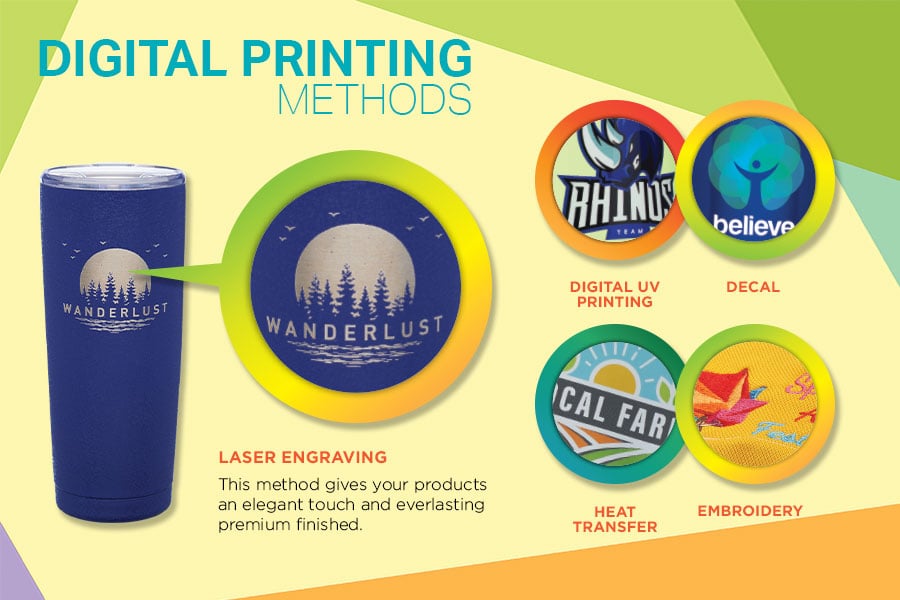 Heat Transfer
The heat transfer method is best for intricate designs and helps bring out the best in your artwork. It's more commonly used on textiles and allows us to achieve a full color process with optimal ink coverage.
Digital UV Printing
Digital UV printing is one of the fastest processes in the industry. It uses ultra-violet lights to dry and cure ink as it is printed on your products of choice and it's mostly used on items like water bottles and acrylic tumblers.
Embroidery
Ideal for work and school polo shirts, and baseball caps, our embroidery machinery sews at an average rate of 10,000 stitches per design and allows up to 16 thread colors to accommodate to complex logos and shading.
Screen Printing
Screen printing is the number one choice when it comes to ink accuracy. Plus, it allows us to scale down to small items like ceramic mugs and pens.
Mother's Day Gifting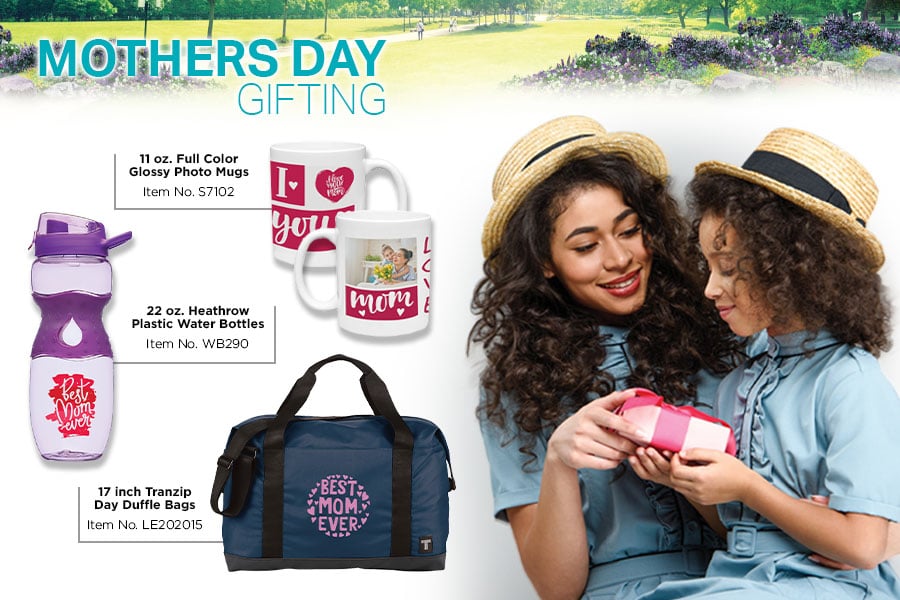 Mother's Day is just around the corner and showing appreciation for the sacrifices they make should be at the top of your list. Although the holiday is very much and intimate day when families get together to celebrate the women in their lives, groups and organizations may also join in the jubilee. The catch is moms are unique individuals and shopping in bulk is probably causing you a little bit of stress now.
Whatever items you do end up selecting, your intention and message will be the things they remember in the end. Make it caring and lasting like their love.
This year's selection included lip balms, blankets, umbrellas and a few others. However, I do have to say mom's love stemless wine glasses, tote bags and mugs. Upload your custom artwork or design online with the help of our Design Lab.
Father's Day Gifting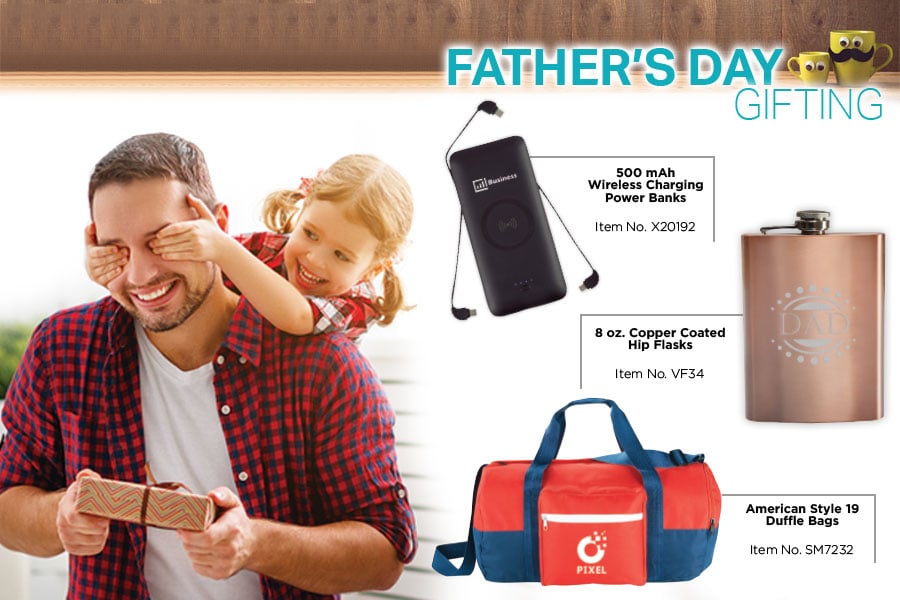 The same can be said about dad in that, although he rarely mentions it, he also like to feel loved and appreciated. For centuries dads have been made out to appear distant and non-nurturing, but nothing could be farthest from the truth. Although society has given each parent a very structured role to play in the household, modern families continue to bring down these preconceived ideals and create new ones that adapt to their specific needs.
Some things will never change, however, and the thing about dad is he prefers gifts with a practical use. Sure, you can have the kids decorate the card and prepare breakfast to surprise him in bed – which would be amazing and appreciated – but deep-down dad's just waiting to be surprised with a cool gadget he gets to play with or solve like a puzzle.
Our season's selection includes Bluetooth speakers and charging power banks, as well as cases for tech accessories, gym bags and hip flasks. I'm definitely leaning towards the flask!
Café and Gifts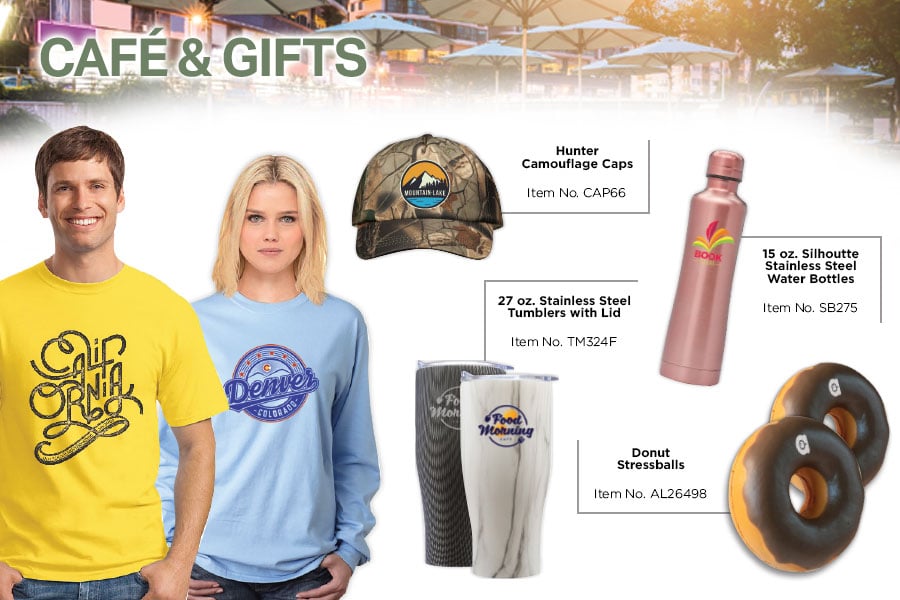 Although some will prefer cold over hot brews, people need coffee no matter the time of the year. As the days start to get hotter, you'll notice a flock of new and regular customers returning for the special flavors in your store. Welcome them back for the season with brand new drinkware personalized with your insignia, and eye-catching goodies they can purchase at your store as a souvenir.
Our donut stress balls are still a favorite among many of our audiences, and for obvious reasons! The almost realistic look on this item is so enticing it almost always ends up drawing attention from audiences. However, other customers prefer our stainless steel tumblers - these stay fashionable almost all throughout the year and can be used for both hot and cold beverages. Caps and water bottles are also cool items you can order printed according to your needs for customers who lean towards more practical gifts.
Having these around your coffee shop or gift store can change the way you engage with your visitors! Give them a try this season and leave us a comment below. We'd love to know how it goes.
Summer is in The Air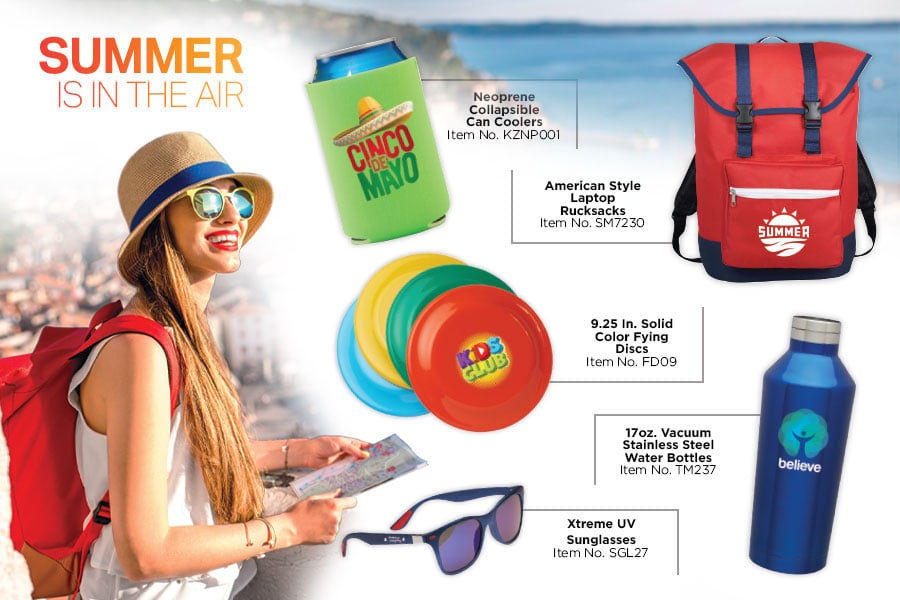 Yes, at DiscountMugs we're getting ready for the change of the seasons. We know some parts of the country still haven't awakened from their winter slumber, but realistically it will be soon when hundreds of your target audiences flock to the streets, the park, the lake and the beach! Thinking ahead is part of our game, and our product specialists have been working on summer items you just can't leave without.
Let's start with can coolers – there was life before them, and life after them. If you still haven't tried out one of our custom koozies you simply must this summer. We carry neoprene, foam and stainless-steel styles for any occasion and unbelievable low prices you won't be able to resist. Go ahead, koozies are definitely our first pick.
We wouldn't, of course, leave sunglasses, water bottles, frisbees and backpacks behind. Summer season is a time when exploring the world becomes part of our schedule and promotional items like these are accessories your audiences will just love to take with them on the go. Don't forget to browse our Spots and Outdoors section for more customizable items that can get the whole squad cheering.
Markdowns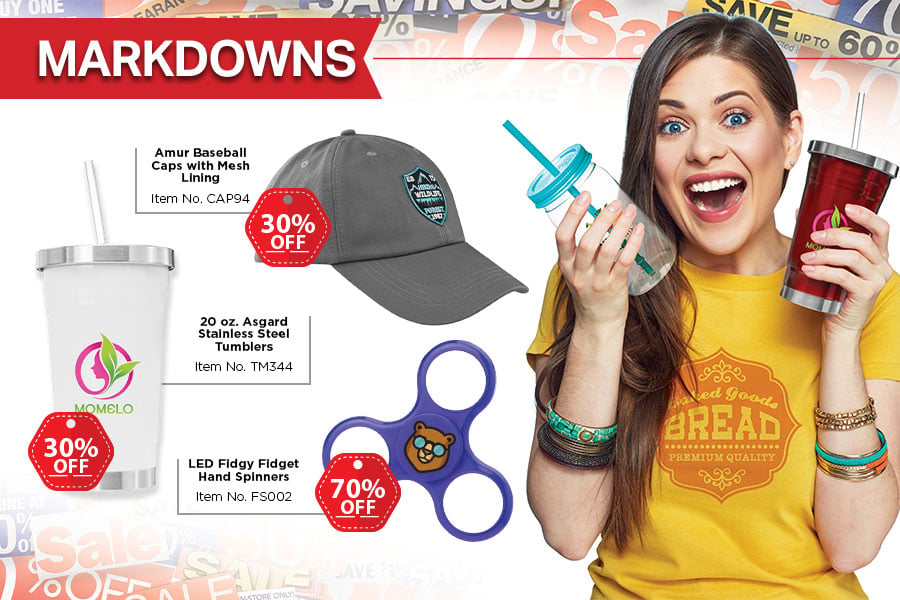 Lastly, don't forget to view our section for markdown items. On occasion, our warehouse will need to move some items to make space for other products with a higher demand. In the world of promotional products trends will fluctuate according to seasonality, but no worries, our markdown items just need an extra bit of love right now and we just want them to find a forever home.
Are you up for the task? Download our catalog now for current deals and discounts!