Parents everywhere are spending the big bucks in family vacations, and even if you're staying home this summer, keeping your kids entertained doesn't come at a cheap price. Don't even get me started on sending them off to college for the first time – there isn't enough time in the day with all the planning and shopping you need to get through to make sure they're all set for their first day. For that reason, back to school is simply our favorite season.
Don't hold off on your back to school shopping. Trends show prices skyrocket the closer we get to the first day of school. Get started now and look inside our season catalog to see how much you can save on favorites and other essentials.
A back to school shopping list will most likely contain some of the following (just to mention a few):
Backpack
Agenda or planner to keep track of assignments
Notebooks
Pens
Pencils
Highlighters
Pencil pouch
Take a peek below to see what you can order with us. Our amazingly cheap wholesale prices post a great advantage for schools looking at welcome gifts or a way to simplify the arduous task for busy parents.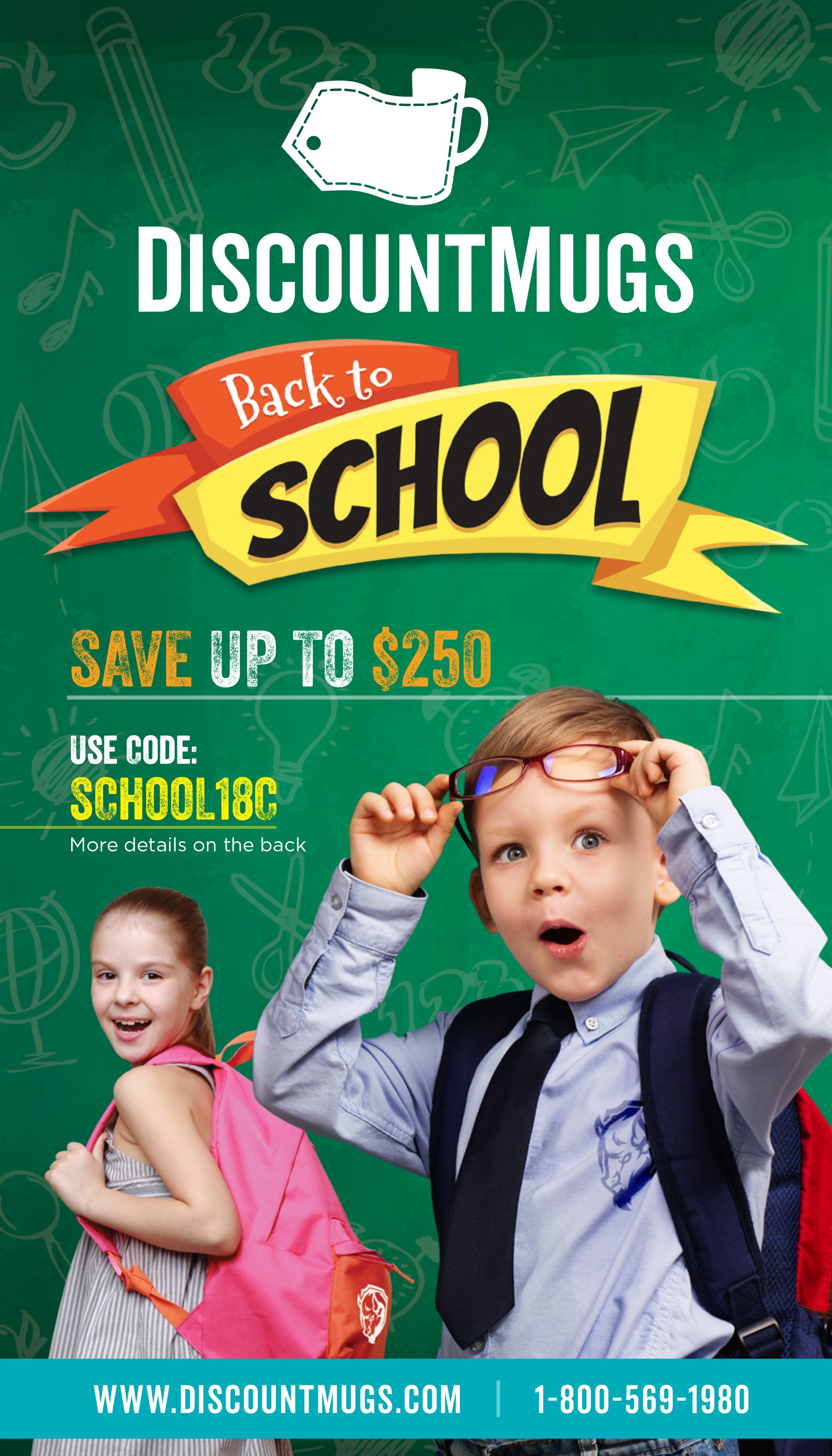 Whether starting off at grade school or taking the big leap to college, some back to school supplies are ever present in that list we talked about earlier. Our wholesale prices make it easy and convenient to order in bulk and help promote school spirit at the beginning of the school year or raise funds all throughout.
Some of the essentials that made it to our list are backpacks, water bottles, lunch bags, notebooks, highlighters and pencil pouches.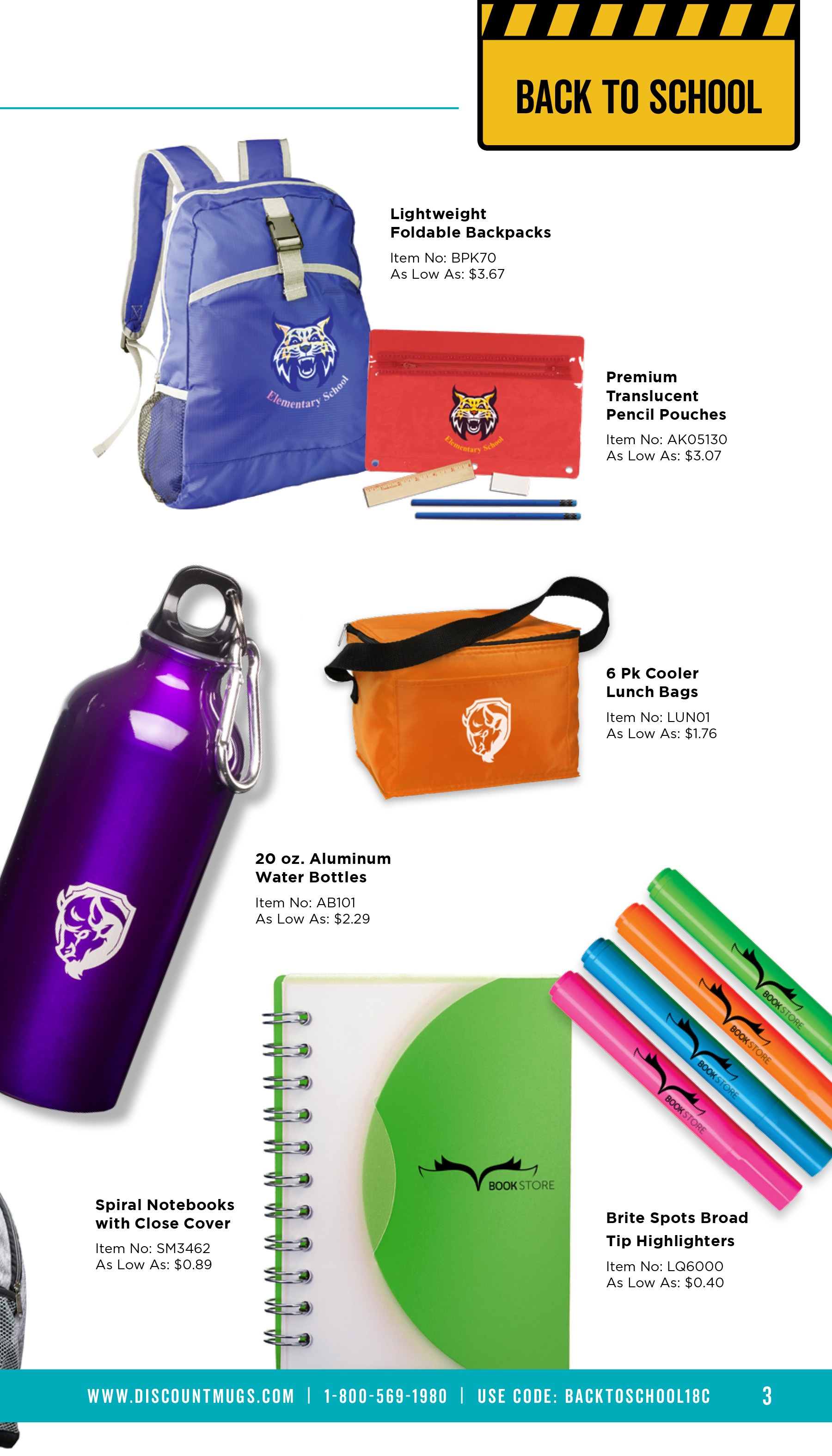 Uniforms
School uniforms can be boring and bland, but there's a way to make them truly unique and make your student body feel special. Simply personalize with an embroidered emblem of your school, mascot or motto and make available to students for purchase so that they feel part of the team right from the start.
Our apparel selection can also help you supply each class with breezy t-shirts and caps to make physical education more bearable.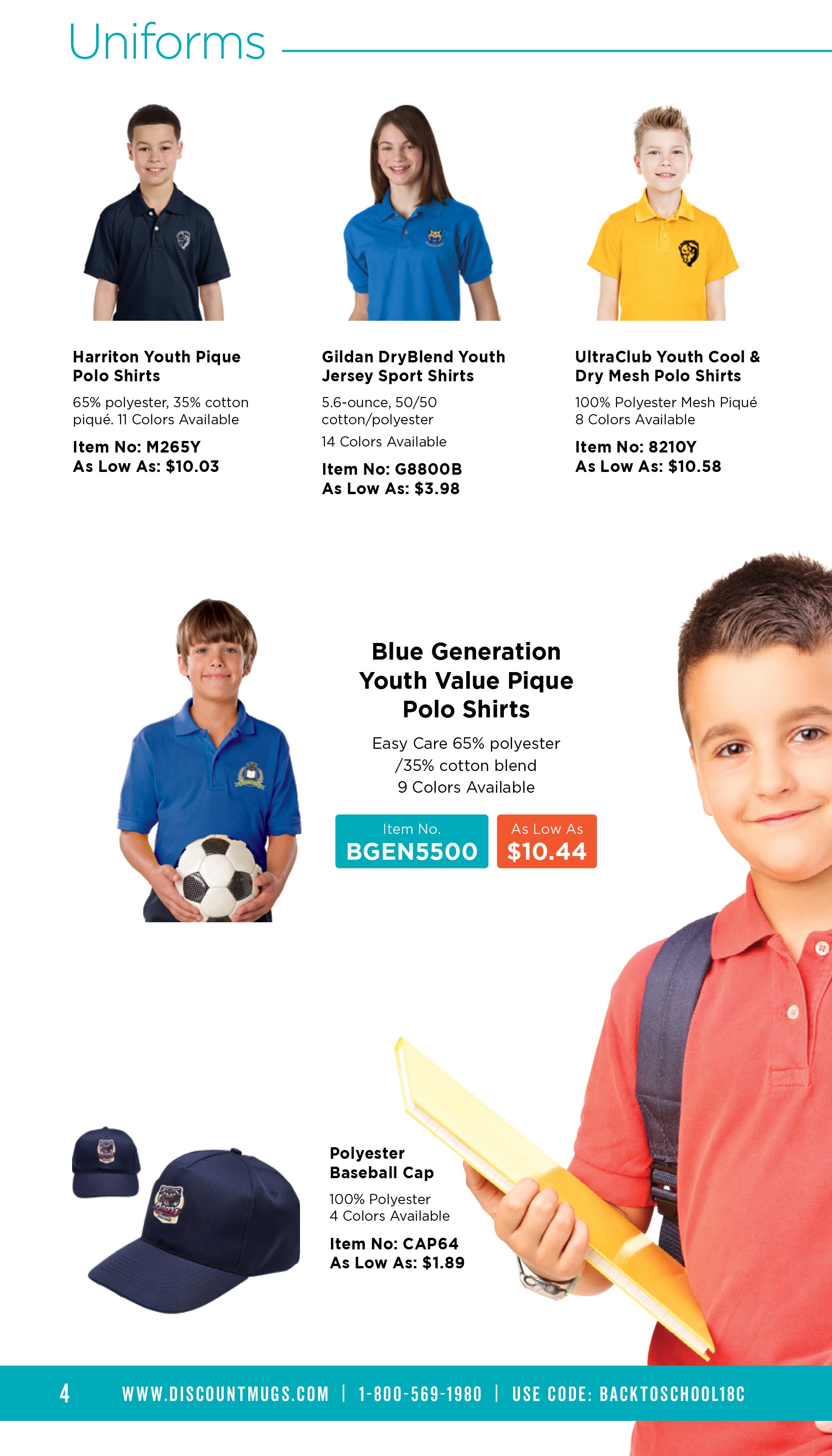 Backpacks
All backpacks are not created equal. Our selection includes anywhere from drawstring backpacks to sling, traditional, messenger and computer backpacks to help even the most advanced of students succeed throughout the year. Side pockets, secure zippered closure, strong and secure straps, as well as interior compartments that make organizing easier make up some of the perks of shopping our custom backpacks.
Of course, you can also personalize to your liking and enjoy wholesale prices to ensure they stay affordable and within means to all students.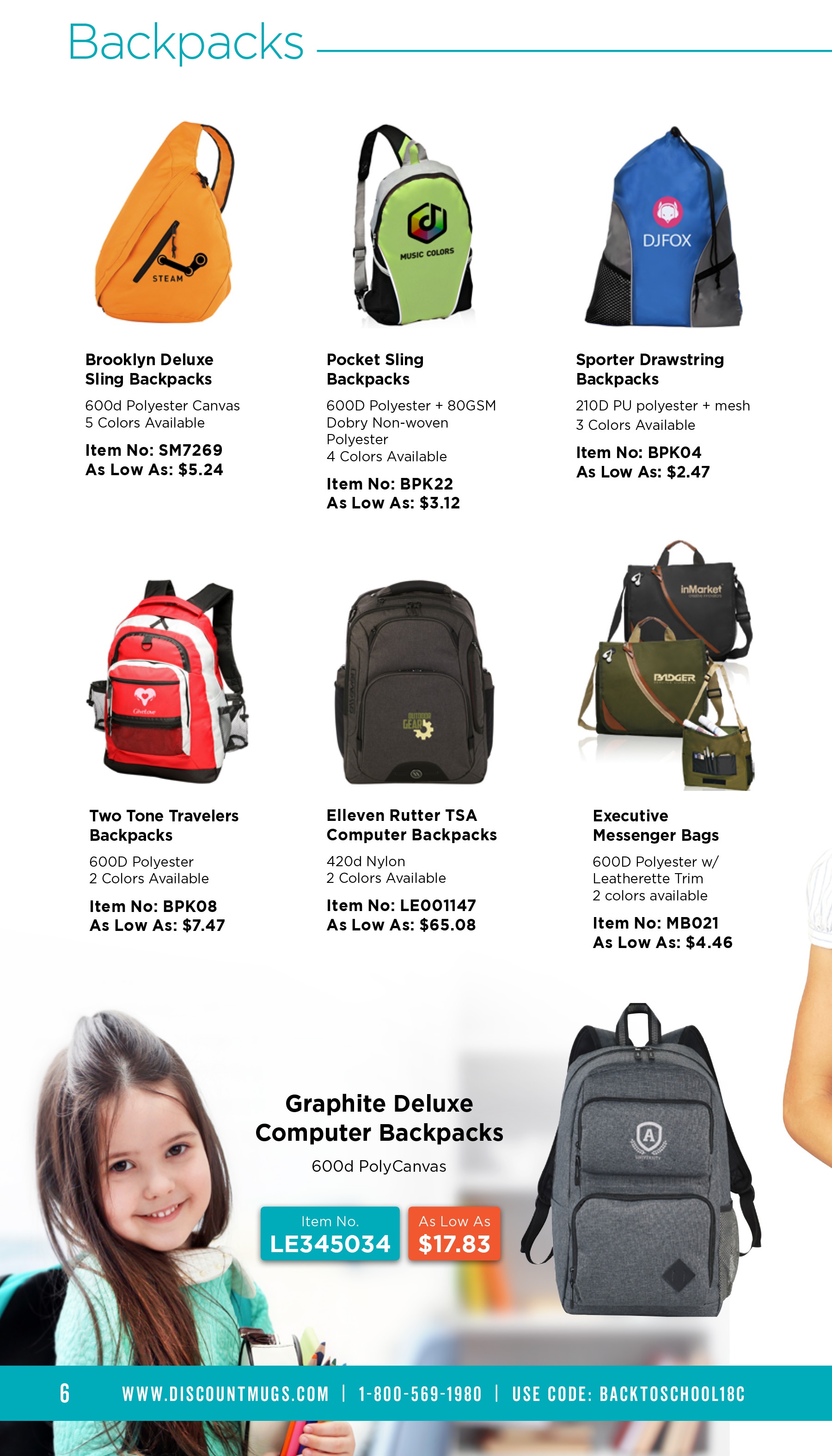 Food and Drink Storage
Just because it's school doesn't mean you can't send your kids off in style. Lunch bags are a must (especially during earlier years), and the more unique the lunch box the happier the kid. Our unique bags include the 'Paws and Claws' collection so that your little ones can show off to other students, but also more traditional styles as well as durable and dual compartment snack and food jars that will impress even adults.
Shop in bulk and make them available at your school bookstore or gift shop – they're a great way to expand your inventory, too.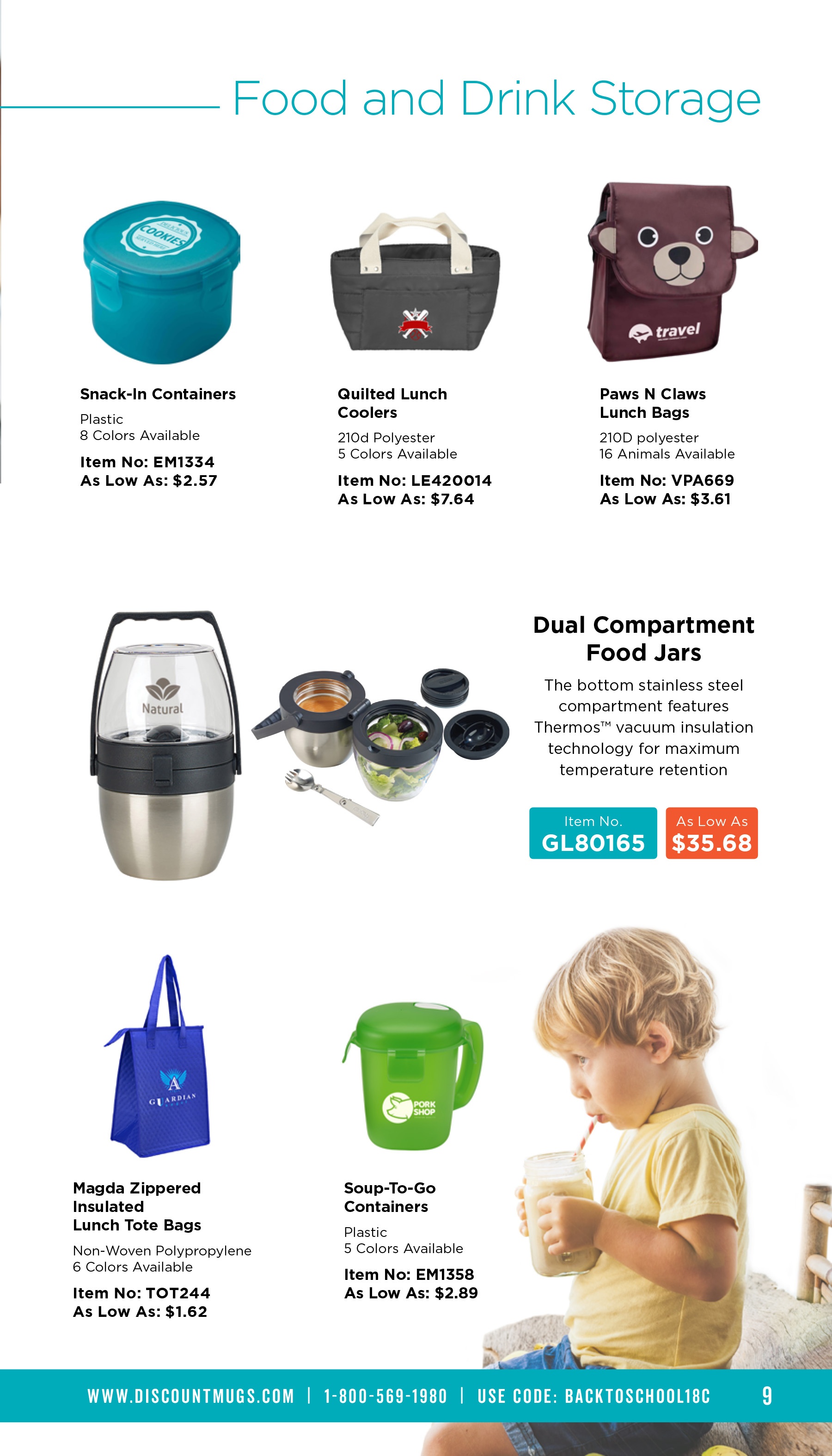 Tailgate Essentials
The beginning of the school year also marks the beginning of football season. Students going back to college will be excited to reunite in the stands to cheer on their favorite team – while newcomers will be happy to join the crowds in the celebrations.
Tailgate essentials include folding chairs, coolers and bar-b-que sets, as well as table throws, reusable stadium cups, pennants and other items like napkins all custom printed with your school mascot. Although their studies require all the more attention, it can harm them to release some steam on a Friday night.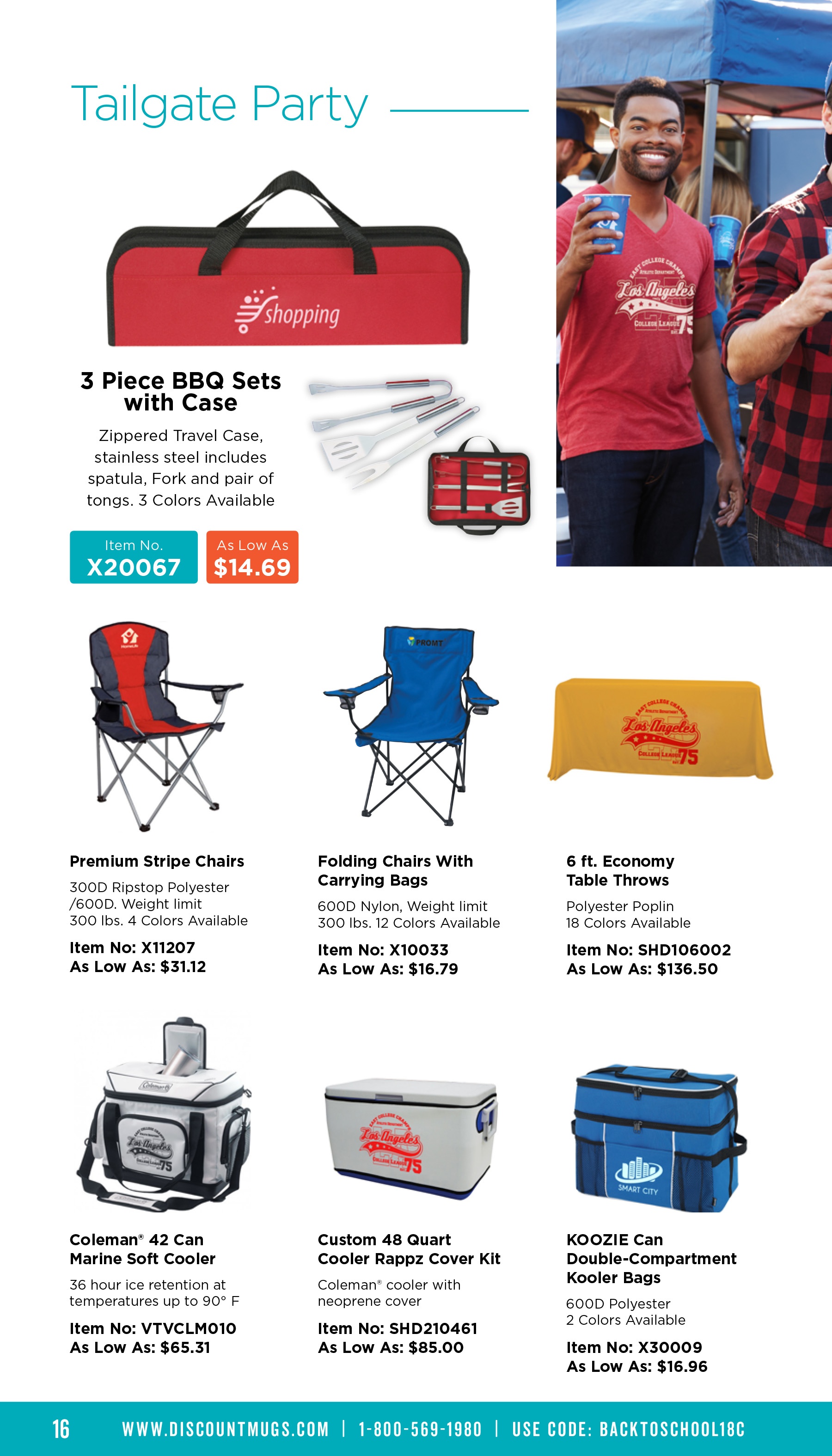 Health and Fitness
Make sure you provide them with items that encourage them to stay healthy and fit throughout the year. Their physical state will affect their state of mind and their ability to concentrate on their studies. Items like water bottles, jump ropes, yoga mats, and smart phone arm bands are all accessories you can personalize with the school name and logo and add to their campus pride.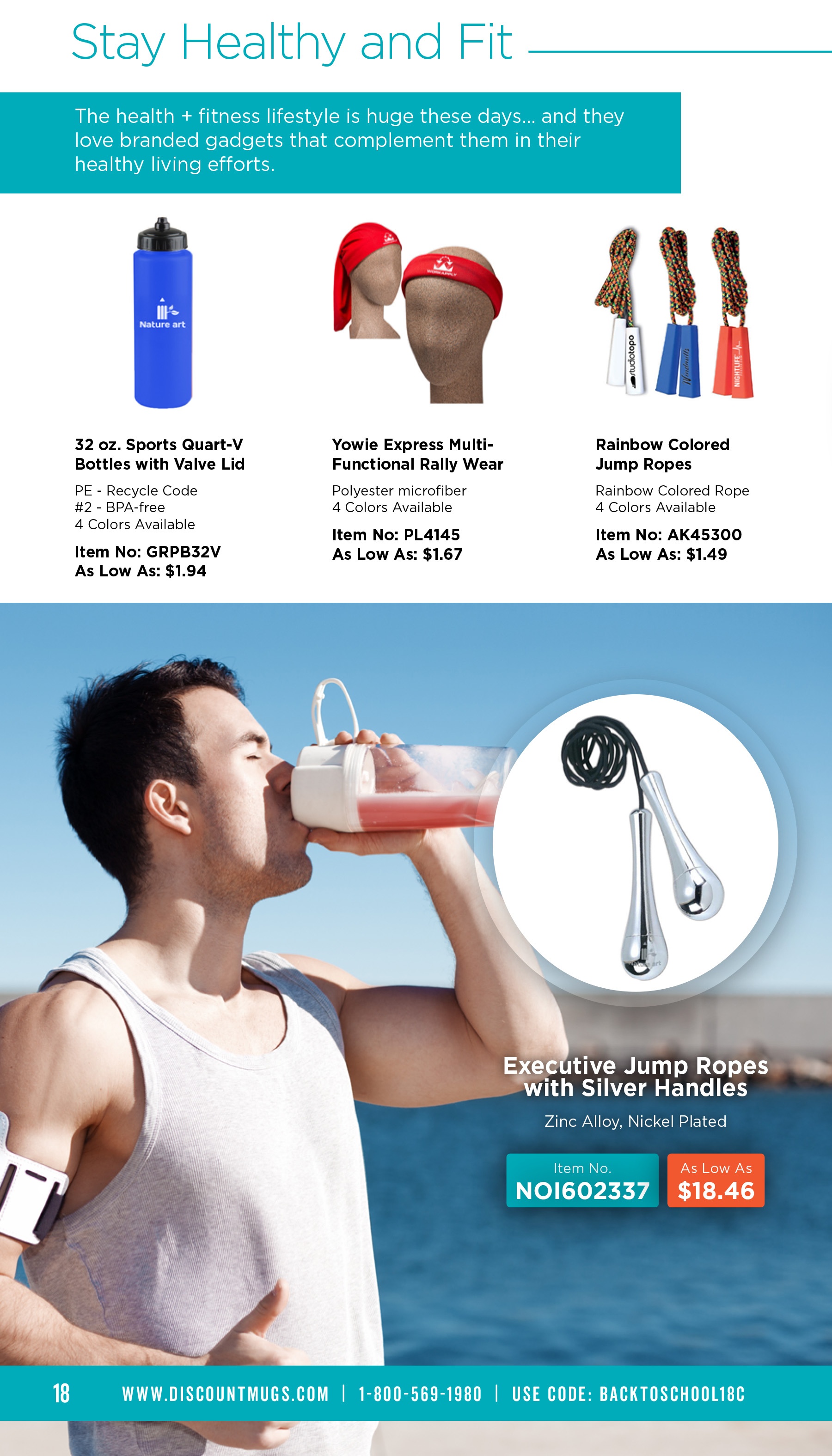 Campus Café
Out of town students will spend a lot of their time in the school food court and campus café. Their studies require maximum concentration and top-notch nutrition to contribute to their wellbeing. Although disposable drinkware is a go-to for most institutions, you can set your campus apart by purchasing personalized reusable coffee mugs and drink tumblers. These can be returned to the counter after use, or sold to students to help raise funds for your school.
If you're thinking about breakage rates, consider shopping stainless steel mugs that will prove resistant to even the most distracted of your students.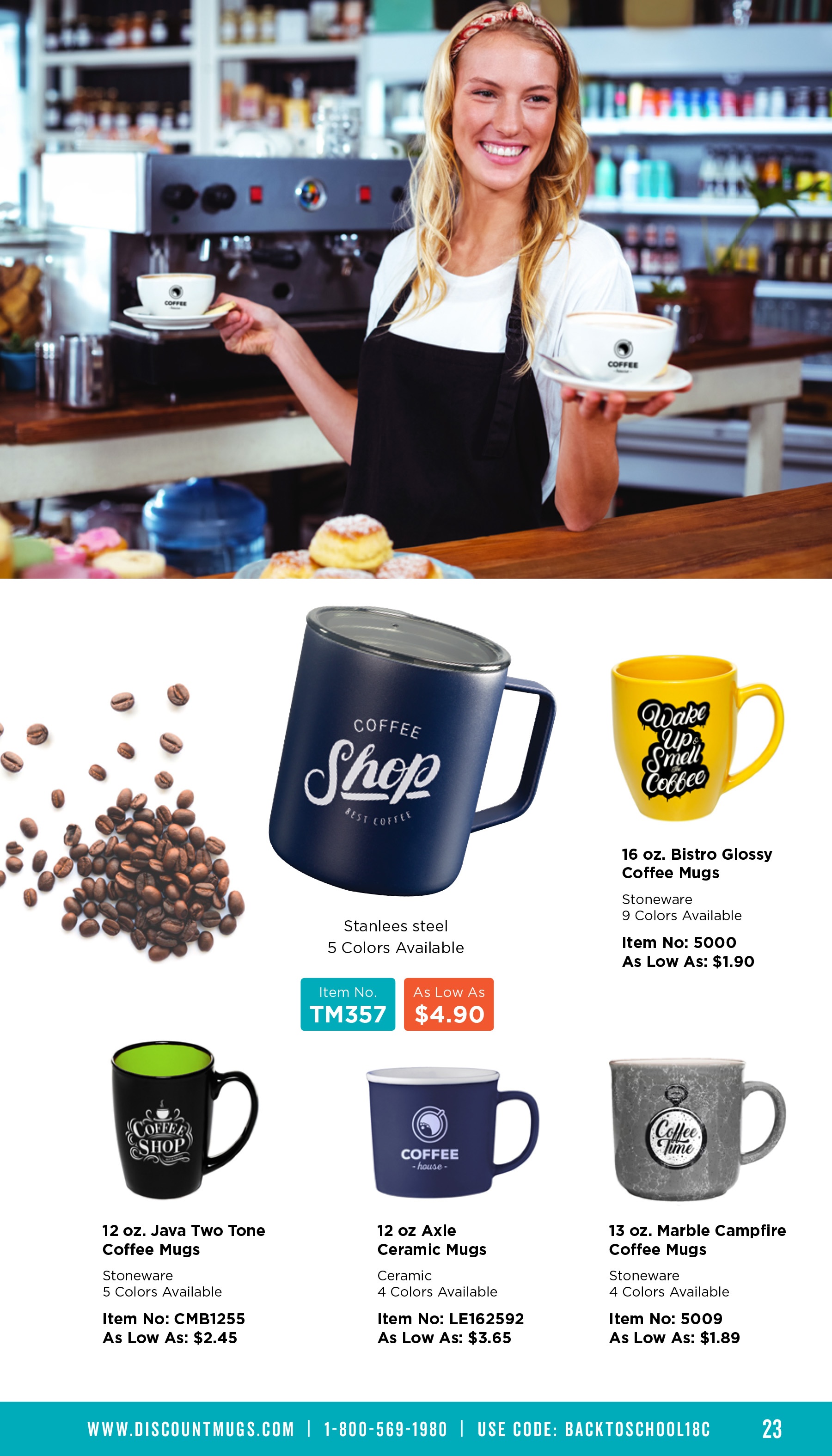 Awards and Recognition
No matter how old we get, a part of us always strives to be recognized for the efforts we make. You might be thinking it's still early in the year to be thinking about purchasing trophies and awards, but you can take advantage of our low wholesale prices and amazing discounts by shopping ahead. The many years at your institution has undoubtedly given you some insight into the functions at the school, and it may be wise to speak to the different departments about trophies and awards you can benefit from purchasing now.
Other gifts may include laser engraved pens and metal USB drives - students will definitely put them to good use.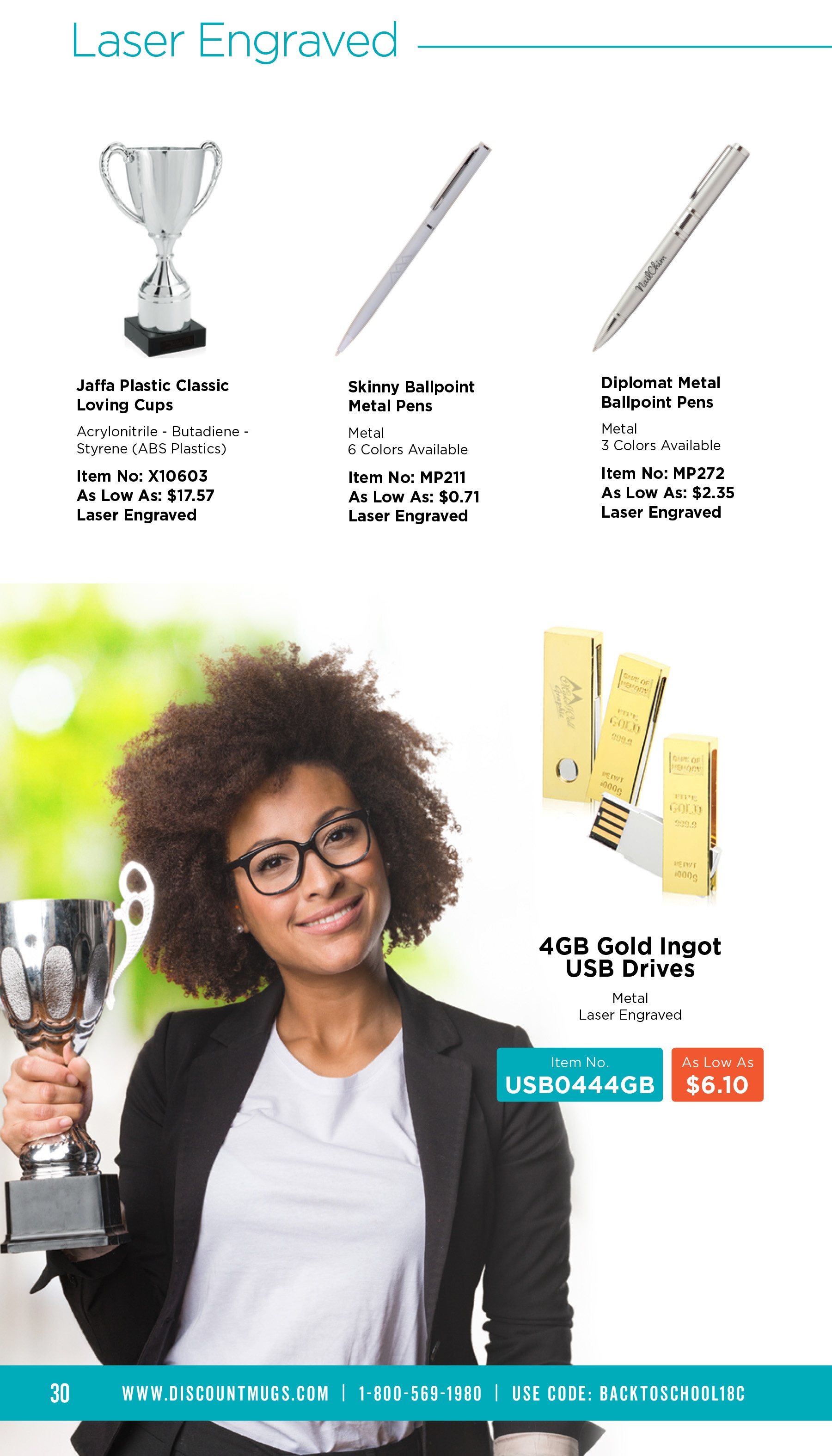 Get a good start on this back to school season and begin your shopping today. Not only can it help you save money, but also take some of the stress off the rest of the year.
The transition back into the classroom can prove to be a drag for some students, but that doesn't need to be the experience for parents, teachers and other school staff. Get on with your planning and start on your supplies and essentials now.