If you're anything like me, you wait all year long for the Holiday Catalog. Not only do they help make the holidays magical with décor ideas for the home and office space, but somewhere in those pages hides the perfect gift for every single person on your list – don't mention the incredible deals. At DiscountMugs we understand you count on us to make your holiday gifting easier and can't wait to send you a copy of our 2019 edition!
Get ready, because they're hot off the press and on their way to you. However, if you're not part of our mailing list you can take a dip inside to learn more about what you can expect, view and download our PDF version to share with loved ones, colleagues and friends.
Here's what you can expect this season:
Idea Book to Inspire
Whatever your reason to give this season, you're probably looking to make an impact in those that matter most to you. Be it loyal customers, employees, or loved ones, your number one priority should be to leave an impression they'll cherish and appreciate. Our goal is to empower you to share that message, and so the 2019 Holiday Catalog is plainly a collection of gift ideas you'll be able to pair, compare, and design according to your needs.
We've narrowed your gift search to ideas for your team, customers, seasonal trends and categories to make your recipient fall in love with your business or cause.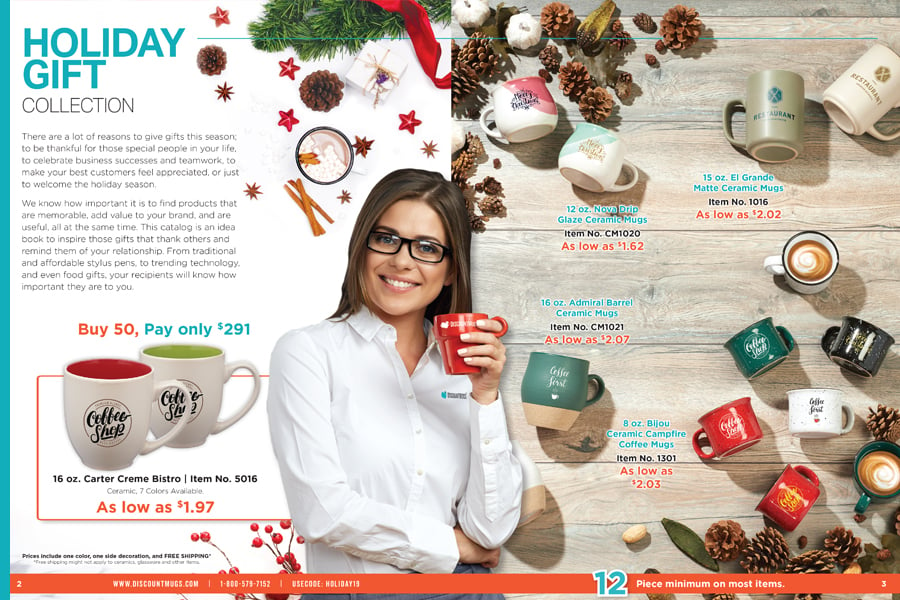 Glasses to Raise to Your Near and Dear
The holiday season is all about spreading cheer and your favorite drinks. A time to be merry, you can treat employees, customers and loved ones alike to the best custom glassware and drinkware collection online. Not to toot our own horn, but at DiscountMugs we carry some of the most well-known brands around, some of which include Chef & Sommelier, Riedel, Libbey and ARC.
Our 2019 Holiday Catalog includes gift ideas for wine lovers, bars and restaurants, as well as everyday items your audience will appreciate. Our promise is you'll find anywhere from items under a dollar, to gifts that stun even the most exclusive of taste buds.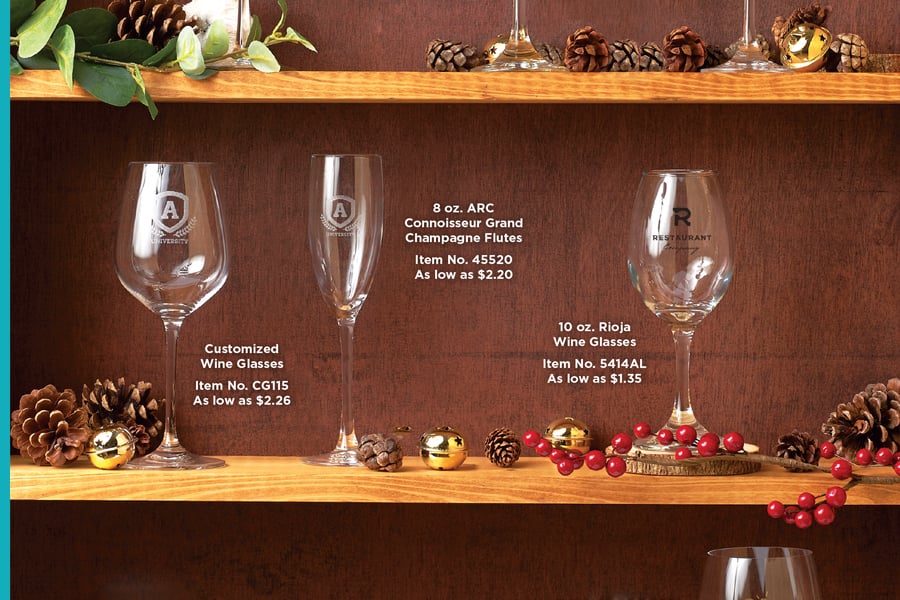 Classic and Conventional Gift Ideas
Everyone loves the idea of giving gifts, however, we know some of our customers aren't looking to reinvent the wheel. On our Holiday Catalog you'll find budget friendly gift ideas that will prove incredibly delightful. A great time to warm some hearts, some of our ideas include our custom mugs, fleece blankets, picnic coolers, hip flasks, water bottles, travel mugs and cutting boards. Holiday gifts that won't break your budget, these will help you prepare and stay in track for the new year ahead.
Shopping for gifts can be a lot of fun, and even more so when we can afford them! View and Download our 2019 Holiday Catalog to start customizing now.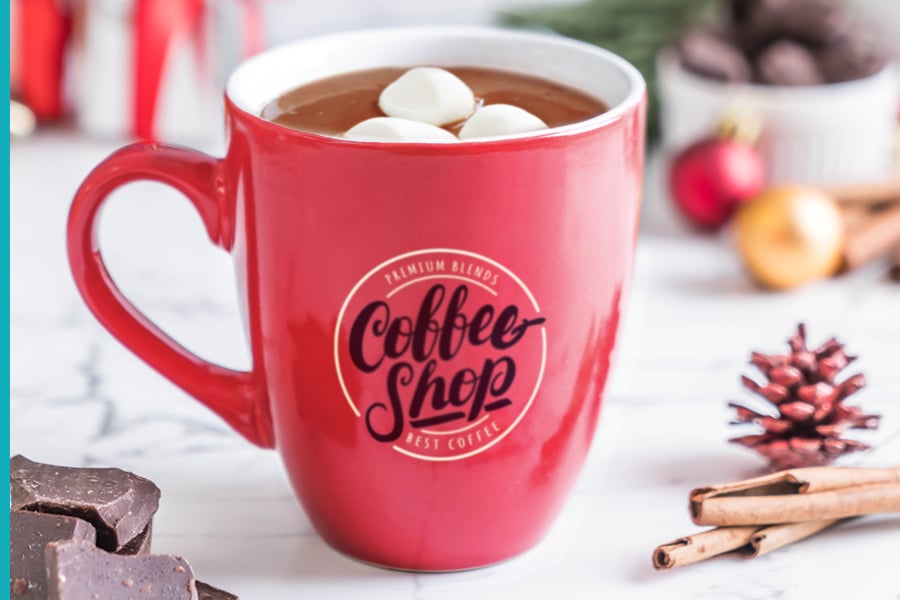 2019 Metallic Trend
The metallic trend made an impact in fashion this year. During the spring and summer seasons we saw an expanded color palette I'm all for promoting this season. However, I understand most of you would rather stick to the more traditional holiday shades. Enter silver and gold, red, blue, rose and smoke.
At DiscountMugs our product specialists were also all about the metallic trend and brought in some of the most desirable in custom promos. Take a look inside for lovely water bottles and travel mugs, lunch bags and drawstring bags, and visit our site for other unlisted categories. Head to the search bar and lookup 'metallic' for more exciting results.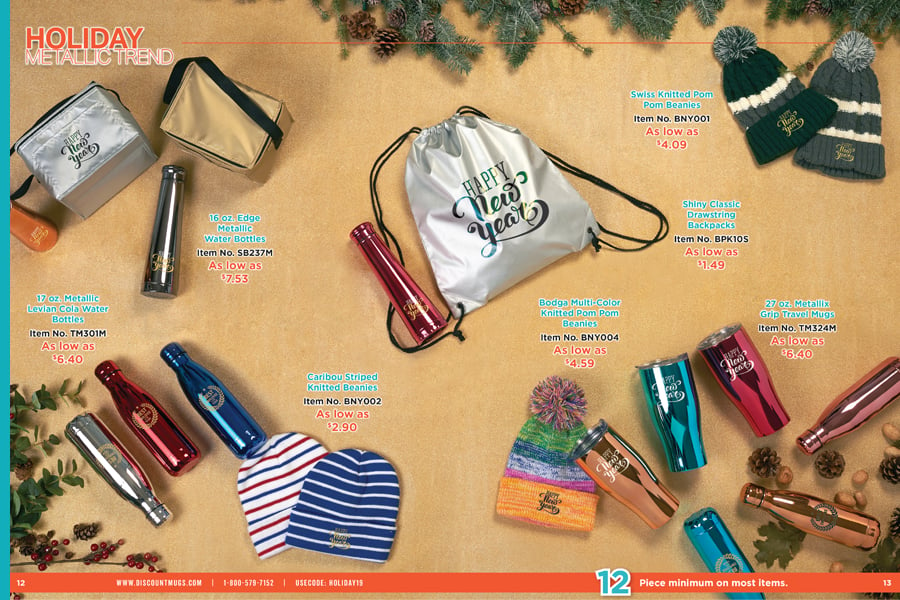 Celebrations Galore!
The holidays are all about celebrating the people we love, the goals we met, and the growth we've made. Think sending your most important account a savory chocolate, trail mix, ham and cheese package, or giving every one of your guests holiday ornaments to remember your time together. Custom plates, napkins, can coolers and party sunglasses can only but add some more fun and flavor to your party.
Get in the giving spirit of the holidays, make your festivities stand out, and find everything you need to celebrate all who made this year your best one yet.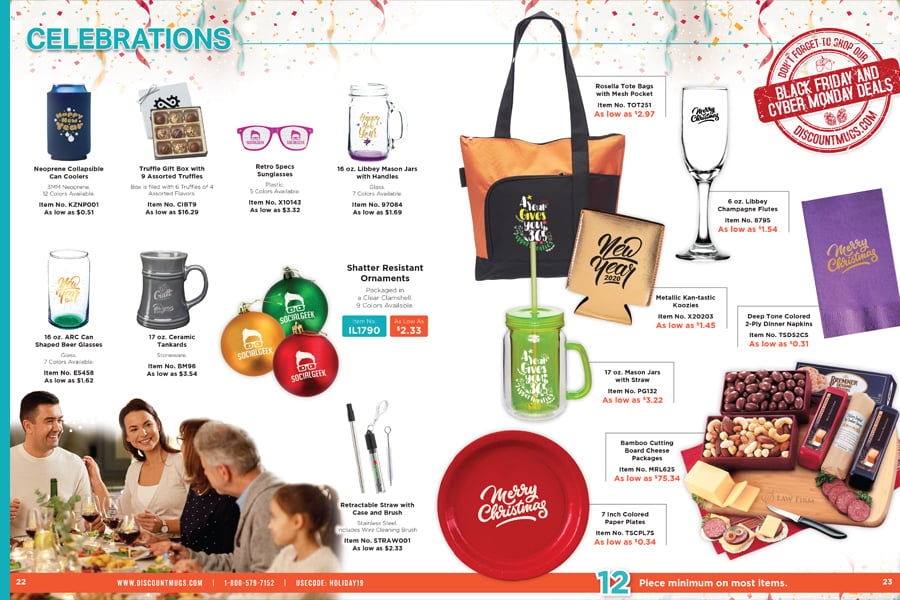 Deals, Deals and More Deals!
If you're one of our loyal customers, you know at DiscountMugs we're all about helping you save. We want to make your shopping experience heckle-free and worry only about other event-related sourcing needs to make your gatherings special. We want to thank you for the trust you've put in us to make your special events a success, and in return bring you incredible savings and deals.
Don't forget to shop our Black Friday and Cyber Monday Deals!