It may be difficult for some to use "church" and "marketing" in the same sentence. As a religious organization, promotion can seem contradictory to a message of humility and a selfless focus.
However, to be relevant and even exist in today's world, any organization must have some level of branding which includes but is not limited to an informative website, promotional material on hand, and a presence on social media.
Your church can supply all these things to guests, members, and church attendees without seeming self-glorifying or vain.
Below are 10 marketing ideas to help any church ministry grow and continue to provide care and fellowship for your local community.
Three Marketing Ideas Churches Should Implement Before a New Campaign
The key to an effective marketing strategy — whether for a business, nonprofit, or church — is to lead with effective visuals. Finding the right way to represent your place of worship is essential to setting up a connection with an intended audience.
1. Branding
Some may think branding is for cereal boxes and soda commercials. However, these days branding can be seen everywhere. Simply put, branding is, "the marketing practice of creating a name, symbol or design that identifies and differentiates a product from other products." (Entrepreneur.com)
While your church is not a product that can be bought, it is something people give their time, energy, and money to. Creating an identifying brand that people can associate with, is the first step in familiarizing people with your church. It will also help your church stand out and be recognizable.
2. Logo/Graphics
Many times, branding will begin with a creative and well-designed logo. While getting a logo may seem easy, you want to make sure you put in the time and energy needed to create a design that is aesthetically appealing.
Hire a professional. Meet with them throughout the process, and make sure you don't settle for something you don't like or need. Ask for the opinion of others who have a good eye for design and will be honest with you. However, make sure you don't compromise your vision for the sake of others.
Once your graphic designer completes a design you feel conveys the message of your church, they can work on multiple layouts in different resolutions and formats to re-purpose in letterheads, website use, etc.
3. Style Guide
Your graphic designer isn't quite finished yet. They can also help you put together a style guide, which is "a set of design standards for a specific brand to ensure complete consistency in the style and formatting of design assets. This often includes guidelines for color schemes, typefaces and how logos are used and placed within an asset, among others." (source)
A style guide can help all the staff members in your church who run various aspects of your ministry work together to put forward publications and material that looks streamlined and uniform.
For example, if the women's ministry is sending out a letter, it won't look completely different from a graphic posted by a different ministry in the church. It will have its own feel, but because of uniform fonts and coloring, will look like it came from the same place. Which it did!
Digital Marketing Ideas and Techniques for Churches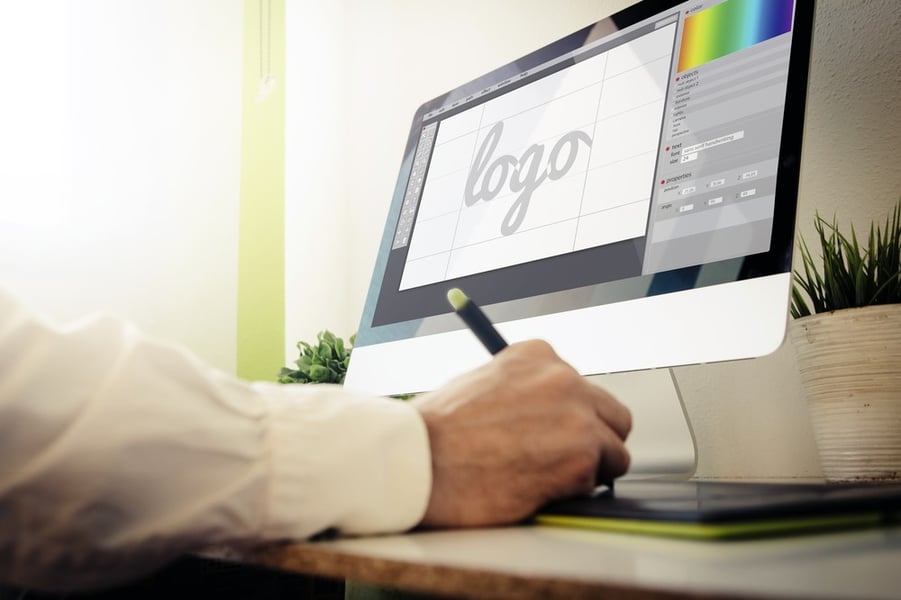 Communication is essential for faith in modern times. Using digital channels to supply messages and community updates for existing members will create an image of an active community to those interested in joining.
1. Website
Back in Little House on the Prairie days, there was one church in the community. Everyone knew where it was and made sure to never miss mass time. And if there was a new family on the prairie, they just asked someone nearby to find out when and where they could go to church.
It just doesn't work that way now. For one, there are churches everywhere, and the choices are many. And, if you want to know how to find one, you don't knock on doors, you just go online and search for churches near you. All that to say, having a presence on the internet is necessary if you want your church to be available as a choice to the community you are a part of.
If you have already worked hard to achieve quality design, multiple resolution graphics, and a style guide, your website can be easily designed by a professional or a church member who has the knowledge and is willing to give their time to getting it up and running.
Make sure your website has all the essential information such as location, service times, and staff team laid out and able to be easily navigated.
2. Blog
Adding a blog to your website is a way to reach out to churchgoers and provide them with relevant articles and information they will enjoy reading.
Also, updated content on your website through a blog provides you with links to share on social media. It also gives people searching for a new church to get an idea of your ministry. They'll be able to read about the kind of people, ministries, and activities your congregation both cares about and spends its time and energy serving.
3. Email Newsletter
Writing a weekly or monthly email newsletter to go out to all the contacts in your church is an effective way to get into people's inboxes and remind them of what your church has to offer.
Your newsletter can include information about upcoming events, new members, pastoral messages, and ministry happenings. Besides being sent through email, your current newsletter can also be added to the website and shared through social media.
4. Social Media
Having a presence on social media as a church is a positive and uplifting addition to the news feed of your followers.
Decide as a staff, with the guidance of your priest or pastor, how you will take part in social media, and, most importantly, get your social media platform(s) on a schedule so that you post regularly. Getting content out there on a regular basis has proven to be the most effective way to reach people and gain more followers.
Some ideas for social media content include but are not limited to:

Facebook Live Videos (a church worship time)

Instagram Videos (sermon clip)

Links to content on the church website such as taped sermons and blogs

Photos of Sunday morning happenings

Mini bios of church members

Photo albums of church events

Holiday Greetings ("Happy Mother's Day! From Community Church")
Organic Marketing Ideas for Churches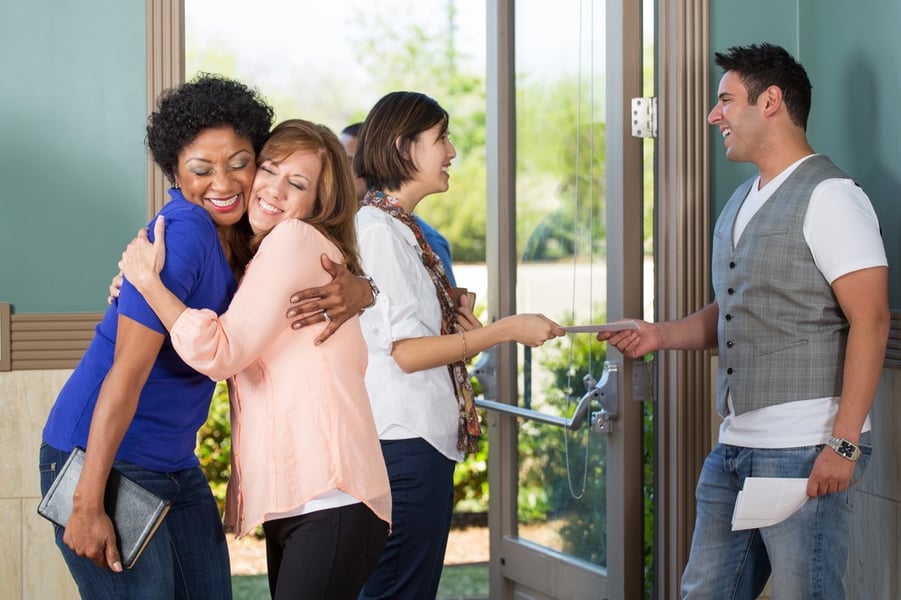 Many communities in more rural areas will still find tremendous effectiveness with traditional marketing techniques. These ideas are often highly effective at forging strong bonds that resonate more directly with existing, new, and prospective members of the faith community. The branding stage explained earlier will also offer a key boost to organic marketing efforts.
1. Promotional Materials
Use your graphics and get material printed to give or sell to church attendees. Things like car magnets, stickers, bookmarks, and t-shirts can be a good way to get your church name out there. Be sure to include your logo of course!
Creating or printing some materials meant for outreach to your community can also be beneficial. For example, door hangers, business card sized cards for specific events, or mailable postcards can all be handed out or mailed to inform the community about what is going on in your church.
2. Advertising
Coming up with a simple ad with information about your location and service times is always a good way to reach people. It could be used in many separate places. Often neighborhood associations have monthly prints, or your city may have a magazine that is published quarterly, and of course there is the local newspaper.
Local radio ads are also a possibility. Instead of just information, you could give a brief personal message from your pastor or offer a bible verse before you invite listeners to your church.
3. Community Events
Special events are an effective way to make the community aware of your church and ministry. Your space location or land your church sits on can be a place to start. Do you have a large lot with a lot of green space? What about throwing a fun carnival with face painting, games, and bouncy castles?
Does your church have ample classroom space? Organizing a VBS (Vacation Bible School) for a week in the summer or a summer day camp that meets multiple weeks would be a way to serve your community and use your facility.
Other community events to consider are a hoedown/hayride in the fall, an Easter egg hunt in the spring, or a live nativity and Christmas celebration in the winter. Or, instead of huge church wide events, different ministries in your church can host events such as a Father and Son football watching party or Saturday brunch with a guest speaker for the women in the church.
After each event, debrief with your team and make notes about what worked and what didn't. This way future events can receive help from the one before it. Make purposeful decisions about what to make an annual tradition and what to scratch or give an overhaul.
4. Welcome Your Guests
When new people visit your church, making them feel welcome is one of the most important ways to set forth a positive and loving reputation for your congregation. Having dedicated regular church attendees to be at your open doors welcoming people in and talking to new people will help to give your church a loving and caring atmosphere.
Offer guests a gift to thank them for visiting and show them you care. Maybe you offer them a book or a coffee mug with your church logo. One idea would be to gather some information about your church that you can save to a USB flash drive, such as a short message from your pastor, or a slideshow showcasing your ministries.
You could get your church logo printed on these hard drives and give them out to visitors and new people. When they have finished watching the information, they can have the thumb drive to use at home or work!
5. Word of Mouth
All the above methods are remarkably effective, but the single most effective way to market your church and get word out about your ministry is by people telling others about it.
Talk to friends, neighbors, and coworkers about where they go to church and the experience they have there. You can also gather information from guests to understand outside feelings about your congregation.
Encourage other church members to invite family and friends and get involved! A well-designed logo or well-thought-out Facebook post is no match for a personal invitation.
Evaluate Your Church Marketing Strategy Regularly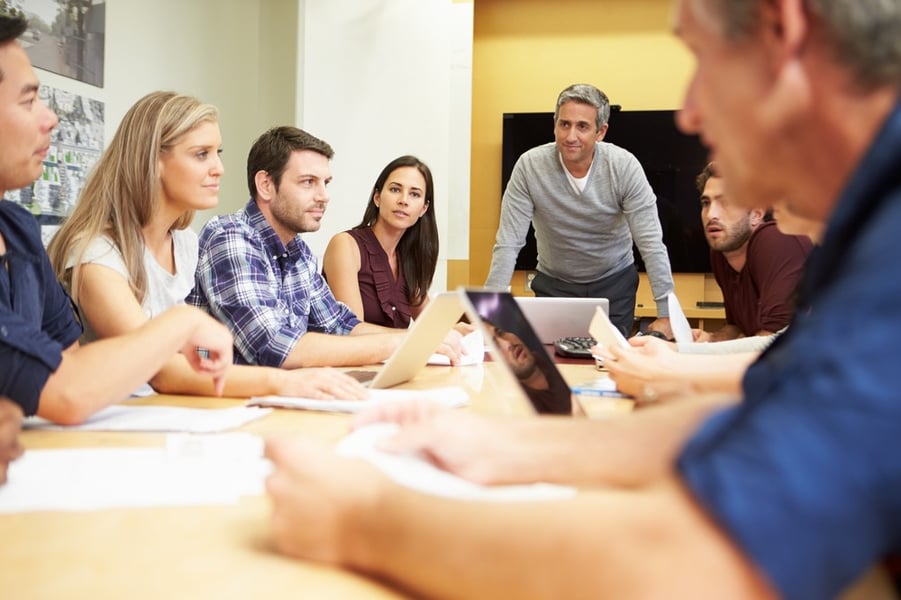 Applying the ideas listed above will increase your chances for ministry growth. However, you should be aware that the ins and outs of how to best manage these things will change over time. It's important to regularly evaluate your marketing efforts.
Take time to ask your church staff, leadership, and trusted churchgoers what they think about the effectiveness of your marketing material and techniques. Evaluating at least once every 6 months is essential to keeping your methods current.
Getting a good team of people who can work together creatively to implement these marketing ideas will serve your church and community well. The growth of your congregation will affect the community in positive ways, too!