This holiday season, let your loyal clients and business patrons know it's been a pleasure doing business with them. Whether it's a potential or current client, you can make their holiday season merrier with a personalized accessory that leaves a lasting impression of your brand. A durable, customized favor can be used for years to come and with high-quality engraving, your logo is sure to never fade! Here are 10 creative ideas small businesses can use to show gratitude and appreciation for their patrons.
Top 10 Gift Ideas for The Corporate World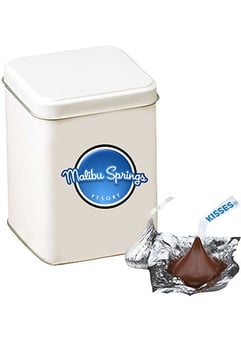 1. Everyone Loves Chocolate
Everyone loves to indulge in festive sweets during the holiday season! Your logo or message will look great on a customized canister tin filled with Hershey chocolate kisses. Not only are they tasty treats that everyone will enjoy, but they're fun to wrap in clear cellophane and look extra-seasonal wrapped with a ribbon. Plus, your clients will be able to use the tin to store small items such as receipts, paper clips, erasers or spare change.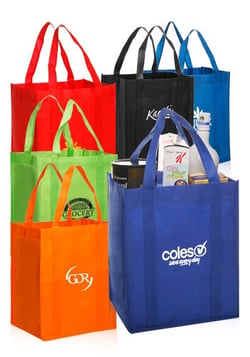 2. A Multi-purpose Option
Reusable grocery tote bags serve a multi-purpose function and make excellent gifts for clients during the holidays. They're roomy enough to fill with other accessories such as candy or even baked goods. Small businesses can gift these reusable totes and even encourage their clients to be eco-friendly, all while representing their brand. They would also make a great incentive for those who like to donate canned goods to charity during the winter season, as they make excellent carriers for grocery items.
3. Let's Go Retro
Businesses with clients that work on-the-go will love a durable, customized lunch box they can use even on their busiest of days. As a thoughtful gifting idea, fill them up with seasonal treats or gift cards to their favorite grocery store. Since the turn of the new-year brings a rise in healthy eating, your clients will love carrying around their lunch in personalized style. Retro tin lunch boxes are a perfect choice for the holidays - they're nostalgic peices that will make them feel like kids again.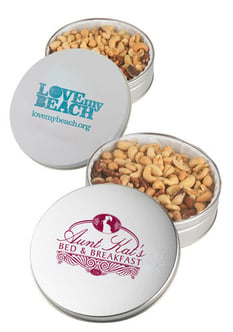 4. Savory & Deluxe
Snacks always make great gifts during the holidays, and a personalized tin of nuts is a festive way to say thanks to your clients. When the tin they come in is reusable, clients will find their gift will keep on giving when they use the tin to store food or small personal items. The presentation of this gift looks great on its own, but looks extra-festive with a ribbon tied around it. Make it even more personal by adding your own personal note to the entire package.
5. Stainless Steel is For Ever
Customize an elegant, stemless wine glass and gift it in a variety of ways to make the patrons of your business smile. Your logo will look beautiful on a shiny, gleaming stainless steel surface. One way to gift this item would be to fill it with Hershey Kisses or jelly beans, wrap it in cellophane and tie it with a ribbon.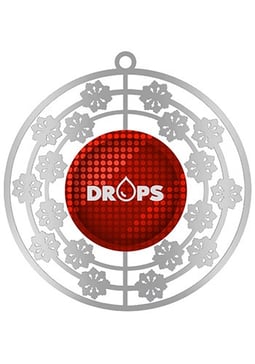 6. Beautiful & Seasonal
Your business could quickly become a part of your client's Christmas holiday tradition. Customize a beautiful ornament with your brand logo or message. It would make a fun item to include in a holiday gift basket or gift bag, you could even tie your own ribbon to it using a fabric of color that represents your company. Christmas ornaments are the paragon of festive when it comes to gifting, and your clients can proudly display your brand in their home during one of the most significant times of the year.
7. Water is Life
Customize a stainless steel water bottle for your clients this holiday season. They are available in a variety of bold shades and come with a clip for attaching it to your belt or backpack. One interesting way to gift this item would be to include lemonade or tea packets to flavor their water! They'll appreciate going into the new year with a fun way to hydrate. You could include it in a gift basket and tie a ribbon to the clip to improve its presentation.
8. Simple & Unexpected
Gift cards are always a reliable source for thoughtful gifts when you're short on ideas. They make great supplements to certain holiday incentives, such as a customized business card holder. Instead of using wrapping paper, you can place the gift card inside of your personalized card holder and present it to your clients. They'll love networking with a customized accessory that represents a unique connection in their lives.
9. Capture the Moment
A customized frame makes an excellent gift for your clients during the holidays, especially since taking family photos is a wide-spread tradition. Here's how you can make it special: throw a company holiday event that has a photo booth and place the photographs in your personalized frames. This kind of souvenir provides a memory of that holiday while honoring your business connection and spreading brand awareness.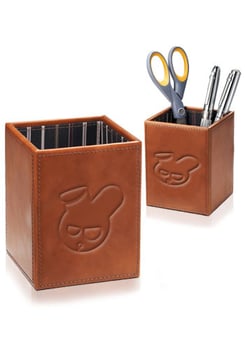 10. Your Pen, Your Majesty!
A personalized pen cup can be used for other desk supplies including scissors, rulers or clips. A festive way to gift an office item such as that would be to fill it with candy canes and wrap the pair in cellophane. Tie it off with colors that represent your company and present to your clients as a thank you for their business.
Conclusion
New clients or old, you'll leave a lasting impression with any of these creative ideas while showing appreciation this holiday season. The aforementioned items make excellent business incentives on their own, and are incredibly easy to embellish with a few simple creative steps. Your effort will stand out among the overwhelming amount of gestures this season. Don't forget, you can browse by event, category or budget to help narrow down your search and make shopping stress-free.
Share with your firends - you never know who's clawing at their heads looking for ideas this season. And let us know in the comment section below if you can think of something we missed!